Posted by Donna Peng - Contact Author

[Fixed] DVD Looks Bad/Grainy/Blurry on HDTV and 4K TV

You can improve the DVD quality for TVs easily: The solution most recommended by us [85%]
"I recently bought a new 4K TV - UHD series 6 (6270) samsung TV 50 and when I use it to play movies, the DVD looks very bad on TV, very grainy and some ghosting. On my old analogue TV using S-Video connection and Sony DVD player, the movies looked fantastic. Why is the DVD pixelated on TV and how to improve the image quality?"
Why Do DVDs Look Grainy/Blurry on HDTV/4KTV?
1. The quality of DVDs before 2000 (4.7GB) is much worse than newer DVDs (8GB). If you're playing a 480P standard DVD on a HDTV (1080P), you will notice some quality loss as the TV will scale things up by 2x (e.g. from 720x480 to 1920x1080). But the DVD will look fuzzy and blurry when you scale up by 5.3x (from 720x480 to 3840x2160) - play a standard DVD on 4K TV, no matter how good the scaling algorithm.
2. DVDs mastered by differnt individuals or companies will look different - some look crisp, others look grainy. Some old DVDs are poorly encoded and require the DVD player or TV of certain brands to offer the best result, or pixelation and lines appear on DVD playback on TV. Also learn what to do if TV flickers when playing DVDs.
3. Most modern HDTV sets have scaling algorithms built-in to display low-quality source (like 480P DVDs) in full screen. But the problem is, most of them do a poor job enlarging the image and therefore the DVDs look bad on TVs. But you can convert the DVD to digital files that are alrady upscaled by a superior upscaling algorithm.

How to Fix Blurry/Grainy DVD Playback on TV?
Solution 1. Replace old DVD player to a new DVD upscaling player.
Solution 2. Buy a good HDTV/4KTV that offers the best scaling algorithm.
Solution 3. Buy Blu-ray discs instead of DVDs.
Solution 4. Before you spend on anything, convert and upscale the DVD.
Convert and Upscale DVDs for Better Image Quality on HDTV/4KTV
To convert DVD mastered in different types and upscale a DVD to HD 720P/1080P, try WinX DVD Ripper Platinum. It will convert DVD to formats supported by TVs and also upscale DVDs to HD 720P/1080P for HDTV with excellent quality. Users can also ajust other parameters, crop the DVD video to fix distorted DVD playback on TV due to the scaling down and up between 16:9/4:3 TVs.
Convert protected DVDs, badly encoded discs, new and old movies, TV shows etc. to MP4, AVI, MKV, WMV, for TV, Apple TV, iPhone, Android, etc.
Upscale DVD to 720P, 960P, 1080P, etc., adjust aspect ratio to 4:3, 16:9, other settings freely. More importantly, high quality is strengthened by the High Quality Engine.

Download WinX DVD Ripper Platinum for Windows

to upscale DVD for TV

Download WinX DVD Ripper for Mac

to upscale DVD for TV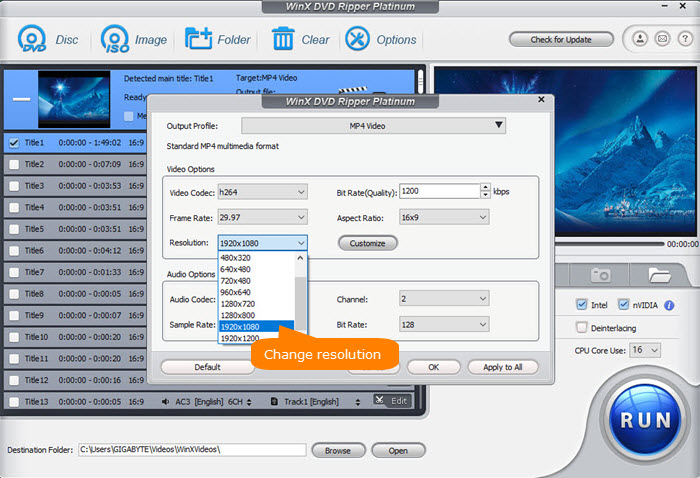 Step 1. Download and install WinX DVD Ripper Platinum and run it. Insert the disc into the drive and click Disc button to load it.
Step 2. Select an output from the popping-up window. To convert a DVD for HDTV/4KTV, MP4 is a good choice.
Step 3. Click the gear-shaped icon on video info tab to enter into the parameter settings window, and do the following tweaks.
Find the Resolution and select 1280x720p or 1920x1080p for HDTV.
You may need to change the aspect ratio from 4:3 to 16:9 for proper DVD playback on an HDTV.
Check the boxes Use High Quality Engine and Deinterlacing to ensure the best possible quality.
Step 4. Click the big blue button to start upconverting a DVD for HDTV.
Disclaimer: Digiarty Software does not advocate ripping commercial DVDs for any illegal purpose. You're suggested to refer to the DVD copyright laws in your country before doing so.