Posted by Donna Peng - Contact Author

How to Fix DVD Player Making Loud Noise While Playing Discs

Digitizing DVD will probably solve noise issue. Check: How to Rip DVD to Digital to Avoid Noise
Here're the troubleshooting steps for DVD player making loud noise
I have a Sony DVD player. I've hooked it up to my TV. Today when I played a DVD disc I heard loud humming or buzzing noise. The noise is pretty annoying. How can I eliminate the noise from my DVD player?
We notice that many DVD player users have experienced this kind of DVD player sound problem (see the common DVD player problems and fixes). Their standalone or built-in DVD player makes a loud static, buzzing, grinding, clicking, rattling, high pitched, or vibrating noise when they insert a DVD disc and play it.

YOU MAY ALSO SEARCH FOR: How to Connect DVD Player to Roku TV - Detailed Tutorial
How to Fix DVD Player Making Loud Noise?
Before you try the following troubleshooting steps, you should make sure that the DVD player is on a stable level surface and isn't stacked on top of other audio-video equipment.
Troubleshooting steps:
1. Check if you connect the cables correctly.
2. Unplug the cables, wait for 10 minutes or longer, and then plug the cables again. Now see if the DVD player still makes loud noise.
3. Try other cables. If there're problems with your cables, noisy issue could happen.
4. Connect your DVD player to a different TV and check whether the noise disappears. If DVD player no longer makes loud noise, it is likely the TV. If DVD player still makes loud noise, it could be the DVD player or the DVD disc.
▪ If DVD player makes loud noise for all discs, the player is the problem. The DVD player may need cleaning. You can use a DVD/laser cleaning disc to do that. And sometimes we may find cleaning is still useless. In this case, you may need to get a new DVD player to see if DVD not playing error is fixed.
▪ If DVD player makes loud noise for certain disc, the disc may be unbalanced which means one side of the disc may be heavier than the other. Some rental or free DVDs have very bad labels on the top, making them unbalanced and causing vibrating noise while playing. In this case, there's probably nothing you can do about it, other than replace it.
If DVD player makes loud noise but you don't have a replacementYou can rip the DVD to a digital file for playback on more electronic devices. Easy & fast
It's easy to encounter problems such as no sound but only picture and noisy sound when you play DVD via a DVD player. Only when all things work well, including DVD disc, DVD player, TV, and the cables used to connect DVD player and TV, the DVD can play without issues. However, ripping DVD to MP4 or other digital format can help you avoid many troubles.
To rip DVD for play without noise, you're recommended to use WinX DVD Ripper
Convert burned and pressed DVDs to MP4, AVI, MOV, WMV, MPEG, ISO, VIDEO_TS folder, etc.
Offer optimized output presets for iPhone, iPad, Android mobile, Xbox, PS4, Chromecast, etc.
Fast rip DVD while keeping original image and audio quality. No noise. No out of sync issue.

Download WinX DVD Ripper for Windows

to rip DVD for play without noise issue

Download WinX DVD Ripper for Mac

to rip DVD for play without noise issue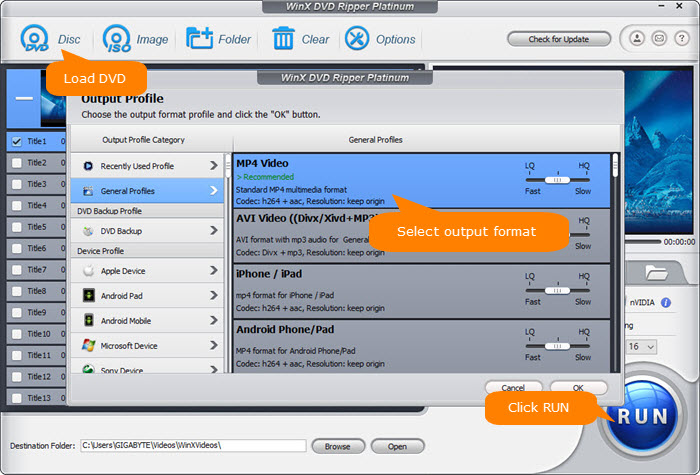 Disclaimer: Digiarty Software does not advocate ripping commercial DVDs for any illegal purpose. You're suggested to refer to the DVD copyright laws in your country before doing so.