Posted by Donna Peng - Contact Author

Troubleshooting - Fix DVD Plays with No Sound on TV

If you are searching for an easy solution, click here: The solution most recommended by us [85%]
Reasons and Solutions to Fix 'DVD Plays with No Sound on TV' Issue
When we get a new DVD, put it in the tray of DVD player and hook up the DVD player to TV, we may be disappointed to find that TV displays picture only but no sound. This issue has to do with the audio settings on DVD player, the cable, and how it is connected. Read on to get more details about the causes for 'DVD has picture but no sound when playing on TV' issue as well as the corresponding solutions. In addition to that, we also offer a workaround to get rid of this problem - digitize DVD and play its digital copy on TV via USB drive or media streaming server like Plex.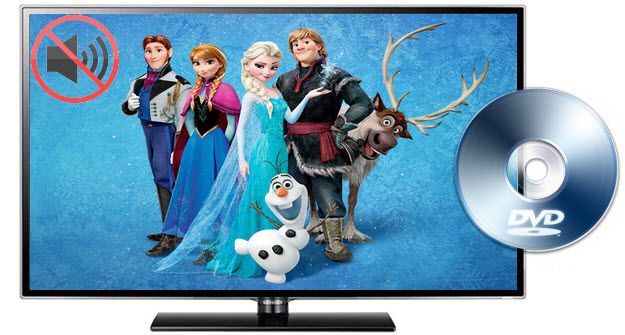 Why There's No Sound Coming out of TV When Playing DVDs?
Below are the possible reasons for 'DVD works but no sound on TV' (if you DVD player has sound but no picture, check here):
1. Your DVD player is set in mute mode or can't recognize the selected audio track.
2. The cable (HDMI, scart or another kind of cable) you use to connect DVD player and TV is connected incorrectly.
3. The cable is faulty.
Next, let's go to isolate where the fault is coming from.
How to Fix No Sound on TV When Playing DVD?
Solution 1. Adjust the volume settings on your DVD player.
Check the volume settings on your Sony, Samsung or other brand of DVD player and see if the mute mode is activated. If it is, change it to the normal mode and see if DVD player no sound problem is fixed or not. If the DVD player isn't muted but still won't deliver sound, you can select another audio track to have a try. This is because DVD player is unable to handle certain audio track, thus causing audio problem.
Solution 2. Make sure the audio cables from the DVD player are connected to the TV correctly.
If you use analog composite cables (Yellow/Red/White), please ensure they are all on the same input. If you use analog component cables (Green/Blue/Red + Red/White), make sure all 5 connectors are in the right place (do not mix up the REDs). Again ensure they are all on the same input. If you connect DVD player to TV with HDMI, you need to set the audio output of the source to PCM audio instead of Bitstream. Otherwise, you won't get any sound.
If the cables are connected to the right ports but there's still no sound, the cable connection might be loose. You can try wiggling the cables and see if it works. Learn what to do if the DVD player not connecting to your TV.
Solution 3. Use a different cable.
If you still cannot hear sound from DVD after trying above solutions, try another workable cable.
The best workaround to 'fix DVD plays with no sound on TV': Digitize DVD to MP4 for playing or streaming to TV. Easy & fast
In addition to the traditional way that we put DVD into DVD player and play it via TV, we can also digitize DVD to computer hard drive or a USB drive and then stream the movie from PC to TV using Plex or play the movie on TV via the USB drive. This way you won't get 'no sound but picture only', 'no picture but audio only', or other issues because of improper settings, faulty cables, region limits or others. Check how to fix DVD won't play error >>
To digitize DVD, WinX DVD Ripper Platinum can help.
Support new and old (even scratched) movie DVD, TV shows DVD, workout DVD, etc.
Provide lots of output profiles: MP4, AVI, MKV, WMV, Apple TV, iPhone, Android, etc.
Digitize a DVD within a matter of minutes only, 3x-5x faster than similar programs.
Easy-to-use and beginner-friendly. 3 simple steps to finish a DVD ripping. Check user guide >>

Download WinX DVD Ripper Platinum for Windows

to digitize DVD for TV

Buy WinX DVD Ripper at $29.95 to digitize DVD for TV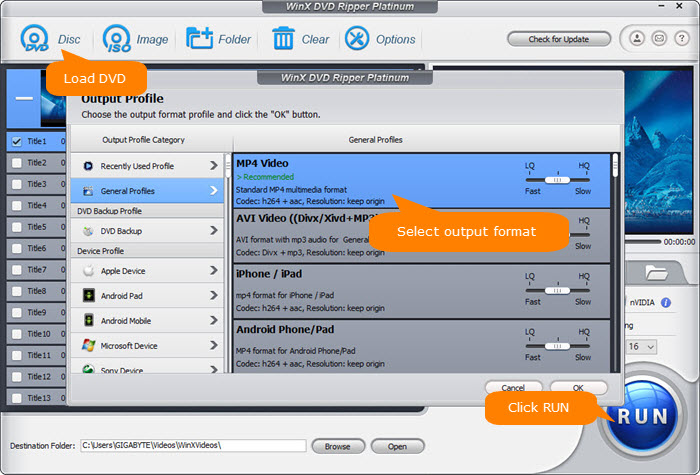 Disclaimer: Digiarty Software does not advocate ripping commercial DVDs for any illegal purpose. You're suggested to refer to the DVD copyright laws in your country before doing so.