Posted by Donna Peng - Contact Author

[Fixed] Sony/Panasonic/Car DVD Player Has Sound but No Picture

Skip to the 100% efficient solution, click here: The solution most recommended by us [85%]
"My Sony DVD player and Panasonic TC-P50G20 are hooked up through a Pioneer VSX-23THX receiver using HDMI cables, all was working fine for about 5 years but now when we try to watch a DVD the Sony DVD player plays sound but no picture."
"Have got a prescan dvd player hooked up to my Emerson tv and the sound works perfect but no picture."
Recently we have solved the problem "DVD Plays with No Sound on TV", another problem is also common during the DVD playback on TVs - the DVD player gets audio but no video. When a user hooks a DVD player to the TV, play the DVD, there is only sound with a blue or black screen. Almost all DVD players, Samsung, Sony, Panasonic, car portable, etc. all have "sound but no video" errors. In this post, we have all the solutions to fix DVD player not displaying picture on TV screens.
How to Fix DVD Player Not Showing Picture on TV?
Solution 1. Make sure all the connections are connected correctly
Check the cable colors and make sure the Red, Green, and Blue cables from the DVD player are plugged into the Red, Green, and Blue component receiver. Plugging the Red video cable into the Red audio output of the DVD player or cross plug the Blue and Green cables will result in DVD player not showing picture on TV screens and some other common DVD player errors.
Solution 2. Make sure the DVD player and TV use the same video siginal
Check the settings of both the DVD player and the TV, make sure they play the same type of video signal, i.e., progressive or interlaced. Some TVs won't play progressive signals and therefore you should make sure the player (DVD) is not in Progressive Mode. For example, if your Sony DVD player has sound but no picture due to progressive signals, press the Progressive button on the DVD player or press the P.SCAN button on the remote to disable the progressive signal > restart DVD player and press 369 on the remote > switch the VIDEO OUT to Interlaced and press the PAUSE button on the DVD player for 5 seconds.
You may need: how to fix interlacing issues
Solution 3. Use a different cable.
Try a different cable. You're suggested to use an HDMI, DVI, Component Video, or S-Video cable for the best output quality.
Solution 4. Check the inserted DVD.
The DVD may get scratched, damaged or unplayable. And there may be some special protections that prevent the DVD player from displaying the picture on TV properly. Try another DVD. If the "DVD player plays sound but no picture" happens with a single DVD, you will need to convert the damaged/protected DVD to digital files for TVs.
100% Effective Fix to "DVD Player Gets Audio but No Video" Error: Convert the DVDs to digital files to get rid of complicated settings. Easy & fast
If the above fix won't solve DVD player not showing picture on TV errors, there is a 100% efficient workaround - convert the DVD to digital files. By digitizing the DVD, users don't need to adjust the complicated settings and they can easily remove any DVD scratches or protections.
To digitize DVD, try WinX DVD Ripper Platinum.
Support DVDs of any type, old or new (protected) movies, TV shows, workout, damaged discs, etc.
Convert DVD into 350+ profiles, including MP4, AVI, MKV, WMV, TVs, iPhone, Android, etc.
Convert DVD for TV in 3x-5x faster speed and 98% video/audio quality reserved.

Download WinX DVD Ripper Platinum for Windows

to convert DVD for TV on PC

Download WinX DVD Ripper for Mac

to convert DVD for TV on Mac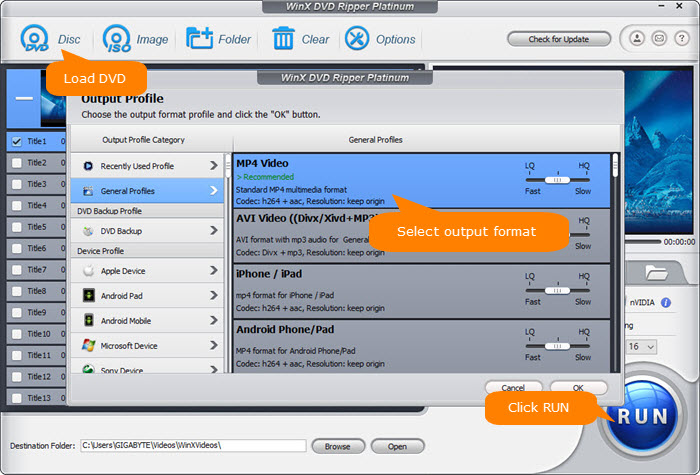 Disclaimer: Digiarty Software does not advocate ripping commercial DVDs for any illegal purpose. You're suggested to refer to the DVD copyright laws in your country before doing so.