Posted by Donna Peng - Contact Author

[Analysis & Fix] DVD Player is Showing Wrong Aspect Ratio

The 100% effective solution is here: The solution most recommended by us [85%]
Recently bought a Toshiba SD3005KB but the DVD player is showing wrong aspect ratio. The original 4:3 DVD aspect ratio is stretched into 16:9. I've tried plugging the player into various combinations of HDMI, SCART, and Coaxial but I simply can't get it to play the DVD in the right aspect ratio.
DVD playing in the wrong aspect ratio happens to Sony, Samsung, Panasonic, Philips, and almost all the DVD players. Why? Because DVDs are recorded in different aspect ratios and when they are formatted to fit the TVs, it will be stretched, and therefore distorted or result in black box around the picture. For example, when you play a 4:3 DVD on a 16:9 TV, you will see black borders beside the image. In this post, you can learn how to change DVD aspect ratio and play DVD correctly.
To fix wrong aspect ratio when playing DVD on wide-screen TV/PC, try WinX DVD Ripper Platinum Digitize DVD to MP4 with adjustable aspect ratio 16:9, 4:3, 1:1, etc for full-screen playback.Free Download
Background info
* DVD aspect ratios: 1.33:1 (4:3), 1.78:1 (16:9), 1.85:1, 2.39:1, learn details at how to play DVD in full screen
* TV aspect ratios: 4:3(old TVs), 1.77:1 (most HDTVs), 2.37:1 (most theaters), 1.4:1 (few theaters), and 1.9:1 (IMAX theaters)
Analysis
* The aspect ratio on the TV is not set correctly. Most TVs have 16:9 and 4:3 settings and you should select the right mode for the input disc (find the aspect ratio of the disc on the box of the DVD).
* The aspect ratio of the cable box not set correctly. If the DVD is played via the cable box, it may cause the wrong aspect ratio in the DVD player.
* If the DVD is 1.78:1, it will play perfectly on an HDTV. If it's a 2.39:1 DVD, then you will see wrong aspect ratio on the TV.
How to Fix DVD Player Showing Wrong Aspect Ratio Error?
Based on the above analysis, you can try the following to remove the problem:
1. Check the settings on the remote and change your TV settings to play Wide or Normal.
2. Check the DVD Player settings and change the resolution, e.g., change it to 480 output for 4:3 playback.
3. For Sony DVD players, turn off Closed Caption (CC) and Extended Data Services (XDS), this feature may cause DVD distorted or stretched on DVD player.
4. Change the DVD aspect ratio to fit the TV.
Change DVD Aspect Ratio to Play DVD without Stretch, Distortion or Black Bars
If none of the above fixes will work, you can convert the DVD to digital files and change its aspect ratio to fit the TV screen. For this task, try WinX DVD Ripper Platinum. It's able to change the aspect ratio of any DVDs, including user burned DVDs, newest movie title, TV shows DVDs, Disney discs, etc. to fit any screen.
Convert homemade & commercial DVDs to MP4, MOV, AVI, HEVC, etc, for players, TVs, iPhone, etc.
Change DVD aspect ratio to 3:2, 4:3, 16:9, or customize the aspect ratio with the cropping feature.
Convert DVD and adjust DVD aspect ratio with high output quality.

Download WinX DVD Ripper Platinum for Windows

to change DVD aspect ratio on PC

Download WinX DVD Ripper for Mac

to change DVD aspect ratio on Mac
Step 1. Download and install WinX DVD Ripper Platinum, insert the DVD to the drive and click Disc. Then select an output format.
Step 2. On the video info tab, find and click the editing button with a gear icon > find the Aspect Ratio and select the one you need, for example, select 16:9 for an HDTV.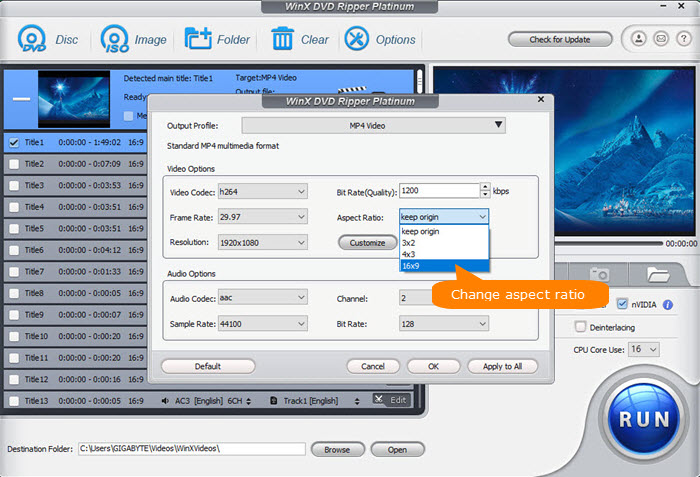 Step 3. If you can't find your wanted aspect ratio from the Setting page, click the Editing button on the title tab > click Crop & Expand > check the Enable Crop button. Then you can crop the movie picture to a customized aspect ratio or a selected ratio.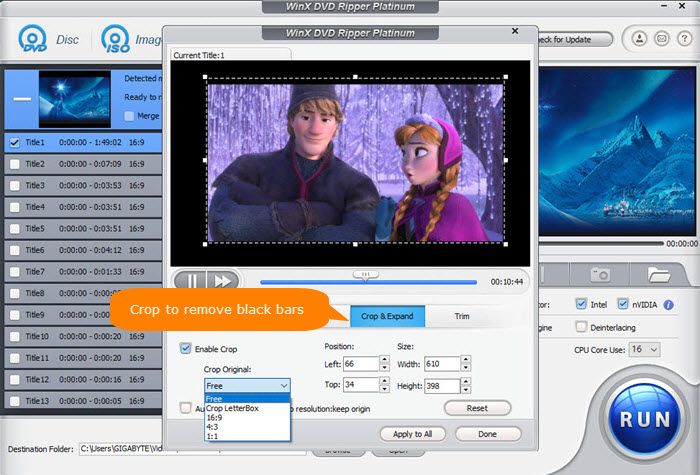 Step 4. Click the big blue Run button and the DVD aspect ratio will be changed as you need. Then you can watch the DVD without distorted, stretched picture, black bars or other dvd player showing wrong aspect ratio errors anymore.
If you encounter any problems using WinX DVD Ripper Platinum or have questions to ask, please email its tech support team.