Convert Video Aspect Ratio from 4:3 to 16:9 for Widescreen Display
Here's guide of how to convert video aspect ratio from 4:3 to 16:9 for widescreen display on Windows (10/8/7)/Mac OS and portable devices with WinX HD Video Converter Deluxe.
"I have tried Total video converter, Any video converter & windows movie maker. However, none of them solved the issue of converting a video source of 4:3 aspect ratio to 16:9 aspect ratio without pillar box. I finally succeeded with WinX HD Video Converter Deluxe. It was the only program that will convert downloaded movies from 4:3 into the 16:9 widescreen format. Superb Tool!"
WinX HD Video Converter Deluxe is simply a video format converter which changes HD/SD video formats to another. It's also an excellent aspect ratio converter that will easily change aspect ratio for widescreen HDTV, computer monitors, smartphones, etc., like from 4:3 to 16:9, 2.39:1, 1.85:1, etc. in high quality without pillarbox or letterbox.
Get the Right Tool to Convert Aspect Ratio for Widescreen
WinX HD Video Converter Deluxe converts videos from 4:3 to 16:9 aspect ratio for widescreen display or 16:9 to 4:3, 9:16, 1:1, in 3 ways:
Change the video aspect ratio setting from 4:3 to 16:9 or others in the parameters.
Crop the top and bottom of a video to change the dimensions to widescreen aspect ratio or whatever you want.
Resize a video by upscaing a 4:3 resolution to widescreen 16:9 resolution, like from 640x480 to 1280x720, or 1280×960 to 1920x1080.
How to Convert Video Aspect Ratio from 4:3 to 16:9
To change video aspect ratio to widescreen, like from 4:3 to 16:9 without pillar box or letter box, follow the guide below. First, free download the aspect ratio converter:

Free download Windows version


Free download MacOS version
Step 1: Load the video
Launch the video aspect ratio converter and click the big "+" icon in the middle. Or click the "+Video" button on the top to import the 4:3 video file from your computer.
Step 2: Choose an output format
Choose a desired output video format. You can convert the source video to MP4, H.264, HEVC, AVI, MKV, AVC, WMV, MPEG, 3GP, etc., or just choose a ready preset for TV, social YouTube, Facebook, iPhone/iPad/Apple TV, Samsung, Google Nexus, Kindle Fire, HTC, PS3/4, Xbox, etc.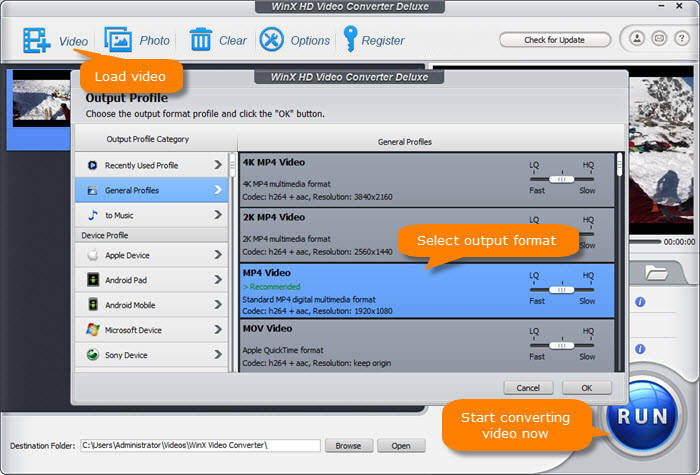 Step 3: Change aspect ratio from 4:3 to 16:9 for Widescreen.
Method 1: Click on the wheel-shaped button beside the selected profile, and then click Aspect Ratio to open the dropdown menu. Here some common aspect ratio options for you. For example, you can convert a video from 4:3 aspect ratio to 16:9 aspect ratio (to a widescreen video), and vice versa, from 16:9 to 4:3, 3:2, etc.
Note: This method is able to convert video aspect ratio from 4:3 to 16:9 without letterbox or pillarbox. However, it may cause image deformation.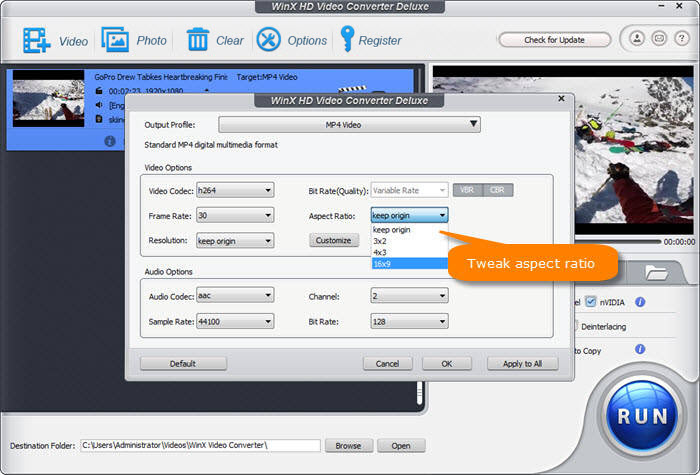 Method 2: Back on the main interface, click the Edit button. Click Crop & Expand button and check the Enable Crop box. Then you can enter the width and height of the video dimensions. Or you can drag the cursor on the image to adjust the picture to the aspect ratio you want. To ensure youo're crop the video to 16:9 widescreen aspect ratio, opoen the Crop dropdown setting and select 16:9.
Note: Check the Auto expand box, it will automatically add pillar box to both sides of the wide to fill a widescreen display.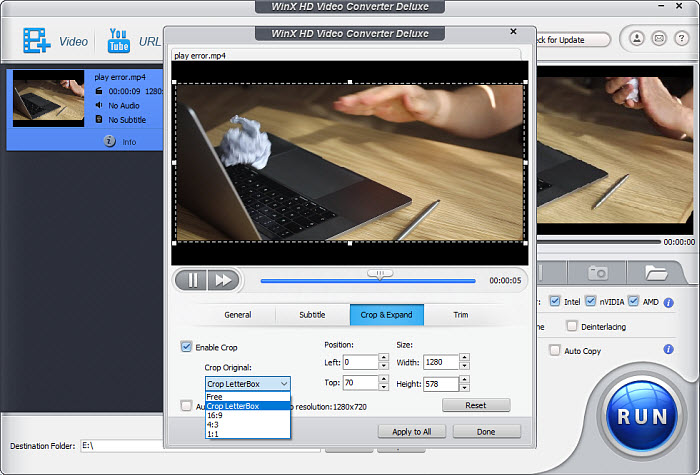 Method 3: In the video parameter setting page, you can change the video aspect ratio for a widescreen display by adjusting its resolution. Click the Resolution button and open the dropdown menu. Select a 16:9 resolution like 1280×720, 1920×1080, or click Customize to set it by yourself. It will upscale a lower resolution to fit the wide screen, like from 1080P to 4K UHD TV.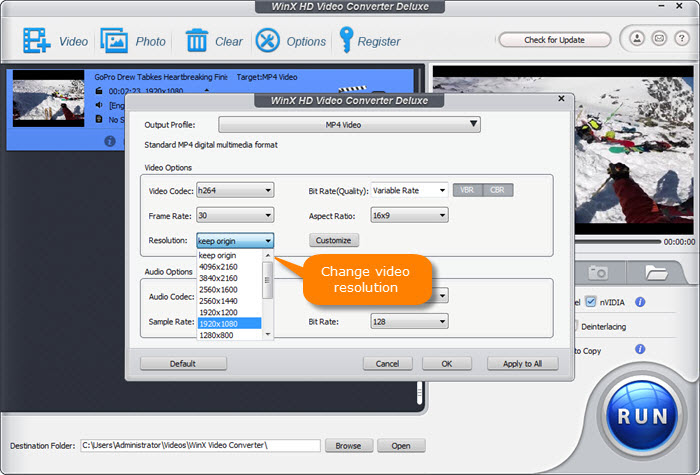 Step 4: Start converting aspect ratio to 16:9 for a movie/video.
Set destination folder to save the edited video and click RUN button to convert video with 16:9 aspect ratio.
Common Aspect Ratios for Computer, TV, and Social Media
Actually, the aspect ratio of the computer/device is close related to the resolution of display.
4:3 aspect ratio resolutions: 640×480, 800×600, 960×720, 1024×768, 1280×960, 1400×1050, 1440×1080 , 1600×1200, 1856×1392, 1920×1440, and 2048×1536.
16:10 aspect ratio resolutions: 1280×800, 1440×900, 1680×1050, 1920×1200 and 2560×1600.
16:9 widescreen aspect ratio resolutions: 1024×576, 1152×648, 1280×720, 1366×768, 1600×900, 1920×1080, 2560×1440 and 3840×2160.
The original screen ratio of TV was changed from 4:3 to 16:9, while the display of a Computer with aspect ratios wider than 4:3 is called widescreen. Because of the different ratio, a 16:9 display or monitor will have a shorter height than a 4:3 display or monitor of the same advertised size. More than that, the 16:9 widescreen aspect ratio has dominated videos on social media.
YouTube - YouTube recommends 16:9 for upload (see best YouTube uploading size).
Facebook - Facebook adopts 16:9, 1:1, 4:5, 2:3, 9:16 (recommended: 1:1 or 4:5).
Instagram - Instagram suports 16:9, 1:1, 4:5, 9:16 in different videos.
Twitter - Twitter uses 16:9 and 1:1 and recommends 16:9.
Vimeo - Vimeo takes 16:9 as its standard aspect ratio and also supports 4:3.
Try WinX HD Video Converter Deluxe to Change Aspect Ratio for Widescreen Now!
WinX HD Video Converter Deluxe helps you convert any SD/HD/UHD videos (MKV, MTS, MP4, AVI, WMV, MOV) to other formats and devices, iPhone, iPad Air/mini/Pro, Samsung Galaxy, Google Nexus, Sony Xperia, Windows Phone, PS, Xbox etc. at the world's fatest speed, with adjusted aspect ratio, resolution, bit rate and more for better display on widescreen disaply. It also lets you download (Metacafe, etc) videos online, trim, merge and edit videos, add subtitles, and do more.
Related External Sources:
• Aspect Ratio - The ratio of the width of a shape to its height when the width is larger than the height...
• Widescreen - Widescreen images are a variety of aspect ratios used in film, television and computer screens. In film, a widescreen film is any film image with a width-to-height aspect ratio greater than the standard 1.37:1...