Convert Video Aspect Ratio from 4:3 to 16:9 for Widescreen Display
If you have recorded some videos using 4:3 aspect ratio, you may find that they are not suitable for widescreen TVs, or uploading to YouTube, other media sites. When you play the fullscreen 4:3 videos on a 16:9 widescreen, it will result in distorted images. To play the 4:3 videos clearly on your widescreen TVs, you can either utilize monitors with the same 4:3 aspect ratio, or change the video aspect ratio from 4:3 to 16:9.
Obviously, for the sake of cost, converting the video aspect ratio is an excellent choice. In this post, we'll show you how to convert a 4:3 video to a 16:9 file, whether you want to keep the whole width, avoid stretching, letterbox or pillarbox...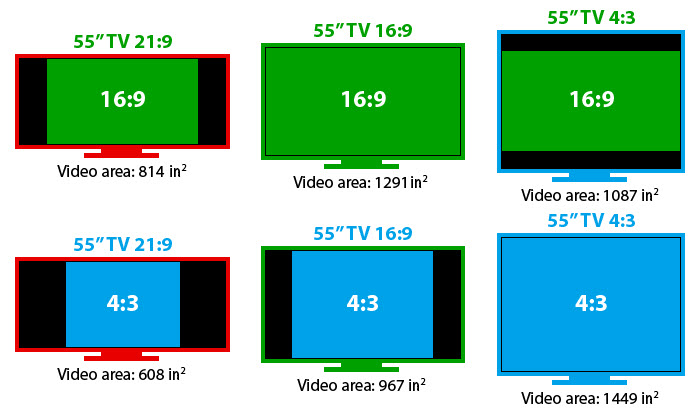 Easily Convert Aspect Ratio from 4:3 to 16:9 for Widescreen
WinX HD Video Converter Deluxe - an excellent aspect ratio converter that will change aspect ratio for widescreen HDTV, computer monitors, smartphones, social media, etc., like from fullscreen 4:3 to 16:9 widescreen, 16:9 to 4:3, 1:1, 1.85:1, etc. High quality without stretching or squashing.
Part 1. How to Convert 4:3 to 16:9 with a Good Aspect Ratio Converter
To change video aspect ratio to widescreen, like from 4:3 to 16:9 without pillar box or letter box, follow the guide below. First, free download the aspect ratio converter:

Download WinX HD Video Converter Deluxe on Windows 7 or later


Download WinX HD Video Converter for Mac on Mac OS X 10.6 or later
Step 1. Load the video
Launch the video aspect ratio converter and click the big "+" icon in the middle. Or click the "+Video" button on the top to import the fullscreen 4:3 video file from your computer.
Step 2. Choose an output format
Choose a desired output video format. You can convert the source video to MP4, H.264, HEVC, AVI, MKV, AVC, WMV, MPEG, etc., or just choose a ready preset for TV, YouTube, Facebook, iPhone/iPad/Apple TV, Android, Xbox, etc.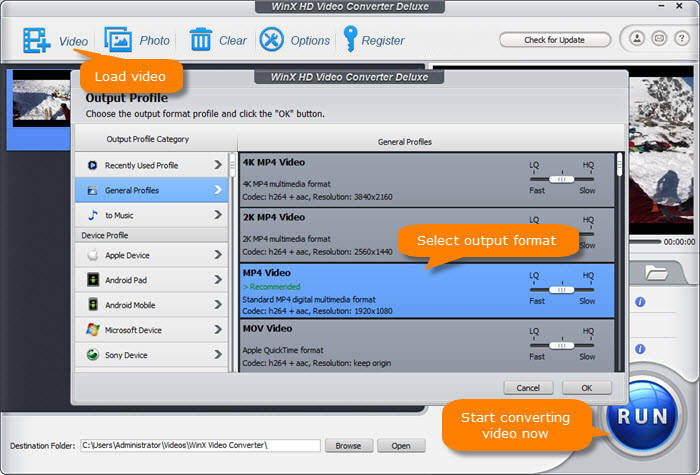 Step 3. Change aspect ratio from 4:3 to 16:9 for Widescreen.
Method 1. Change the aspect ratio.
Click on the wheel-shaped button beside the selected profile, and then click Aspect Ratio to open the dropdown menu. Here some common aspect ratio options for you. For example, you can convert a video from fullscreen 4:3 aspect ratio to 16:9 aspect ratio (to a widescreen video), and vice versa, from 16:9 to 4:3, 3:2, etc.
Note: This method is able to convert video aspect ratio from 4:3 to 16:9 without pillarbox. However, it will cause image deformation.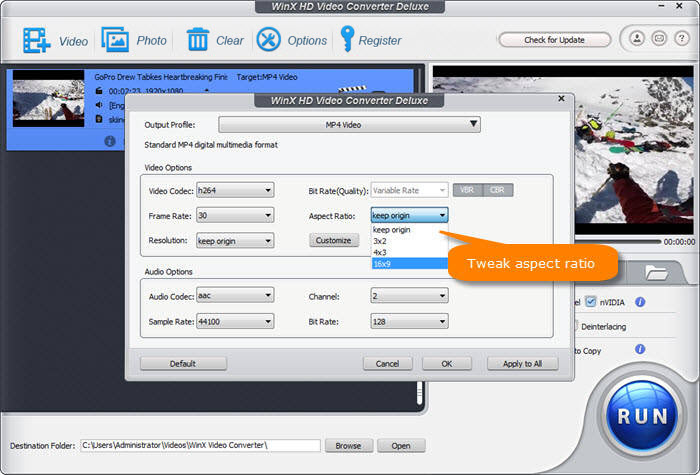 Method 2. Crop the video size.
Back on the main interface, click the Edit button. Click Crop & Expand button and check the Enable Crop box. Then you can enter the width and height of the video dimensions. Or you can drag the cursor on the image to adjust the picture to the aspect ratio you want. To ensure you're cropping the video from 4:3 to 16:9 widescreen aspect ratio, open the Crop dropdown setting, select 16:9 and then you can crop the picture at the fixed 16:9 aspect ratio.
Note: Check the Auto expand box, it will automatically add pillar box to both sides of the wide to fill a widescreen display.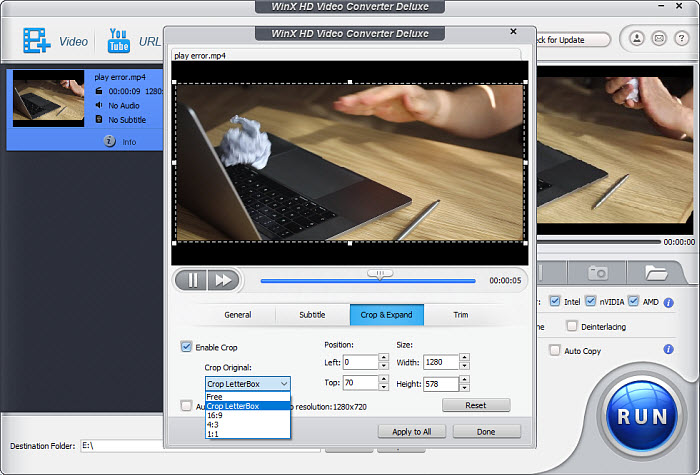 Method 3. Resize the video.
In the video parameter setting page, you can change the video aspect ratio for a widescreen display by adjusting its resolution. Click the Resolution button and open the dropdown menu. Select a 16:9 resolution like 1280×720, 1920×1080, or click Customize to set it by yourself. It will upscale a lower resolution to fit the wide screen, like from 1080P to 4K UHD TV.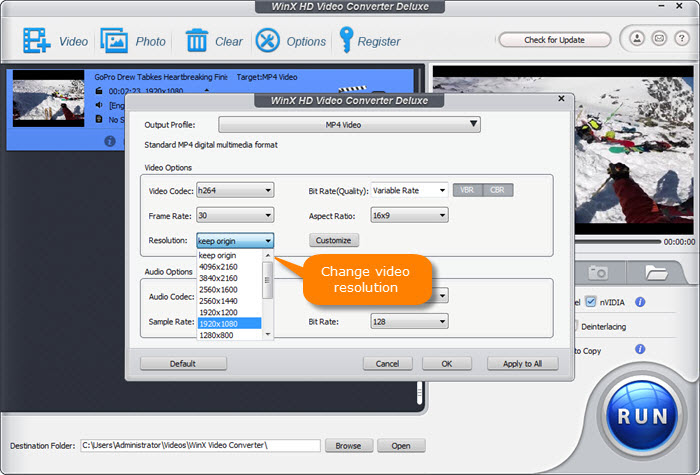 Step 4. Start converting aspect ratio to 16:9 for a movie/video.
Set destination folder to save the edited video and click RUN button to convert video with 16:9 aspect ratio.
Part 2. Three Common Ways to Change Aspect Ratios
What's the difference between 4:3 and 16:9 aspect ratios? The 16:9 aspect ratio creates a frame that's 78% wider than it is tall while the 4:3 aspect ratio creates a frame that's 33% wider than it is tall. In other words, 16:9 records more information horizontally and 4:3 records more vertically. If you shoot a video in fullscreen and play it on widescreen or vice versa, then you'll end up cropping or distorting the image. Then you will need to adjust the aspect ratio. Generally, there are mainly 3 methods to convert a 4:3 video into 16:9:
Pillarboxing: Add vertical black bars on the left and right sides of the screen (called pillarboxing). The pillarbox will occupy 25% of the horizontal space.
Stretching: Stretch the 4:3 video horizontally to fill to fill a 16:9 aspect ratio screen, resulting in a 33% anamorphic distortion.  
Cropping: Crop off the top and button portion of the image to make the aspect ratio 16:9. It will zoom in on the video until it fills the screen side-to-side. This is also known as zooming in the video. However, you will lose 25% of the vertical resolution. 
Apparently, pillarboxing and croppping are two ways to change aspect ratio from 4:3 to 16:9 without stretching/squeezing/distorting the images. If you don't mind the black bars, pillarboxing is definitely the best way to keep the image as is. But both methods are far from ideal. In fact, it is reported that 5% anamorphic distortion is undetectable and a 7% anamorphic distortion is not objectionable. Maybe combining the three methods is the best way to convert aspect ratios with the best results. Part 3. What Are the Best Aspect Ratios for TVs, YouTube, Instagram...
The aspect ratio of the computer/device is closely related to the resolution of display. Below are some common resolutions in different aspect ratios. If you're not sure which resolution is 4:3 or 16:9, you can also use an aspect ratio calculator online to check the dimensions when resizing images.
4:3 aspect ratio resolutions: 640×480, 800×600, 960×720, 1024×768, 1280×960, 1440×1080 , 1600×1200, 1920×1440, and 2048×1536.
16:10 aspect ratio resolutions: 1280×800, 1440×900, 1680×1050, 1920×1200 and 2560×1600.
16:9 widescreen aspect ratio resolutions: 1024×576, 1152×648, 1280×720, 1600×900, 1920×1080, 2560×1440 and 3840×2160.
To today, many cameras in the industrial, commercial, security, and law enforcement industries still utilize 4:3 CCD or CMOS imagers. But the best aspect ratio for video is 16:9 since most TV and movies are shot in a 16:9 aspect ratio and it fits most modern displays such as TVs, tablets, phones, and computer screens. Rather than having black bars in 4:3 videos, 16:9 aspect ratio let the videos display entirely on modern screens without cropping. More than that, the 16:9 widescreen aspect ratio has dominated videos on social media.
YouTube - YouTube recommends 16:9 for upload (see best YouTube uploading size).
TikTok - TikTok uses an aspect ratio of standard smartphone screen 9:16. 1:1 is also possible.
Facebook - Facebook adopts 16:9, 1:1, 4:5, 2:3, 9:16 (recommended: 1:1 or 4:5).
Instagram - Instagram suports 16:9, 1:1, 4:5, 9:16 in different videos.
Twitter - Twitter uses 16:9 and 1:1 and recommends 16:9.
Vimeo - Vimeo takes 16:9 as its standard aspect ratio and also supports 4:3.
Related Post: Top 5 video croppers to crop a video in Windows 11
Convert Aspect Ratios for TVs, YouTube, Instagram
By using WinX HD Video Converter Deluxe, you can easily convert aspect ratios to YouTube, TikTok, Instagram, TVs, other platforms and sites. Also convert any SD/HD/UHD videos (MKV, MTS, MP4, AVI, WMV, MOV) to other formats and devices at the world's fatest speed, with adjusted aspect ratio, resolution, bit rate and more for any disaplys. Trim, merge and edit videos, add subtitles, and do more.
Part 4. FAQs
1. What is the standard video aspect ratio?
Currently, 16:9 is the startand video aspect ratio used in HDTVs and social media. Previously, 4:3 was the standand aspect ratio in TVs.
2. Is 1920 x 1080 the same as 16:9?
1920 x 1080 is a 16:9 aspect ratio. But they are not the same. 1920 x 1080 is about screen resolution and 16:9 is about video aspect ratio. DSLRs, smartphones, and the latest camcorders record video at 16:9 by default.
3. How do I make my video fit my screen?
There are two ways: record the video with an aspect ratio that matches with the one of your TV or monitor. Or convert the video aspect ratio with aspect ratio converters to fit your screens.
4. How do I calculate the aspect ratio?
Doing the complicated math to calculate conversions of the width and height of a video into the aspect ratio isn't necessary. There are many aspect ratio calculators help you do that, for example:
Calculateaspectratio.com
Andrewhedges.name
Aspectratiocalculator.com
Digitalrebellion.com