2020 Best Video Size Dimensions for Uploading to YouTube

I have a camera that records good quality but the output size has black bars at the sides when I upload videos to youtube. Is there a way to rescale the size or ratio to 1920x1080? – Yahoo Answers

I'm trying to upload a video of me on YouTube. I took the video on my iPhone and I didn't realize the screen wasn't formatted to fit normal size on Youtube. Now I have these ugly black bars on the sides of my video. I want to get rid of them it looks unprofessional with black bars... Help Please! – Yahoo Answers
Countless similar questions can be found on the internet. In view of this, many people have no idea about the best YouTube size to avoid black bars. But luckily, you can find answers in this article which will focus on the best video size and size limit for YouTube video uploading, and introduce a program to convert video to the best video size for YouTube.
Change file size and frame size of your video with the tool below
WinX HD Video Converter Deluxe (All-in-one video editor, compressor and converter)
* Crop the frame size or black bars of a video image, cut off unwanted clips from a video.
* Trim off some video segments if the video surpasses YouTube supported file size.
* Split a large/long video to smaller parts for uploading to YouTube.
* Downscale 4K to 1080p, and change video aspect ratio from 4:3 or other ratios to 16:9 to fit for YouTube player.
* Convert any videos to YouTube supported file formats and formats with higher compression efficiency like VP9, VP8, H265...
Note: Ongoing coronavirus lockdown drives you stir crazy. But you can share your funny way to iron out the boredom and win licensed copy of YouTube video downloader and converter here. Plus, more free ways to entertain yourself at home are shared here.
Best Video Size for YouTube Uploading
Millions of people around the world register on YouTube out of watching versatile videos, sharing favorite videos with friends and also uploading self-made videos or vlogs to YouTube. Uploaded videos could involve travel recording, product introduction, how-to guide, promotional tour, etc. However, not all videos you upload to YouTube can deliver satisfactory viewing experience. Uploaded videos may always end up with black bars on the sides or low video quality. To rectify things like these, you need to figure out the best YouTube size.
When uploading video to YouTube, it's necessary to check ahead if your video size matches with the requirements of YouTube video uploading.
1. Video File size for YouTube
According to the rule, video file size is limited to 2GB for YouTube uploading. But size larger than 20GB is allowed by using an up-to-date browser. And the maximum is 128GB.
2. Best Video frame size for YouTube
Video frame size refers to video resolution. Since YouTube applies 16:9 aspect ratio players, uploading a 16:9 video file could be the best choice. The following resolution plans are the frequently-used ones. How to Compress 4K from GB to MB without quality loss >>
Best Video Frame Size for YouTube

▶ 240p: 426x240
▶ 360p: 640x360
▶ 480p: 854x480
▶ 720p: 1280x720

▶ 1080p: 1920x1080
▶ 1440p (2k): 2560x1440
▶ 2160p (4k): 3840 x 2160
3. YouTube Video Length Limit 2019-2020
Before you verify your YouTube channel or yout Google account, the maximum YouTube video length is 15 minutes. To upload longer video to YouTube, verify one of the accounts you have. So far, the maximum file size you're allowed is 12 hours. Apply one YouTube video editor to cut YouTube video length if your video is too long to upload.
Above are the best YouTube video size dimensions for uploading. For those video files in 4:3 aspect ratio, YouTube player will automatically display videos with pillar boxes or letter boxes to play videos properly. This is why some YouTube users will find black bars on the sides of YouTube video. To fit for the YouTube player, make sure to set the aspect ratio to 16:9 when recording videos.
Change Aspect Ratio from 4:3 to 16:9 to Avoid Black Bars
WinX HD Video Converter Deluxe is a nice YouTube video editor and strong performer to change YouTube ratio size from 4:3 to 16:9, upscale/downscale video resolution, crop video to amplify the highlight, trim video to shorten length, merge clips into one, split video footage and more, to upload a video perfectly fit for YouTube.
Plus, it has premade profiles for YouTube, thus you can convert any videos to YouTube supported videos directly.
Tips to Export High Quality YouTube Video
To output high quality YouTube video, setting ideal resolution size isn't the only priority. Other encoding settings are not supposed to be ignored, including video format, bitrates, codecs, etc.
Recommended video format: MP4
Audio Codec: AAC-LC (Channels: Stereo or Stereo + 5.1 Sample rate: 96khz or 48 khz)
Video Codec: H.264
Frame rates: It is recommended to make frame rates match the source material. YouTube supports up to 60 frames per second.
Bitrates: Compared with other settings, bitrate is less important. For advanced users, you can refer to the tables below.
Standard quality uploads

Type

Video Bitrate

Mono Audio Bitrate

Stereo Audio Bitrate

5.1 Audio Bitrate

2160p
35-45 Mbps
128 kbps
384 kbps
512 kbps
1440p
10 Mbps
128 kbps
384 kbps
512 kbps
1080p
8,000 kbps
128 kbps
384 kbps
512 kbps
720p
5,000 kbps
128 kbps
384 kbps
512 kbps
480p
2,500 kbps
64 kbps
128 kbps
196 kbps
360p
1,000 kbps
64 kbps
128 kbps
196 kbps
High quality uploads

Type

Video Bitrate

Mono Audio Bitrate

Stereo Audio Bitrate

5.1 Audio Bitrate

1080p
5,000 kbps
128 kbps
384 kbps
512 kbps
720p
3,000 kbps
128 kbps
384 kbps
512 kbps
480p
15,000 kbps
128 kbps
384 kbps
512 kbps
360p
5,000 kbps
128 kbps
384 kbps
512 kbps
How to Convert Videos to Best Size for YouTube Video?
The videos we attempt to upload to YouTube could be shot by mobile phones, tablets, cameras, webcam or ripped from DVD. Thus, output resolution size could be inconsistent with the best YouTube size suggested by YouTube. To get better result, you'd better change video size to the best YouTube dimension and set video audio parameters to fit for YouTube before uploading. Here's a professional YouTube video editor and converter – WinX HD Video Converter Deluxe which enables users to convert videos directly to YouTube compatible resolution size and format, crop/trim/merge/split video, set audio video parameters including video resolution, aspect ratio, video audio codec, frame rate, sample rate and bit rate, and so on.
With this tool, you can directly convert video to YouTube in four simple steps only, thanks to the preset profiles for YouTube.
Step 1. Open WinX HD Video Converter Deluxe, and choose Video. Next, load video by clicking + Video.
Step 2. Choose output profile: go to Target Format, scroll down to YouTube Video, and then choose MP4 or FLV. MP4 is recommended.
Step 3. Modify the video size for YouTube using the following ways: click Cut to delete unwanted segments: click Crop to remove unwanted area, such as letterbox; hit Codec Option button to change aspect ratio, resolution, frame rate, video audio codec, etc; go to Toolbox tab, click Split, and then divide the video into smaller parts for further uploading.
Step 4. Set Output Folder to store the converted and edited videos. Hit RUN to begin converting videos to YouTube best video size for later uploading.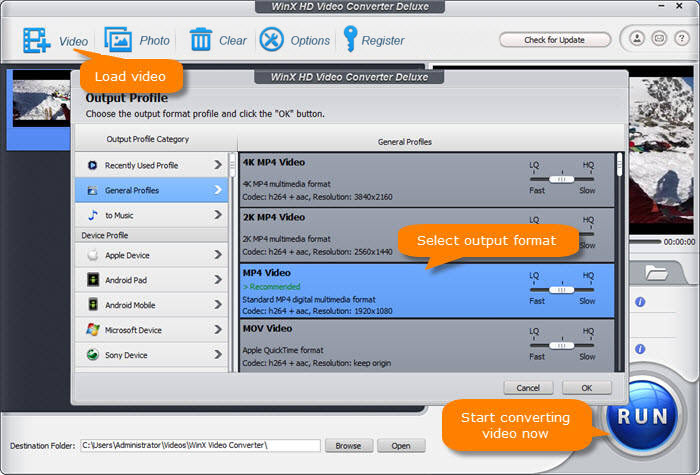 Besides working as YouTube video editor and converter to get best resolution/file size for YouTube, WinX HD Video Converter Deluxe is capable of converting video to iPhone 11/Pro/Max/Xs (MAX)/XR/X/8/7/6s/6 Plus/5S, iPad Air/Pro/mini, Sony PSP/Xperia, Microsoft WP8, Samsung Galaxy series and other mainstream devices.
If you need to convert any SD/HD and even 4K UHD/8K videos to the best video size for YouTube uploading or set the audio video parameters, please turn to WinX HD Video Converter Deluxe. Besides, it is an easy-to-use video/audio/DVD converter, video/music downloader supporting 1000+ sites (YouTube included), and recorder to record screen and webcam.