Why Instagram Won't Let You Post Photos/Videos & How to Fix It
What a depressing thing that you get everything prepared for uploading photos or videos to Instagram but the post stuck on sending! And even after a long wait, Instagram posting failed with an error message "Instagram not posted yet please try again".
Why Instagram won't let you post photos and videos? The reasons can various from Internet connection, cookies on your phone, insufficient memory storage, Instagram data settings, contents with a violation of policy, undesirable video specs to account restrictions. Whatever the cause, we've suited the remedy to the case to fix the Instagram not posting error.
How to Fix Instagram Not Posting Issue - Solution Varies from Causes
1. Check your internet connection.
Whether you admit it or not, internet connection comes one of the biggest reasons for Instagram not posting sometimes. Thus, before you start posting photos or videos to Instagram, make sure you have a great internet connection.
2. Clear the Instagram Cache.
There is a big possibility that you cannot post your photos or videos on Instagram owing to the problem with caches stored on your phone. To fix it, you need just reset the cache data with the following steps:
On iOS: Go to Settings > General > iPhone Storage > Instagram app > tap "Offload App" to clear the Instagram cache.
On Android: Go Settings > Apps > Find Instagram app > Tap Storage > Clear Cache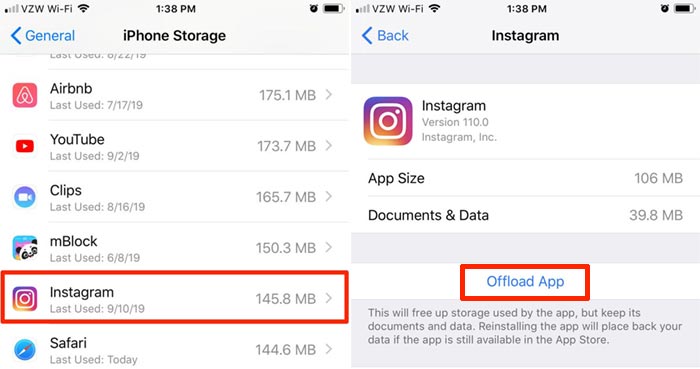 After you've done, open up Instagram app again to see whether Instagram allows you to post. If it's not fixed, there may be other problems causing this bug, keep reading...
3. Free up your phone storage space.
When the storage of your iPhone or Android phone is filled up, you can't upload to Instagram as well. For that, the only thing you need to do is to free up the storage space. Removing some apps that you don't need and transferring photos, videos, music etc. to desktop or cloud services
4. Change your Instagram data setting.
You know what, there is a setting witin Instagram that limits what you can upload, how often you can post photos or videos and how much data is using. If Instagram won't let you post, it might be an issue that the data limit is set too low. Frankly, raising the limit could get you out of the trouble.
In Instagram app, go to "Profile" > "Settings" > tap "Account", and scroll down until you find the "Mobile/Cellular Data Usage", choose High-resolution media to raise the data limit.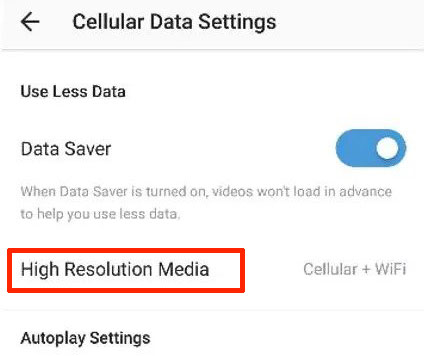 5. Edit photos/videos to meet Instagram specs.
Instagram does have some requirements on photos and videos specs. If your photos or videos don't meet the criteria, you might fail to post them on Insta. Actually, it's quite easy to edit photos for Instagram on mobile, since the built-in Photos app is strong enough to do so. When it comes to video, it only helps with something like cropping video frame size or trimming video length for Instagram.
For more video editing and parameters settings, you're more suggested to try an Instagram video converter, like WinX HD Video Converter Deluxe. It's capable of converting any videos to Instagram supported video formats, tweaking video parameters like codec, resolution, frame rate, aspect ratio etc., trimming video length and so on.
The best photo specs for Instagram: .jpg or .png, 30 MB file size maximumly, Square (600×600 pixels min. and 1936×1936 pixels max.), Landscape (600×315 pixels min. and 1936×1936 pixels max.), Portrait (600×750 pixels min. and 1936×1936 pixels max.).
The best video specs for Instagram: MP4 (H.264 codec), frame rate at 30 fps, maximum 1920 pixels tall and 1080 pixels wide, 3-60 seconds video length, and AAC audio with 3500 kbps bitrate.
You may be also interested in: MOV not upload to Instagram, Top-rated Instagram editors to polish your photos and videos for Instagram >>
6. Remove the photos or videos that may violate Instagram policy.
Instagram has strict rules for what you can and can't upload, and they have very clever bots that detect if your photos or videos break that rules. Make sure your photos or videos do not contain any obscene content, such as nudity or violence.