[Fixed] No Sound on Instagram Uploaded Videos, Stories, Reel, IGTV
While Instagram is a popular social media platforms where people can share videos, scroll through updates, etc., there is one annoying problem – the Instagram video no sound error. Sometimes, your uploaded and post Instagram video has no sound. While at other times, there is no sound on Instagram Reels, Stories, Live, call, and even IGTV. If you can't get your audio back to Instagram video on your iPhone, Android, any devices, don't worry. Here we have fixes to them.

Updated - Instagram Stories have no sound after iOS 15 update:
"Can any genius work out why on the iOS15 update that sound on Instagram stories no longer works", "Instagram story in iOS 15 no sound.", "i can't hear the sound on instagram stories"... Users are complaining on Twitter that they can't hear sound on Instagram Stories after iOS 15 update.
Most of the Instagram no sound on iOS 15 problems occur when the iPhone is in silent mode after updating to iOS15. It can be an Instagram/iOS 15 bug. To fix, turn off the "Silent" mode on your iPhone or iPad and try playing a video on Instagram. If there is still no sound on Instagram stories, try other workarounds:
1. Activate the sound for the video in the timeline.
2. Update Instagram app to the latest version.
3. Close down the app and open it again.
4. Restart your device and try again.
Basic Fixes to No Sound on Instagram Stories/Reel/Live…
Once your Instagram videos uploaded/post/feed have no sound, or there is no sound when you watch IG reels, stories, or IGTV, make sure you have tried the easy fixes below.
Restart your iPhone/Android and try again.
Re-install the Instagram app.
Fully close the Instagram app and try again.
Make sure your volume is not turned off.
Log out your account and re-log in.
Update your Instagram app to the latest version.
Make sure there is no hardware problem with your phone.
If nothing works, keep reading.
1. Check Bluetooth Headphones/Earbuds
If there is no sound on all your Instagram videos on Reels, Stories, or call, make sure you haven't plugged any bluetooth headphones to your phone. If you had watched some Instagram videos with headphones plugged in and later, watched more videos on Instagram without headphones, it could end up in no sound. The same could also happen with external speaker. Check and discounnect any paried speaker or headphones. If the feeded/post Instagram video still has no sound, try plugging in and unplugging the headphone.
2. Make Sure When Ringer is On
If the Instagram post/live/call video no sound errors happen after you update the app or your phone system, it can be caused by the settings that are changed due to the update. For example, some users have fixed the feed/post Instagram video no sound/music problems by selecting the "when ringer is on". Open the Instagram app, go to profile > Settings at the top right corner > scroll down to the video settings > select Sound > make sure the "When Ringer is On" is selected.
3. Re-enable Mic and Camera Access
A user on Reddit has reported a useful fix to Instagram Stories video no sound error. First, you close the Instagram app. Then go to Settings on your phone > find Instagram settings and turn off Microphone and Camera access. Restart the Instagram app, click the top left camera icon to re-enable the Microphone and Camera access. Then you should be able to play Instagram Stories video with sound. It will work even if your phone is in the silient mode.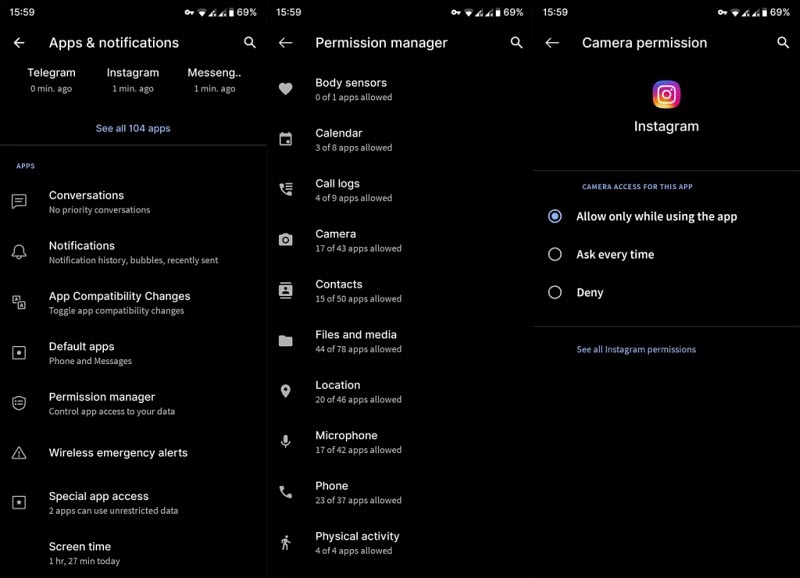 4. Enable Instagram Allow All Auto Play
In the case that the Instagram post video has no audio on iPhone, go to the Safari menubar > Preferences > Websites > Autoplay. Here check if you have set the Instagram to Never auto play media (If Instagram is not in the preferences settings, open Instagram on the Safari/Mac and click Safari > Settings for this eb site). If Instagram is set to Never auto play, the feed Instagram may play the video but no sound. Click it and choose "Allow All Auto Play". Then your audio should play.  
Hot search: Instagram not posting errors fixed
5. Adjust Sound Settings
Make sure you have the correct sound settings on your phone. On Android, go to Settings > scroll down and select Sounds and Vibrations > select Sound from the three sound profiles. On iPhone, go to Settings and click Sound & Haptics > then drag the slider to adjust the volume level. After that, go back to Instagram to check if the feeded/post Instagram video no sound problem is solved or not.
6. Clear the Instagram App Cache
Clearing the cache is often an useful way to fix app errors, including no sound errors on videos of Instagram Reel, Stories, Live, call, IGTV, etc. To clear Instagram cache:
On Android: Go to settings on your phone > select Apps or Application Manager > find Instagram > tap on Storage and then select Clear Cache.
On iPhone: Go to settings on your phone > select General > tap on Storage and find Instagram > select Delete. After that, you need to go the App Store and reinstall Instagram.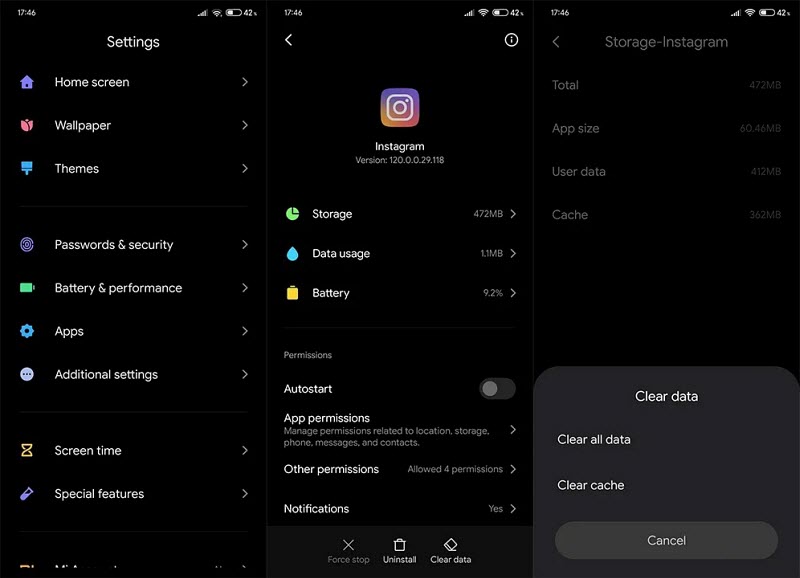 7. Switch to Personal/Creator Account
If you can't hear the music on Instagram after you post or upload a video to Stories/Reel with music, try to switch your account between the business/personal/creator account. That has fixed the Instagram music video no audio problem for some users. To switch your account, go to Instagram Settings > scroll down to the Account > here you can select Switch to Creator or Personal account based on your needs.