Troubleshootings: How to Fix Instagram Videos Not Playing?
Based on above mentioned reasons, we conclude that there are 4 possibly workable ways to tackle Instagram videos won't play issue. But before any further, you might as well restart your device to have a try. Sometimes, you can make Instagram play videos normally simply by rebooting. If this trick isn't workable, try the solutions below.

1. Make sure you're connecting to usable internet.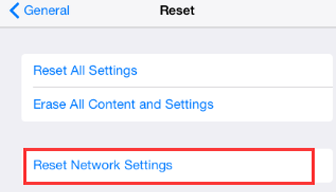 1). If you're using cellular data, switch to WiFi (if there is) to have a try. Plus, check if Instagram is disabled under "Cellular Data Use". If it is, videos will be prevented from loading in Instagram. This is one of the reasons that Instagram videos only play on WiFi.
2). Check your router: ■ reboot router ■ check cables ■ restore router to factory settings ■ put it far away from heat sources ■ try a different router ■ check its availability with other devices
3). Reset network settings of Android/iPhone, and then restart your device, reconnect to network and try playing Instagram videos again:
• Android: Settings -> Backup & Reset -> Network Settings Reset -> RESET SETTINGS.
• iPhone: Settings -> General -> Reset -> Reset Network Settings -> enter posscode -> confirm reset by pressing Reset Network Settings.

2. Uninstall and reinstall Instagram app.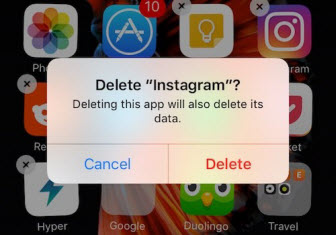 In this way, you can fix Instagram videos not playing issue caused by problematic or obsolete Instagram app.
• Android: Settings -> Applications -> Manage Applications -> Instagram -> Uninstall. Once finished, download its latest version from Google Play Store and install it again.
• iPhone: You have two ways to remove Instagram app off iPhone.
1). Tap and hold the Instagram app icon until it shakes, then tap X on its icon to delete it.
2). Go to Settings -> General -> Usage/Storage & iCloud Usage -> Manage Storage under STORAGE section -> locate and tap Instagram -> Delete App.
Once done, go to App Store to download and install Instagram app.

3. Disable power saving mode.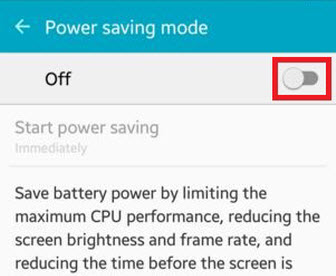 Power saving mode is helpful when you need to conserve battery power but your device's performance (e.g. Instagram video playback) will be limited. Therefore, you need to disable it in order to solve Instagram videos won't play problem.
• On Android 6.0 Marshmallow, go to Settings -> Battery -> Battery Saver -> switch off the battery saver button. Or take actions below to fix Instagram video not playing on Android Nougat/Marshmallow: Go to the "Battery" -> open "Option" and you will see three items: Off, MID and MAX -> click on "Mid" -> customize -> enable "Background network usage" -> then restart your Instagram app and the Instagram videos should play on Android flawlessly.
• If you're using Android 7.0, check High Performance following this directory: Settings -> Device Maintenance -> Battery -> Performance Mode -> choose High performance.
• As for iPhone, open Settings app, tap Battery, and then toggle Low Power Mode off.

4. Clear Instagram caches.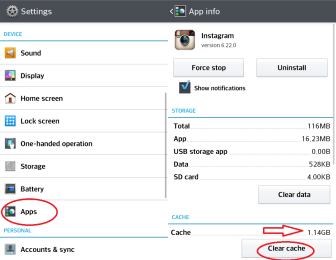 Corrupted data in Instagram will lead to Instagram video not playing issue. Fortunately, we can remove them off Instagram by clearing caches.
• To clear Instagram caches on Android, you should go to Settings -> App -> Instagram -> Storage -> Clear Caches.
• To delete Instagram caches on iPhone, you'd better uninstall this app and download a copy later.
• Clearing caches of computer browser is also a possible method when you need to solve Instagram videos not playing on Chrome, Firefox or other browsers.
After that, reboot your device, reopen Instagram app/website, and then check if the problem gets fixed.
After trying these tricks, you should play Instagram videos smoothly. If you have other problems with Instagram, please jump to: Fix Instagram Not Playing/Working/Can't Login on Android iPhone iPad PC.