Posted by Kaley Torres - Contact Author

How Long Can An Instagram Video Be? It Varies by Post Types
Posting videos on Instagram is almost a knee-jerk reaction when someone would like to share something to his friends and followers. While Instagram video length comes an issue which stops you to do that occasionally. For that, you may wonder what's the maximum length of an Instagram video post?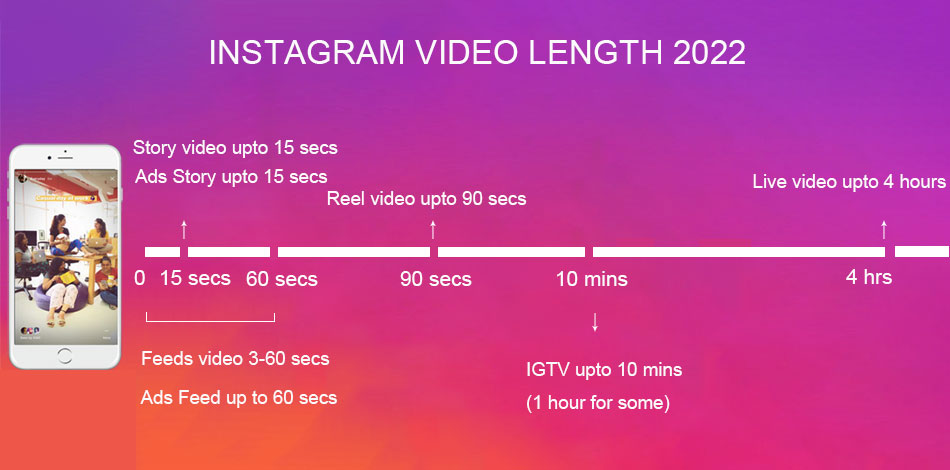 It depends on the video content type you're uploading.
• Instagram Feed video: 3-60 seconds.
• Instagram Story video: 15 seconds maximumly.
• Instagram IGTV clips: 15 seconds to 10 minutes (up to 1 hour for some accounts).
• Instagram live video length: at 60 minutes maximum duration.
Let's take a closer look...
What's Instagram Video Length Limit for Every Type of Video Post?
1. Instagram Feed Video
Uploading videos to Instagram Feed can be really easy. But what you should always keep in mind is that Instagram feeds videos are limited to 3-60 seconds. If you're willing to post a video longer than 1 minute, that's fine, but only 1 minute of video content will be featured in feed. For example, you're allowed to select a 2 miniute 20 seconds video to Instagram feed, while you have to cut it to a 60-second long section for uploading. Just click "Trim" button and drag the start and end time cursor to get the best 60 seconds of your video.
Does that mean Instagram not posting when the video length exceeding 60 seconds? Not really. You're able to post videos on Instagram longer than 60 seconds indeed. Third-party apps like Continual for Instagram ($7.99 on iOS), Story Cutter, or Story Splitter can divide your video into 15-second long clips, and save those shorter clips to your camera roll. After then, you're allowed to upload those videos to Instagram Stories individually as if you'd posted a long video.
Also see: How to upload 4K high quality video to Instagram from computer directly >>
2. Instagram Story Video
An Instagram video story will be visible only for 24 hours. And videos posted to Instagram story cannot be longer than 15 seconds. If you've chosen a video that's longer than 15 seconds, Instagram will chop it into a 15-second clip for uploading. But this only for videos within 1 minute since Instagram limits the number of clips generated to four. For those longer videos, you need to edit them to Instagram in shorter length manually as above.
However, if you're shooting an Instagram story live in the app, you're able to shoot up to 10 clips of 15-second video in a single take to share them as combined stories.
3. Instagram IGTV Clips
IGTV is geared towards creating much more immersive content for Instagram users. But you can only upload HD, vertical videos ranging from 15 seconds to 10 minutes. Of course, things are different if your account is verified with plenty of followers. In this case, you're able to enjoy up to 60 minutes of video length for IGTV.
Learn more about the upload requirements for IGTV >>
4. Instagram Live Video
Instagram allows registered users to post live broadcast videos to their account directly. Though live video can be pretty long and gives you enough time to do or say all that you want to say in your content, there is a length limit indeed. Instagram Live Videos display real-time video content up to 60 minutes long. And the live video can be replayed for up to 24 hours after the recording.
Throughout all types of Instagram videos, MP4 is the best format, and here are the best specs for Instagram:
H.264 codec
Maximum of 60 seconds
Frame rate of 30 fps
Maximum 1920 pixels tall, 1080 px wide
AAC audio, 3500 kbps bitrate
How to Make Your Videos Cater to Instagram Video Length Limit? The Key: Trim the video length & convert video to Instagram-friendly video specs

Try with An Instagram Video Trimmer
Besides video length limitation, Instagram also requires a lot on video format, resolution, frame rate, and so on. Therefore, comparing to a video trimmer, a more comprehensive Instagram video converter that is able to cut video length, convert videos to Instagram video formats, adjust parameters like resolution, frame rate, bit rate, aspect ratio etc. is more in demand.
Trim video length, crop video frame size, add subtitles/watermark, rotate/flip, merge video etc.
Convert and compress video to MP4, MOV, and other Instagram video supported formats.
Tweak video resolution, frame rate, bit rate, aspect ratio, audio etc. to perfect fit with Instagram.
47X real-time faster with Intel QSV, NVIDIA, or AMD hardware acceleration enabled.

Download WinX HD Video Converter Deluxe on Windows 10 or lower


Download WinX HD Video Converter for Mac on macOS Big Sur or earlier

Free download WinX Video Converter Deluxe, and follow the wizard steps to install it. Then trim video to meet the Instagram video length limit.
Step 1. Open the program and click +Video button or drag and drop to load the overlong video for Instagram.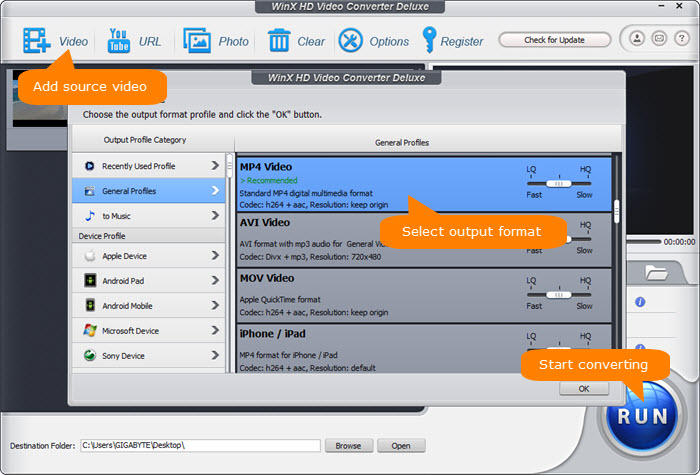 Step 2. Select an output format from the automatically popped up window. For example, when you upload a video to Instagram in MOV, MKV, AVI, WMV, FLV, AVCHD, etc, it will refuse. H.264 MP4 is the best format for Instagram, which can be selected through "General Profiles" > "MP4 Video (h264+aac)" > "OK".
Step 3. Click the scissors-shaped Edit button to carry out Trim option. Just choose "Trim" column, and tick on the box of "Enable Trim", then slide the start and end time cursor on the timeline, or type the accurate start and end time to cut video to fill the bill of Instagram video length requirements.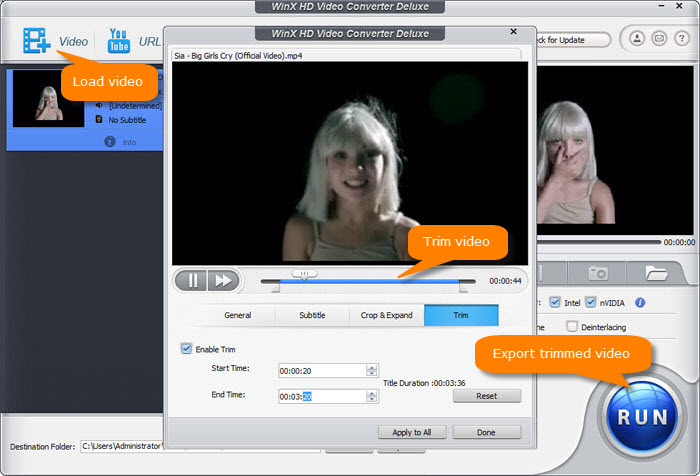 Step 4. Specify the output folder path by clicking "Browse" button if necessary. Tap RUN button to export the trimmed video.