How to Edit Video for Uploading to Instagram (Story)
If your video doesn't meet the requirement of Instagram (story), the best video editing app for Instagram will help you get anything done on Windows 10 PC.
Social platform has gradually become a crucial part of our daily lives. From Facebook, Twitter to up-rising WhatsApp and Instagram, we spend so much time everyday to view and share moments by posting photos and videos here. Instagram is a popular photo- and video-sharing app for both mobile and desktop. According to reports, it currently has over 700 million monthly-active users, still attracting more teenage users in UK and US. However, many Instagrammers are suffering from video uploading failure, driving them to find a trustfulvideo editor for Instagram. So this post will put focus on how to make video edits for Instagram in detail.
Instagram is available for iOS, Android, Windows 10 mobile and Windows 10. Real-time video shooting & uploading on any supported mobile is quite easy. But Instagram does not allow user to post video from Windows 10 desktop. What does this mean? Specifically, if you'd like to post some videos made by HD camcorder, recorded on Windows 10 PC or other devices with no Instagram, you have to move video to iOS/Android/Windows 10 Mobile with Instagram in advance, then upload it from mobile library/gallery to Instagram. In many cases, you just fail to upload the video. Because it doesn't meet one or more official Instagram standards listed above. To make non-mobile shooting videos 100% suitable for Instagram, it's suggested to confirm video compatibility with Instagram first.
To begin with, we should figure out the specific limitations of Instagram video sharing.
Let's Edit Video for Instagram Favored One on Windows
WinX HD Video Converter Deluxe ★★★★☆ (4.6) based on 103 votes
Convert whatever video formats to Instagram H.264 MP4.
Crop/Expand, Trim/Cut video to Instagram welcomed one.
Compress video with high quality, add subtitle, tweak video frame rate/bit rate etc.
New toolbox to help deshake/denoise video, add effects to video and more!
Instagram Video Limitations

Instagram Video Limitations

Definition

Tips

Instagram Video Requirements

Video Codec: H.264(preferred), VP8
Audio Codec: AAC (preferred), Vorbis
Video Format: .mp4 container
Video Aspect Ratio: from 1.91:1 to 4:5
Minimum resolution: 600 x 315 pixels (1.91:1 landscape) / 600 x 600 pixels (1:1 square) / 600 x 750 pixels (4:5 vertical)

Minimum length: 3 seconds
Maximum length: 60 seconds
Maximum size: 4GB
Frame rate: 30fps max
Bitrate: No limit
>> More details

Instagram Ad Video Specifications

Format: Full screen vertical ad (9:16)
Recommended Resolution: 1080 x 1920
Minimum Resolution: 600 x 1067
File Types: .mp4 or .mov (Video) or .jpg or .png (Photo)

Recommended Video Codecs: H.264, VP8
Recommended Audio Codecs: AAC, Vorbis
Maximum File Size: 4GB (Video) or 30MB (Photo)
Video Length: Maximum 15 seconds
Photo Content: Visible for 3 seconds
Then do check whether a video is accepted by Instagram on Windows 10:
Right clicking video on computer and choosing "Properties -> Details" allows you to view some basic information. But video/audio codec can only be checked with help of a third-party tool like VLC Media Player (Tools -> Media/Codec Information). When the video differs from any of Instagram Video Requirements, just open the video with WinX Video Editor, and then tweak video on computer for Instagram by do 1, 2, 3 or 4 edits:
Part 1. How to Edit Video Format for Instagram on Windows 10
After inputting source video into WinX HD Video Converter Deluxe (e.g MKV, AVCHD MTS, AVI, MOV and WMV), navigate to video section in the bottom and choose an Instagram accepted video format like "MP4 H.264".
Part 2. How to Edit Video Parameters for Instagram on Windows 10
Parameters here refer to video resolution, aspect ratio and frame rate. WinX HD Video Converter Deluxe gathers all of the settings in one place after you importing video and choose MP4 (h264+aac). You only need to click the gear icon located on the selected output format or near the video preview window titled in "Option/codec", and then adjust them to Instagram friendly ones on the dialog box. Then click OK -> RUN.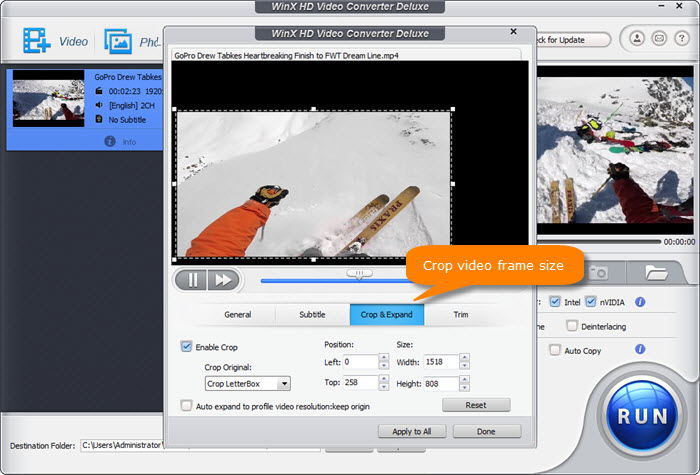 Part 3. How to Edit Video Content for Instagram on Windows 10
The initial maximum length of Instagram video was 15 seconds. And not until 2016 did it increase the video duration limit to 60 seconds. This video editor for Windows 10 from Digiarty can help trim video by manually adjusting the start and end time to 60 seconds or shorter, merge video clips into a piece of MP4 video, crop video to remove unwanted black area, increase audio volume, add/disable subtitles... Everything done, click Done -> RUN.
Part 4. How to Add Watermark, Slow/Fast Motion or Filter Effect into Video
To make plain video source look more attractive, the most convenient method is to add some special effects into it. WinX HD Video Converter Deluxe is able to speed up video to be more funny, to slow down video (at high frame rate) to be more delicate and to add txt or image watermark to make it personalized and special. In addition, you can adjust video brghtness, contrast, satureation and more values to achieve better visual effects.
Once the video is edited well for Instagram, you can transfer it to mobile and publish online by applying filters, adding locations/hashtags as you like.
What else can this video editor for Instagram do?
What else can this video editor for Instagram do?
Record and make vivid MP4 H.264 personal show video add upload online and appeal to more INS followers.
Free download online videos from Instagram, as well as YouTube, Facebook, Twitter and 300 more sites.
Edit video for playback on mobile device/computer/gaming console/websites and DVD burning.