Top 7 Instagram Editors That Polishes Your Photos/Videos for Uploading
Whether you're using Instagram to share your precious moments, to advertise your business or to lay a pathway to your beloved celebrity, editing photos or videos before uploading always help you win a few more bells and whistles. Though the built-in Instagram editing features allow you to do that to some degree, most of time you need extra helps from Instagram editors. Here we'd like to show you the most frequently selected Instagram editing apps by users to polish your photos and videos for Instagram.
Best Instagram Editing Apps That You Can't Miss
At the mention of Instagram feeds, you've got two options: sharing photos or uploading videos to Instagram. No matter what you choose, you need make some editings with your photos and videos generally not only to meet the Instagram size and dimension requirements, but also to polish your photos and videos visually. Here we go for the best Instagram photos and videos editing apps.
Instagram Photo Editor Apps for Your Smartphone
Free | iOS and Android | for Instagram photos editing
Snapseed is a free Instagram photos editing app that comes loaded with image manipulation tools and easy-to-use presets. It brings photos editing effects to a whole new level, where you can apply effects and fliters to specific areas of your image with high precision. And its unique perspective feature helps you automatically adjust or correct any skewed lines in your images.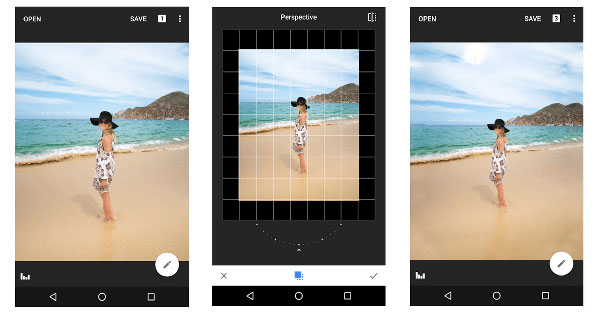 Pros:
• Free, users-friendly, no advertisements
• Available to edit RAW files
• Loaded with professional-grade presets and tools
Cons:
• Requires a slight learning process
• Save options aren't very intuitive
• Social network integration options aren't as clear as they could be
Paid ($2.99) | iOS and Android | for Instagram photos editing
Afterlight 2 is a full-featured Instagram photos editor app with a myriad of creative options. With Afterlight 2, you can easily add old school and vintage fliters, create unique edits with textures, light leaks and double-exposure tools, and even add text, artwork and frames to your images before uploading to Instagram.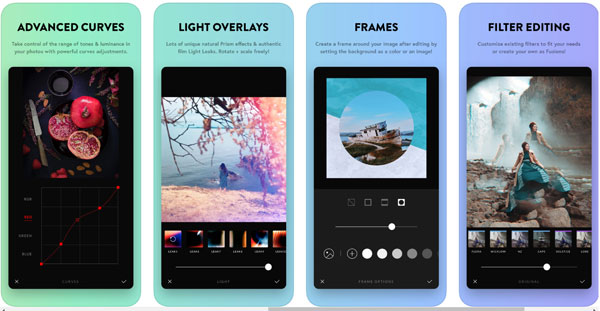 Pros:
• User-friendly, a great many preset fliters and also available to create fliters easily
• Download additional filter collections filters in Afterlight 2, and share with the entire community
• Selective hue adjustment, and selective lightness
Cons:
• Unnecessary features like Dust, Light, Color Shift, and Double Exposure
• Lack of frame options
Free & Paid ($19.99/Year) | iOS and Android | for Instagram photos editing
The key of VSCO CAM lies in its numerous well-made filters. The basic free edition allows you to enhance your photos with VSCO's original presets, polish your photos with standard tools like Contrast, Saturation, and Grain and explore community spotlights and inspiring content. While being a membership of VSCO, you can even unlock 130+ compelete presets, recreate vintage film looks by Kodak, Agfa, and Ilford on mobile, apply video coloring and so on.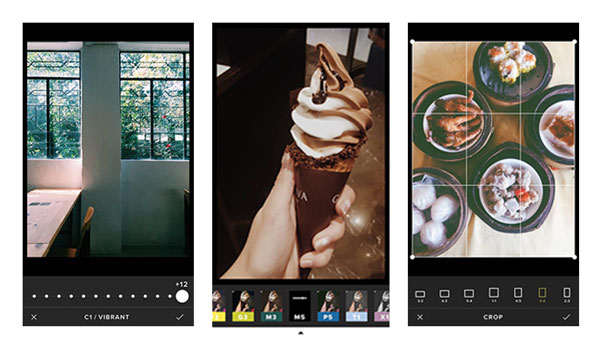 Pros:
• More than an Instagram editor, but also available to share your video creations to new potential customers or even collaborators
• Rich and powerful filters
Cons:
• Paid to unlock the complete filters and more features
• Ads, pushes to upgrade, changes to how files are organized, etc.
Best Instagram Video Editor Apps
Free | iOS and Android | for Instagram videos editing
Adobe Premiere must be the first thing that comes to your mind at the mention of video editing. But here we're talking about Adobe Premiere Clip, which is more used in mobile such as editing videos for Instagram, YouTube, Facebook and more. There are two editing modes for you: Freeform provides tons of control for manual edits, while Automatic will trim clips and add transitions for you. Of course, features like color correction, slo-mo, and the ability to add music are also available.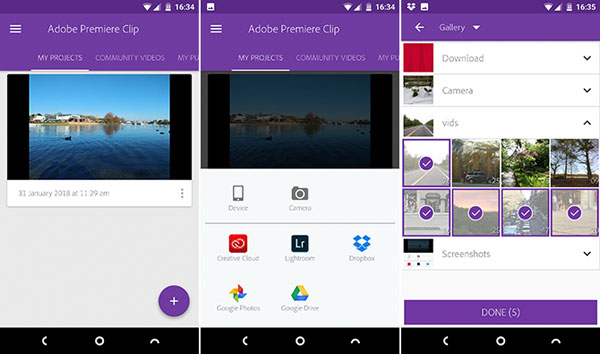 Pros:
• Free and simple to use
• Easily syncs with other CC products
Cons:
• Unable to change video aspect ratio currently. >> Learn how to change video aspect ratio to better fit Instagram
• No video rotation option
• Limited title styles and transion
Free & Paid (tiered paid options) | iOS and Android | for Instagram videos editing
Magisto is one of the few Instagram editors that is truly for busniesses. It offers tools for marketers to analyze video performance. And you're able to choose video fliters, upload your videos to Instagram, add music from the library and then Magisto will do the rest. It's an end-to-end Instagram video editing app powered by AI.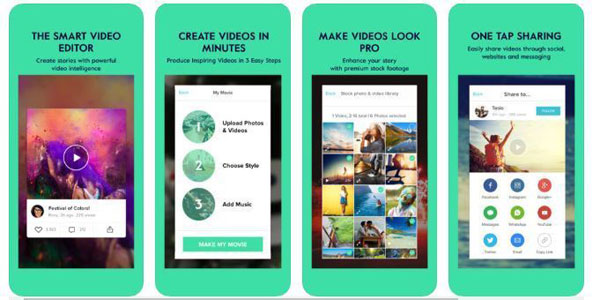 Pros:
• Made for busniesses
• Automated technology edits videos for you
Cons:
• Limited in video length. You must pay to extend this limit, and the highest tier required if you want unlimited video length
Inshot
Free | iOS and Android | for Instagram videos editing
As a video editor for social media, Inshot has it all for editing videos for Instagram, including trimming clips, changing footage speed, adding fliters and text, zooming in and out, adding music track, rotating the video frame, crop frame size to make better fitted videos for Instagram. Despite this, Inshot is easy to get started. Even the most inexperienced video editors can perfect their clips.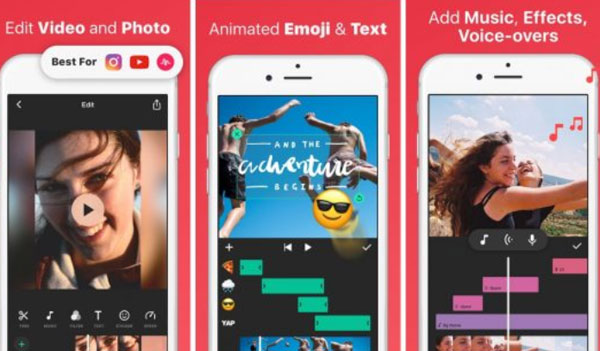 Pros:
• Comprehensive editing options
• Easy to get started
Cons:
• Videos edited in free version of InShot are stamped with branding and watermark
• If you leave the app, the changes will not be saved
Free (as a video editor) | Windows & macOS | for Instagram video editing
Admittedly, users prefer to upload videos to Instagram through mobiles. but it doesn't rule out that someone needs to do that on desktop, especially for 4K UHD videos, high frame rate clips, oversized files, videos shot by camcorders, GoPro, drones etc., or any videos that cannot be handled with mobile video editing apps.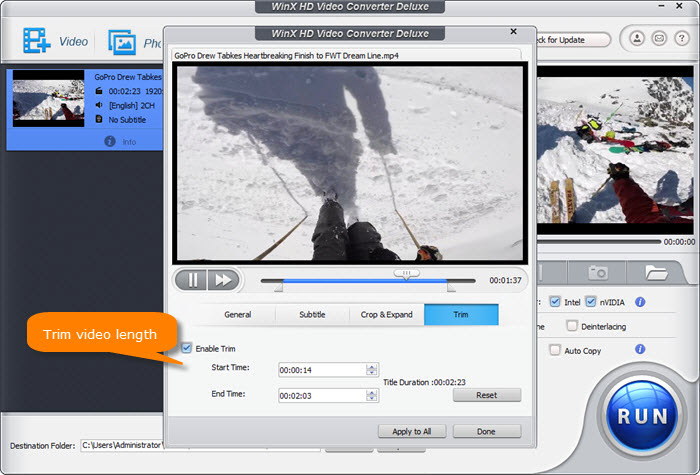 For that, WinX HD Video Converter Deluxe is a nice Instagram video editor on Windows and macOS. It's available with comprehensive video editing options such as trim video length, crop frame size, rotate clips, merge several clips into one, adjust audio volume, add subtitle and so on. Besides, you are also able to convert any videos to Instragram video formats and tweak video parameters for smaller size with intact quality.
Pros:
• Accept any videos, like 4K/8K UHD, high frame rate videos, large-sized videos whatever it's recorded with (camcorder, GoPro, mobile etc.)
• Easy to get started. All done within several steps: Load video -> Choose output format -> Edit as you like -> RUN
Cons:
• It's too simple and not par with professional video editing software