The Best Instagram Video Format for Uploading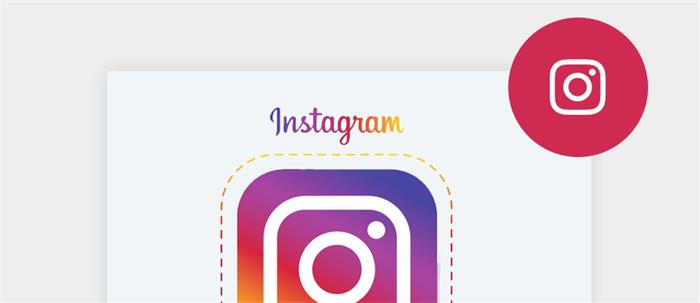 "I have tried everything on my android phone and iPhone to no avail. I've uploaded videos to drop box and Google photos and cannot seem to share them on Instagram. I always get a 'trouble uploading video' message on IG anytime I attempt to. I also downloaded videos directly to my android phone and nothing. I've even tried changing the file extension to mp4 and nothing. What am i doing wrong?" ---- JD914
It seems nothing to worry about uploading MP4 video to Instagram since MP4 is recommended as one of the supported video formats according to Instragram's official page. Abnormally, the problem is varied and you are still informed of an error and Instagram will end up with freezing when uploading, even when the video you are going to share is no longer than 60 seconds and saved in MP4 format.
To solve the Instagram video format problems, you may want to know:
What video formats are supported by Instagram?
● Videos using container MP4 or MOV.
● Videos with codec H.264 or VP8.
● With audio codec Stereo AAC.
● When referring to "video format", actually both video container and codec should take into consideration.
Container is what we typically associate with the file format, that is true but incomplete. Container packaged video content includes the stream of images, sound, subtitle and so on. You can tell the different video containers by their file extension names, such as .mp4, .mov, .mkv, etc.
Codec is a method for encoding and decoding data and determines whether to compress the file. Different codecs with their different procedure technologies remarkable acted on video file size and output quality, and the codec defines the container. Examples of widely used codecs are h.264, VP8, MPEG-2, etc. E.g., you may find you can't upload a MOV file to Instagram. This may be caused by incompatible audio & video codecs.
The best video format on Instagram is a MP4 container with the h.264 codec, although both the container MP4 and MOV, the codec h.264 and VP8 are supported.
Both VP8 and h.264 codecs are lossy compression and output the same video with similar size, but h.264 provides slightly better quality than VP8, especially in playback high speed moving video. Also, h.264 has higher encoding and decoding speed compared with VP8, and it provides a robust standard in a long time. Encoded with the same codec, MOV is quite safe and efficient working on a Mac, but MP4 provides great flexibility in how data is stored in files and wider supports across various devices, players and programs. For example, when uploading Instagram's IGTV video, only MP4 format is supported, this is another reason that we consider the h.264 MP4 video is the best video format to on Instagram.
So, when uploading the video to Instagram, except video size and video length, also check both codec and container to make sure it meets the requirements.
What is the video format of your device?
● For Android phones, the most commonly used multimedia container format is 3GP with codec h.263 and MP4 with codec h.264, and the video file extension is .3gp or .mp4.
● For iPhone, the default multimedia container format is MOV with codec h.264, and HEVC under the "High Efficiency" option for all iPhones running iOS 11 onwards.
● For many other devices the formats are varied, such as Sony cameras usually support output MPEG4-AVC/h.264 MP4 video format, GoPro usually supports output H.264 codec, AVI, MP4 video format, and Nikon cameras usually support output h.264/MPEG-4 Advanced Video Coding, MOV video format.
The above is not accurate device information, and you need to search for the relevant video output format based on the type of device. But what we do know is not every device can output MP4 format with h.264 codec. So, we need to convert video to the best Instagram video format.
Convert Any Video to H.264 MP4 Format for Uploading
In order to solve the problems fundamentally, convert any video to recommended h.264 MP4 format to on Instagram, Winx HD Video Converter Deluxe is your one-station worry-free choice. It supports input more than 370+ video and audio codecs, nearly all types across from multi-devices such as GoPro, DJI, Apple iPhones, and Android smartphones. What's more, with Level-3 Hardware Acceleration tech, it can access large 4K video smoothly and takes minimum CPU usage.
How to:
Step 1: Download and install WinX HD Video Converter Deluxe. Then import the video by click the Video button on the upper left corner or the same icon on the start interface.
Step 2: Select the output profile. Click on the General Profiles on the left side option box, and then to the right side to choose the recommanded MP4 video format, codec: h264+aac, then click on OK.
Step 3: Click on Browse to decide the Destination Folder of the video, and click on Run to output edited video.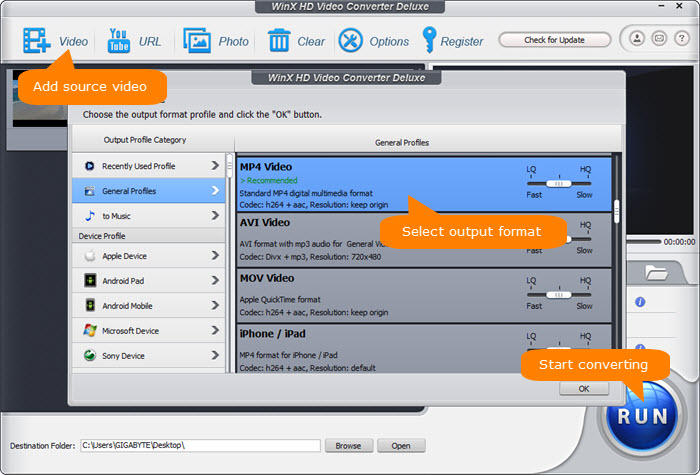 Make Sure Your Video Meet the Other Requirements of Instagram:
● Video resolution 720p.
● Frame Rate 30 FPS.
● Use aspect ratios of 1:1, 4:5 or 1.9:1 for Instagram Feed Video.
● Use an aspect ratio of 9:16 for Stories, IGTV and Live videos.
● Feed Videos must be 3-60 seconds long, no larger than 15MB.
● Instagram Stories can be up to 15 seconds per Story, no larger than 15MB.
● IGTV video must be 1-15 minutes long, no larger than 650MB. Upload videos from the computer, in which case videos can be up to 60 minutes long, and no larger than 3.6GB.
WinX HD Video Converter Deluxe has a bonus feature not only converts any incompatible video but helps downscale and compress video to be smaller and more friendly with SNS. Also, it is a quick desktop Instagram video editor allows you to trim video clips and crop to remove black edges according to different requirements of video sites.
Conclusion: To accomplish uploading video to on Instagram without any hindrance, check the reqiurments, and then video parameters and proprties. Once you need to access your videos, try WinX HD Video Converter Deluxe to fix!