How to Upload 4K Video to Facebook
Since we can already shoot 4k video with a lightweight device, 4K video is no more far away from our life, we can easy to get 4K video from shooting amazing challenges, wonderful scenery and just little funny things in daily life anywhere anytime, or download and rent 4K movie resources from the internet. But how about uploading 4K video to Facebook to share with others?
After YouTube and Vimeo have long been able to upload Full HD and 4K video, their big rival Facebook started testing since late 2017, and many content creators benefit from the improved watching experience. However, sometimes it is pretty annoying that you cannot upload and share the image which you are proud of with friends and families as the same quality as when you took it with your camera on Facebook.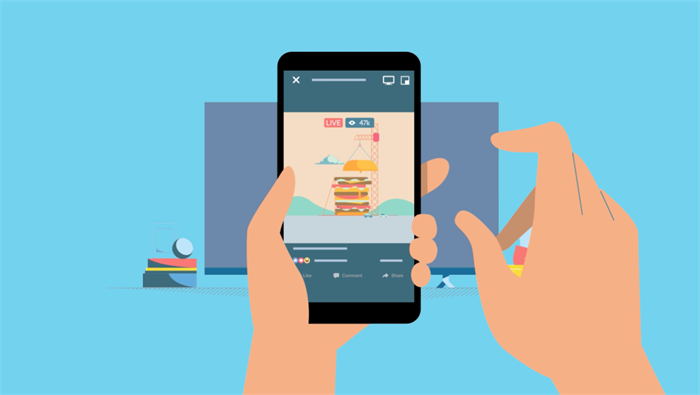 If you have hassles to upload 4K videos to Facebook, check those solutions to fix:
Check Facebook Video Upload Settings
When uploading 4K videos, we may find that all of them will lose quality for saving space on the Facebook server. The genuine way to help is to change the upload setting. If you are going to upload 4K videos from your phone, check the setting through the Facebook app.
Step 1: Open Facebook app to the three-line icon

on the bottom right conner.
Step 2: Scroll down to tap and expand Settings & Privacy option to choose Settings
Step 3: Scroll down to the Media and Contacts option box, choose Videos and Photos
Step 4: Turn on Upload HD option on the VIDEO SETTINGS option box. If you want to upload HD photos, you can also urn on Upload HD option on the PHOTO SETTINGS option box.
Or you want to use computer to do it from a browser, the best solution is to create an album and then upload. Meantime, make sure your video meets Facebook video file size limit specs. If your 4K video files are too large to upload to Facebook, learn how to compress video file size for Facebook.
Downscale and Convert 4K Video to 1080p
Why after Successfully changed the setting, I still need to downscale the video resolution? Change Facebook video upload settings is a way worth to try, but 4K video actually is UHD, turn on upload HD option doesn't always work, therefore, it is another recommended method to work out.
The bulky size of 4K video is really a plagued problem. A one-minute video captured at 1080p and 30fps take up 130MB of space, and a 4K video at the same length and framerate will take up 375MB of space. 4K video significantly has higher resolution also resulted in a lot more storage space. Facebook requires the video must no larger than 10 GB, it is about 77 mins for 1080p video, and 27 mins for 4K video. Also,YouTube has offered 4K video after 3-year testing and no wonder whilst Facebook had started testing Full HD and 4K video support last year, from its official solutions page, it still says that video resolution should be 1080p or less. Check for guide on how to scale video size and dimension for Facebook.
The last thing that you want to happen must be that upload 4K video to Facebook but after a long time waiting for everything done, then open it find that the 4K video miserably lost its quality and you have no choice to only obtain 480p. Also, Facebook doesn't support HEVC format, if you upload 4K video, it will be default processed to H.264 MP4 Facebook preferred format, to upload video while maintaining its high resolution, more bandwidth and storage space are needed.
To meet the requirements of uploading, it is inevitable to rely on a 4k video compressor to downscale and convert 4K video to 1080p. And you can use WinX HD Video Converter Deluxe to perfect handle all types of video files.
Step 1: Download and run WinX HD Video Converter Deluxe, then import the video by click +Video buttom on the upper left conner, or the same icon on the start interface.
Step 2: Select output profile. You can choose a format, platform or device from the list of preset output profiles.
Step 3: Click Bowse button to choose the location where you want to save converted video. Open setting to customize video optionsa and click RUN to output.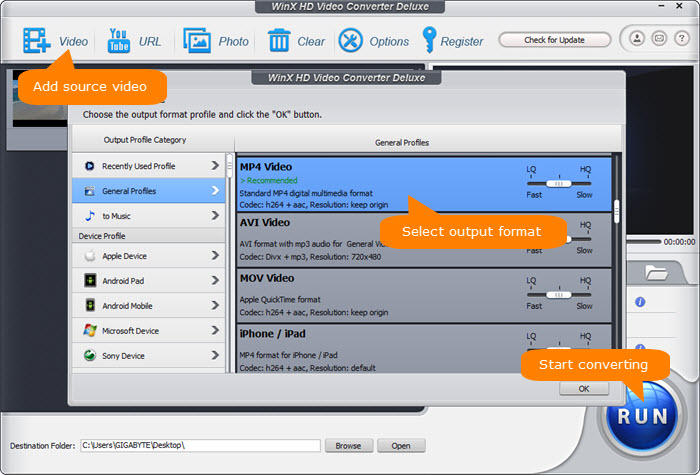 To upload videos to Facebook, MP4 is the recommended format from official advice. WinX HD Video Converter helps you quickly handle large video to a light size to fit the needs of the SNS sites better, and you can customize to a higher or lower resolution as you want. Also, you can choose other supported formats like avi (AVI Video), flv (Flash Video), mkv (Matroska Format), mov (QuickTime Movie), wmv (Windows Media Video), etc., here to check check the complete list of the video formats that can be uploaded to Facebook.
You might be able to change the video settings to try to upload 4K videos, but keep in mind if it doesn't work, WinX HD Video Converter Deluxe offers a reliable solution to downscale and convert videos into any formats and keep the best quality as you want.