How to Upload YouTube Shorts Video from PC and Mobile
Recently YouTube launched Shorts to compete with TikTok, giving creators and artists another way to shoot short, catchy videos using nothing but their mobile phones. It was initially available in India, but now you can create Shorts videos in the United States. I believe it'll be soon applied in the remaining parts of globe. YouTube Shorts is both available on iOS and Android platform. But you can also upload YouTube Shorts videos from computer. In this article, I'd like to show you how to upload Shorts videos to YouTube both from PC and mobile.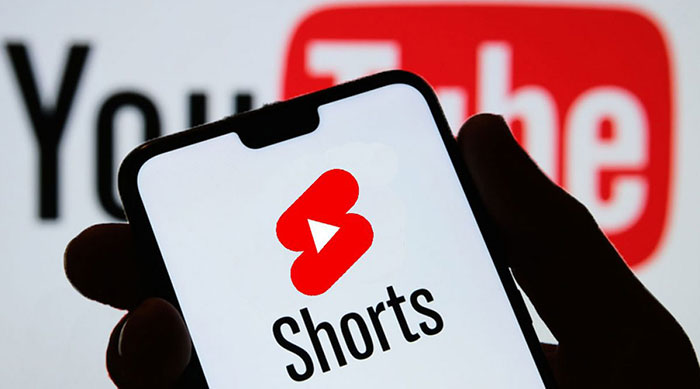 Part 1: The Do's and Don'ts of Creating YouTube Shorts Video
Creating YouTube Shorts video can be easy but also fantastic. You can record a multi-segments of footage and string them together, add music from a large library of songs that will continue to grow, and control speed to make your shorts video more flexible and creative. But there are still a few caveats that need to be considered.
As the name implies, YouTube Shorts requires a short video - no more than 60 seconds. When you record video with Shorts app, it should be less than 15 seconds.
It must be shot in portrait orientation, ideally in the 9:16 aspect ratio and 1920 pixels by 1080 pixels resolution.
When you publish the Shorts video, the title or description must be attached with #Shorts hashtag.
There are certainly times that your recordings cannot be directly uploaded to YouTube Shorts owing to the video specification. In this case, you need a video converter to resize your video files meet the YouTube Shorts uploading requirements.
WinX HD Video Converter Deluxe allows you to convert any videos to 420+ preset formats and profiles, trim video length, crop video frame size, rotate videos, change video aspect ratio to 9:16 and adjust video resolution, such as 4K to 1080p or 720p to 1080p. Besides, you don't have to worry about the conversion speed and output quality. With the support of GPU acceleration and high quality engine, you'll be able to convert YouTube shorts video 47X faster without quality loss visually.
Part 2: How to Upload YouTube Shorts Video from Mobile
The process of uploading YouTube Shorts video from mobile is fairly easy. Actually, you can record and upload video in YouTube app.
1. Record Shorts Video.
In YouTube app, tap + (Add) button and then select Create a shorts option. If you're living outside the India and US, you won't see this option. Then use Speed and Timer icon to set the speed of the video and the countdown timer before recording. Now press the Record button to start recording. Tap Stop when you're done, and click Next to proceed to the next step.
By the way, if you need to upload an exsiting video from mobile, you can also tap +(Add) button and select Create a shorts option, but tap Upload to browse and a protrait orientation video that's less than 60 seconds from your smartphone.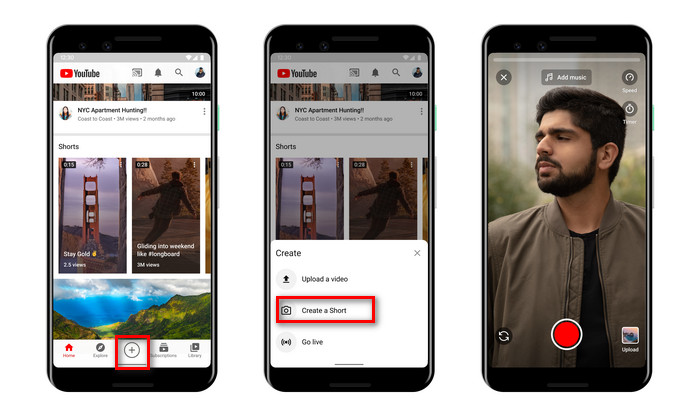 2. Add Text and Music for Your Shorts Video.
You can click the Music and Text buttons from the bottom-left corner to add a background music and caption to the video, and tap NEXT from the top-right corner.
3. Upload and Post the Shorts Video.
Then you'll see the Add details window, name a title along with #Shorts hashtag in Create a title area, tap Select audience to select the target audience, and tap UPLOAD to upload and post the short video on YouTube.
Part 3: How to Upload YouTube Shorts Video from PC
There are various reasons for you to upload YouTube Shorts video from computer. For example, the video you film on your phone is in low-quality compared the video you shoot with cameras. You want to make a high impact video using a camera and video eidting software. Or you want to edit and save the source video on your computer. For whatever reason, uploading YouTube Shorts video from PC could take you more time than from mobile.
Go to YouTube site, sign in your account and click Create button and select Upload video from the drop-down list.
Click SELECT FILES or drag and drop a file to upload. The file should be in protrait orientation of 9:16 aspect ratio.
In the Details window, add #Shorts in the Title or Description area.
Choose one of the suggested images in the Thumbnail section. Or you can upload a custom picture from your computer.
Under Audience, select "No, it's not made for kids", no age restriction. Then click Next.
On the Visibility window, choose your preferred radio button from under the Save or publish section.
Finally click SAVE to publish the video clip as a Shorts video on YouTube from your computer.