How to Upload MOV to Instagram - MOV to Instagram Converter
"Every time I try and upload the video to Instagram, the app closes. Can you upload mov to Instagram?"
"The .mov videos saved from my drone is so hard to share on Instagram or edit. How do I convert MOV files to Instagram?"
Sometimes the videos seem to be perfect in format, and length for the Instagram video size, but when you upload the MOV to Instagram, the attempt is refused with an error message saying "There was an issue importing your video, please try again." In this post, we will show you how to convert video for Instagram and upload MOV files to Instagram without problems.
Why Can't You Upload MOV Video to Instagram
Instagram has offered different options to upload videos, including Instagram Stories, Live, IGTV, and In-Feed videos. They vary slightly different in the length, aspect ratio, file size limits, etc. Before we learn how to add MOV to Instagram, check its general video setting requirements:
Format: MOV or MP4
Audio codec: AAC, 48khz sample rate maximum, 1 or 2 channels (mono or stereo)
Video codec: HEVC or H264, progressive scan, closed GOP, 4:2:0 chroma subsampling
Frame rate: 23-60 FPS.
Aspect ratio: 16:9 maximum, 4:5 minimum
Resolution: 1080 x 1920 pixels maximum
Duration: 60 seconds maximum, 3 seconds minimum
File size: 100MB maximum
How to Convert MOV to Instagram for Easy Upload
How to upload MOV videos to Instagram? You need a tool that is able to convert MOV to Instagram video with perfect video & audio codec, aspect ratio, resolution, size, and length. It should be able to process intensive 4K and HEVC/ProRes, etc. without problems. Considering all those factors, try WinX HD Video Converter Deluxe.
WinX HD Video Converter Deluxe is an easy & fast 4K/HD MOV to Instagram converter.
Updated with codecs incl. HEVC/H.265, Prores, VP9, H.264/MPEG-4 AVC, AVCHD, and other advanced and standard codecs.
Smoothly support SD, HD, FHD, 4K, and even 8K videos @60fps, 120fps from DJI, DSLR, iPhone, etc.
Convert MOV videos into Instagram H.264/HEVC, or 370+ other video & audio formats.
Cut long recordings, compress large MOV to 90% smaller, adjust aspect ratio, edit, crop, etc.
Level-3 Hardware Acceleration ensures fast large & intensive conversion, about 5x faster than others.
Here's how you can convert MOV to Instagram for easy upload:


Free download the Windows version


Free download the macOS version
Step 1. Convert MOV into Instagram MP4
Click the +Video button and select the MOV files from your local computer. Don't worry if it's a 4K/8K MOV file in any codec, it will take care of it. Once loaded, the "Output Profile" window pops up. Scroll down the list and select to convert MOV to MP4 h264+aac profile.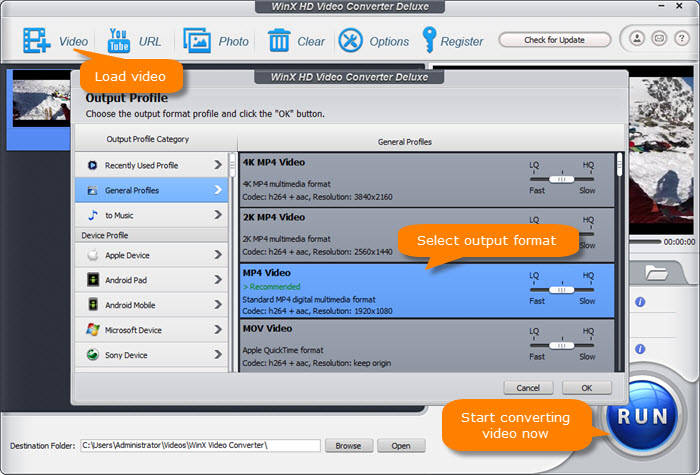 Step 2. Adjust MOV video settings for Instagram
Normally, when you upload a high-res video to Instagram, it will automatically compress the file and there will be a quality loss on Instagram. So you'd better do it yourself to save the best quality. Click the button with a gear icon to enter into the video parameter page. Instagram supports 1080X1920p and 60fps maximum, so click each option and select the right setting for Instagram from the dropdown menu.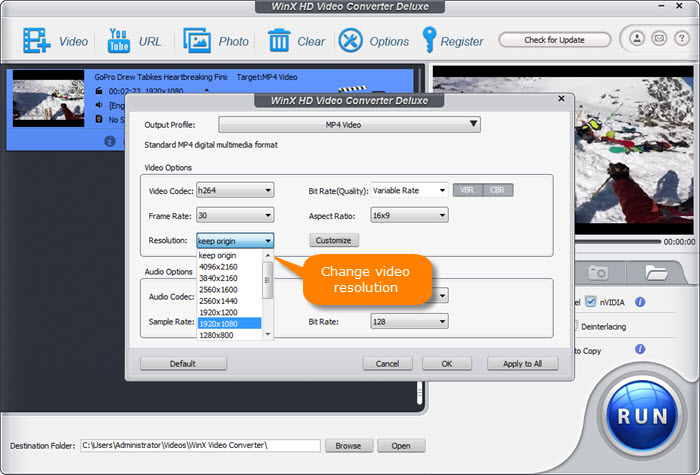 Step 3. Cut, crop, and compress
To ensure the MOV falls in Instagram upload size and length, click the Edit button. Click Trim to cut unwanted parts from the MOV videos and cut long recordings into shorter pieces, edit mov files, etc. Click the Crop & Expand button to resize MOV into 4:5, 16:9, 1:1 or other apsect ratios. After all the steps, click Run to start MOV to Instagram video converting.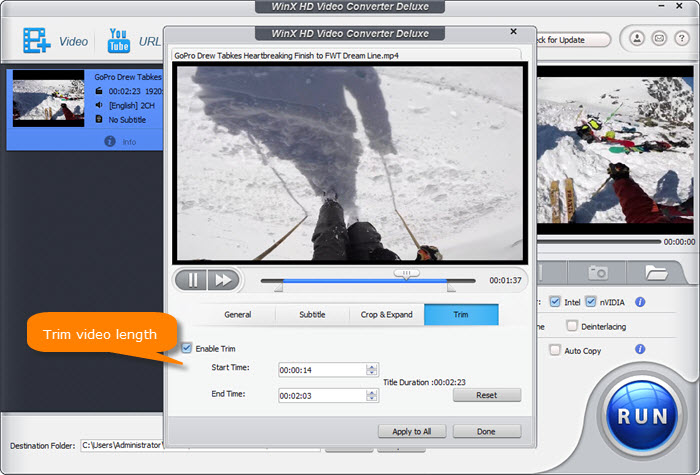 Other tips
● Don't forget to enable the Hardware Encoder on the main interface to ensure the fastest MOV to Instagram MP4 conversion speed.
● By lowering the resolution, bit rate, cutting out unwanted parts, and converting MOV to MP4, the file size will be much smaller.
Watch How to convert MOV to MP4 in Video
How to Upload MOV to Instagram
Now the MOV videos are well prepared for Instagram upload. But there is no way to post videos to Instagram from PC/Mac directly. You will have to transfer the converted MOV videos to iPhone, Android, other mobiles for upload. You can transfer via USB cable, Dropbox, or a third-party tool like WinX MediaTrans. Once the videos are synced to your phone's roll, following the steps below.
Let's check how to post mov file to Instagram below:
Open the Instagram app and log into your account.
Tap the + icon at the bottom of the screen.
Your phone library will open.
Tap to select the mov files saved on the phone.
The selected MOV videos will be uploaded to Instagram.
If you still can't upload MOV to Instagram, check:
● If the network connection is too weak
● If your account is in normal status
● If your video content contains something not allowed
Bonus: Full Instagram Video Formats List
If you want to post MOV to a specific Instagram video type, check full Instagram formats list:
Instagram Video

Supported Settings

In-feed

● Minimum dimensions: 600 x 315 pixels (landscape), 600 x 600 pixels (square), or 600 x 750 pixels (vertical)
● Aspect ratio: 1:91:1 (landscape), 1:1 (square), or 4:5 (vertical)
● Format: .mp4 and .mov
● Video length: Max 60 seconds
● Video size: Max 4GB
● Video frames: Max 30 fps

In-feed Ads/ carousel video ads

● Minimum dimensions: 600 x 315 pixels (landscape), 600 x 600 pixels (square), or 600 x 750 pixels (vertical)/ 600 x 600 pixels (Max 1080 x 1080 pixels)
● Aspect ratio: 1:91:1 (landscape), 1:1 (square), or 4:5 (vertical)/ 1:1(square)
● Format: .mp4 and .mov
● Video length: Max 60 seconds
● Video size: Max 4GB
● Video frames: Max 30 fps

Stories

● Recommended dimensions: 1080 x 1920 pixels
● Aspect ratio: 9:16
● Format (recommended): .mp4 and .mov
● Video length: Max 15 seconds
● Video size: Max 4GB

IGTV

● Video format: MP4
● Videos should be vertical (not landscape) with an aspect ratio of 9:16.
● Minimum frame rate of 30 FPS and minimum resolution of 720 pixels.
● Maximum file size: 10 minutes or less is 650MB; 60 minutes or less than 3.6GB.
[MOV is complicated] MOV format is less compatible than MP4 because of its structure that can store different types of media in different codecs. This allows further editing of a single media track without affecting the entire file. More than that, MOV files recorded by today's HD & 4K cameras are usually associated with advanced specifics such as FHD, 2.7K, 4K, 60fps, HEVC codec, Apple ProRes 422, H.264 (HD/SD), MPEG-2 (HD), Linear PCM, etc., not to mention the 3:2, 5:4, FOV, other confusing recording settings. By comparing these codecs of MOV files to Instagram supported video profiles listed above, you will find there is a good chance that you can't upload MOV to Instagram easily.