Fix Instagram Video Quality Loss & Upload HQ Videos to Instagram
"I have noticed the quality of the photos and videos i see are poor quality. How do I stop Instagram from lowering video quality?"
" The videos and pictures i view on my Instagram feed are low quality. How do you upload high quality videos to instagram?"
To hold on all the uploaded videos and other data, Instagram has to compress videos to save bandwidth and storage, and resulted in blurry quality. Worry not. This Instagram video quality issue can be fixed without hassle. Below are 2 methods which can help upload high quality videos to Insgagram.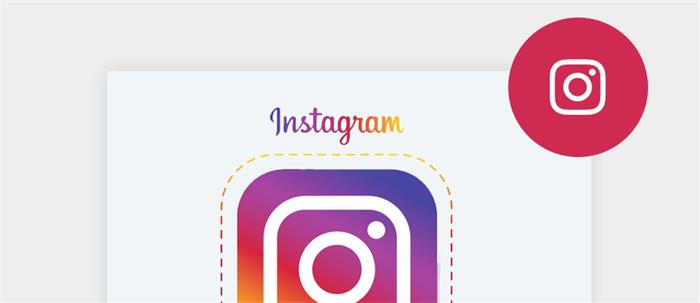 Why Does Video Lose Quality After Uploading on Instagram?
The Instagram official site gives a minimum resolution of 720p but does not give a maximum. However, this doesn't mean that all the videos, including HD/UHD videos, will be successfully uploaded. Using a h.264 codec to produce an mp4 format video, the average video size of 1080p video per minute is 403 MB, and with the same video codec and format, the higher resolution begets larger video size.
One reason why Instagram reduces video quality a lot is that it strictly requires a 3-60 seconds video that cannot over 15 MB, otherwise the video will automatically be compressed while uploading. But videos are large in size nowadays and are likely to exceed the limitations because cell phones competitive for higher and higher resolution of their cameras.
How to Upload High Quality Videos to Instagram without Quality Loss
Method 1: Downscale Video to 720p or Lower to Reduce Video Size
Instagram only supports MP4 and MOV video format, and we cannot shrink video size by changing video format, so the alternative way to help is to downscale video. We all know Instagram does really bad in compression, but use a smart video compressor to downscale and reduce video size less than 15 MB so that the video does not need to be compressed by Instagram.
If you downscaled your video to 720p but still lost quality after uploading on Instagram, try to lower it to 480p or even 360p. Actually, the average video size of 720p video per minute is 265 MB, it still pretty much exceeds the limitation.
Tips: To reduce video size, you can also crop & trim video, adjust bit rate and frame rate to achieve.
Method 2: Upscale Video to 2K/4K or More
This method is the opposite of method 1, but do not do both downscale and then upscale to the same video at the same time. Even you've downscaled and compressed video before uploading, but if you cannot reduce video size less than 15 MB, Instagram will automatically compress it again to really bad quality. To upscale your video to 2k or 4k, although Instagram also will compress it but forced Instagram to use a much higher bit rate to giving this video a higher quality. Also, 4K can show us more details and sharper quality through ultra-high resolution will keep more details of your video, so it is said that the larger and more high quality your initial video, the better your post-compression video will look on Instagram.
Follow the method 1 and if you cannot reduce video size small enough, then try the accessible method 2.
Please also make sure your video meet requirements:
Video format: MP4 or MOV.
Video Codec: h.264 or VP8.
Frame Rate 30 FPS.
Use aspect ratios of 1:1, 4:5 or 1.9:1 for Instagram Feed Video.
Use an aspect ratio of 9:16 for Stories, IGTV and Live videos.
Feed Videos must be 3-60 seconds long, no larger than 15MB.
Instagram Stories can be up to 15 seconds per Story, no larger than 15MB.
IGTV video must be 1-15 minutes long, no larger than 650MB. Upload videos from the computer, in which case videos can be up to 60 minutes long, and no larger than 3.6GB.
Bonus 1. How to Increase Video Quality on Instagram
Here we have collected some tips for you to optimize the Instagram video before posting:
Don't use the Instagram camera, just use the best camera you have.
Connect to stable and strong Wi-Fi network when posting on Instagram.
Try the recommended Instagram video size & dimension.
Edit and optimize the video for Instagram on your computer, instead of the feature within Instagram.
Transfer the video file from computer to your phone with AirDrop, VLC or USB cable.
Bonus 2. How to Downscale/Upscale Videos
No matter you need to downscale or upscale videos, WinX HD Video Converter Deluxe is the most professional video converter that applies the advanced level-3 hardware acceleration able to access HD/UHD video at super-fast speed. Download WinX HD Video Converter Deluxe, and then you can scale any video you own to any resolution you need, such as 1080p to 720p, 1080p to 4K, etc. It will keep the highest possible quality.
Step 1: Download and install WinX HD Video Converter Deluxe on your PC. Then open it and click on +video button to load the videos you want to scale.
Step 2: Drag the LQ or HQ bar to preset the video resolution, click on OK. Open the setting and choose video resolution, then click on OK.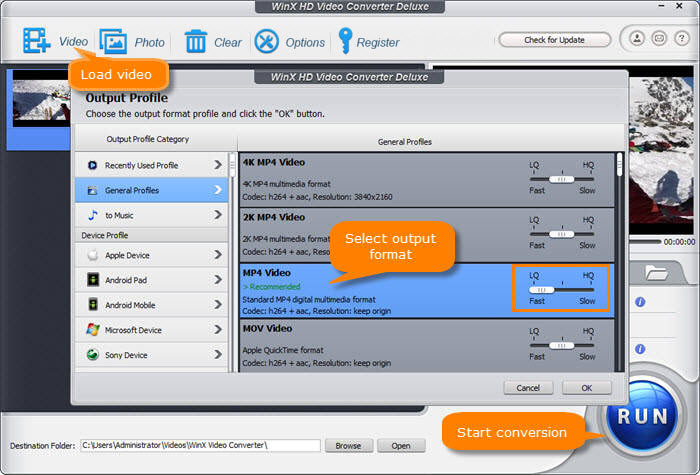 Step 3: Select and enable Hardware Acceleration and Use High Quality Engine. If your source is an interleaving video, select and enable De-interlace option can make your video more clear. Then click on RUN to output your video.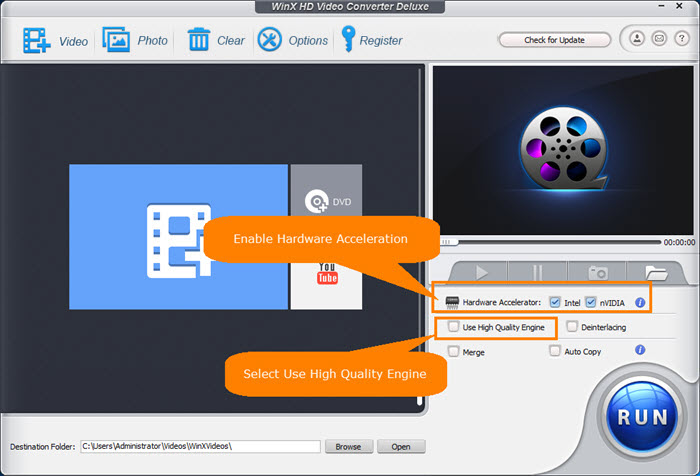 WinX HD Video Converter Deluxe supports input more than 370+ video audio codecs and Compatible with any video resolution that allows you to scale to 4K 2160P, 1440P, 1200P, 1080P, 720P, etc. Except for converting video to h.264 MP4 format, it also supports converting videos among MKV, AVI, WMV, MOV, HEVC, AVCHD, M2TS, MOD, 3GP and so on to make videos friendly with all the SNS sites. If you want to convert, crop, trim and adjust video parameters, WinX HD Video Converter Deluxe is your one-station choice to satisfy all the needs!