TikTok Video Quality Settings: How to Increase TikTok Video Quality
No matter you're watching videos or posting videos on TikTok, video quality could be a significant factor to concern about. Imagine that you take a great effort to shoot and edit videos, but you see a degraded quality of video on your TikTok profile then it will be all for naught. So how to upload high quality video to TikTok? Why the videos that are uploaded on TikTok become blurry? Is there any TikTok video quality settings to enhance the video quality? Scroll down...
Quick TikTok Video Quality Settings with WinX MP4 Video Converter
Select 30 frames per second or higher and 1080p video quality for the maximum video quality on TikTok. If you've shot TikTok videos with wrong camera settings, go straight to make your TikTok video quality better with WinX MP4 Video Converter.
Get WinX MP4 Video Converter to Improve TikTok Video Quality Now >>
Table of Contents
Part 1. How to Upload High Quality Videos to TikTok?
You might have noticed the videos uploaded to TikTok don't always look great. Why? Some users may think that the quality of the video they recorded by their smartphones is too low. It might be one reason, but obviously not the major one. You know, TikTok allows you to upload videos in 1080p HD. But if you didn't manually adjust TikTok video quality settings to upload videos in HD by default, you probably get bad video quality all the same. So to upload high quality videos to TikTok, you need:
Get your video ready. Click the plus "+" button to start uploading video process.
Record a video or select an existing video from your mobile. Then add text, animations, filters, and other effects if necessary.
Tap "Next" to head to the Post settings. Then add a caption and hastags and configure any of the privacy settings normally.
Tap "More Options" button to toggle the "Upload HD" on. Once it's enabled, you're able to upload HD video to TikTok.
Tap the "Post" button to upload your video in high quality right now.
If your TikTok is stuck on 'Video is being processed', check this.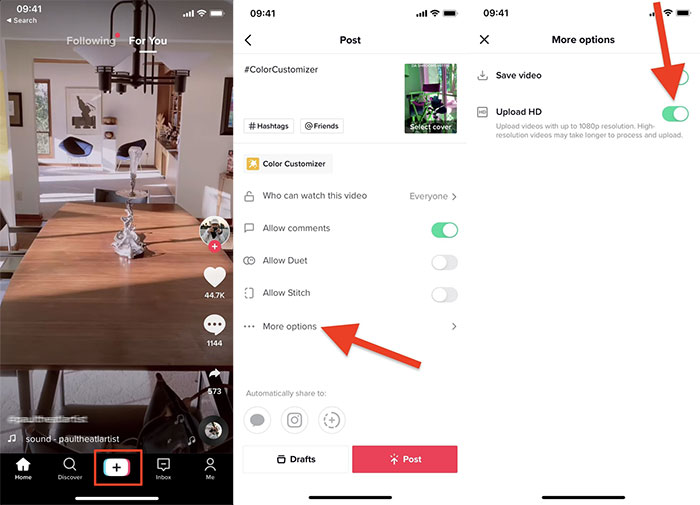 What If You Want to Upload 4K Video to TikTok?
If you have recorded your video in 4K resolution, how can you upload 4K video to TikTok? Actually, the highest resolution possible for TikTok uploads is 1080p, so if your video is shot in 4K resolution, it will scale it down to 1080p. But if you resize the 4K video to 1080p in advance, you'll get a relatively better 1080p than the native 1080p.
WinX HD Video Converter Deluxe is able to compress 4K to 1080p fast and easily for TikTok uploading. With the support of high quality engine, it reserves the highest possible quality that you cannot see any differences visually, usually from 4K YUV 4:2:0 to 1080p YUV 4:2:2 chroma subsampling. Besides, it also enables you to adjust aspect ratio to 16:9 or 1:1 to perfectly fit with TiKTok video uploading requirements, cut off video length within 60 seconds, merge multiple video clips into one and convert video to MP4, MOV and 420+ formats.
Part 2. How to Fix Low Quality on TikTok?
If you find TikTok video blurry when you're watching videos, you can also make some TikTok video quality settings to fix the low quality. Firstly, understanding the cause of such a problem can help you solve it quickly. In pursuit of quicker upload speeds, faster loading times, or data conservation, your TikTok may be set in "Data Saver" mode. This could be the main reason for low video quality on TikTok. To fix it, you can turn off the Data Saver with the following steps:
Open the TikTok app and go to Privacy and Settings.
Scroll down to find the Data Saver feature, and tap it.
Open Data Saver and disable it using the toggle.
Close the app completely from the background and relaunch it. Then re-open the app, and you're able to watch videos in higher quality.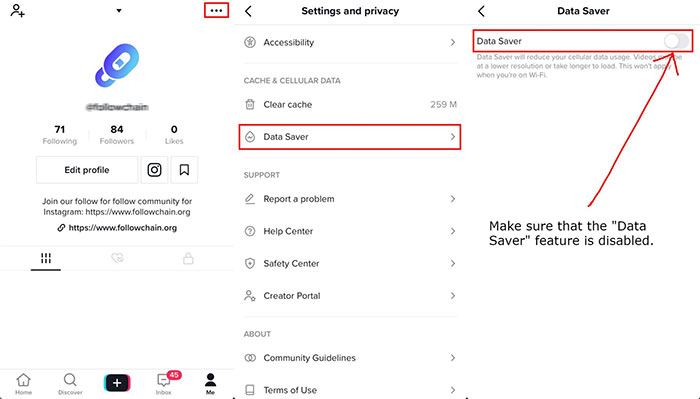 That's it for TikTok video quality settings. A bonus tip for high quality video is that, increasing video reaolution when you're recording videos, for example, select "4K at 30fps" option in "Record Video" settings and record with the rear camera of your smartphones. Even if the 4K video will be scaled down to 1080p, it'll still be in higher quality than the native 1080p.