TikTok Video Converter for TikTok Download & Upload
When short-form video sharing platform TikTok goes viral, you may also become addicted to it. No matter you want to share your own ideas with dance, comedy or education videos on TikTok, or simply save the interesting and meaningful TikTok videos to MP4, the TikTok video converter introduced here will offer some help.
Need to Upload TikTok Video or Download TikTok to MP4 without Watermark?
Try WinX Video Converter! TikTok now accepts MP4/WebM videos in 720x1280p up to 180s uploaded from PC, and MP4/MOV 1080p videos up to 3 minutes from mobile. So, if you want to post 4K, longer or other formats videos to TikTok, you should convert videos to TikTok MP4 with Free Video Converter first. Also, you can adjust aspect ratio to 9:16 or 1:1 for best viewing on TikTok and download TikTok to MP4 with it.
Here is a list of TikTok converters for you to convert videos for uploading to TikTok, or just download and convert TikTok to MP4 without watermark at will.
Part 1. TikTok Video Converter for Video Uploading
You have two ways to upload videos to TikTok – from PC and mobile. Based on TikTok video dimensions, you are suggested to upload 9:16 videos in MP4 or WebM up to 720x1280p and 180s from computer, and post 15s MP4/MOV videos in 1080p from iPhone or Android. So, when you want to upload MKV, FLV, SWF, etc. videos up to 4K or longer than 180s, you should convert your videos first. And below are 3 examples of TikTok video converter with best performance for TikTok video uploading.
No.1: WinX Video Converter – Convert 4K, Long, non-MP4 Videos
Free Video Converter is a free yet multifunctional 4K video converter to convert between any formats, compress 4K videos to 1080p, shorten videos and adjust aspect ratio for TikTok. Support 200+ output formats including MP4, MOV and WebM, you can use it to convert videos to any devices and platforms like iPhone, Android, TikTok, YouTube, etc. You can also upload videos recorded from GoPro, Canon, DJI, camcorders, etc. to TikTok freely. If needed, you can have simple editings like trim, crop and merge to your videos with this TikTok MP4 converter.
BTW, it also features a TikTok video download function to help download and convert TikTok to MP4 in case you need it.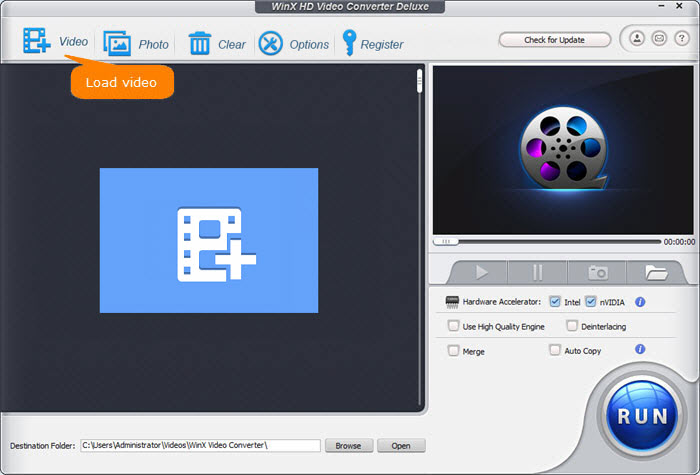 No.2: Handbrake – Open-source Video Converter for TikTok
Handbrake is a very popular open source video transcoder that people often used to convert video formats. To have a quick conversion, you can simply go to Preset and choose specific platform and device from options in General, Web, Devices, Matroska and Production, where you can one-click convert videos to desired resolution like 1080p, 720p or 480p with different frame rates, to YouTube, Vimeo or Discord, and to Android, Apple iPhone/iPad, Chromecast, Amazon Fire, PS, Roku or Xbox, etc.
If you want to set video parameters by yourself, Handbrake also agrees. You can feel free to adjust width and height of your video, deinterlace and rotate your video, choose the H.264 codec, change 120fps to 60/30fps, etc. for successful uploading to TikTok. No.3: Clideo – Online TikTok Video Maker
Clideo is a rising star as an online TikTok video converter to help people create perfect videos for uploading to TikTok. It will satisfy all your basic needs to TikTok video upload, say a video in 1080p, 1:1 or 9:16, MP4 or MOV and with background music. Besides, this tool allows you to edit files for free up to 500MB, which is the maximum file size of a TikTok video.
However, uploading 4K video to TikTok with this TikTok converter is impossible. After testing, it even hard to process a 1080p video. Even worse, it will keep your video on its server for some days which may cause a privacy leak. If you mind that, do not try such online TikTok video converter. Part 2. TikTok Video Converter for TikTok Video Download to MP4
After ransacking the internet, you will find that there are hundreds of online TikTok video downloaders claiming to let you download and convert TikTok video to MP4 MP3 with or without watermarks. However, most of them just have a TikTok convert interface but actually are fake sites with malicious links which may redirect you to other unknown sites if you click the links. Or some of them totally can't download a TikTok video to MP4.
After testing so many so-called TikTok MP4 converters, we found out some working and quite clean TikTok downloaders with a few advertisements to help you save TikTok videos as MP4 with or without watermarks. Please note, we can't assure their cleanness and safety either, so maybe try an offline TikTok MP4 downloader is better.
No.1: SnapTik
Site: https://snaptik.app/
All that you need is a TikTok video URL, and you can save a TikTok video to MP4 by default with or without watermark from your browser. SnapTik is always a free TikTok downloader and converter allowing you to download TikTok any time on your iPhone, Android, tablets and PC. Note, SnapTik won't keep the TikTok video you just converted, so download the video immediately. No.2: Loader.to
Site: https://loader.to/en8/tiktok-downloader.html
Seemlessly scrolling through the screen is better to enjoy numerous TikTok videos, however, TikTok won't keep your viewing histories so that you can't find the videos you watched later. So TikTok video download is necessary if you think a video is worth keeping. So, Loader.to TikTok video converter and downloader is here to offer help. Without app download and installation, you can download and convert TikTok HD 1080p/720p videos to MP4 MP3 and other formats without wartermarks. Even 4K videos download is allowed if TikTok offers 4K videos.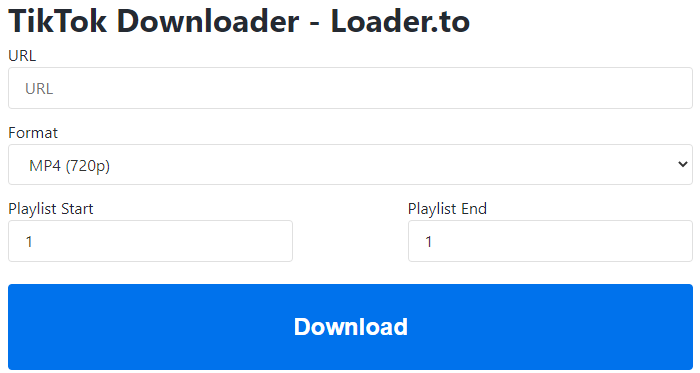 No.3: Qload.info
Site: https://qload.info/
This online tool allows you to save videos with or without watermark from sites besides TikTok. Simply copy the TikTok video URL, paste it to the URL, and then click on Download button, it will automatically and immediately save your TikTok video in MP4 format to your PC. Though it says it support TikTok audio track download, I failed. Nevertheless, this TikTok downloader offers unlimited downloads and is totally free.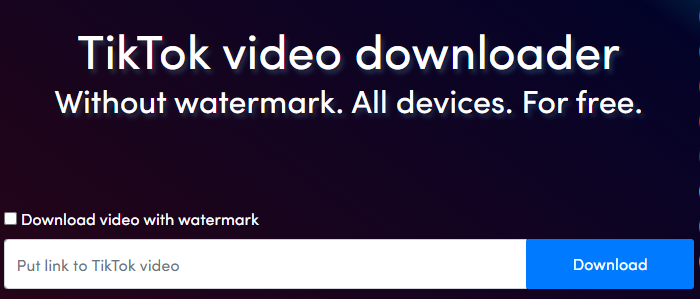 No.4: AIO
Site: https://allinonedownloader.com/tiktok-video-downloader.php
AIO by default download and convert TikTok videos to MP4 no matter the original video format is MOV or WebM. With it, you can save TikTok videos to your PC, Mac, iPhone, iPad, etc. as many as possible. It won't decrease the video quality during converting so you get full HD TikTok videos easily. Besides, this downloader and converter doesn't have limitations on video length meaning you can download TikTok videos longer than 15s or 60s. But you are not suggested to download copyright TikTok videos as AIO won't be responsible for your illegal downloads. Part 3. How to Download & Convert TikTok Video to MP4 with TikTok Converter?
Here we take WinX Video Converter as an example as it can be used as both TikTok MP4 converter for uploading and TikTok MP4 downloader.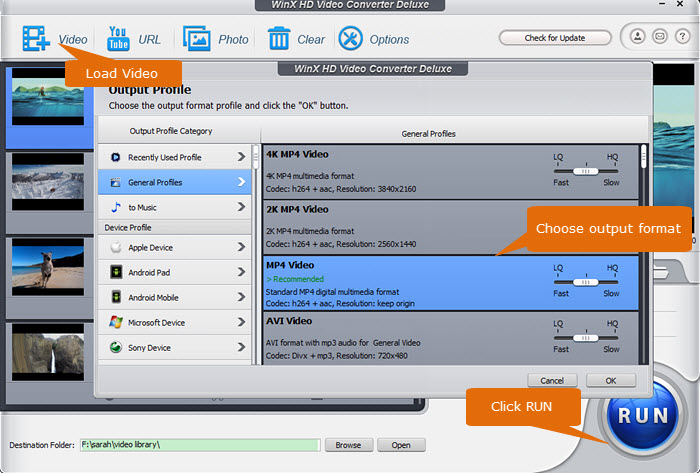 Step 1. Get TikTok video converter & downloader.
Download, install and launch WinX Video Converter on your computer.
Step 2. Load your video files.
Simply click on "+ Video" button on the main UI to add a video you want to convert to TikTok MP4.
Step 3. Choose the output format MP4.
When the "Output Profile" pops up, simply choose MP4 (H.264+AAC) as the output format.
Step 4. Adjust the parameters of your video. (optional)
If you want to change the video length, width and height of your video, you can click the "Edit" icon to crop/trim your video. Also, you can adjust the video frame rate, aspect ratio, resolution, etc. by clicking the "Settings" icon.
Step 5. Start conversion.
When everything is done, click the "Browse" button to choose a destination folder to save the converted video, and then hit "RUN" to start converting video to MP4 for TikTok.
Note: If TikTok video download is what you are looking for, you can also click on "URL" button on WinX Video Converter and paste a TikTok video URL to the box to download and convert TikTok video MP4.
Part 4. FAQs About TikTok Video Download & Convert
1. How do I convert a TikTok video?
For different purposes, you have different ways to convert a TikTok video including online and offline tools. To convert video to MP4 for uploading to TikTok, you can try WinX Video Converter which can convert your videos to TikTok supported formats MP4, aspect ratio 16:9, proper length and size. Also it can download TikTok videos to MP4 without watermarks for offline viewing.
2. Can you convert a TikTok video to MP4?
Yes. TikTok to MP4 converters are diverse. Out the market, WinX Video Converter, HandBrake, Clideo, SnapTik, Loader.to, Qload.info and AIO are used mostly to help convert a TikTok video to MP4.
3. How can I download TikTok video without watermark?
Yes. Many TikTok video downloaders allow you to choose to download TikTok videos with watermarks or not at will. Take Qload.info as an example:
Step 1. Find a TikTok video and copy the video URL.
Step 2. Open https://qload.info/, and paste the TikTok video URL to the box.
Step 3. Check the "Download video with watermark" if you need the watermark, or just uncheck it.
Step 4. Click on the Download button to download TikTok video without watermark.
4. How do I download HD TikTok videos?
Whether you can download a HD video from TikTok is a hit-and-miss as the source file quality is determined by the video uploader. But in most cases, TikTok videos are in HD 1080p/720p quality.
BTW, to upload HD video to TikTok, you should make sure you have toggled the "Upload HD" on by tapping on "More Options" at the bottom of the screen of your iPhone or Android.