Best Video Resolution/Dimensions for TikTok
Summary: This post answers you the best video resolution and dimensions for TikTok so as to help you successfully upload high-quality video to TikTok without uploading stuck or quality degradation issue.
TikTok is no doubt the most popular short video platform nowadays with roughly 0.5 billion users actively in the globe. It provides you with innumerable engaging and snackable content for killing boring yet fragmented time. On top of being an audience, you can also become a video creator, with thousands of built-in cool effects on TikTok for video recording.
If you use the in-app record feature to record videos, you don't have to care about TikTok video resolution. If you want to use extra app to record videos with other fascinating effects, TikTok best video resolution is 1080×1920.
How to Upload Videos (up to 4K 2160p) to TikTok?
Resize 4K video for TikTok using WinX HD Video Converter Deluxe! If your recorded video is 4K and you wanna upload it to TikTok, use this tool to downscale and compress 4K to 1080p (visually better than native 1080p) for TikTok uploading. That's because the downscaled 4K is better than native 1080p (4K YUV 4:2:0 → 1080p YUV 4:2:2 chroma subsampling).
This versatile video converter also enables you to adjust aspect ratio from 16:9 to 9:16 (Tiktok best aspect ratio) or 1:1 for TikTok ad video. Cut off unnecessary clips to make video length within 60 seconds, merge clips into 1 and convert any video to MP4, MOV, AVI, MPEG TikTok formats.
Table of Contents
Part 1. What's the Best TikTok Video Resolution/Dimensions?
On top of the common video for personal sharing on TikTok, there are also some other ads video on Tiktok. Check the below best video dimensions for Tiktok common videos and ads video if needed.
Best TikTok video resolution/dimensions for common videos
Best video aspect ratio: 9:16; 1:1.
Best video dimensions: 1080×1920.
Tiktok supported resolution/dimensions for ads video:
In-feed ads video: 720x1280 pixels, 640x640 pixels, and 1280x720 pixels
News feed ad video: 720x1280 pixels
Vigo and Helo in-feed ads video: 720x1280 pixels, 640x640 pixels, and 1280x720 pixels
Part 2. How to Change Video Resolution/Dimensions for TikTok?
In case your recorded videos or created ads videos are beyond TikTok best resolution or the video dimensions are unsuitable for TikTok, you may get errors like "TikTok videos over 1080p not supported". You can follow the below steps to downscale 4K/2K to 1080p/720p/640p or crop video image size to fit Tiktok video resolution.
Step 1: Load your video footage into WinX HD Video Converter Deluxe. With 370+ video codecs supported, it accepts whatever video format you feed it. Bulk conversion is supported, as well.
Step 2: Choose output video format as MP4 on the pop-up window. Other Tiktok supported formats like MOV, AVI, MPEG are also available on this video converter software.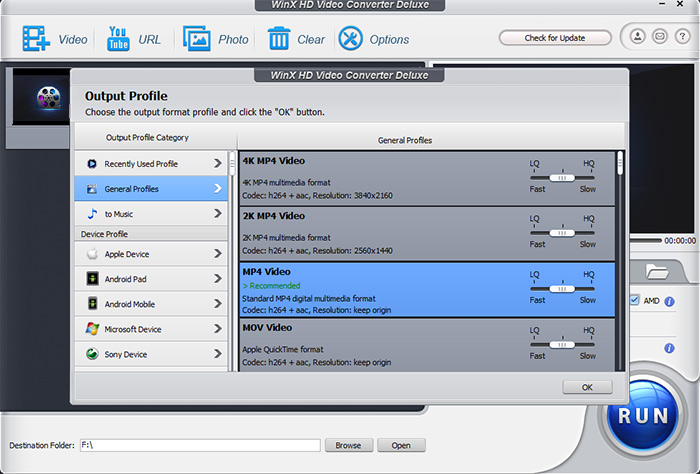 Step 3: Resize 4K 2160p to 1080p resolution. Tap settings icon on the main interface and locate at Resolution option. Scroll down to choose 1080×1920. If the built-in profiles don't contain 1080x1920p, click "Customize" button to manually insert the resolution you need.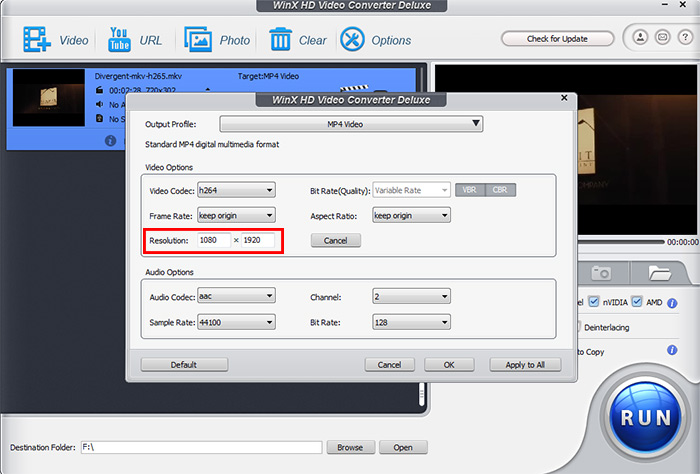 Optionally: Go back to home screen and enable scissor-shaped "Edit" icon. On video editing window, you're allowed to use "Crop" feature to manually adjust video dimensions (length & width) and to remove unwanted black bars from video image.
Step 4: Hit RUN button to begin downscaling video resolution to TikTok best video resolution. After the whole process is done, upload your video footage to TikTok without in-app quality degradation.
Additional feature:
The video converter also features a video downloader which allows you to download video from TikTok, Facebook, and 1000+ video sites freely.