[Fixed] TikTok Videos over 1080P Not Supported
When I try to upload a high-quality video on TikTok, it says "Videos over 1080P are currently not supported on TikTok." I checked all the settings and counldn't find anything to change the quality of the recorded videos. How to fix?
Now when you try to upload a recorded video to TikTok, you can easily get errors such as "videos over 1080P are not supported" or "Video resolution not supported at this time". This is because cameras nowadays most phones and cameras can record videos in resolutions higher than TikTok limits. What to do when TikTok says video resolution not supported? How to upload 4K and high quality videos over 1080P on TikTok? Keep reading.
What TikTok allows you to upload?
The maximum resolution for TikTok uploads: 1080×1920
The maximum TikTok canvas size: 1080×1920
TikTok Max File size: 287.6 MB or 500 MB (ads)
Aspect ratio required: 9:16 or 1:1
File format .MP4 and .MOV
Tiktok video length max limit: 3 minutes
TikTok recommends and supports videos up to 1080P. If your videos are recorded at a higher resolution such as 4K, you may receive the TikTok video resolution not supported errors.
How to Upload Videos over 1080P to TikTok without Errors?
To upload videos over 1080P on TikTok, you need to compress your videos to 1080P. If you want your TikTok 4K/HD upload videos in good quality, you need a good video compressor that can keep the maximum output quality. Try WinX HD Video Converter Deluxe.
It will compress 8K, 5K, 4K, and high-resolution videos to 1080P or lower without quality loss. Its high quality engine will ensure the best compressed video quality and the Intel QSV, NVIDIA CUDA/NVENC hardware acceleration will speed up the compression by 5x faster than others.
Step 1. Free download the video compressor and install it as per the prompts. Launch it and then click +Video button to import the 4K or other HD videos that TikTok won't let you upload.
Step 2. Output Profile window pops up. If your video is not in a format supported by TikTok, you can easily convert it into MP4/MOV for TikTok. For example, select General Profiles from the left column and choose MP4 as the output.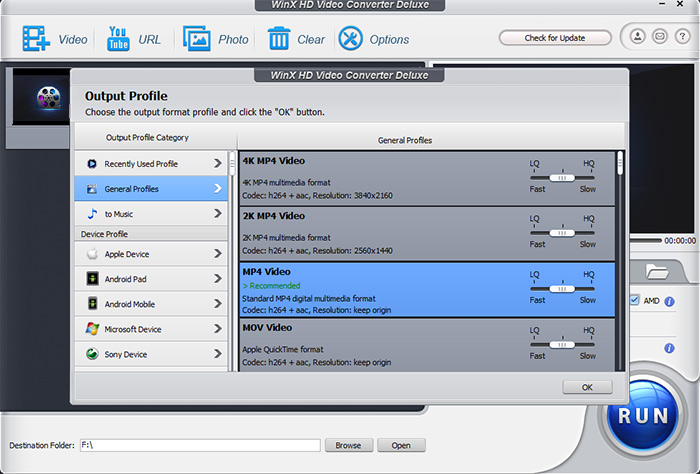 Step 3. Back on the main interface, click the setting gear and a window for parameter adjustment will appear. Find Resolution and open the dropdown menu. Scroll down the list and select 1080x1920. You can also enable Customize and enter the resolution you want. But note that TikTok accepts videos in 16:9, so make sure the inserted video dimension is acceptable.
Note: You can also use the software to crop your video, especially when the "Video resolution not supported" error is caused by wrong aspect ratios.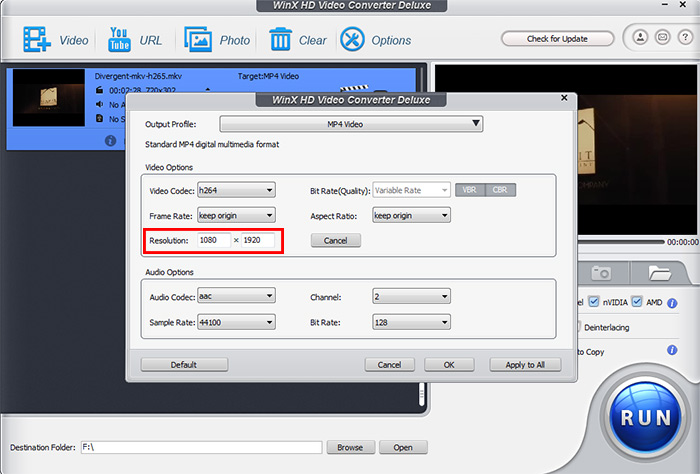 Step 4. After all settings are done, hit Browse button to set a destination folder for the compressed video and click RUN button to start. Then you should be able to upload the 4K/HD video to TikTok without problems.
FAQ
1. Why can't I upload 1080P videos on TikTok?
As you may see the TikTok videos over 1080P are not supported errors happen because the platform doesn't support higher resolutions. But "I also tried lowering the resolution but I still get the same error", why? If your video is under the TikTok resolution limit, also note the aspect ratio. If the dimension of the video is not 16:9, you may need to cut the video a little bit.
Another reason is that the Data saver on your TikTok app is turned on. Streaming and uploading HD videos on TikTok requires a lot of bandwidth. The feature will help limit the video quality during the video playback and upload. This may cause 1080P HD video not uploading on TikTok. Open TikTok app > tab on Me and then the three dots > scroll down and find the Data Saver option. Make sure it's disabled.
2. How to upload HD videos to TikTok?
Once your video is ready in 1080P, how to upload it to TikTok? Go to Record > Upload > select the 1080P video. In the TikTok quality settings, tap on "More options" at the bottom, then toggle on "Upload HD" or "Allow high-quality uploads," depending on what version of TikTok you're running. Then your video will be upload. If your video is in 4K or higher, TikTok will scale it down to 1080P, which may result in bad quality, or give you the "videos over 1080p not supported TikTok" error.
3. Can you change resolution on TikTok?
No. TikTok settings only allows you to switch between Upload HD and standard quality. There is option to change the video quality to fix video resolution not supported TikTok issues.
4. Does TikTok support 4K?
No. The highest video resolution of TikTok upload is 1080P.