MOV Video Converter – Convert MOV to MP4 MP3 AVI WMV WebM etc.
Here list 4 types of MOV video converter to help convert MOV videos up to 4K to 420+ formats and vice versa fast and without quality loss.
Similar to MP4, MOV is the main video format chosen by kinds of cameras including GoPro and DJI to record videos. However, this QuickTime format is not widely supported among devices like Windows 10 PC. When playing it, you may receive "file format not supported" or "invalid file format" error message. So, you need to convert MOV to other more supported and friendly formats for successful playback. To make it rich in choices, here we list 4 types of MOV video converter including online converter, desktop software and media player to help convert MOV file to MP4, AVI, WMV, etc. and vice versa if needed.
Part 1. What Is MOV? Why Convert MOV Video?
MOV file format was created by Apple Inc. as a multimedia container format which can contain one or more tracks, each of which stores a particular type of data including audio, video, effects or text (e.g. subtitles). Which means it is a very suitable video recording format to save types of information of a scene. Besides, the ability to import and edit in place without data copying makes MOV quite popular among camera producers.
Like MP4 container format, MOV is now widely used by modern cameras including iPhone, iPad, DJI/GoPro dones, Canon EOS, Nikon D850/D7500/Z 6II, JVC GY-HC550 series, Panasonic LUMIX GH4/GH5, Fujifilm X-E4/ X-S10, etc. All of them can and are inclined to record 1080p, 4K and even 8K videos up to 60fps or 120fps. That's why you get high-quality but large-sized MOV videos. That's why sometimes you need to convert MOV 4K to 1080p or lower for successful playing, editing, uploading or sharing.
Besides, the complicated inner data references like 4K, 60fps, HEVC/Prores codec, etc. also present challenges for video players to open MOV files. To make MOV videos more compatible and friendly with various devices and platforms, we need a MOV video converter to convert MOV to MP4, AVI, MKV, FLV, etc.
Part 2. 4 Examples of MOV Video Converter Free Download
Each MOV file converter listed here has its strengths and shortcomings, but they ranks top of the type out the market. More advisably, you should read full reviews here and then make your final decision.
No.1: WinX HD Video Converter Deluxe – Convert MOV up to 4K without Quality Loss
As the best 4K MOV video converter and compressor, WinX HD Video Converter Deluxe has the ability to convert 4K/HD MOV files from DSLR, drones, iPhone, iPad to MP4, H.264, HEVC, WMV, AVI, MKV, FLV, 3GP, and 420+ popular device like PC, mobiles, TVs, websites, editors, etc. Also, it helps convert any format to MOV and vice versa losslessly. If needed, this MOV converter can let you reduce file size for easier collection and transferring. The built-in Intel QSV, Nvidia CUDA/NVENC hardware acceleration techs will stimulate the converting and compressing processes with 5x faster speed.
Steps to Convert MOV Videos with WinX HD Video Converter
Before doing so, you should download and install this MOV converter on your computer. Then, follow the steps to convert your MOV files.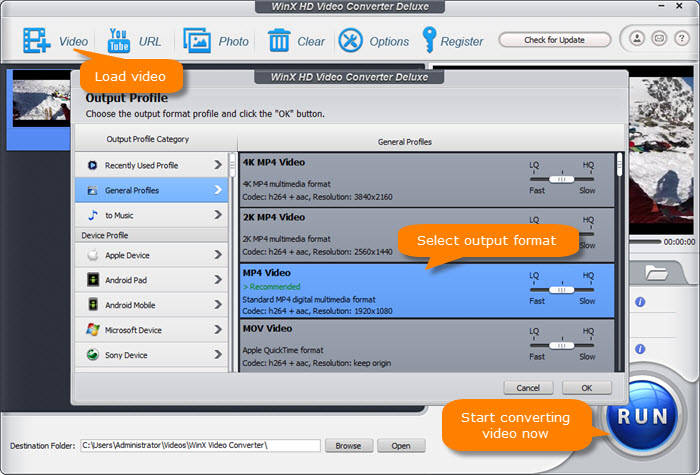 Step 1. Add MOV video. Click "+ Video" button on the main UI to import the source MOV video. You can also import multiple MOV videos one time.
Step 2. Choose Output Format. To convert MOV to MP4, choose "MP4 Video (MPEG or H.264)" from General Profiles. You can also convert MOV to M4V, AVI, WMV, other formats and nearly all mainstream devices, such as iPhone/iPad, Androids, Sony, Microsoft, TVs, NAS, etc.
Step 3. Set Destination Folder. Save video after conversion to your computer by clicking "Browse" and select the target folder.
Step 4. Convert MOV Video. Check the Hardware Accelerator to apply GPU acceleration when possible. To get the best results, don't forget to enable the High Quality Engine and Deinterlacing. After all the settings, click the Run button and start converting your MOV video.
No.2: Handbrake – Free & Open-source Video Transcoder
Supporting almost all video formats including MOV, Handbrake is one of the most popular tools used to convert videos into MP4/MKV/WebM. It is free, safe to use, and quite fast that hundreds of thousands of people choose it in daily life. As a qualified MOV file converter, you can also convert MOV videos into a slew of devices like Android, Apple, Chromecast, Fire TV, PSP, Roku, etc. besides MP4 and MKV formats.
However, in addition to the output limits, Handbrake occasionally encounters problems when converting MOV videos in 4K 60fps, especially when they are encoded with HEVC/Prores. In some cases, you may see Handbrake MOV no valid source found or no sound/video errors. So, Handbrake is a good choice when you only need to convert common MOV videos. If you have enough budget, you should choose professional video converter like WinX HD Video Converter Deluxe to help convert MOV and other video audio formats.

Steps to Convert MOV Files with Handbrake
Step 1. Free download Handbrake from its official site https://handbrake.fr/, install and launch it on your computer.
Step 2. Run Handbrake. When you first use Handbrake, you can click "File" on the left to open a MOV video or simply drag and drop a MOV video to it.
Step 3. In the "Summary" part, choose MP4, MKV or WebM as the output format.
Step 4. Click the "Browse" button to select an output folder to save the converted MOV video.
Step 5. Click "Start Encode" to start converting.
No.3 CloudConvert – Online MOV Video Converter
Online MOV video converter is designed to provide great convenience. As long as you have network, you can upload your MOV files and then converted to the desired video format. Like the desktop software, you can also change video resolution, output quality, FPS and aspect ratio at will. Ranking top on Google search result, CloudConvert is chosen as the best free MOV converter to convert MOV videos. You can use it to convert MOV to 7 main video formats including MP4, AVI, FLV, MKV, MOV, WebM and WMV, and even convert 27 video formats to MOV without errors.
However, nearly all online video converters have difficulties to analyze, process and converting 4K UHD videos no matter in MOV, MP4 or H.264, HEVC. The internet connection speed and how many users are using the service will decide your video conversion time length. Besides, the online MOV converters seem unsafe as you can't prevent privacy leak when they keep your personal videos on their servers.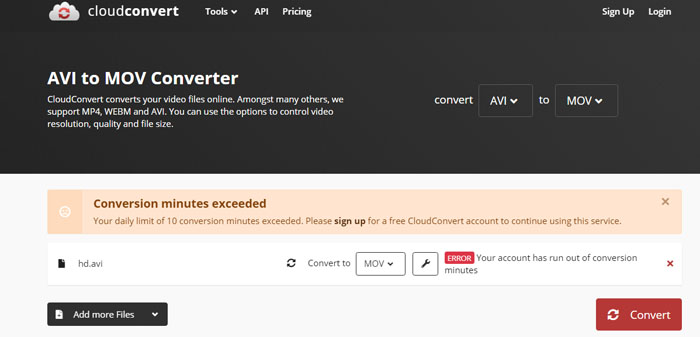 Steps to Convert MOV Videos with CloudConvert
Step 1. Go to www.cloudconvert.com, and click "Select File" to add a MOV video from your computer.
Step 2. Choose an output format from the drop down menu of "Convert to".
Step 3. Click on "Convert" button to starting converting your MOV file.
Step 4. After that, simply download the converted MOV video to your computer.
Note: Online converter is generally blamed for its speed uploading and converting speed, you can try the fast video converters here to enjoy a fast transcoding speed.
No.4 VLC – Open-source Media Player with MOV to MP4 Converter
We think VLC media player is not a stranger to you. If you have installed it on your computer, benefit is you can also use it as a MOV video converter. It lets you convert MOV to different formats such as MP4, WebM, TS, OGG, AVI, DivX, ASF, FLV, WMV, or DVD and vice versa. However, VLC is not a professional video converter but a professional media player, therefore, don't be surprise if you find the converted MOV file is audio video out of sync or lacks the audio or video. Also, it is not a good idea to use VLC as a 4K MOV video converter either.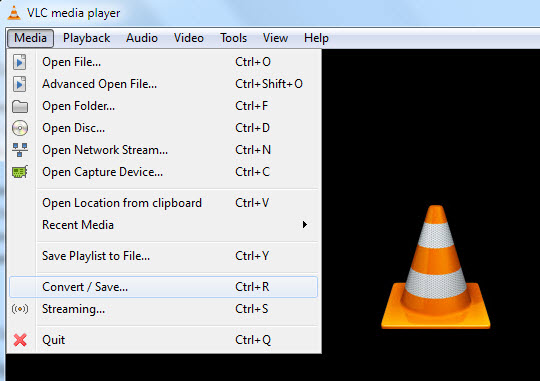 Steps to Convert MOV with VLC Media Player
Step 1. Free download, install and launch VLC media player on your computer.
Step 2. Click "Media" on the menu bar and choose "Convert/Save".
Step 3. Click "+ Add" to add your MOV video to VLC and click "Convert/Save" to go on.
Step 4. In "Profile" part, choose the output video format from the drop down menu.
Step 5. Click "Browse" button to choose a destination folder to save the converted MOV video.
Step 6. Click "Start" to start the conversion.
Based on your needs, you can spend less time and money to convert standard MOV videos, or sacrifice your pocket to get a professional MOV video converter to convert 4K MOV as well as compress large sized MOV 4K/8K files. WinX HD Video Converter Deluxe is a versatile tool for both simple and professional video conversion.
With 370+ codecs built-in, it will convert MOV videos in HEVC, Prores, H.264, MPEG-4, any codecs;
With 420+ output profile, it will convert MOV videos to MP4, AVI, MKV, HEVC, H.264, FLV, WMV, or iPhone, iPad, Galaxy, TV, editors, etc;
With regular update, it will support MOV videos in 4K, 8K @60fps, 120fps, others from DSLR, drones, iDevices, etc;
With Level-3 Hardware Acceleration (QSV, NVIDIA), it will convert HD/4K MOV videos with 5x faster speed, yet high quality.