Best 7 Free Sites and Software to Convert AVI to MOV on Mac and Windows
There are many tools available to convert files from AVI to MOV including professional desktop video converters, free online video conversion services, and even some popular media players such as VLC offer an option to convert videos from AVI format to MOV.
If you only convert AVI to MOV occasionally, and your AVI videos are small, free online services is a good choice. If you just change the file extension from .avi to .mov, VLC can meet your needs. If your source AVI files are big and you want more codec format options and parameter settings, as well as faster processing speed, you should choose a professional video converter like HD Video Converter Deluxe. Let's get started with HD Video Converter Deluxe and follow it up with a list of free online AVI to MOV converters.
Part 1. How to Convert AVI to MOV with HD Video Converter Deluxe
Compatible systems: Windows, Mac
Pros: No file size limit; 47x faster real-time processing speed; a wide range of format support; internet connection isn't required for conversion.
Cons: Require installing a program.
Digiarty's HD Video Converter Deluxe supports over 370 input formats including AVI and 420 output profiles including MOV. Any AVI files, no matter what codecs are contained, can be converted to MOV for playback on Mac, iPhone, iPad, and other devices. Supporting Intel/AMD/NVIDIA powered hardware acceleration, it finishes video conversion quickly, at least 5x faster than other tools. And High Quality Engine guarantees no quality loss during video conversion.
Besides AVI to MOV, this tool can convert AVI to MP4, MKV to MP4, MOV to MP4, and so much more. Apart from converting video, it can also compress video, edit video, and make photo slideshow.
Well, back to business, how to convert AVI to MOV with HD Video Converter Deluxe? Firstly please download and install it on your Windows or Mac computer. It is clean, lightweight, and easy to install. Once done, follow the steps below.
Step 1. Import AVI files.
Launch HD Video Converter and click the "+ Video" button at the top menu bar to open the AVI video you want to convert to MOV. You can import multiple AVI videos. Batch conversion is supported.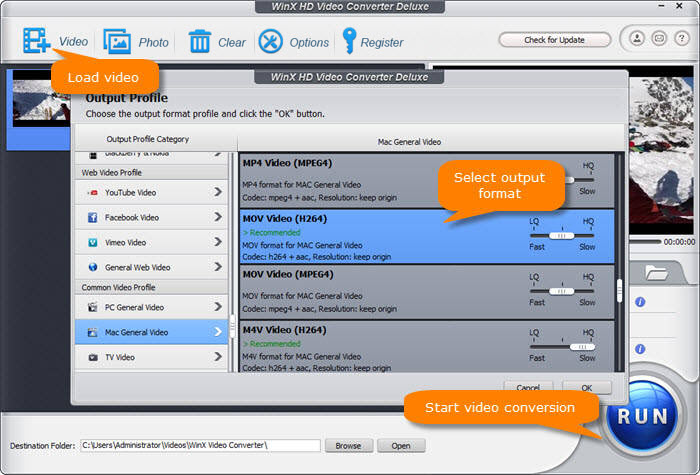 Step 2. Select MOV output.
After the AVI video is loaded, an Output Profile window opens up. Select "MOV Video" under General Profiles or Mac General Video. Click the "OK" button to save the format change and close the window.
Step 3. Begin converting AVI to MOV.
After you finish all settings, click the "RUN" button to start transcoding AVI video to MOV.
Part 2. How to Convert AVI to MOV Online Free
If you don't want to use a desktop-based tool, there are many free online AVI to MOV converters, including:
CloudConvert
FreeConvert
ConvertFiles
...
How well do these online AVI to MOV converters work? Let's get into them.
CloudConvert
Pros: Ease of use; no need to download any software; allows parameter setting
Cons: 1GB limit for free accounts; 25 conversions limit per day for free accounts; 10 conversion minutes limit per day for unregistered users; slow; internet connection required
CloudConvert is a popular online converter that can change the format of audio, video, document, ebook, archive, image, spreadsheet, and presentation files. AVI to MOV is supported. It not only allows you to change file format but also permits you to adjust video resolution, constant quality, fps, aspect ratio, codec format, and so much more.
To convert AVI to MOV with CloudConvert, follow this instruction.
Step 1. Go to cloudconvert AVI to MOV Converter page.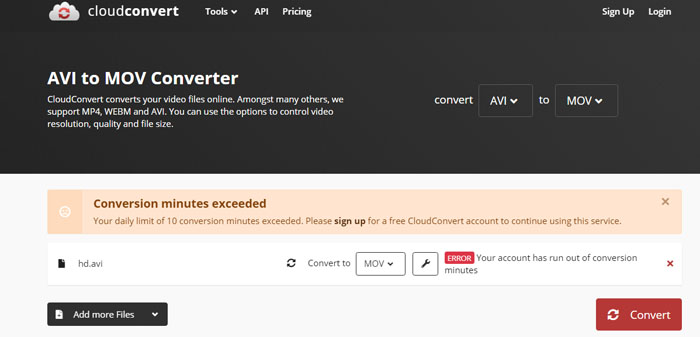 Step 2. You should see the red "Select File" button, click the button, and identify the AVI video you want to convert from your computer, Google Drive, Dropbox, or OneDrive. Click the "Add more files" button to choose more AVI videos to transcode to MOV format in batch.
Step 3. Click the red "Convert" button to start uploading and transcoding. After the process completes, download the converted MOV files. Non-registered users have daily limit of 10 conversion minutes.
FreeConvert
Pros: No need to download software; offer advanced options
Cons: Max file size 1GB for free users; up to 25 conversions per day for free; require internet connectivity; Ad-supported
Like CloudConvert, FreeConvert can also help you to convert AVI file that doesn't exceed 1GB to MOV for free. And there are advanced options to specify video/audio codec, video screen size, video frame rate, video aspect ratio, and trim video.
Below are the steps to convert AVI to MOV online with FreeConvert.
Step 1. Open your browser and visit FreeConvert AVI to MOV Converter.
Step 2. Click "Choose Files" to import AVI file from computer, dropbox, Google Drive, or add file by URL.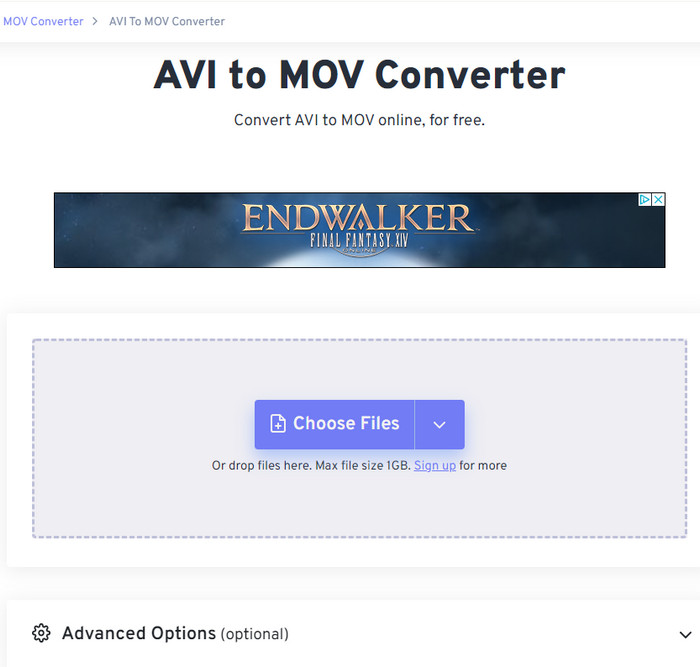 Step 3. Click "Convert To MOV" to upload and convert your AVI file to MOV. Once done, click "Download MOV" button to download the MOV file to your computer. Alternatively, you can save to Google Drive and Dropbox.
ConvertFiles
Pros: No software download required
Cons: Ad-supported; slow uploading and converting; depend on the internet to work
ConvertFiles is also a multifunctional converting program. It supports importing a dozen different video formats including AVI and converts them to MOV, MP4, MKV, and more. This video converter doesn't allow you to import source videos from cloud storage and doesn't provide options to modify video audio parameters.
Step 1. Get access to ConvertFiles AVI to MOV page through your web browser.
Step 2. Click the blue "Browse" button to open a local AVI file.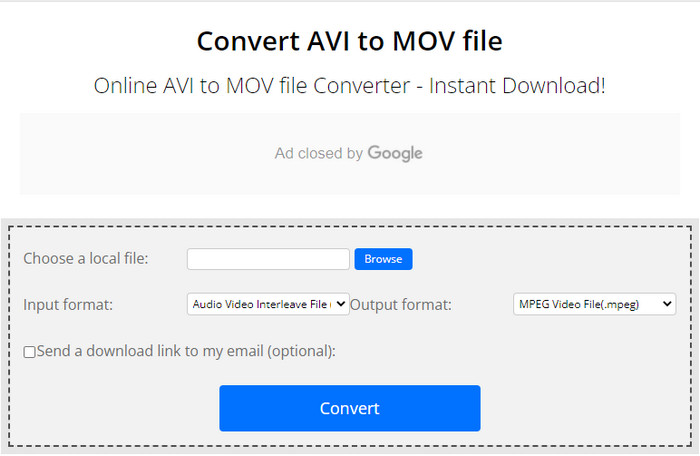 Step 3. Click the drop-down menu of Output format and select QuickTime Movie File (.mov) or H.265/HEVC Apple Movie File (.mov).
Step 4. Click the blue "Convert" button to upload and convert AVI to MOV.
Part 3. Other Free AVI to MOV Converters
If free online tools can't address your needs, there are other free programs to try, including:
VLC Media Player
FFmpeg
MPEG Streamclip
Convert AVI to MOV Free in VLC Media Player
Pros: free with no limitations; safe to use; rich feature set
Cons: no MOV profile; limited formats
If you have VLC on your computer, you can try changing AVI to MOV format using VLC media player. Besides video playback, it offers a basic video transcoding feature. There's no MOV output profile, you have to manually create it. Use the steps below to get the job done.
Step 1. Open VLC Media Player.
Step 2. Click the Media tab on the top menu bar, select Convert/Save from the drop-down list. An open Media window appears, allowing you to choose source local files to load. Click the Add button and pick your AVI file to load to the VLC player. Hit on the Convert/Save button on the bottom of the Open Media window. Step 3. On the Convert window, click the Edit selected profile icon next to the Profile drop-down button. Select video format MP4/MOV on the Profile edition window. Click the save button to save the change.
Step 4. Click the Browse button to select a folder to save the output MOV file. Change the file extension to .mov, and close the window.
Step 5. Click the Start button to begin the .avi to .mov conversion process.
Convert AVI to MOV Free with FFmpeg
Pros: Free, clean; compatible with a great many formats
Cons: A long period of time is required to learn how to use it
FFmpeg is a free and open-source software project consisting of command line tools and libraries to handle video, audio, and other multimedia files and streams. Among the command-line tools, ffmpeg is the one to convert video or audio format. Utilizing various video and audio codec libraries, it supports quite a lot of multimedia formats including AVI and MOV we talk here.
To convert AVI to MOV with FFmpeg, follow this.
Step 1. Download and install FFmpeg.
Step 2. Open FFmpeg command window and enter the correct command line behind the cursor.
The command line should be like this ffmpeg -i path/video1.avi path/movie2.mov
You should replace the "path/video1.avi" with the location and file name of your AVI file and replace "path/movie2.mov" with the destination path and file name of your mov file.
After you have typed in the command line, press Enter to start AVI to MOV conversion.
Convert AVI to MOV Free with MPEG Streamclip
Pros: Include player and editor
Cons: Outdated interface; discontinued; QuickTime is required to install
MPEG Streamclip is an old tool. But it is still a useful video converter, player, and editor, compatible with Mac and Windows. It can not only handle MPEG files, but also AVI, MOV, MP4, MOD, VOB and more.
Step 1. Download and install MPEG Streamclip on your computer.
Step 2. Open MPEG Streamclip and drag and drop target AVI video into this converter.
Step 3. Click File and choose Export to QuickTime Movie. You are also allowed to modify quality, specify fram size, and do more actions.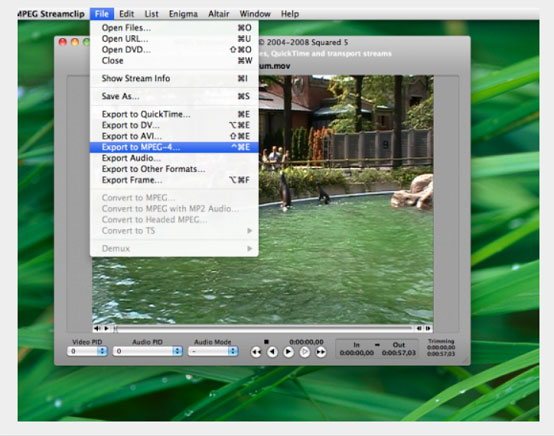 Part 4. FAQs
What is AVI?
AVI is short for Audio Video Interleave or Audio Video Interleaved. It is a proprietary multimedia container format created by Microsoft in 1992 as the standard video format for Windows machines. It can store both audio and video data. The video codecs are usually DivX and Xvid, but not limited to these two. Since AVI file uses less compression to store files, it results in larger file size than many other video formats like MOV.
What is MOV?
MOV is developed by Apple. It is an MPEG 4 video container file format primarily used with Apple's QuickTime program. Just like AVI and other container formats, it supports multiple media tracks.
How to open an AVI file on Mac?
Mac doesn't work with AVI very well. Your QuickTime Player may work with some of your AVI files but fail with others. To play AVI on Mac, you may need to download a third-party program such as VLC and 5KPlayer.
How to edit AVI files on Mac?
AVI is compatible with iMovie on Mac computers with macOS Catalina or later. Therefore, you can try editing AVI files on Mac with iMovie. If it doesn't work, you can try other AVI-compatible video eidtors or convert AVI before editing.
How to convert AVI to MOV on Mac?
All of the AVI to MOV converters we recommend above can run on Mac. You can choose one to use based on your own needs.
How to convert AVI to MOV on Windows 10?
HD Video Converter Deluxe does very well in converting AVI to MOV on Windows 10. You simply need to install it, drag AVI to the interface, choose MOV, and hit RUN to start.