Best Instagram Video Size & Dimension for Errorless Uploading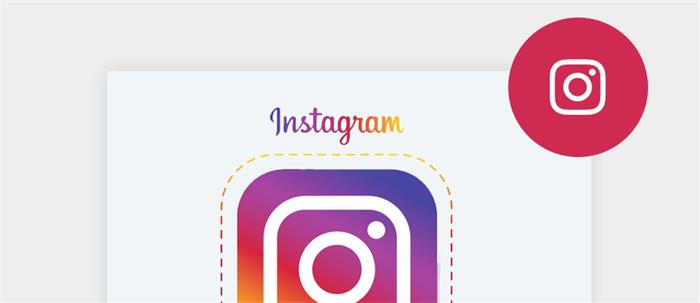 This is an era of high resolution. Except for professional cameras, light-weight devices like iPhone, GoPro, and DJI support 4K footage. Just shoot and storage videos and wait for them to dust in the corner? Of course not, no one will treat the videos which they are proud of like that. To share with others, it seems very easy to upload a video to Instagram by only a few clicks, but in fact, folks usually are tied up in knots over issues of video upload size, especially high-resolution videos usually resulted in large video sizes. To quickly edit a video for Instagram that can bypass the troubles, the first thing you should check is if the video size and dimension meet the uploading requirements of Instagram or not.
Check Instagram video size and dimension
Recommended Instagram video size:
Instagram Feed, Stories, and Live Video: no more than 4GB.
IGTV Video: no more than 650MB of videos under 10 minutes, and no more than 3.6GB of videos under 60 minutes.
As for Instagram Feed Video, Stories, and Live Video, "4GB" is not the officially given information, Instagram only gives the correct video size about IGTV, according to its "no more than 650MB of videos under 10 minutes", actually, 50MB-150MB is the recommended and reasonable video size for 1 minute video. Also take the video codec, format, and frame rate into consideration, a minute of 4K video at 30 FPS takes about 200MB storage, and the number will vary according to different cameras to be larger.
To successfully upload your video to Instagram, it is necessary to downscale and compress your video to Instagram supported size. For example, when you upload a 4K MOV to Instagram, the file can be very large in size. For better performance, it is not good idea to post HD/UHD video, standard video quality is enough, otherwise Instagram will automatically compress your video to a very bad quality.
Recommended Instagram video dimension:
Use aspect ratios of 1:1, 4:5 or 1.9:1 for Instagram Feed Video.
Use an aspect ratio of 9:16 for Stories, IGTV, and Live videos.
Besides, keep in mind that the video dimension has a requested range. For square video dimension, it should be from 600pixels x 600pixels to 1080pixels x 1080pixels (1:1 ratio). For portrait video dimension, it should be from 600pixels x 750pixels to 1080pixels x 1350pixels (4:5 ratio). For landscape video dimension, it should be from 600pixels x 315pixels to 1080pixels x 608pixels (1.9:1 ratio). For Stories, IGTV and Live video dimension, it should be from 600pixels x 1067pixels to 1080pixels x 1920pixels (9:16 ratio).
What is the video dimension of your device?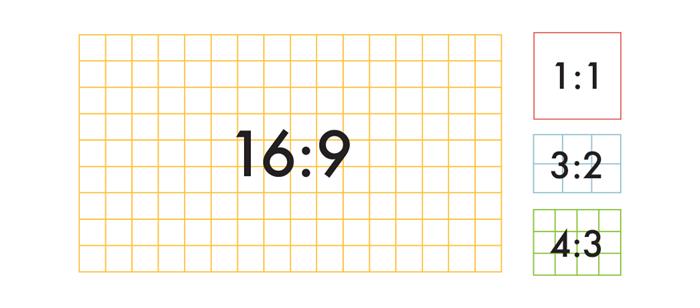 1:1 square image, used in some social networks, and in few devices.
4:3 typical of compact camera and cell phone images.
3:2 typical of DSLR camera images, and 35 mm film.
16:9 HDTV and movie video, typically output as 1920x1080 or 1280x720 pixels.
You do not want to upload a video with the wrong size and too small to see the content or upload a portrait video but only display half a face, right? Check the dimension of your devices and make sure it does not exceed the required range. Or you will need to convert the aspect ratio, like from 4:3 to 16:9 widescreen. To ended Instagram video uploading trobles, here are two useful methods to help.
Two Methods to Upload Video to Instagram without Error
1. Change camera settings of your phone:
If you use a iPhone:
Go to open your iPhone's Settings
Scroll down to find and tap Camera
Tap Record to the option box and choose a resolution as you want
To change aspect ratio, if you use an iPhone with the iOS 13 system, it allows you crop video through the camera app.
If you use an Android:
Go to open your camera app
Find your camera app's Settings
Choose an available resolution
Choose an aspect ratio as you need
Different Android phones have different Settings entries depending on their models. But if you use the earlier iPhone which cannot update to iOS 13, or some Android cell phones and other camera devices do not allow you to change settings, the only choice to terminate troubles is to export the file to edit before uploading on Instagram. Or even if you have changed video settings of devices, it is all in vain if Instagram doesn't support its video format or the black edge still exists. Therefore, the progressive approach is to edit your video to meet all the requirements.
2. Edit your video before uploading to Instagram:
Except video size and dimension, also make sure:
Export videos using format MP4 or MOV.
Videos use the h.264 codec.
Have a minimum frame rate of 30 FPS.
Feed Videos must be 3-60 seconds long.
Instagram Stories can be up to 15 seconds per Story.
IGTV video must be 1-15 minutes long. Upload videos from the computer, in which case videos can be up to 60 minutes long.
Instead of trying to upload your video over and over again to see if it matches all the strict requirements, or switch to many different tools to complete the whole work procedures, WinX HD Video Converter Deluxe is your easiest one-stop solution to compress, convert, cut and crop your video.
How to:
Step 1: Download and install WinX HD Video Converter Deluxe. Then import the video by click the Video button on the upper left corner or the same icon on the start interface.
Step 2: Select the output profile. Click on the General Profiles on the left side option box, and then to the right side to choose MP4 or MOV format, then click on OK.
Step 3: Click on setting button to choose Frame Rate 30, and resolution 720x480,then click on OK.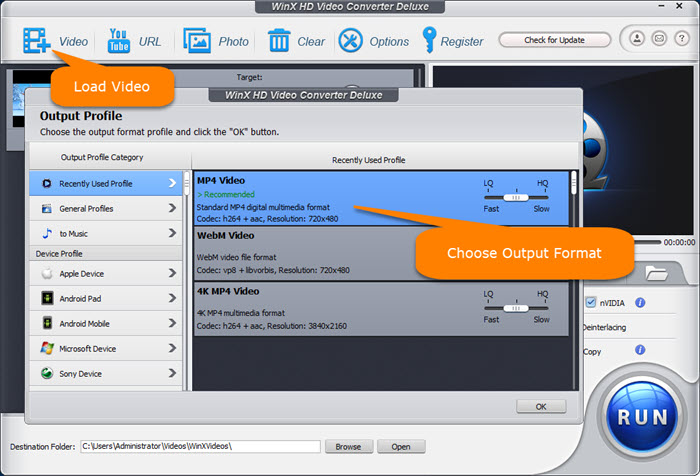 Step 4: Click on edit interface button, then go to Crop & Expand and select Enable Crop, so you can choose the video dimension ratio in the drop-down box of Crop Original. Or you can also input the dimension value or drag the crop frame on the video screen.
Step 5: Click on Trim and go select Enable Trim, enter the start time and end time to choose the clip you want from the video, or drag the video progress bar to select, and then click on Done.
Step 6: Click on Browse to decide the Destination Folder of the video, and click on Run to output edited video.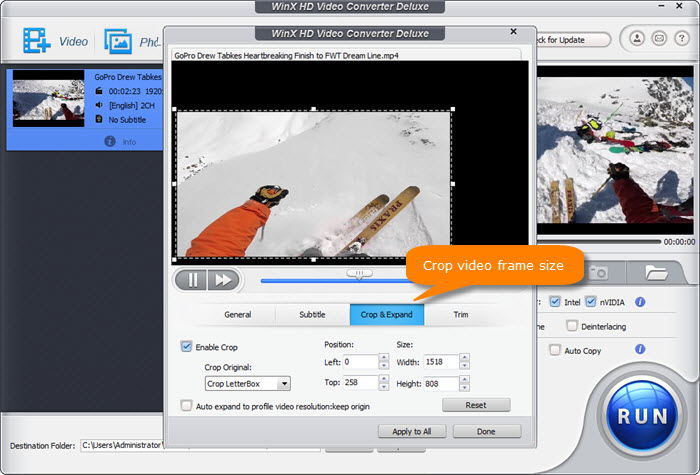 WinX HD Video Converter Deluxe is an all-in-one video software with its industry-leading Level-3 Hardware Acceleration technology that gives you ultimate control over any files, even if the file with a bulky size can be converted, cut and resized efficiently. It supports output 420+ video formats and make any incompatible videos friendly with any SNS. Not only edit video to meet upload requirements of Instagram, but also other video sites like YouTube, Vimeo, Facebook, Twitter, etc., or if you want to get more video resources from those sites, just paste the URL and one click to download. Want to try WinX HD Video Converter Deluxe? It is free to download now!
To upload videos to any platform, through all the above-mentioned requirements of its site, and you would have a clearer idea of what's going to get converted and edited in different video sites and SNS platforms. So you need WinX HD Video Converter Deluxe which gives you a better experience not only on video conversion, but also on video editing, and video downloading.