How to Play MOV Files from DSLR/DJI/iPhone on Windows 10
On forums like Microsoft, VideoHelp, it's no surprise to see users from time to time complaining that MOV files won't play on Windows 10. MOV files recorded by iPhone, DJI drones, DSLR cameras won't show up in Windows 10, play only audio but no video, won't open with Error Code 0xc00d36b4/0xc0036c4, etc. on Windows Media player. Even VLC player can't play MOV on Windows 10.
You might say, why not install QuickTime player on Windows 10 PC? It should play the MOV files. Unfortunately, Apple QuickTime is not officially available for Windows 10 as of January 2016. That said, how to play MOV files on Windows 10? Check the ways below. Best Solution to Play Videos in MOV Codec on Windows 10 [No Codec Pack Required]
WinX HD Video Converter Deluxe - convert 4K & HD MOV files to WMV, AVI, MP4, H.264, etc. for Windows Media Player 12, VLC player. Fix MOV videos won't open or playback issues with WMP, other players, editors, on windows 10/8/7.
Why is it so hard to play mov on Windows 10?
● The video formats that Windows 10 can play include: .asf, .wma, .wmv, .wm,.asx, .wax, .wvx, .wmx, wpl, .dvr-ms, .wmd, .avi, .mpg, .mpeg, .m1v, .mp2, .mp3, .mpa, .mpe, .m3u, .mid, .midi, .rmi, .aif, .aifc, .aiff, .au, .snd, .wav, .cda, .ivf, .wmz, .wms, .mov, .m4a, .mp4, .m4v, .mp4v, .3g2, .3gp2, .3gp, .3gpp, .aac, .adt, .adts, .m2ts, .flac (check full Windows 10 supported formats). Though MOV is listed as one of Windows supported formats, Windows 10 doesn't support MOV video files encoded in modern codecs like H.265 HEVC, AV1, Prores, VP9, etc. Many users choose to convert MOV to MP4 H.264 format.
● MOV is a video format developed by Apple to save video, audio, timecode, and text in different tracks, which can be used to store and synchronize different types of media. Each media track may be encoded and edited without re-encoding the entire file. Therefore, MOV is more suitable for video editing than MP4. Recently HEVC/H.265 support was added to MOV files but there still could be issues with specific Windows 10 media players, HitFilm, other software support.
● Now more modern devices record videos in MOV format. For example, Nikon and Canon DSLR cameras shot videos in MOV @ 4K & FHD, JVC cameras use MOV in Prores or H.264, iPhone and DJI drones save videos in MOV HEVC/H.264. However, the myriad of recording settings involving 4K, 2.7K & 1080P, 60fps, 50fps, 30fps, 4K FOV, etc. make it even harder to play MOV files on Windows 10/8/7.   
● MOV footages captured by cameras always come in large file size. One reason is that the MOV files retain extra details that the camera sees. This allows more flexibility during post processing: the colors can be adjusted easier; shadows can be recovered... For this very reason, videographers prefer to use the MOV format for further editing and then convert the final project to MP4 for distribution on YouTube or other places. But the extra information in MOV files lead to larger file size.
Anyway, how to play MOV files on Windows 10/8/7?
Best Method: Convert MOV to Windows Media Player
Considering the complicated factors in MOV files, such as 4K & HD, high frame rates 60fps, 120fps, large file size, and advanced codecs H.265, Prores, etc., the best way to open mov on Windows 10 and import mov recordings to HitFilm, Vegas Pro, other editors is to convert MOV into Windows 10- supported formats.
WinX HD Video Converter Deluxe can handle 4K/HD MOV files well. It supports MOV files (Prores, H.265, H.264, etc.) recorded by iPhone, DJI drones, Nikon, Canon, Fujifilm, other DSLR cameras and lets you convert MOV into Windows 10 formats like AVI, MP4, WMV, 3GP, and 370+ video/audio codecs. The unique Level-3 hardware acceleration can process 4K & large MOV files smoothly with fast speed, no stutters or freezes. The advanced compression engine also allows up to 90% smaller file size.
Free Download WinX HD Video Converter to Convert MOV to Window 10 WMP?
Step 1. Download and install the MOV converter on Windows 10 PC or earlier Windows systems. Then launch the software and click "+Video" to load MOV files.
Step 2. The Windows 10 MOV converter will accept mov files in any codecs, resolutions, frame rates. Once loaded, the "Output Profile" window pops up. Scroll down the list and select a Windows 10 friendly format like MP4, AVI, WMV.
Step 3. Then "OK", set an output folder. Check the Hardware Accelerator on the interface to speed up the converting. Then click RUN and start to convert MOV to Windows 10 formats. Then you should be able to play mov on Windows Media Player.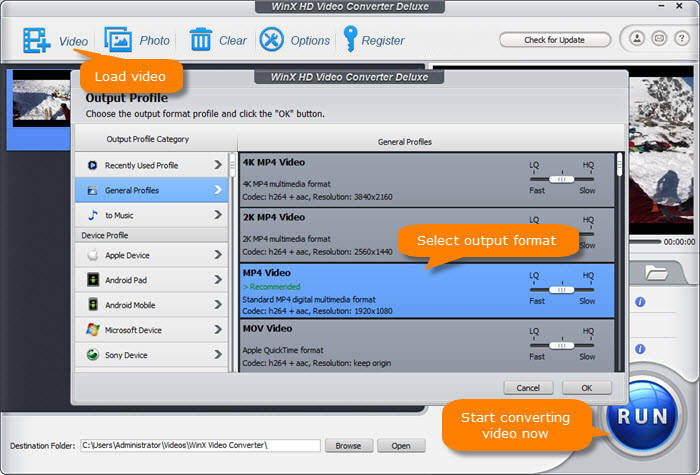 Learn more details in the video tutorial: How to Convert MOV to MP4 with WinX HD Video Converter Deluxe
FYI: Where is Windows Media Player in Windows 10?
● When you double-click a video, it will open in Movies & TV app instead of WMP. Windows Media Player is not removed from Windows 10, it's still here. But you have to pay for it. To find Windows Media Player 12 on Windows 10, click Start button > go to Settings > Apps > Apps & features > Manage optional features > Add a feature > Windows Media Player, and select Install.
● If you want to stay with the free Movies & TV app, you may want to know the app supports m4v, mp4, mov, asf, avi, wmv, m2ts, 3g2, 3gp2, and 3gpp. You still can't play mov on Windows 10. Check top 7 best MOV players for Windows 10.
Method 2: Download MOV Codec for Windows 10
The lack of necessary codecs of MOV variations is the reason why Windows 10 won't open MOV files. To watch and play MOV files on Windows 10, simply download and install third-party codec packs like K-Lite Codec Pack (https://codecguide.com/download_kl.htm). K-Lite Codec Pack is a popular codec pack that supports various video formats including MOV, MKV, etc. It will add MOV codec for Windows 10, but you should note that it won't work with the Movies & TV app.
Step 1: Go to its official download site listed above > run the installer and then you will see the window below, select and download the K-Lite Codec Pack mode > click Next. Step 2: Then you need to select your preferred video player. Select Windows Media Player to open and play mov files on Windows 10. If you don't want to install a third-party player MPC-HC, make sure you uncheck the box.
Step 3: Select the Decoding method, codecs like H.264, HEVC, VP9, etc. and other settings like language. You can just leave the pre-set settings as the defulat and finish the installation. After that, run Windows Media Player 12 and you should be able to play MOV videos on Windows 10. Check the full tutorial on how to download Windows Media Player Codec Pack on Windows 10>>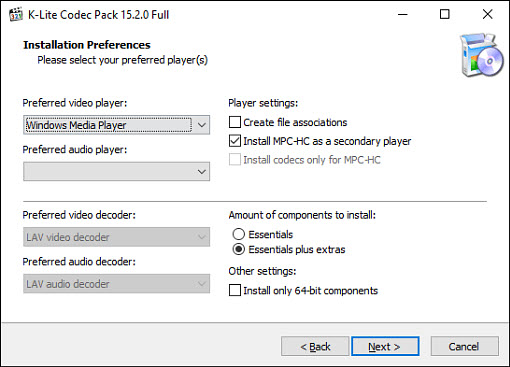 Method 3: Install QuickTime for Windows 10
As a format from Apple, QuickTime should play MOV videos on Windows 10 without installing mov codec for windows 10 or convert MOV to other formats. Though mentioned earlier, QuickTime is not discontinued for Windows, you can still get QuickTime for Windows 10 from the official download page of the latest version QuickTime 7.7.9. Note that QuickTime 7 is for Windows 7 or Vista, so there are chances that you might encounter some samll glitches using QuickTime on Window 10 or other systems.
To download QuickTime for Windows 10, go to the official download page. Download and install QuickTime on Windows 10, then open the MOV files with it.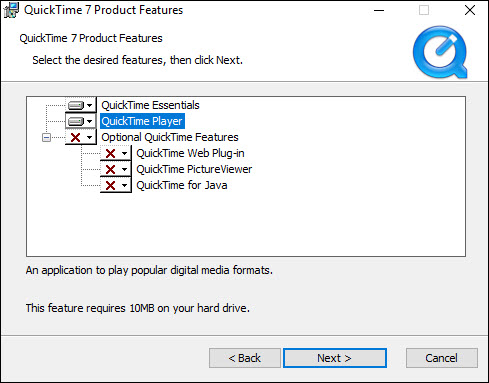 Method 4: Try Another MOV player for Windows 10
Besides Windows Media Player and QuickTime, there are other MOV video players for Windows 10. Considering the MOV files that may come in 4K, 1080P, 60fps, and HEVC, ProRes codecs, etc. from DJI, DSLR, other modern devices, you'd better try some 4K video players.
* 5KPlayer - a free and lightweight video player that is designed for 4K and high-res videos in MOV, HEVC, MP4, MKV, any other formats. The support for DXVA2, Intel QSV, NVIDIA, and AMD hardware acceleration allows it to play MOV videos on Windows 10 without stutters, freezes, A/V out of sync, other errors. It has MOV support built-in, so no MOV codec for Windows 10 is required.
* VLC Media Player - a popular free player that will also play virtually everything on Windows 10, including MOV files. However, there are complaints of choppy playback when dealing with high-resolution videos on VLC. In those cases, you may need to diasable/enable its hardware decoding, check the caching value, output module, change the playback settings, etc.