Free Download and Install MOV Codec for Windows 10
MOV format is on the list of video formats supported by Windows 10. However, an error can occur when playing or editing MOV videos. Below is a typical error. "I'm trying to play a .mov file recorded by an iPhone X on my Windows 10 PC. I get the error 'missing codec, the item was encoded in a format that's no supported, 0xc00d5212."
The MOV video not playing error may be caused by the compatibility issue with the video device driver and Windows version. Try updating the video device driver. You can also install the MOV codec for Windows 10 or convert MOV to Windows 10 supported formats to fix such a format compatibility problem.
How to Play MOV on Windows 10?
Method 1. Top Free MOV Codec Pack for Windows 10 Download
MOV is a container format that can be encoded with different video and audio formats. When searching for the MOV codec for Windows 10, codec packs that include various types of formats are more common. Here we recommend Windows 10 Codec Pack and K-Lite Codec Pack.
1. Windows 10 Codec Pack
It's a free Windows 10 MOV codec pack Microsoft that works on 64-bit and 32-bit PC. The codec pack is compatible with Windows 10 and earlier, and Windows Media Player 12/11/10. After installing the MOV codec pack for Windows 10, you should be able to play MOV file types including h.265, 10bit x264, H.264, AVCHD, AVC, and DivX, XviD, MOV, MKV, MP4, etc. videos.
2. K-Lite Codec Pack
K-Lite Codec Pack is a well-received MOV codec pack for Windows Media Player on Windows 10. The pack has four different variants, they are Basic, Standard, Full, and Mega. The Basic version contains the most common video and audio formats, covering MOV, MKV, AVI, MP4, TS, WebM, M2TS, FLAC, MP3, AAC, M4A, and more. While the Mega version is not designed for regular users. If you have lots of 4K Ultra HD MOV HEVC videos shot by DJI drones, Nikon, Canon, or JVC cameras, you may also need to install HEVC codec on Windows 10. The support for HEVC is removed in Windows 10 Fall Creators and later.
Method 2. It's Easier to Convert MOV to Windows 10 Supported Format
It would be more straightforward to use a MOV video converter like WinX HD Video Converter Deluxe that can convert (4K UHD) MOV, MOV HEVC to MP4, WMV, AVI, H.264, etc file formats accepted by Windows 10. GPU acceleration is supported, making the whole MOV conversion process 47x real time faster. With the program, you are free to play and edit MOV footages shot by iPhone, DJI drone, Nikon/Canon, etc. on Windows 10 with Windows Media Player, VLC, Adobe Premiere Pro, Lightworks, etc.
Guide to Converting MOV to Windows 10 MP4, AVI, WMV, etc.
Step 1. Download and install the MOV video converter on Windows 10 PC. Launch the program. Click the "+ Video" button and select a MOV video to load. Batch conversion is supported. You can add several MOV files.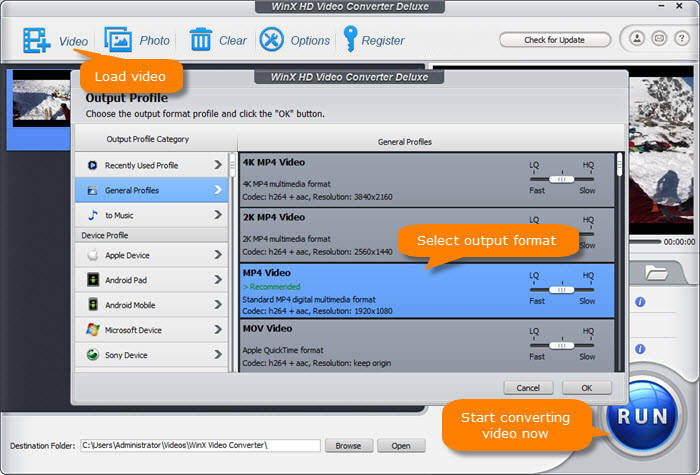 Step 2. You should see the Output Profile windows immediately. On the profile window, drag the scroll bar under the Output Profile Category to scroll down, find Common Video Profile, and select PC General Video. AVC Video is recommended. The profile uses the H.264 video codec and AAC audio codec format. Source MOV video resolution is unchanged. Click OK to save the profile. Alternatively, you can go to General Profiles > MP4 Video, and click the OK button.
Step 3. Click the RUN button and start to convert MOV to Windows 10 formats MP4 H.264 or other formats. After the conversion, you can smoothly process MOV video files on Windows 10 media players, video editors such as Adobe Premiere Pro, Sony Vegas, etc.
Video Tutorial: How to Convert MOV to MP4 for Playing on Windows 10
External sources: What is MOV codec?
When referring to the MOV codec, we should know that the MOV is not a video codec. A video codec is a device or software that is used to compress or decompress a digital media file in the specified method, but a video container is for package data which has been compressed by using a particular codec.
MOV container file format is usually known as QuickTime File Format (QTFF) which uses a proprietary compression algorithm developed by Apple Computer. MOV file format can be encoded by the mainstream video codecs includes MPEG-2, MPEG4-ASP(XVID), H.264, HEVC/h.265, Apple ProRes and so on. If your computer or device does not have the required codec, the MOV video cannot be accessed through decoding and encoded, which means it cannot be played as we know it.