4 Ways to Repair Corrupted MOV File to Make It Playable
MOV is a multimedia container format that can contain multiple tracks, and those tracks save different sorts of media data. Due to the trait, MOV is widely used by action cameras and drones like Nikon, Canon, JVC, DJI, etc. to store different types of file data. Also, when some tracks are missing in your MOV file, you may face corrupted or unplayable MOV file. As MOV doesn't always do its job well but get corrupted without notice, you need to grasp the way to repair MOV files in advance.
I'm trying to fix a corrupted .mov file. The Video is split into a DJI_0001.MOV and DJI_0002.MOV. It is the first one that is corrupt. VLC can't play DJI_0001.MOV, but it will play DJI_0002.MOV just fine. I've tried the trick of starting up my Mavic, and creating a new video... didn't work. Any other ideas? -from Zoyx on forum.dji
Causes to unplayable MOV files are diverse, thus you may need different solutions to fix different corrupted MOV files. To make things easier, we have compiled them all below to help repair corrupted MOV files.
[Solved] Repair Damaged or Unplayable MOV Files with MOV Repair Software
Give a shot on MOV video repair tool – WinX HD Video Converter Deluxe, which is well-designed to help convert any videos in whatever format and resolution, and more importantly it help repair corrupted MOV files without any 3rd party involvement.
Part 1. Why Is MOV File Corrupted?
One of the causes to MOV not playing error is the MOV file is corrupted, while the corrupted issue is caused by a host of factors as detailed below.
Unexpected media player failure. Obviously, it is not the fault of your MOV file. If your default media player is not very powerful, you may get MOV unplayable error.
Improper shutdown of OS. Under this circumstance, the structures of MOV video files can get damaged causing the files to operate abnormally.
Interrupted or incomplete video download lead to a corrupted MOV video. You can try to re-download the MOV files online to repair MOV easily.
Improper conversion. During video conversion with a poor video converter, you may get missing codec error that will lead to a damaged MOV file.
Disrupted transfer. Sudden termination of MOV files between two mediums will cause damaged MOV files in high possibility.
Inappropriate video compression. Compressing video can reduce the file size, but it probably also corrupts the video especially when you want to downsize a 4K video to a file with very small size.
Malware or virus infection. By tampering with the internal structure of your MOV video, the malware or virus thereby make your MOV file corrupted.
MOV video is split. As the single file won't be saved larger than 4GB, cameras or camcorders from GoPro, DJI, Canon, or Sony split video files into multiple segments while recording. So, you may only play part of a MOV video if you don't merge them in advance.
Now that you have known the reasons, it's time for you to take actions to repair corrupted MOV files for smooth and happy playing. Below are 4 best ways that most people use, and we will show you step by step.
Part 2. How to Repair Corrupted or Damaged MOV Files?
Before the technical solutions, you can have some simple checks.
Update your media player, and then use it to play your MOV video again.
Re-download the MOV file, and play it with your MOV video player.
Run a virus scanner to clean up existing or hibernating virus, malware on your device.
Way 1. Use MOV Repair Software to Recover Damaged MOV Files
The first tool we use is WinX HD Video Converter Deluxe, which helps MOV file repair from cameras, dash-cam, CCTV and recording software based on different situations.
For the partly damaged MOV files like the one with a broken clip in the middle or certain footage with fuzzy image, it can cut off the damaged parts and then re-merge MOV clips into an intact file.
As for the broken MOV files with "missing codec" error message while playing back, this application enables you to re-encode MOV video with the complete codecs like H.264, MPEG-4, HEVC, HEVC, etc.
If your MOV file failed to play resulted by improper parameters, it lets you manually adjust parameters, including resolution, frame rate, bit rate, aspect ratio, audio sample rate, channel, and so on.
Step 1: Free download WinX HD Video Converter Deluxe, install and launch it on your Mac or Windows PC.
Step 2: Click on "Video" button at the top bar of the interface to import your MOV video source.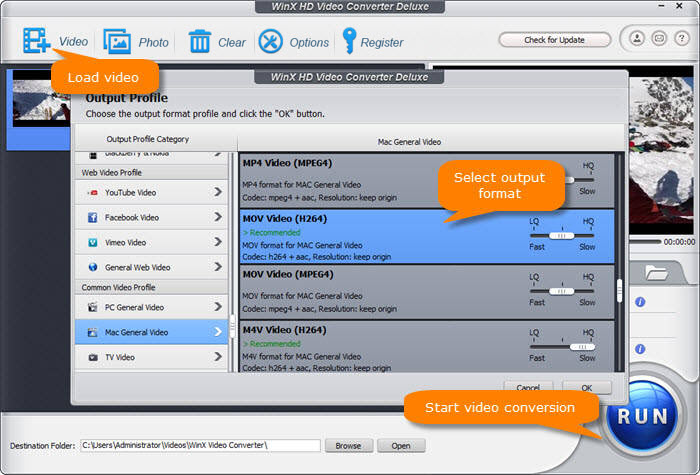 Step 3. Choose output format as MOV (H.264) under "General Profiles". Or select MOV (MPEG-4) under "Mac General Video" > "Common Video Profile" if you want to fix broken MOV file on Mac.
Step 4: Now, click on "Browse" button to choose a destination folder to save the repaired MOV, and then hit "RUN" button to start.
Step 5: When the procedure is over, you can load your MOV file to test if it is playable now.
Warm Prompt:
1. This MOV repair software can handle slightly damaged MOV files. As for severely corrupted MOV videos, please consider to re-shoot a MOV video or re-download MOV video source, for the majority of the video repair software is powerless to cope with badly broken videos.
2. This tool also empowers you to free download (MOV) video from 1000+ sites if your MOV comes from online site.
3. You get DJI corrupted mov file unplayable because you didn't stop recording before shutting down your DJI drone? In such case, try:
Format your SD card on your PC or in DJI app.
Retrive the lost data from SD card via professional data recovery software.
Re-shoot MOV video using your DJI drone if your damaged MOV is dead.
Way 2. Repair MOV File with VLC Media Player
VLC works like a charm. It's your top choice for video playback and video conversion, but that's not the whole story. It also amazes you with its MOV video repair function. One thing to be noted is that it sports with the feature of "Fix Damaged or Incomplete AVI File". That's to say, you're required to convert corrupted MOV to AVI first and then do the MOV repair task. Follow the below tutorial to get broken MOV files repaired with VLC media player.
Step 1: Run your VLC media player after downloading and installation.
Step 2: Click "Media" at the top banner of the home screen > "Convert/Save..." > tap "Add" button to import your MOV video > select "Convert" at the bottom of the interface.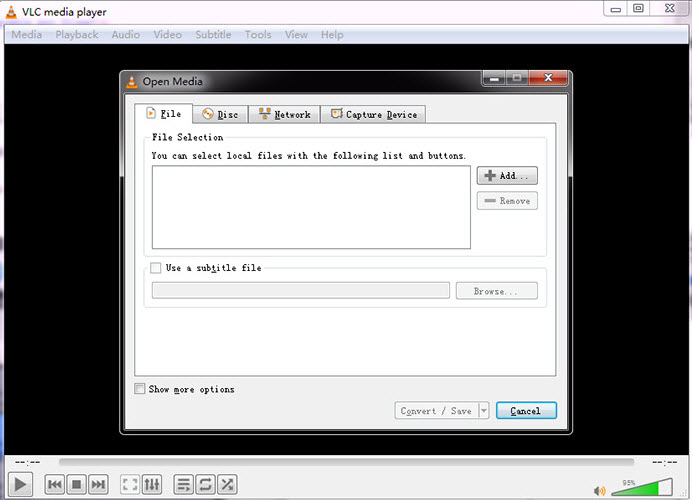 Step 3: Choose "Video for DivX compatible player" in Profile.
Step 4: Click "Browse" button to opt for the destination folder for output file storage.
Step 5: Hit "Start" button to begin changing MOV to AVI format.
Step 6: After the video conversion is done, tap "Tools" > select "Preferences" > "Input & Codecs" > change the default setting "Ask for Action" to "Always Fix" in "Damaged or incomplete AVI file" > Click "Save" to begin repairing your video file with VLC, no extra plug-in needed. Afterwards, load the converted AVI file to VLC for playback and check if it can smoothly played back on your laptop.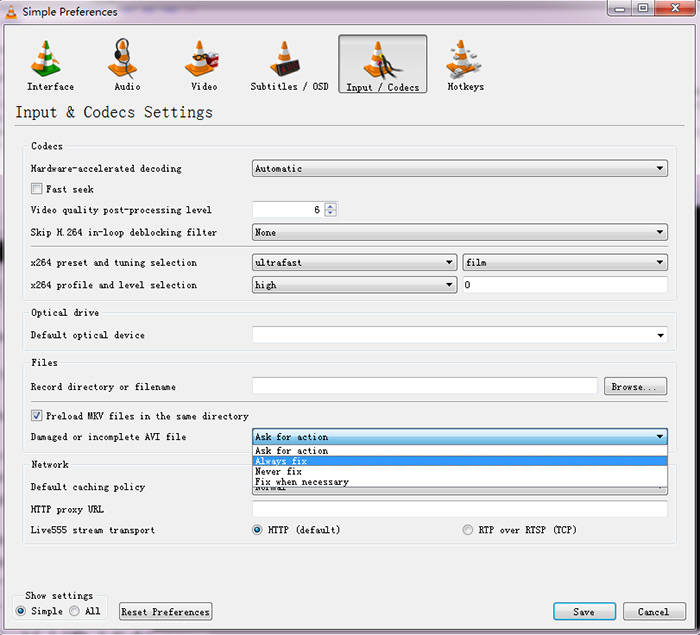 Way 3. Fix Corrupted MOV Files Using Online Tool
This is also a good option providing that you don't want any installation. Online MOV repair tool can also help get the job done easily and fast, but you should note that the privacy of your video is not assured. Besides, you are suggested to compress MOV before uploading as most of the online tools only accepts small sized videos.
Here we take FIX.video to show you how to repair MOV files online.
Step 1. Go to https://fix.video/, and click "+" to upload your MOV video.
Step 2. Wait for the process of MOV file repair.
Step 3. After that, download the fixed MOV video to your computer.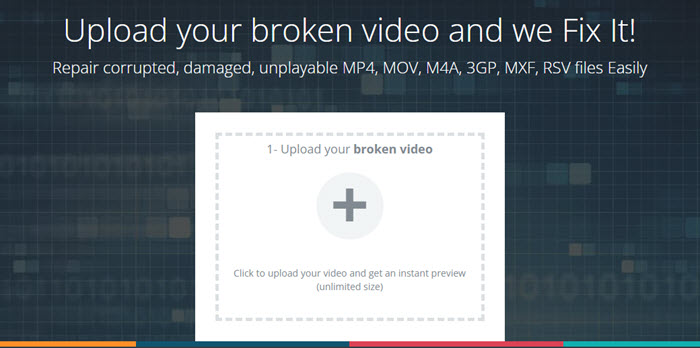 Way 4. Convert MOV to MP4 to Repair MOV Unplayable
Another suggested way is to change the video format extension by a video converter, and the top choice is to convert MOV to MP4 as MP4 is very similar to MOV file format. To that end, you need Free Video Converter – a tailor-made 4K video converter used for formats conversion for different purposes including playback, storage, uploading, sharing, etc. This way is very suitable for MOV not playing error because of missing required codec.
Step 1. Free download WinX Video Converter, install and launch it on your computer.
Step 2. Drag and drop your MOV file to it, and choose MP4 as the output format when the "Output Profile" pops up.
Step 3. Click "Browse" button to find a destination folder to save the converted file, and then hit "RUN" button to start converting MOV to MP4.
Wrap up:
What listed above are the best 4 ways to repair MOV files, so you can choose one of them to fix your own error. If you are wondering if QuickTime Player can repair MOV or not, we assure that QuickTime Player can't fix corrupted MOV videos like VLC media player. But you can confirm MOV file corruption by using "Show Movie Inspector" feature of QuickTime.