[Solved] How to Repair Corrupted MP4 Video File Free
"Hi! My phone captured a MP4 clip but neither it nor other players can play it back correctly. The audio is ok but the video is in green and black and seems like five pictures tiled. How could I possibly repair corrupted MP4 file? The video is very important and memorable for me. Thanks."
MP4 is widely applied to our daily life, from digital recording, live streaming, to media storage. Chances are MP4 may be corrupted or broken due to disturbed media transfer, virus attack, sudden camera shutdown, unstable internet connection, incomplete media download, codec incompatibility, and more. Consequently, you will be informed of an error 0xc00d36c4 "Can't play. This item's file format may be unsupported, the file extension may be incorrect, or the file may be corrupted." How can you repair corrupted MP4 file and get back your full intact video?
There is much to do for fixing a broken MP4 video and you probably should start with the basics: some attention to the degree of video file damage and a great emphasis on the selection of the best MP4 file repair software.
Part 1. How to Repair MP4 Files for Free
Method 1. How to Fix Slightly Corrupted/Broken MP4
Slightly damaged MP4 video file can be repaired by WinX Video Converter. It can analyze precisely the parts of the entire video that has been corrupted. Then this free MP4 repair tool uses data interpolation and extrapolation to estimate missing data based on the surrounding video frames automatically during the video conversion, so as to repair the corrupted MP4 files.
Users are able to convert MP4 video to any formats like MOV, MKV, MP4, WebM, HEVC, MPEG-4, H.264, VP9, etc. using this free MP4 converter during the video repairing process. If you know clearly where the damaged part located in your MP4 video, WinX Video Converter also allows you to trim out that part to save the whole video.
Tutorial to Repair Slightly Corrupted MP4 Video File
Free download WinX Video Converter for Windows/10 and get it installed on a drive other than Disk C.
Step 1. Click "+Video" to load the MP4 video with damaged video clips.
Optional: to repair MP4 with file header damaged, select an output video format (you'd better choose the one with different video codec) from the pop-up output format profile window.
Step 2. Tap "Edit" button on the main interface -> go to Cut -> drag knob to set the time position for cutting -> click Cut button on the right -> specify the "Start Time" and "End Time" of the corrupted MP4 video clip (thus you can avoid the corrupted point) -> repeat the operation if you would like cut out more clips -> click button "Done".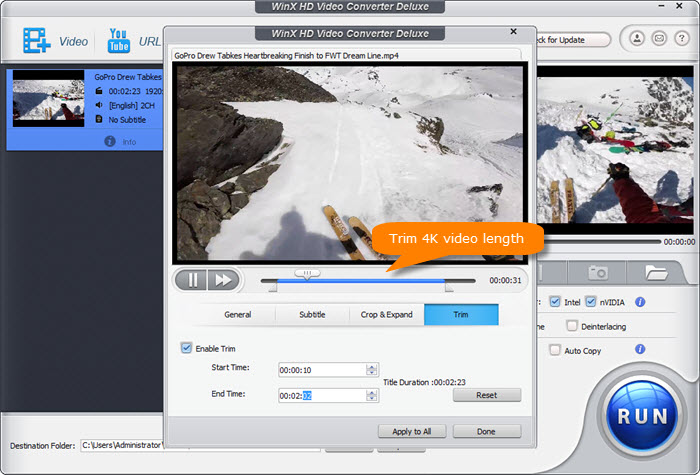 Step 3. Set your destination folder and press button "RUN" to start repairing your corrupted MP4 file.
Note: Playing MP4 can be troublesome, as a result of video codec incompatibility. If you are running into the issue, you can also rely on WinX Video Converter to fix the broken MP4 file by transcoding MP4 to a reliable codec such as H.264.
Method 2. How to Repair Corrupted/Broken MP4 Using VLC
VLC has the damaged AVI file repair feature, which can be also used to fix unreadable MP4 file. Read on:
Step 1. Compulsorily change your video file extension from MP4 to AVI.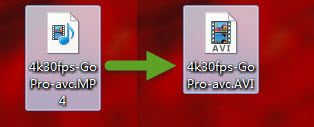 Step 2. Fire up your VLC player > Tools > Preferences > Input/Codecs.
Step 3. Find "Damaged or incomplete AVI file" > change the default setting "Ask for Action" to "Always Fix" > Save. Step 4. Drag and drop your modified AVI file to VLC and this video player will auto repair damaged AVI.
Note: this method doesn't always work, especially your MP4 being damaged again after compulsory extension conversion.
Method 3. How to Repair Severely Corrupted MP4 Video File with Stellar
"I have about 5 hours of critical footage that was recorded through OBS. Awkwardly, of the 6 total hours, about 30 minutes of it have been saved in mp4 and works perfectly."
Provided that you have tried everything you know and some ways you don't know to do the damaged MP4 video repairing, like opening the MP4 files in VLC, ffmpeg editing, AtomicParsley, All Video Fixer and various MP4 file repair tools, but nothing truly works, the ultimate solution to repair such severely corrupted MP4 file is try Stellar Repair for Video.
Stellar Repair for Video is a complete digital video repair solution for Windows and Mac users. Support for popular video file formats, camera brands, storage media, and ability to fix all sorts of corruptions, make the software the best video repair tool for all. This helps to Repair corrupt, broken or damaged videos or files that got corrupt while shooting, transferring, editing, or conversion process.
The video repair software can fix videos shot from DSLRs, digital cameras, drone cameras, surveillance cameras, Android phones, iPhone, and iPad, etc. Just transfer the corrupt video files from camera to computer, SD cards or other storage media.
Repairs 17+ popular video file formats including MP4, MOV, AVI, MKV.
Repairs multiple 4k, 8k, 360o & VR videos simultaneously.
Repairs severely corrupt video files using sample files.
Restores video files on Windows 10 & macOS Big Sur. Chose the variant that you need. Method 4. Repair Corrupted MP4 Video Files with FFmpeg
A user reported the following issue and wanted to resort to FFmpeg to repair the corrupt MP4 video. "I tried to open my MP4 video recorded by my Android phone on PC and Mac with video players like VLC, QuickTime, Windows Media Player, etc. but none of them can play my MP4 video. I know the video is corrupted but it's still repairable because it has a GB in size. I have FFmpeg, what command line can I use to repair the MP4 video using FFmpeg?"
FFmpeg is an open-source video transcoding program that can be used to repair corrupt MP4 video files. To repair damaged MP4 videos, mux the video using FFmpeg without re-encoding. If you have FFmpeg, try the following command line to repair MP4 video files with FFmpeg. This will fix the issue when it is caused by the video container.
ffmpeg -i input.mp4 -c copy output.mp4
You can change the video container. The same container format is also OK. FFmpeg will fix the MP4 video structure and rewrite the data. The missing data or other information can be still missing, however. Part 2. Why Do MP4 Files Get Damaged?
In many occasions, we can end up in corrupted MP4 video files. For example,
Download partial MP4 videos with torrent or some other unofficial sources.
Record videos in MP4 format while some video data is missing.
Copy MP4 videos from old hard drive or DVDs that have bad sectors. The list goes on.
Below are some possible reasons why your MP4 video files get damaged. Getting to know the causes help you prevent your MP4 videos from being damaged. The main factors that could cause corruption of MP4 video files are listed below. Check for the reasons and avoid MP4 video file damage easily.
Virus or malware attack.
Damaged hard/flash storage drive, memory card, or DVDs.
Interruption during video uploading, transfer, saving, etc. like loss of internet connectivity.
Unexpected shut-down during video recording, editing, etc. such as power failure.
Part 3. Some Tips to Avoid MP4 File Corruption
MP4 file corruption can be caused by a variety of factors, including hardware failure, software issues, and user error. Here are some tips to help you avoid MP4 file corruption:
1. Use a reliable and updated media player. The outdated software can lead to compatibility issues and potential file corruption.
2. Avoid interruptions during file transfer. You may need to transfer MP4 video from iPhone to PC or whatever devices. Make sure to avoid interruptions or disconnections. A sudden interruption can cause the transfer process to fail and result in MP4 file corruption.
3. Eject external storage devices properly. If your MP4 files are stored on an external storage device, make sure you've always ejected the device properly before unplugging it from your computer. Or else, you might encounter data loss or file corruption.
4. Use High-quality store media to save MP4 files. Use high-quality storage media such as SD cards, USB drives, or hard drives to store your MP4 files. Poor quality media can be more susceptible to data loss or file corruption.
5. Consider more than one backup method and keep backups of your files. Always keep a backup of your MP4 files. Regularly backing up your files can help ensure that you have a copy of your data in case of file corruption or data loss.