5 Tips to Repair Corrupt/Broken DJI Phantom Drone MP4 Video Files
The DJI drone videos turn out to be corrupted may be caused by these situations: Shut off the DJI drone camera accidently while the video is still recording; The drone is suddenly crashed; The transfer of DJI drone video is unexpectedly interrupted; etc.
To tackle the corrupted DJI drone MP4 videos, we calculate 5 tips and possible solutions here.
1. Check if it is the memory card problem. Try to insert the SD card to another card reader or another computer.
2. Plug the SD card back to the DJI drone camera and power on the DJI (Phantom/Mavic/Inspire/Spark) and wait for about 30 seconds. Next time, remember to hit stopping recording first and then shut down the drone.
3. Switch to another video player. Popular free media players include 5KPlayer (Windows & Mac), VLC Media Player (Windows, Mac), GOM Media Player (Windows only), KMPlayer (Windows only), SMPlayer (Windows & Linux), RealPlayer, etc.
4. If your computer is old, then it may not support 4K drone video playing. Try to record drone videos in lower resolutions like 1080p, 720p, or upgrade your computer/buy a new one. You can also convert and compress 4K to 1080p, 720p, etc. with a top video converter for Windows (10) and Mac.
5. Try to fix DJI (Phantom) drone video can't play issue by using the professional DJI video fixer tool "djifix.exe". Download the djifix file from "djifix.live555.com" and follow the guide in that page and input command line (djifix name-of-video-file-to-repair-including-any-.MP4-or-.MOV-filename-suffix). Just have a try.
Top 10 DJI Drone Corrupt Video Repair Software for Windows (10) and Mac
If the above 5 tips doesn't work in repairing DJI drone broken videos, turning to a professional DJI Drone video repair tool may be the only way out. DJI Phantom/Mavic/Inspire/Spark drone cameras record video in MP4 (H.264). You can find some (MP4) video repair tools for Windows and Mac online which may be helpful in fixing corrupt DJI Drone MP4 videos.
You may try these 10 best video repair software: WinX HD Video Converter Deluxe, Stellar Phoenix Video Repair, Video Repair Software, VLC Media Player, Digital Video Repair, MP4 Video Recovery Tool, Get My Videos Back, Repair Video Master, File Repair, Grau GmbH Video Repair Software.
Best DJI Phantom Drone Video Repair Software, Editor and Converter for Windows (10) and Mac
WinX HD Video Converter Deluxe is one of the most popular video converter, video editor, and video free downloader for Windows (10). If you want to repair, edit the recorded MP4 videos from DJI Phantom/Mavic/Inspire/Spark drone cameras or convert DJI drone videos, WinX HD Video Converter Deluxe is top recommended. Check what it can do.
1. Repair/edit DJI MP4 videos. You can use WinX HD Video Converter Deluxe to cut the unplayable part of the video off by setting Start Time and End Time of the video to repair the corrupt DJI drone video. Cropping, expanding, merging, subtitling video can also be easily realized with it. Learn more about top 7 DJI drone video editors >>
2. Convert all popular videos. Some people said the repaired DJI drone video file is in .h264 format. Luckily, you can use this video converter to easily convert H.264 to MP4.
3. Free download videos online. This tool can free download any 8K/4K/1080p/720p videos, movies, new MP3 songs 2018 from YouTube and 1000+ sites.

Free download and install the best DJI video fixer, editor and converter – WinX HD Video Converter Deluxe – on Windows 10/8/7, etc. and follow the simple steps below to repair, edit and convert DJI drone videos.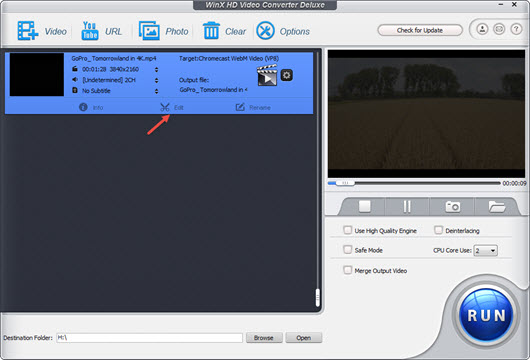 Step 1: Import the DJI drone video
Launch WinX HD Video Converter Deluxe and click "+Video" button to select and load the DJI drone video (with damaged clips).
Step 2: Repair, convert and edit the DJI drone camera video
Choose an output profile like MP4 (other 370+ V/A codecs and 420+ device profiles are provided). Then click "Edit" icon and tap "Trim". Click "Enable Trim" to set the Start Time and End Time, or drag the slide bar directly to cut and abandon the corrupted video clips.
Step 3: Save the DJI drone video
Specify a target folder to store the output video and hit "RUN" to start repairing the corrupted DJI drone video file.
In the end, if nothing helps in fixing corrupt DJI drone videos and you don't want to trim the corrupted video, you may also choose to format the SD card and record the DJI drone videos again.
2018 Best (DJI Drone) Video Repair Software/Video Converter/Video Downloader/Video Editor – WinX HD Video Converter Deluxe
1. Free download any 8K/4K/HD 1080p/720p videos/movies in MP4/3GP, or MP3 songs from YouTube and 1000+ sites.
2. Convert almost any video like MKV, HEVC/H.265, M2TS, AVCHD, MOD, HD camcorder videos, MP4, AVI, MPEG, WMV, MOV, VOB, FLV, etc. at superfast speed with support for QSV and CUDA/NVENC hardware acceleration.
3. Repair/edit (DJI drone) videos. Trim, crop, expand, merge videos. Add external subtitles to video. 100% secure.