[No Mistakes] Why & How to Convert DJI Drone 4K Video Successfully
It's pretty easy to shoot high-quality 4k footages with DJI and even 5.4K videos with the newly DJI Air 2S, but dealing with the recordings can be tricky, whether you want to edit them in your NLE software such as premiere CC, iMovie, or share the clips to YouTube. For a variety of reasons, you'd better get a DJI drone video converter first and convert the 4K/HD video to a compatible format first.
To download a DJI Drone video converter, make sure it supports:
Downscale 4K drone video to 1080p/720p or low-res video for less storage space and re-encode HEVC to more compatible H.264 MP4, AVI, MKV, MOV, and other popular formats as you want. And all the processes are done swiftly, preferably with GPU acceleration. To do the job, you can have WinX HD Video Converter Deluxe for a try.
Why You Need to Convert DJI Drone Video
1. To convert MOV to MP4
Most drones take video in MP4 format, allowing you to play on any platform. But there are times the video you shot with, for example, the Phantom 4 Pro, Inspire 2, etc, can be formatted in .mov, which cannot be read by Windows platform, even without MOV codec installed. You will need to convert Drone MOV to MP4 format for better playing.
2. To reduce large file size
Drone can shoot video with a resolution as high as 4K UHD. For example, DJI Phantoom and Mavic series are designed to capture amazing 4K aerial videos. This is also true to Yuneec Typhoon H Hexacopter and Breeze, GoPro Karma, Autel X-Star Premium 4K and more. But the high-res video results in file size as large as 500mb per minute, which can take up storage space quickly and is hard to share with others. With a DJI Drone video converter, you can downscale 4K to smaller-sized video.
3. To convert Drone HEVC to H.264
Due to better compression efficiency, HEVC is set to replace H.264 to get better quality at half of the file size. That's not strange you find a lot of drone 4K videos are encoded in HEVC codec. But playing Drone 4K HEVC video is problematic, freezing and stuttering are the most common phenomenon, especially when on the aging computers and laptops. You will need a drone video converter that is able to change H.265 to H.264 for better compatibility.
4. To change frame rate from 60fps to 30fps
Techies know well that Drones are capable of shooting videos at a frame rate up to 60/120 fps. Those high-frame videos are not only the culprit to space hog but also unacceptable by Facebook, Instagram, Twitter, etc. Accordingly, the video will be grainy or pixilated. You'd better convert the Drone footage to a lower-frame-rate video first.
To make your drone video easy to store, play and share, you will need a video converter that is able to convert Drone video in whatever resolution, codec, frame rate or format.
Warning: There're Mistakes That Destroy Drone Video Conversion
If you think picking a video converter at will can do the job for your large drone video footages, it will be wrong. There are some mistakes that can ruin the drone videos. For example, the large drone video converting is computer intensive, it will be lengthy and incapable software will freeze and even crash if without hardware acceleration.
On the other hand, the last thing you want after the Drone video conversion is the converted file is pixilated, blurry and unwatchable. Bad drone video converter cannot give you full control over the output quality. Make sure the tool not only fulfills your video format conversion needs but also does a fast video converting performance without hurting your drone video quality.
How to Fast Convert Drone Video without Losing Quality
To do the task, you can try WinX HD Video Converter Deluxe , a fast video converter dedicated for 4K UHD with high praises by CNET, Techradar, and many more world-famous media authorities. It can convert any 4K/HD video to/from MP4, HEVC, H.264, WMV, MKV, AVI, MOV, etc and ready any of your video sources from Drone DJI, GoPro, etc for playing on iPhone, Android, TV, PS4, Xbox, and more. Its Level-3 Hardware Acceleration tech and High-Quality Engine are applied to ensure the fastest possible transcoding speed without compromising quality.
You can free download the Drone video converter and install in on your PC (Windows 10/8/7) or Mac (Catalina included).
Step 1: Load the source Drone video
Click +Video button at the top of the main interface to load the drone video. You can add multiple footages taken by drone once at a time, the video converter will batch convert them swiftly.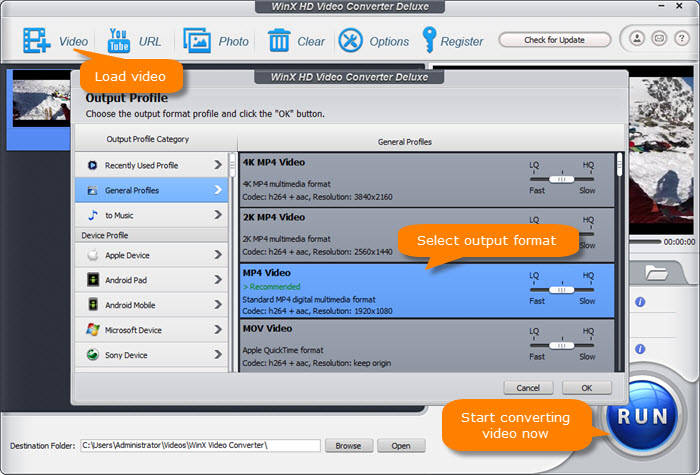 Step 2: Choose output format
Preferably, choose MP4 H.264 as the output format, since it keeps good balance between quality and size and makes good compatible with any device.
Optional: Make some simple edits.
Before the conversion, you can touch up your drone videos, without expert required.
- Trim unwanted parts from the drone video.
- Crop the letter box for full screen playback or optimized for social sharing
- Add external subtitles to make your creation better understanding.
- Merge multiple drone clips together.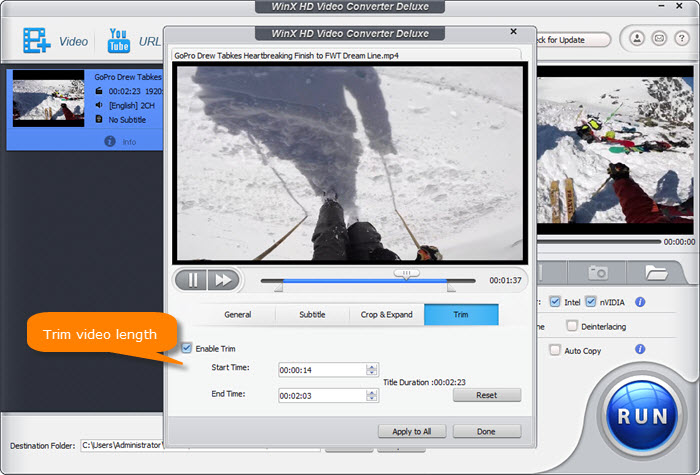 Step 3: Convert Drone video now.
Click Browse button to save the output drone clip and then tap RUN to start converting Drone video instantly.