Go to Mac Version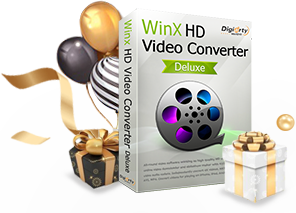 WinX Video Converter Deluxe

GPU accelerated 4K Video Converter, Compressor, Cutter & Editor
Time-Limited Offer!
Choose the plan that's right for you
Premium License
One-Year Subscription / 3 PCs
The subscription will auto renew every year. You will be informed 7 days before the next charge date. You can stop the automatic renewals anytime.
$19.95$19.95 $29.95
first year
Install on 3 PCs for family use
Free upgrade for first year
370+ codec inputs, 420+ outputs
Priority tech support service
30-day money back guarantee
Ultimate License
Install on 1 PC for personal use
Free Lifetime upgrade service
Support for latest video/audio codecs
Full Hardware Acceleration - 47X faster
Priority tech support service
30-day money back guarantee
Gift: WinX YouTube Downloader

Download HD/1080p videos & playlists from 300+ websites.

WinX Video Master Pack

$59.95$59.95 $79.95

What's included:

WinX Video Converter Deluxe

Convert, Download, Compress and Edit videos. GPU accelerated.

WinX MediaTrans

Manage, backup & transfer videos, music, photos between iPhone iPad and PC.

WinX YouTube Downloader

Download HD/1080p videos & playlists from 300+ websites.
Note:
"Premium License (One-Year Subscription) Renewal" – Billed $29.95 for every year thereafter once your first subscription term is expired.
You will get the latest Full Version download link and license code by email instantly after purchase completed.
Sales tax may be applied based on your country/location.












16 Years of Experience

Produced by Digiarty Software, Inc., established since 2006. Awarded by over 200 tech authority sites, including PCWorld, CNET, TechRadar, etc.

30-day Money Back Guarantee

All orders come with a 30-day money back guarantee. Any payment related questions, please contact our support team. sales@winxdvd.com

Secure & Delivery

Secure check-out with PCI DSS compliant. No Virus or Malware. And 10 minutes after purchase, you should receive a downlink and key via email.
Volume Licensing Plan for Academy/Organization
WinXDVD Volume Licensing offers the tailored plan to government, education, and nonprofit organizations with 5 or more users or devices with special pricing and edition to support flexible work styles.

WinX HD Video Converter Deluxe
• Lifetime upgrade. Each license can be used on 3 PCs.
Choose your purchase quantity:
Contact us
Trusted By Best Authorities
What is the meaning of "Free upgrade to upcoming version with AI video enhancement features"?

It means that if you purchase any license of the WinX HD Video Converter Deluxe software now, you will have immediate access to all the features of the current version. Additionally, when the upcoming AI video enhancer is officially released, you will receive a notification to upgrade for free. This upgrade will include 4 new powerful features: Video/Image Upscaling, Video Stabilization, Frame Interpolation, and Screen Recording. With the upgraded version, you will be able to use all these new features without any additional cost, allowing you to enhance your videos for better visual effects.

What benefits do these 3 AI features provide?

1. AI Video/Image Upscaling: This feature enhances the video quality and makes the image appear clearer. It improves the resolution and sharpness of the video, resulting in a more visually appealing output. 2. AI Frame Interpolation: By increasing the video frame rate, this technique makes the video appear smoother. It adds additional frames between the existing frames, reducing motion blur and creating a more fluid and seamless playback. 3. AI Video Stabilization: This feature reduces or eliminates camera shake in the video, resulting in a steadier and more professional-looking footage. It helps to enhance the overall stability and smoothness of the video. All these features work together to enhance your video watching experience, providing better visual quality, smoothness, and stability. If you have any further questions, feel free to reach out to our sales team for assistance!

What services/software versions do you provide?

Compare to traditional software, we're providing software as a service model on a subscription basis. Users may find easy and flexible subscription-based payment model for Year Subscription Plan according to customers' needs. It is typically better suited to diverse customers with varying needs, budgets and usage timeframe.

How subscription services work & why you should use them?

Subscription payments lower the barrier to entry for our products and services and allow customers to try-before-renew if satisfied. You can select your desired plan to use our software or unsubscribe it at anytime. The subscription fee is typically applied to our video decoding & encoding algorithm updates and maintenance, networking management and minor patches monitoring. (We will keep constantly upgrade for the support of latest video codec like AV1, H.266, VVC etc and up-to-date youtube-dl engine improving.)

Will my Lifetime License/Lifetime Plan expire?

No. Your original purchase of WinX HD Video Converter Deluxe Lifetime License and current purchase of lifetime plan from this webpage are both for lifetime use. Your license will not expire, and no annual subscription fees are required. Lifetime license also includes all future updates and version upgrades.

What payment method do you accept?

We accept several types of payment: Credit Card, Bank/Wire Transfer, Check/Money Order, Fax, etc.

Is it safe to purchase product via your website?

Yes, it is 100% secure to do business with us. It has enabled HTTPs and SSL encryption to protect your security on the site. The Payment platform we utilize is Verifone, one of most trusted ecommerce companies in the world. The order of your private information, such as credit card number, addresses and so on will never be disclosed without your specific permission.

When and how can I get the program I ordered?

Once you complete the online order, you were supposed to receive an email with the order information and license code from our payment processor Verifone. Please allow a few minutes for the auto-generated license message to reach your inbox. Check the spam folder if you could not find the license retrieval email. However, there is possibility that your email service provider rejects emails from unknown senders. Please feel free to contact us if you do not get the email after 30 minutes.

Can I cancel my annual subscription?

Yes. You can cancel the subscription anytime. And you will receive an e-mail notification 7 days prior to the end of the subscription. The subscription plan allows you to use this product without feature limit during the subscription period.

What is your refund policy?

Digiarty Software, Inc. provides refunds within 30 days of product purchase. We'll hold the 30-day money back guarantee if our products cannot normally work with error or bug and we cannot solve it within an acceptable period of time or provide a temporary solution. Sometimes the software doesn't work well due to improper operations. We strongly suggest you contact our support team for help first with detailed problem description. One business day reply is guaranteed.

Digiarty Software is a leading multimedia software provider, delivering easy-to-use and innovative multimedia solutions to users all over the world.
Tips and Tricks
Newsletter
Stay up-to-date with our news, updates, guides.
Home | About | Site Map | Privacy Policy | License Agreement | News | Contact Us | How-tos
Copyright © 2023 Digiarty Software, Inc. All rights reserved
Any third party product names and trademarks used in this website are property of their respective owners. All the related logos and images, including but not limited to Apple's iPhone®, iPod®, iPad®, iTunes® and Mac® are registered trademarks of their own. Digiarty Software, Inc. is not owned by or affiliated with Apple Inc. and any of those companies.