Review of Top 10 MP4 Video Editing Software in 2023
Free Trim, Crop, Split and Edit MP4 Videos, Add Animation and Transitions
.mp4 has become the lion's share of the file extensions of present videos, since MP4 is a universal format accepted by both Windows (such as Windows 10) and Mac platforms, coupled with iOS, Android and Linux devices (game consoles, tablets, HDTVs and smartphones). It is also supported by social media sites like YouTube. Therefore, we always have some MP4 videos to edit. Well, is there a free MP4 editor?
In fact, the support of MP4 format is the paramount of almost all free video editor software. That means free video editors are roughly the inclusion of free MP4 editors, and they are more than that. So, if you only want to download a free MP4 editing software, what you get will regularly be something that stretches to other formats like AVI, MPEG, WMV, MOV, FLV or even DAV, VOB, ASF, 3GP, Google TV, WebM, Vpx 8 and DV. Let's review such free video editors that offer MP4 video/movie modifications on Windows, Mac, and Linux OS.
Part 1. Best Free MP4 Video Editors for Windows (10), Mac, and Linux
No. 1 - Windows Movie Maker
License: freeware
Supported OS: Windows
As the "big boss" of movie editing app on Windows OS and especially the default component of Windows 7 and Windows 8 (in Windows Essentials), Windows Movie Maker should firstly be mentioned here as an easy-to-use yet free MP4 video editor.
After importing an MP4 video or slideshow from your iPhone or other device, you are free to go and edit the video by trimming and splitting to resize MP4 to be smaller, or adding fade in/fade out or choosing a movie theme. Beyond that, the software is designed to slow down or speed up the video, add animations, transitions or vivid visual effects, add titles/credits and background music. In a word, Windows Movie Maker will polish your MP4 video file into something professional and awesome.
But what you need to know is that Windows Movie Maker was officially removed for download on January 10, 2017. If you want to how to download Windows Movie Maker on Windows 10, check this.
Pros:
Free and lightweight.
It is easy to use with a simple interface for green hands.
It helps create a simple video quickly.
Cons:
Outdated interface.
It crashes sometimes.
No auto-save feature.
It is a discontinued product.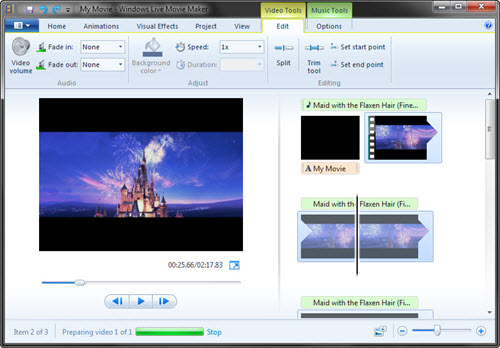 No.2 - Microsoft Photos
License: freemium
Supported OS: Windows
The discontinued Windows Movie Maker is replaced by Video Editor (formerly Microsoft Story Remix) which is built in with Microsoft Photos on Windows 10.
Microsoft Photos is primarily designed for photo mangement and editing, but it is also built in with a video editor. This feature was added to Microsoft Photos with the release of Windows 10 Fall Creators Update. With this tool, we can import photos and videos in MP4 or other format and create a quality movie with music, text, motion, and 3D effects with ease.
Pros:
Free to use.
Intuitive interface. Beginner-friendly.
It works well with OneDrive content.
It can backup and duplicate projects.
Cons:
No timeline.
No fine-tune controls.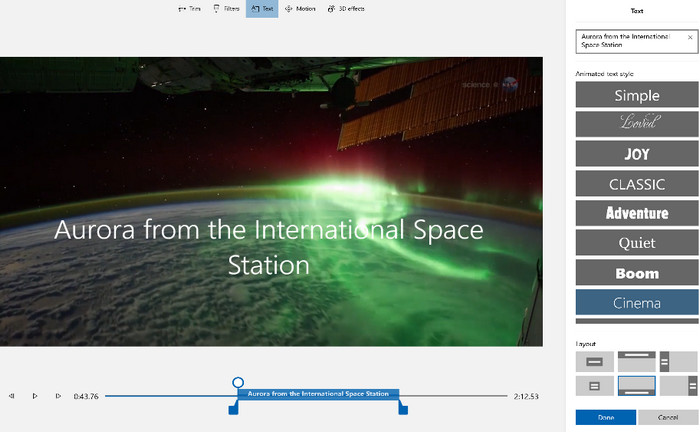 No. 3 - iMovie
License: freeware
Supported OS: Mac, iOS, iPadOS
Differing with Windows Movie Maker in platforms, iMovie faces Mac and iOS user groups. It has a streamlined design and intuitive Multi-Touch gestures. More practically, it dives into 4K (mp4) video editing on iPhone, iPad or Mac. iMovie succeeds in turning an ordinary MPG video into a Hollywood-style movie. As simple as drag and drop, you can add effects, insert titles, and create a full soundtrack.
Deficiencies: iMovie does not give users the option to alter the font or color; sometimes videos and audios will mess up; it can't create MP4 videos that zoom in, nor cut clips as short as 1 second; and it takes up too much storage.
But since Mac users have little choices, iMovie anywhere is a moderate try.
Pros:
It is simple and user friendly.
It has nice effects and video transitions.
Cons:
It isn't compatible with other operating systems like Windows.
It only allows appling one overlay to a video at a time.
It takes huge disk space and RAM.
It can't satisfy some advanced needs.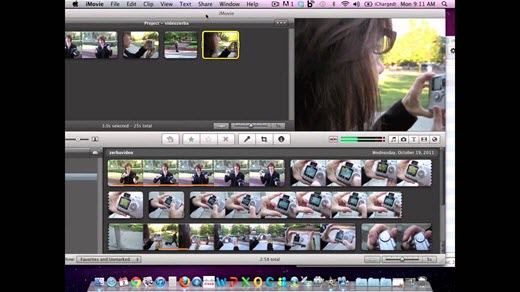 No. 4 - Final Cut Pro
License: Commercial proprietary software. 90-day free trial is available.
Supported OS: Mac
As the premium edition of iMovie, Final Cut Pro is widely used for MOV and MP4 (as well as Panasonic and Sony formats) video editing and even filmmaking. One of this MP4 movie editor's highlights is the amazing 3D titles, not to mention the Motion graphics. With extra simple control, you can adjust the lighting, animation and entire appearance of your MP4 video. For basic and fine-turn editing, Final Cut Pro is here to trim, fix camera shake or loudness like problems, assemble clips with the aid of timeline. All in all, it offers more detailed features for Mac users.
Pros:
It has all the tools a professional video editor should have.
It is simple to do multicam editing.
Cons:
It doesn't support other operating systems.
It takes long time to do rendering.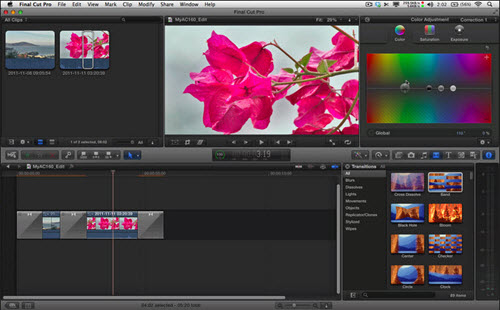 No. 5 - VSDC Free Video Editor
License: freeware
Supported OS: Windows
As an alternative and also analogue of Final Cut Pro, VSDC Free Video Editor should also be an option. This free MP4 editor easily combines multiple source chunks in different formats while keeping the high image quality. If you do not yield to video quality, this software is worth trying. The MP4 video will be output video can be transferred any connected media device, like iPod, iPad, Sony PlayStation, Xbox or a smartphone.
The latest version has optimized the decoders, coders and filters, supported 2K and 4K videos, and added APNG and GIF as the image formats, and SWF and GIF as the compression formats for smaller file size.
Pros:
Easy to use and powerful.
Great output quality.
Cons:
Free version has some restrictions.
It doesn't allow users to download animated transitions effects.
When you process a large project on VSDC, your computer will work slowly.
It doesn't work on Mac and Linux. No.6 - VEED.IO
License: freeware
Supported OS: Windows, Mac, Linux, etc.
If you want to edit your MP4 video files online, you can give VEED.IO a try. VEED.IO is a versatile web-based tool. It allows you to compress, convert, subtitle, crop and cut your MP4 video, remove audio from your video in MP4 or other formats, and add music, visual effects, text, and images to your video. It is a good MP4 video editor for beginners.
Pros:
No need to download software.
Easy to use.
It saves work automatically.
Cons:
No app version.
It relys on network connection to work.
It will crash while zooming in on the timeline.
It lacks transitions.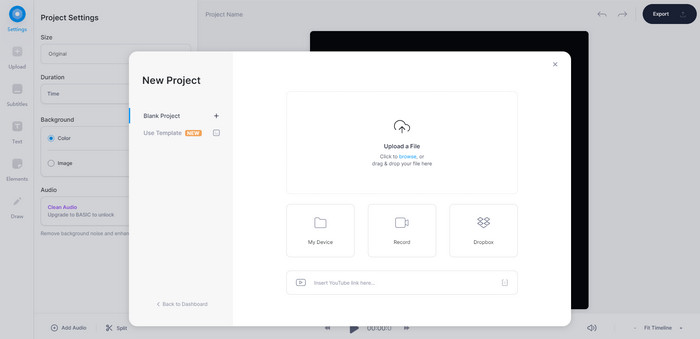 No.7 - Kapwing
License: freeware
Supported OS: Windows, Mac, Linux, etc.
Another online free MP4 video editor is Kapwing. This tool provides many video editing features. It can trim, split, merge videos, add transitions, overlay text and images, create subtitles, and do more. Kapwing free version doesn't come with ads and won't add watermark on your video. But like other online tools, it also has limits on maximum file size, video duration, and others. To edit larger and longer videos and enjoy more features, you'll need to upgrade to Kapwing Pro version.
Pros:
Easy to use.
No need to download software.
No watermark.
It has default configurations for each social network.
Free version users can access to all tools.
Cons:
Free version has retrictions on maximum file size – 250MB.
Free version doesn't allow users to export videos longer than 30 minutes.
You can only publish up to 3 hours of video per month with free version.
Slow speed of uploading and final rendering.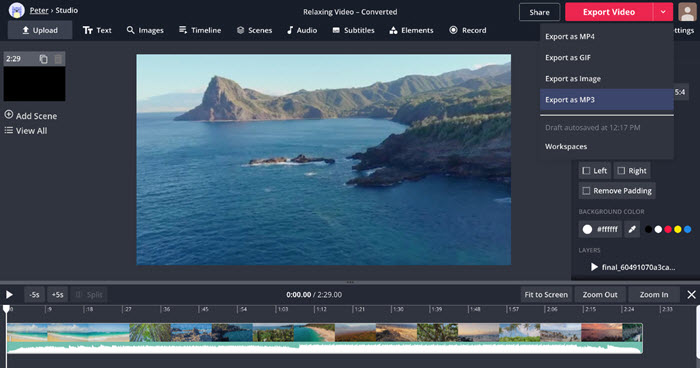 No.8 - OpenShot
License: free open-source
Supported OS: Windows, macOS, Linux, Chrome OS
OpenShot is a simple, powerul, and free open-source MP4 video editor for Windows, Mac, Chrome OS, and Linux. It can help us trim video, add titles, remove the background from your video, invert the colors, adjust brightness, use animation effects, adjust playback speed, etc. You can add as many layers as you need to create an amazing video.
Pros:
Free and open source.
Simple to use. Beginner-friendly.
It supports multiple platforms.
It allows users to choose desired output format.
Cons:
Outdated interface.
It doesn't offer premade templates.
There is a lack of complex video editing funtions.
It crashes sometimes.
It lags when some effects are applied.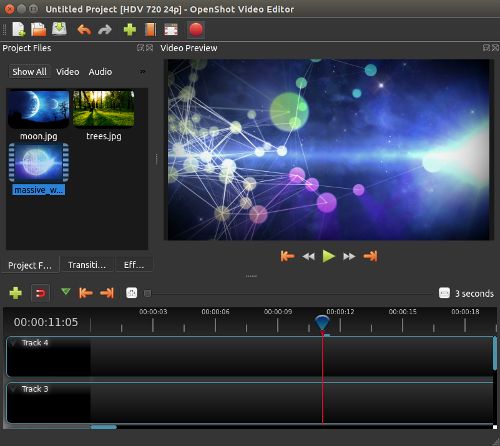 No.9 - Lightworks
License: freemium
Supported OS: Windows, macOS, Linux
Lightworks was initially released in 1989 and still continues development. It is a professional non-linear editing system for editing 2K/4K movies and PAL/NTSC, SD and HD TV. Lightworks is a pioneer in computer-based film editing. It is a great choice for professionals. Lightworks free version provides realtime effects, ready-made titles and transitions, advanced multicam editing, second monitor output and 720p export.
Pros:
It is user-friendly.
It gives many advanced features to create movie.
It provides basic features for free.
It takes little space.
Cons:
Free version has limited features and has a resolution cap of 720p.
It needs steep learning curve for beginners.
It crashes randomly.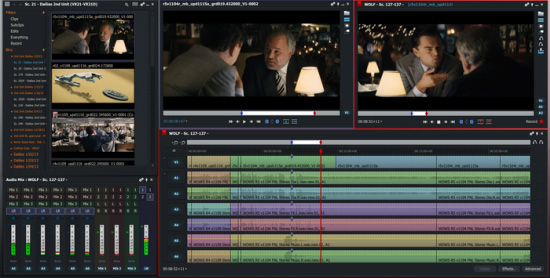 No. 10 - Blender [Free & Open Source]
License: free open-source
Supported OS: Windows, macOS, Linux
Blender, usable on Windows, Linux and Mac, is a common use MP4 video editor. Firstly, it has down-to-earth features, such as fade-ins, fade-outs, cut, splice, blend vide ofilters, animation and transitions. And the in-depth functions lie in 3D modeling, basic brightness, contrast and RGB sliders, use curve corrections, tweak white balance, gamma and hue, apply tonemaps and much more.
Pros:
Free, open source, and lightweight.
It can integrate well with other tools and add-ons.
Multiplatform support.
Cons:
There steep learning curve for beginners.
GPU performance is not that optimized.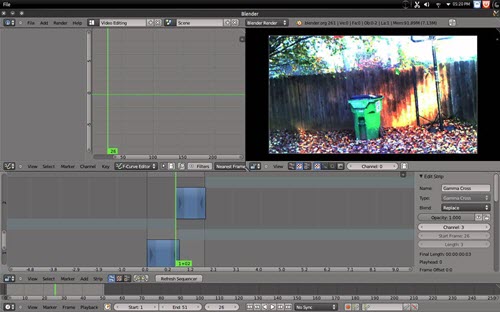 Part 2. FAQs About Editing MP4 Video
How can I trim an MP4 in Windows 10?
If you want to trim an MP4 in Windows 10, you can use the Photos app following the steps below:
Open Photos, import and click the MP4 video you want to trim.
Click the Edit & Create button and then select Trim.
Select the part of the video you want to trim by moving the white pins.
Click Save a copy to save the part you want to keep as a new file.
Does Windows 10 Video Editor work with MP4?
Yes, Windows 10's built-in video editor – Photos - supports MP4. However, MP4 is a container format. If your MP4 file contains HEVC or other unsupported video codec formats, you might see a message in the Photos app Video Editor that says "You need an extension to use this file." In this case, you can buy HEVC extension from the Microsoft Store or convert your video.
What is the best MP4 video editor?
There are many free video editors that support editing MP4 files. Above are our picks for the best free MP4 video editing software for Windows (10), Mac, and Linux. Different programs have different features. Each has its own pros and cons. You can choose one to use based on your own needs. If you want to edit MP4 online for free, choose a browser-based tool like VEED.IO and Kapwing. If you work on Mac, you can try Final Cut Pro and iMovie. If you run on Windows, you can try Windows Movie Maker, Photos app, and VSDC. If you want to use a free and open source MP4 video editor, try OpenShot and Blender.
All in One: Free MP4 Video Converter and Editor for Windows and Mac
Free Video Converter, one part free video converter, one part free (MP4) editor.
100% free and clean without any plug-in or hazards;
Merge several videos, crop, trim and split videos;
Adjust audio volume, choose sound track and add external subtitle;
Support a good bunch of formats, far more than MP4;
Convert video formats forth and back, meeting different needs;
Make slideshow videos from your existing pictures.
MP4 vs MPEG4:
Still, a large number of people are left baffled with the difference between MP4 and MPEG4 or between MP4 and H.264. Briefly speaking, MP4 is a container format, with the full name MPEG-4 Part 14; MPEG-4 is one of the newest audio video compression methods, designated a standard for a group of audio and video coding formats; H.264 is a video codec mainly for HD compression.