Download Windows 10 Movie Maker to Create Movie/Video on Win 10
Everything You Want to Know about Windows Movie Maker for Windows 10
Microsoft is so considerate of newbie of movie making to endow a pretty handy movie maker along with Windows OS. When it comes to brand-new Windows 10, does Windows Movie Maker work with this greatly improved Windows OS? Or, will a more powerful and user-friendly Windows 10 Movie Maker arrive? How to create a favorable movie or video for sharing with your friends on YouTube, Facebook and more with Windows Movie Maker for Windows 10? Read on and get answers!
Notice: Windows 10, featuring elegant look and amazing functions (like intelligent Cortana, all-fresh Microsoft Edge browser) can deliver high performance and better user experience. If you had missed free upgrade from Windows 7/8 (expired on July 29, 2016) but would like to experience this new Windows OS, you need to pay $119.99 for Windows 10 Home or $199.99 for Windows 10 Pro.
It is also highly recommended to take use of an all-sided WinX HD Video Converter Deluxe for creating personalized videos from photo albums on Windows 10.
WinX HD Video Converter Deluxe: Make & Edit ANY (4K) Video on Windows 10
• Embrace a bunch of editing options to trim, crop, rotate, split videos; add subtitles, watermarks; extract frames from videos etc.
• Convert and Compress ANY (4K) video to MP4 (H.264/HEVC), AVI, WMV, MOV, FLV, MKV, iPhone, iPad, Android, Windows Mobile, Apple TV, Sony PlayStation, Xbox etc.
• The utilization of level-3 hardware acceleration invokes Intel/NVIDIA/AMD GPUs to speed up video encoding/decoing/editing while keeping original quality.
Strapped for time? Click one of the links below to jump straight to your most interested part.
Windows 10 Movie Maker Overview
Rating: ★★★★☆ | OS: Windows 10 and lower
Based on traces of Windows Movie Maker history, it is supposed that the latest Windows Movie Maker 2012 may be compatible with Windows 10. What can this Windows Movie Maker for Windows 10 do? Four main features are introduced to you.
• Create photo slide shows and videos. The source imported to Windows 10 movie maker can be photos, videos recorded by (high-definition) digital camera, webcam or phone.
• Edit videos. It also can be a Windows 10 movie editor. Trim and split video, speed up/down video, adjust duration of each frame and add animations, visual effects, titles, text, credits etc.
• Add and Edit Music. With Windows 10 movie maker, you can add the fitting background music to increase interest for your video. A couple of music editing tools are provided to fade music in/out, cut out parts of music, and set music/audio volume.
• Share Video on Web. It is available to share your video to OneDrive, Facebook, YouTube, Vimeo and Flickr directly or more sites by installing third-party plug-ins.
Video Tutorial: How to Download & Install Windows Movie Maker on Windows 10
>> Related: Windows DVD Maker, Windows Media Player for Windows 10, Windows Media Center for Windows 10 Alternative
Windows 10 Movie Maker Supported File Formats
Ahead of video creation, you must learn what types of files can be used in Windows Movie Maker for Windows 10.
Project Files

Video Files

Audio Files

Photo Files

• Windows Movie Maker project files (.mswmm)
• Movie Maker project files (.wlmp)

• Windows Media Video files (.wmv)
• Windows Media files (.asf, .wm)
• AVCHD files (.m2ts, .mts, .m2t)
• Apple QuickTime files (.mov, .qt)
• DV-AVI files (.avi)
• Microsoft Recorded TV Show files (.dvr-ms, .wtv)
• MPEG-4 movie files (.mp4, .mov, .m4v, .3gp, .3g2, .k3g)
• MPEG-2 movie files (.mpeg, .mpg, .m1v, .mp2, .mpv2, .mod, .vob, .m2t)
• MPEG-1 movie files (.m1v)
• Motion JPEG files (.avi, .mov)

• Windows Media Audio (WMA) files (.asf, .wm, .wma)
• Pulsecode Modulation (PCM) files (.aif, .aiff, .wav)
• Advanced Audio Coding (AAC) files (.m4a)
• MP3 files (.mp3)

• Joint Photographic Experts Group (JPEG) files (.jpg, .jpeg, .jfif, .jpe)
• Tagged Image File Format (TIFF) files (.tif, .tiff)
• Graphics Interchange Format (GIF) files (.gif)
• Windows Bitmap files (.bmp, .dib, .rle)
• Icon files (.ico, .icon)
• Portable Network Graphics (PNG) files (.png)
• HD Photo files (.wdp)
Tip: Due to high compression ratio and compatibility, MPEG-4/H.264 (.mp4) is taken as the best video format and default output video format of Windows 10 Movie Maker.
>> Related: Import DVD to Windows Movie Maker, Windows 10 Media Formats
How to Create Videos with Windows 10 Movie Maker?
It's time to create personalized movies/videos on Windows 10. This example will focus on how to make a video from photos with Windows 10 Movie Maker.
Step 1. Download Windows 10 Movie Maker
• Microsoft embraces Windows Movie Maker into Windows Essential package. So you need to download Windows Essential to get Windows Movie Maker for Windows 10. Go to Windows Essential page. Click "Download options" to enter download page. Hit "Download now".
Notice: Windows Essentials 2012 suite ended support and was not available for download on January 10, 2017.
• If you unfortunately missed Windows Essential, the copy of Windows Movie Maker available for Windows 10 can be founded on some special sites. The post "Where is Windows Movie Maker in Windows 10" might help you get the download links. We have tried to download Windows Movie Maker from windows-movie-maker.org and it works well on Windows 10.
Step 2. Add Photos
Launch Windows 10 Movie Maker after it is well installed. You can see the interface which is formed with 3 main parts.
• Menu bar with ribbon of every tab for quick accessing tools and options are located on top.
• Storyboard on the right is used to list and arrange (change order, remove or add new) clips.
• Preview monitor on the left enables you to view effects or transitions on single items or whole projects helping increase charm of your video.
Now, tap "Add videos and photos" button under Home menu or "Click here to browse for videos and photos" strings on the right column of main interface to choose photos you want to make a a video from hard drive. After photos are added, a new Edit tab including video tools appears.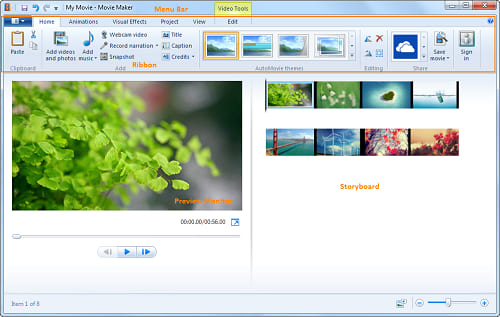 Step 3. Make Your Video More Adorable
Immediately, video preview will be shown on the left preview monitor while all the photos you add are listed on storyboard. The next step is to edit video.
Tap one picture and drag it to a more suitable place if the current sequence of pictures is not so good. In addition, quick access tools under Home tab drives you to apply a wonderful AutoMovie theme to video, create title, credits for video, rotate and add caption for every clip and more.
Transitions and Pan and zoom options are included in Animations tab. Select different styles from provided "Transitions" and "Pan and zoom" to demonstrate pictures in video frame-by-frame or choose one favorite type for whole video by clicking "Apply to all" option. You can also set duration of transitions.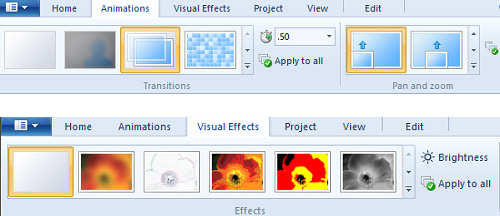 If you would like to bring some special view experience to video watchers, you can use various effects gathering in Visual Effects category, (e.g. Blur, Edge Detection, Black and white, 3D ripple, Fade in/out) for each picture or one effect for all. The brightness of effects can be adjusted as well.
Tap Project tab to set aspect ratio for widescreen or standard and click Edit tab to change duration to display each frame.
Step 4. Add and Edit Music
It is believed that music can make your video more vivid. Click Add music button under Home menu. Two options, "Find new music online" (only support for AudioMicro, Free Music Archive and Vimeo) and "Add music from computer" are available. Once the music is added to video, the new Music Tools menu appears. Turn up/down music volume, fade audio in/out slow, fast or medium and set start time/point, end point to have a perfect background soundtrack fitting with contents of your video. Step 5. Save Video
Tap Save movie button and choose format you want to export. This Windows movie maker for Windows 10 offers various formats for computer, HD video, iPhone, iPad, Android, Windows Phone, Web videos etc. You can also create custom setting to adjust resolution, bit rate, frame rate and audio format. After saving it with a great title, you can directly play it on computer or device or share online.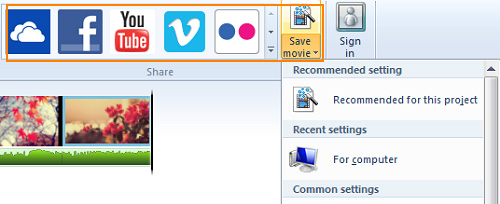 Tip: you can sign in your Microsoft account and share your video on Facebook, YouTube and more by clicking icon in Share pane.
Windows 10 Movie Maker Problems and Solution
Windows 10 Movie Maker absolutely specifies a simple and powerful way to create and edit movie/videos. But according to system requirements, it runs on Windows 10/8.1/8/7 32/64 bit computer, while Windows Vista/XP users should download other versions of Microsoft Windows Movie Maker which have much fewer functions.
On the other hand, some common errors of this Windows 10 media maker as following bother many users:
• Error 0x87260103 – "Sorry, your movie can't be saved. Find any missing files or remove the unusable items from your project, and then try again."
• Movie Maker error - There isn't enough memory available to save this file even though there is over 100GB space available on hard drive.
How to create and edit movie on Windows with no errors at all?
WinX HD Video Converter Deluxe is picked by us as the best Windows Movie Maker alternative for beginners. It is a very user-friendly program designed with a stylish and straightforward interface. Even though you are a fresh hand, you can get started with it quickly. And it also supports a wide range of formats embracing HEVC, H.264, AVI, WMV, MOV, FLV, MKV, 3GP, WebM, M2TS and more.
Let's get down to brass tacks. Rich editing tools can be achieved with this best movie maker for Windwos 10. You're allowed to basically cut, merge, crop, rotate and flip video, and adjust audio volume etc. Moreover, it also works as a video converter for Windows 10 to transcode videos; video compressor to reduce (4K/HD) video file size; video downloader to free download videos and music for hundreds of online sites, for example, YouTube, Facebook, Twitter, Instagram, SoundCloud.
In consideration that it's a CPU-intensive task to make and edit videos (specially for 4K footages), this best Windows Movie Maker Alternative takes full advantage of GPU acceleration (Intel, NVIDIA, AMD) to greatly speed up transcoding and editing. Because GPUs offload multimedia mission from CPU, CPU can handle other tasks more smoothly and deliver fast performance during multitasking.
Briefy, WinX HD Video Converter Deluxe can not only complete video editing tasks Windows Movie Maker can do, but deliver faster, smoother and more stable performance. Because of a wide compatibility of video formats, it can process more videos than Windows Movie Maker.
Free Download WinX HD Video Converter Deluxe Instead of Windows Movie Maker to Make Your Creative Video
[Appendix] History of Windows Movie Maker
Windows Movie Maker initially released to the public in 2000 included in Windows ME with ability to create and edit videos but only support for DV AVI/WMV 8 files. Though it is continuously improved carrying new features (as burning DVDs, capturing DVR-MS files form HDV camcorders) and more effects and transitions, it was a turning point when the new version rename Windows Live Movie Maker 2009 arrives, which contributes a rearranged toolbar similar to Office 2007 and specifies a much simpler way to make and customize videos by removing certain advanced but complicated features. Furthermore, Windows Live Movie Maker only can be obtained through Windows Live Essential suite for Windows 7 or later instead of being attached with operation system. The following Windows Live Maker 2011 is updated to support high-definition video, capture webcam video, upload videos to SkyDrive, Facebook directly and more. Latest Windows Movie Maker 2012, a part of re-branding Windows Essentials 2012 which requires 32 or 64-bit Windows 7/8/8.1, changes the default export format from WMV to H.264/MP4 for more uses.
External Sources from Wiki:
Windows 10 - Windows 10 is a personal computer operating system developed and released by Microsoft as part of the Windows NT family of operating systems...
Windows Movie Maker - A video editing software by Microsoft. It is a part of Windows Essentials software suite and offers the ability to create and edit videos as well as to publish them on OneDrive, Facebook, Vimeo, YouTube, and Flickr...