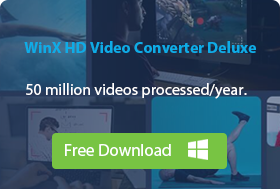 10 Best Free Media Players
10 Best Free Media Players to Elevate Your Multimedia Experience
Though both Windows and Mac computer have default media players, there are still some limits. For example, Windows Media Player can't play DVD discs and requires installation of some advanced codecs, and QuickTime won't play some Windows formats and codecs. For that, Having a reliable and feature-packed media player is essential for seamlessly enjoying your favorite movies, music, and videos. Fortunately, there are 10 best free media players available that offer an impressive array of features without costing you a dime. Let's take a closer look.
Can't Play Videos? Make Sure It's Encoded in a Format That Your Media Player Supports
If you find your video can't play on Windows or Mac, it's probably because of a formatting problem. You need a video converter like WinX HD Video Converter Deluxe to transcode your video to a format that your media player is totoally compatible. It's able to convert any 4K/HD video to MP4, H.264, MPEG-4, MOV, AVI, or whatever format you need, so as to fix video not playing issues like won't open, not recognizing, audio video out of sync, black screen, freezing, choppy playback, etc.
BEST 10 Free Media Players Download
| | | |
| --- | --- | --- |
| Free Meida Player | Public Image | Operating System |
| | Feature-Packed Multimedia Player | Windows 11/10/8.1/8/7, macOS (Ventura & earlier) |
| | The Versatile All-Rounder | Windows 11/10/8.1/8/7, macOS, Linux, Android, iOS, iPadOS, Chrome OS, etc. |
| | User-Friendly and Customizable | Windows 10/8/7, Mac OS X 10.13 or later (beta) |
| | Versatile and Customizable | Windows 10/8.1/8/7, Mac OS X (beta), Android and iOS |
| | Simplicity Meets Functionality | Windows XP/Vista/7/8/10, Linux and Mac OS |
| | Lightweight and Efficient | Windows 10/8.1/8/7 |
| | Unleash the Power of Media Streaming | Windows 11/10/8.1/8/7, Mac OS X 10.7 (Lion) or higher |
| | A Feature-Rich Marvel | Windows 10/8.1/8/7 |
| | Beyond a Media Player | Windows 10 (version 1607) or newer, macOS 10.13 High Sierra or newer, Linux |
| | Feature-Rich Mobile Player | Android, iOS, macOS |
1. 5KPlayer
5KPlayer is a new fast-emerging media player for PC and Mac. It is lightweight and clean, with a straightforward, modern and self-explaining interface and layout. It can play video media files in MKV, MP4, AVI, FLV, HEVC, AVCHD, M2TS, MOD and all video formats; audio in MP3, AAC, M4A, APE, FLAC, etc; and copy-protected DVD discs, ISO files and DVD folders. It also play 4K, 5K, and even 8K UHD videos without stutters. This free media player also comes with all useful setting options, like rotate, video tuner, deinterlace, equalizer style, create playlist, select audio/subtitle track, and so on. Moreover, it keeps updating to meet users' new needs, for example, playing video media files on Windows 11.
Pros:
Wide range of format compatibility, including 4K and 8K resolution videos.
Built-in AirPlay support for seamless streaming from iOS devices.
User-friendly interface with intuitive controls.
Advanced playback options and settings.
Ability to download online videos from platforms like YouTube.
Cons:
Windows and macOS compatibility only (no mobile version).
Limited customization options compared to some other players.
Some users may find the interface overwhelming due to the abundance of features.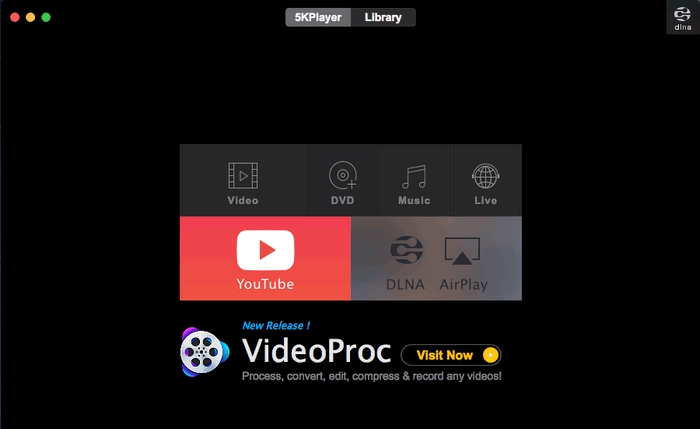 2. VLC Media Player
VLC Media Player is a well-known multimedia player, and also always been acclaimed as the best open source media player. It can play most video audio media files without codec packs installed, DVDs, Audio CDs and VCDs. Like 5KPlayer, it isn't bundled with any spyware, malware, viruses and ads. It is also packed with many settings options, more than 5KPlayer. But in most cases, you may think they are redundant.
Pros:
Supports a wide range of audio/video formats, DVD, audio CDs and VCDs.
Bonus for video conversion and streaming.
Advanced playback options and customization settings.
Ability to play damaged or incomplete media files.
Cons:
User interface can be overwhelming for some users.
Lack of modern UI design elements.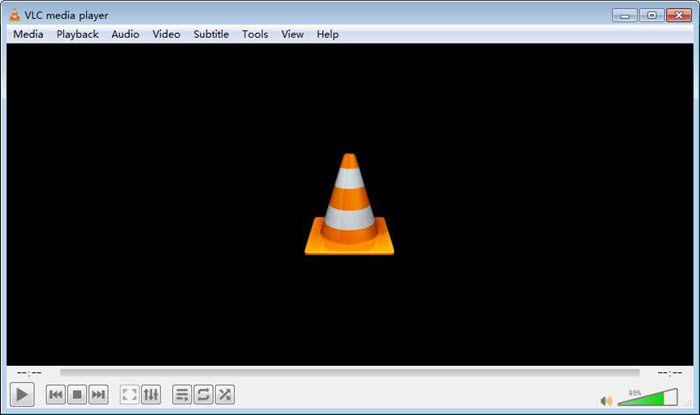 3. GOM Media Player
GOM is a free media player for Windows 10 with high visibility. With the pre-downloaded codecs, you can play all popular video audio media file types without additional codec packs. If you throw an uncommon file to it, its codec finder will help find sufficient codecs online. Another advantage is it has the potential to play damaged or partially downloaded files. Additionally, GOM Media Player official site offers multiple skins for download to customize your media player. However, it is ad-supported.
Pros:
User-friendly interface with a clean and intuitive design.
Supports various video and audio formats, even finding the sufficient codec from online.
Customizable options for personalized viewing experience.
Advanced features like playback speed control and subtitle synchronization.
Good performance and stability.
Cons:
Ad-supported (optional offers during installation).
Occasional compatibility issues with certain file formats or codecs.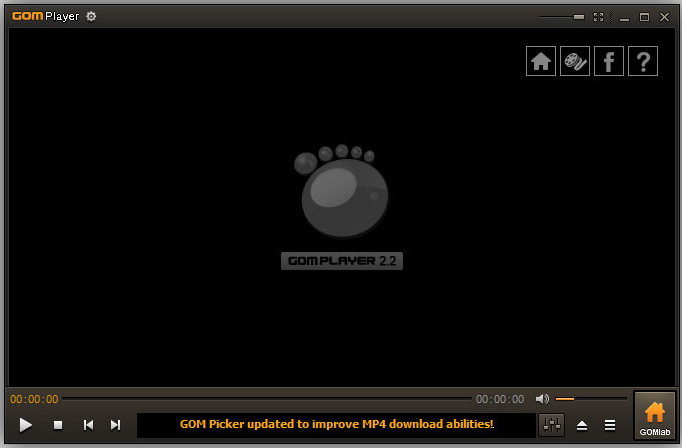 4. KMPlayer
Here we come to the fourth best media player – KMPlayer. As powerful as the abovementioned, KMPlayer can play stacks of media files, including 4K/2K/3D video medias, audio files as well as DVDs. You can freely set up your libraries to achieve better media playback experience. And It is also worth highlighting that it is able to adjust the playback screen with respect to your screen. KMPlayer is definitely a powerful free media player, but it is also ad-supported.
Pros:
Versatile media player with extensive format support, including VCD, HDML, DVD, AVI, MKV, Ogg, MPEG-1/2/4, AAC, QuickTime etc.
Customizable interface with various skins and visualizations.
Advanced features like 3D playback and screen capture.
Internal and external codec options for improved compatibility.
Good performance for video playback and always in high quality.
Cons:
Installation may include bundled software. Thus you need carefully check during installation.
The abundance of features may be confused for the beginners.
Occasional stability issues with certain video codecs or formats.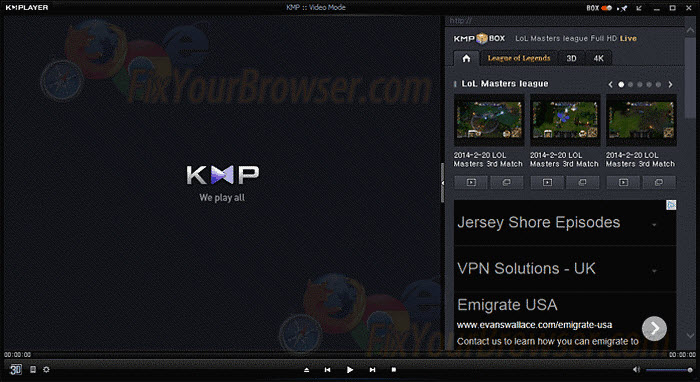 Also read: KMPlayer Doesn't Play MP4, FLV, MKV Media Files Problems [Solved]
5. SMPlayer
SMPlayer comes with built-in codecs to ensure you play video audio media files without downloading external codecs. Superior to other best media players, it can remember the settings of all files you play. What's more, it is available to download subtitles for movies, provides a couple of skins to satisfy your aesthetic, and offers more than 30 languages to enable you to use it in your own language. Moreover, apart from playing local media files, it can also play YouTube videos.
Pros:
User-friendly and intuitive interface make video playback a thing that cannot be simpler.
Built-in codecs for hassle-free playback.
Remembers settings for individual files.
Extensive subtitle support.
YouTube integration for online video streaming.
Cons:
Initial setup may require additional codec installations.
Limited advanced features compared to some other players.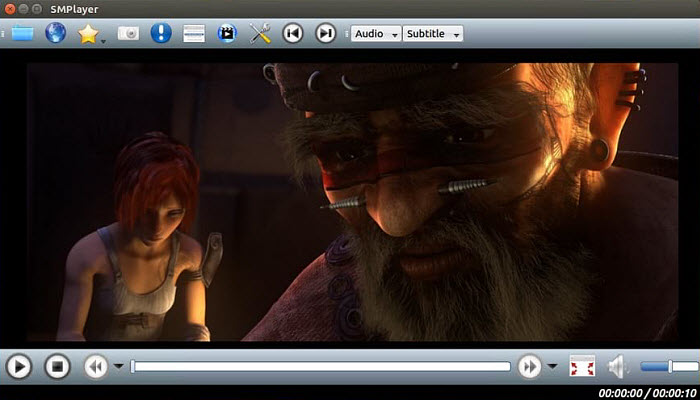 6. MPC-HC
MPC-HC (Media Player Classic - Home Cinema) is an extremely light-weight, open source and free media player for Windows 7/8/10. It supports all common video and audio file formats available for playback. Being a free media player for PC, it's very rare that there are no advertisements at all. Fast performance, low resource usage, small installation size. That's really the biggest selling point for MPC-HC, making it possible to handle most formats without issue and support some advanced features like subtitle downloads, video capture, and integration with Skype.
Unfortunately, MPC-HC was discontinued in July 2017, but it still works well and is worth using for Windows users.
Pros:
Lightweight and efficient performance even on older Windows computers.
Supports numerous formats and codecs out of the box.
Supports playback from files, discs, and external devices.
Advanced features like subtitle downloads and Skype integration.
Cons:
Available on Windows only.
MPC-HC is not under development since 2017.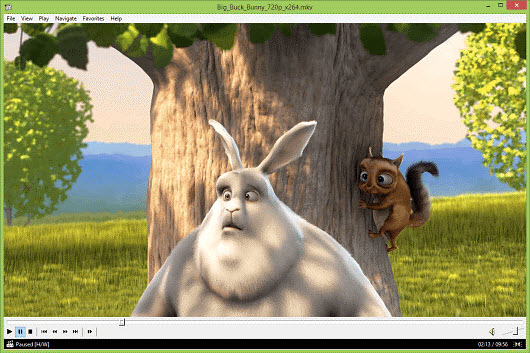 7. Kodi
Kodi is a free and open-source movie player and entertainment hub. It helps users with a large media library to store all their digital content in one place, from TV shows to movies, podcasts to music, and photos to games. Thus it's not so much a free media player as a multimedia repository for organizing and storing all your media contents with full information, including artwork, cast, and genre, watched tags, show descriptions, actors and more.
Pros:
Very clean and organized interface for all your media contents.
Extensive library of add-ons and plugins, up to 900+ add-ons available.
Can connect to most paid or free streaming services, and stream media across devices.
Customizable skins and interface.
Cons:
Initial setup and configuration can be complex.
Limited native codec support, reliant on add-ons instead. However, finding add-ons can be difficult. 8. PotPlayer
Potplayer is a feature-rich free media player for Windows PCs, which can play almost any file format. It supports a variety of codecs, which means that there is no need to install different codecs all the time when using the player. The OpenCodec feature also allows users to add whatever codecs they want. Moreover, PotPlayer is more for advanced users because of its rich customization options. You can adjust your viewing experience with manual controls for brightness, contrast, and hue. It also ensures a great performance with the support of hardware acceleration.
Pros:
Detailed interface that shows a lot without being cluttered.
DXVA, CUDA, & QuickSync Hardware acceleration tech helps fast and smooth 4K/8K playback.
Customizable settings: Preview the scene, bookmark scene or chapter, full screen playback, etc.
Wide codec support and the built-in OpenCodec can even add any codec you want to play.
Cons:
Can be overwhelming for beginners due to numerous settings.
Occasional errors like no sound, time error when making bookmarks playlist, small subtitles, broken screen, strange color, etc.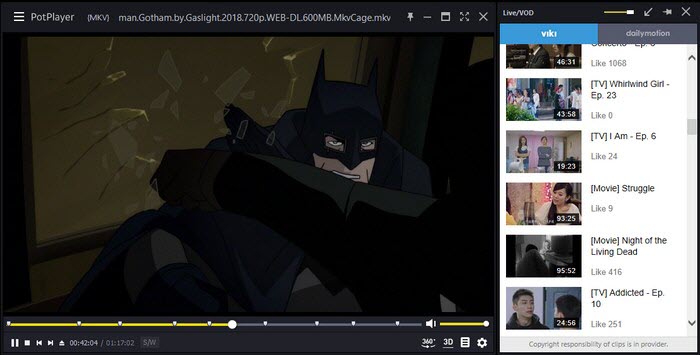 9. Plex
Plex is a software that allows you to manage massive media collections as well as watch TV shows, movies, personal videos, and much more. It offers users the opportunity to stream over 100 different channels and an access for 20000 free movies-on-demand from Hollywood, MGM, Warner Bros and more. Plex not only allows you to watch such contents on PC, but also stream from your Plex server to your TV in the living room, a games console, or even your smartphone with a little more setup. Similar to Kodi, it's a personal media library tool that help users to organize their jumbled files into a clean interface.
Pros:
Growing library of on-demand and preprogrammed video streaming content
Organize, stream, and access media from multiple devices.
Transcoding capabilities for optimized streaming.
User-friendly interface and extensive library of add-ons.
Cons:
Requires setting up a media server.
Advanced features require a Plex Pass subscription.
Internet connection required for some functionalities. Suggested Reading: Quick Fixes for All Possible Plex Playback Error >>
10. MX Player
MX Player is a free media player for Android, iOS and macOS. It plays almost all media and movie files in high quality, including MP4 MPEG-4, MOV QuickTime, AVI, M4A, iTunes M4V, MPEG, MPEG-2-video, MP3, AAC, EAC3 and more. As far as know, MX Player is the first video player for Android which supports multi-core decoding with hardware acceleration. Test results proved that multi-core device's performance is up to 70% better than single-core devices. Besides, MX Player is an all-round video/audio player, subtitle player, and video downloader. 
Pros:
Wide format support, including MP4 MPEG-4, MOV QuickTime, AVI, M4V, M4A, FLAC, AAC, EAC3, MKV, MPEG, MP3 etc.
Hardware acceleration and multi-core decoding for smooth playback.
Gesture controls for convenient navigation and playback.
Subtitle support with customization options.
Cons:
Primarily designed for mobile devices, limited desktop support.
Some advanced features may require a paid version or additional plugins.
Occasional compatibility issues with specific video codecs or formats. For example, you need download MX Player AIO Zip file to fix eac3 codec not supported error. Conclusion
The above mentioned free media players offers a diverse range of options to cater to your multimedia needs. Each player brings its own unique set of features and strengths to the table. 5KPlayer stands out with its extensive format compatibility, including support for high-resolution videos, and built-in AirPlay support for seamless streaming. VLC impresses with its all-round features for all kinds of media playbacks. MX Player shines as a popular choice for mobile devices. KMPlayer offers versatility with its extensive customization options, advanced features like 3D playback, and compatibility across multiple platforms.
Ultimately, the best free media player for you depends on your specific preferences and requirements. Consider factors such as format compatibility, user interface, advanced features, customization options, and platform support. It's worth trying out different players to see which one provides the most enjoyable and seamless media playback experience for your needs.
FAQs
1. Why can't I play videos on my computer?
There could be several reasons why you're unable to play videos on your computer, including:
Missing or outdated codecs.
Outdated media player.
Corrupted video file.
Insufficient hardware resources, including CPU, RAM, and graphics capabilities.
Outdated graphics drivers.
Conflicting software.
Problematic video settings.
Operating system issues.
Get more info for video not playing issues >>
2. Is VLC still the best media player?
Yes, the open-source VLC Media Player is still our top pick, thanks to its versatility, wide format compatibility, extensive feature set, and cross-platform compatibility. But it doesn't prevent the choice of other free video players. After all, the notion of "the best" media player can be subjective and depends on individual preferences and requirements.
3. Which video players can be cast to TV?
Several video players do have the capability to cast content to a TV. Here are a few popular options:
VLC Media Player
5KPlayer
Kodi
Plex Media Player
MX Player