5 Best Free Video Player for Windows 11
Windows 11 had been released for months, have you encountered video playback problems on Windows 11? Such as, video stuttering, color problem, can't play 4K videos, invalid file format message or error code. If it is true, you need the best video player for Windows 11 to play video files.
To be frank, Microsoft's new Media Player built in Windows 11 should be the first choice for Windows 11 media playback. However, it performs bad when playing 4K/8K videos and won't work with HEVC and AV1 videos if necessary codec isn't pre-installed.
So, to have best video playback experience, you need our hand-picked Windows 11 video players to play videos up to 4K/8K in HDR, HEVC, H.264, MOV, MKV, MP4, etc. They assure you maximum video quality as much as possible. Just drag and drop the videos, you don't need to check if the format is not supported, the video resolution is too high, or the file size is too big.
Hot search: How to Solve Choppy Video Playback Issue >>
* Microsoft's official and newly-released media player tailor-made for Windows 11 and newer PC.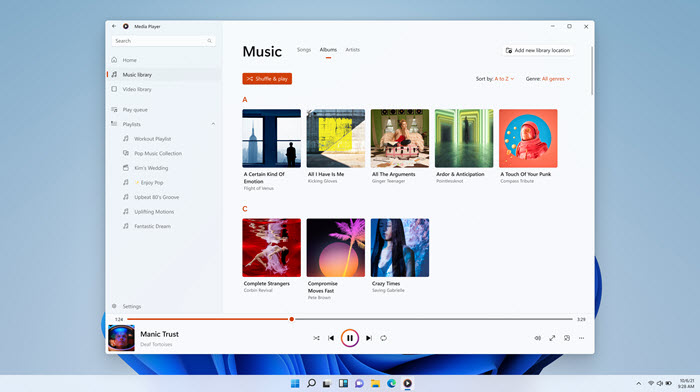 It seems media players are outdated when online streaming services like Netflix getting increasing popularity, but Microsoft's new Media Player for Windows 11 shows there is still need for offline video playback. Media Player is a default video and audio player to replace Groove Music, Movies & TV app and Windows Media Player for enhanced media playback on Windows 11 computer. Once installed, the library and playlist on your PC will automatically migrate to this media player.
It is really an expert in playing FLAC, OGG, AAC, WMA, and ALAC audio files with both 5.1 and 7.1 surround sound. The album art and rich artist imagery will appear in full screen and mini player when playing music. As for video file playback, it supports for browsing, managing, and watching local videos all well. You can also tell it where to find video contents on computer to play in app settings. Currently, it can play MP4, M4V, MOV, ASF, AVI, WMV, M2TS, MKV, 3GP, 3G2, WebM (VP8, VP9), and OGG files up to 4K.
Customizable settings are prepared for changing the playback speed, skipping ahead and back, equalizing audio, viewing file properties, and making playlists. If needed, cast your playing media contents to a compatible device like smart TV to have a bigger view.
However, this native Windows 11 video player fails to play 8K video files and 360-degree clips. It is said to replace Windows Media Player and be better, but it doesn't own all features from Windows Media Player as of now. So, video playback errors are inevitable if you use it to play videos in Windows 11. The typical one is you need to first install HEVC video extension and AV1 video extension respectively to play HEVC and AV1 videos.
* An official and pre-installed video player in Windows 11 serving the movie and TV show contents available in the Microsoft Store.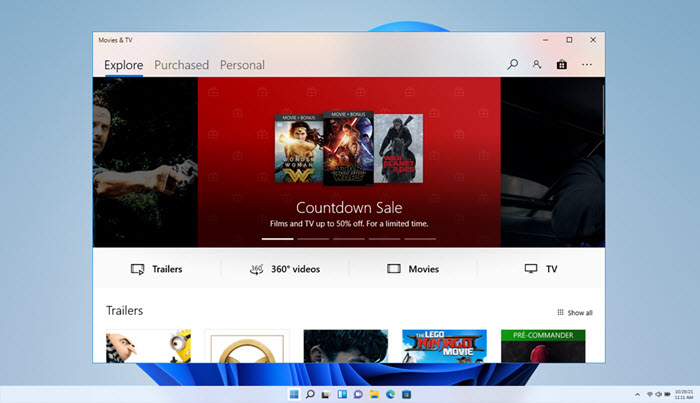 At the very start, Movies & TV app was also designed to be an alternative to Windows Media Player though Windows Media Player still exists in Windows 10 and Windows 11. Movies & TV app is indeed better than Windows Media Player as it supports nearly all latest file formats like MP4, MKV, MOV, etc. up to 8K, except HEVC and AV1 which need required codec installation first.
With it, you can play H.265 and MPEG-H Part 2 (High-Efficiency Video Coding) contents. AV1 and 360° videos are also supported. Even 4K and 8K video playback performs well if you own a high-end computer. Picture in Picture mode is available in this free video player for Windows 11 to let you play movies in mini window. In addition, you can add subtitles, change audio channel, skip 10 second back/skip 30 seconds forward, etc. when playing videos.
Besides handling local personal collection, this media player makes it possible to follow the latest entertainment, blockbuster movies and hot classics. You can use it to browse and play online movies and TV shows with CC you've rented or purchased from the Microsoft Store on Xbox 360, Xbox One, Windows 10 device, Windows Phone, and on the web.
Besides downloading extra codec packs for some formats, you are also suggested to choose HD video playback as 4K or 8K playing is not always smooth. Black screen, freezing, crash, no sound, etc. are also its notorious shortcomings.
* An official and hidden media player for Windows 11 that needs manual installation first from Microsoft.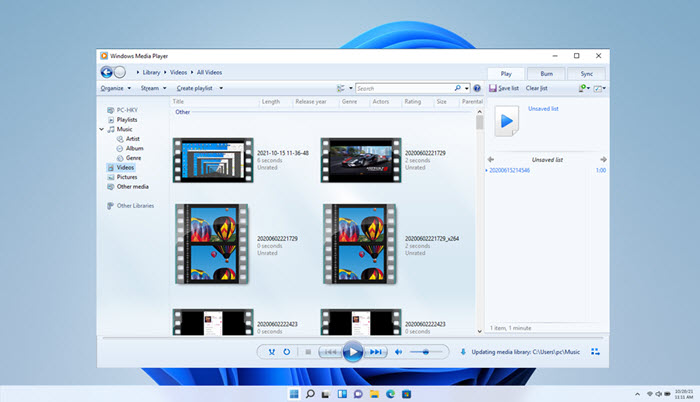 Windows Media Player seems to be a discontinued program when new Media Player and Movies & TV app are recommended by Microsoft. It is still available on Windows 11, though it requires your manual installation. Appeared in 1991, Windows Media Player should be the first true multimedia player to play videos and audios on Windows PC.
After long time development, latest version – Windows Media Player 12 can already play nearly all popular file formats, including MP4, MOV, MKV, WMV, AVI, ASF, H.264, 3GP, WMA, ACVHD (.mts, .m2ts), WebM VP9, MP3, ALAC, AAC, etc. Even HEVC and AV1 are supported if corresponding codecs are pre-installed. It also unlocks the DVD and Blu-ray playback functionality with support for menus, titles and chapters if compatible decoders are installed.
It is more powerful than you think. It serves your different requirements, like local video playback, streaming playback, DLNA cast, and progressive downloads. And customizable settings are prepared, including fast forward, reverse, file markers, variable playback speed, etc. Also, media files can be arranged according to album, artist, genre and date.
However, you need to install and make Windows Media Player default on Windows 11 first. Otherwise, you can't double-click a video file to play with it. Besides, Windows 11 has brought a lot changes to the Settings, and format settings is one of the most obvious ones. Put succinctly, you need to manually add the .mp4, .mkv, .wmv, .mov, etc. video formats one by one to the supported list of Windows Media Player, so that they can be recognized.
* First open-source video player for Windows 11 out the market from VideoLAN.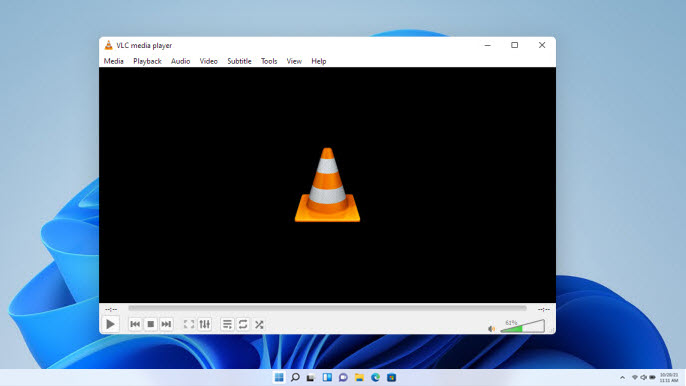 Even before the release of Microsoft new Media Player for Windows 11, VLC Media Player had given users the ability to play video music files on Windows 11. Many users reported that VLC performs gorgeous on Windows 11 PC thanks to the Snap Layouts and brand-new UI. If interested, just go to Windows 11 Store to free download VLC Win32 app for your PC.
As the most popular open-source media player with over 4 billion downloads, VLC deserves your trust and can be considered as the best video player for Windows 11. With it, you can play almost every media on earth in super high quality. Playback of local files, discs, webcams in MPEG-2, MPEG-4, H.264, MKV, WebM, WMV, MP3, etc. is its basic feature. You can even use it to play newer AV1, HEVC, 360-degree, HDR, ProRes, etc. formats up to 4K. Even encrypted DVDs are playable if VLC liddvdcss is installed.
Besides media playback, you can also use VLC media player to convert video formats, download online videos, stream YouTube, and cast contents across devices wirelessly. And now on Windows 11, new and improved features will also make you Whoa, including new digital TV tuner, audio CD player, file transcoder, etc. What's more, additional features including AirPlay, VR support, HEIF/WebM/AV2 support, new music playlist, modern design, and new user interface will be added in the upcoming version 4.0.
Nothing is perfect. So far, a few users has reported VLC not working on Windows 11 error. Besides, notorious VLC errors like 4K video choppy, subtitle delay, HDR washed out colors, no video, audio video out of sync, black screen, etc. are not new to people, and they may happen in high possibility on Windows 11 PC.
* DearMob's Multi-functional media player for Windows 11. Video music playback, DLNA, AirPlay & Download supports.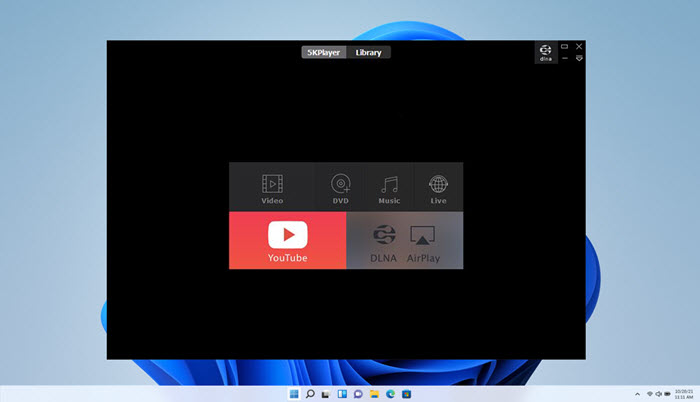 Out the market, 5KPlayer is like no others being a multi-functional media player to help people have all-round media enjoyment. It is a combination of video, music & DVD player, AirPlay server, DVD streamer, and online downloader along with other small bonuses like video cutting.
Focusing on its video music playback feature, it can act as a free 4K video player for Windows 11 for common MKV, MP4, MOV, etc. files. Powered by Intel QSV, DXVA, AMD & NVIDIA CUDA GPU acceleration technologies, it can fast decode any CPU-occupying 4K, 5K, 360-degree, HDR, HEVC, H.264, AV1, DVD, etc. videos without stutter and render crystal-clear images. As a moviebuff, you can also use the 5.1/7.1 DTS surround sound support to have a theater-like experience at home while enjoying the brighter and livelier pictures.
If interested, you can learn more about 5KPlayer's features. The AirPlay feature allows you to screen mirroring and AirPlay video music from iPhone iPad to computer, enjoy everything in a bigger manner. The DLNA streaming way makes it possible to wirelessly connect your PC to all DLNA-compatible devices like Xbox, smart TV, Android phone, etc. BTW, online streaming like IPTV streaming and online downloading is also available. While playing videos on Windows 11, bonuses also include video cutting, audio video synchronization, subtitles adding, playback speed adjustment, video rotation, video deinterlacing, and so on.
Since it is a media player from third-party developer, it may know Windows 11 a little. Based on the video playback experience on Windows 10, you probably also encounter 4K 60fps/120fps video choppy playback, high CPU usage, HDR washed out colors, etc. issues on Windows 11 PC.
Frequently Asked Questions
1. Which is the best video player for Windows 11?
The new Media Player should be the best video player for Windows as it is official and built in Windows 11. Microsoft develops Media Player to replace Groove Music and Windows Media Player to give users much better playback experience with improved functions.
2. Does Windows 11 have a media player?
Yes. Windows 11 has three built-in media players, including Media Player, Movies & TV app, and Windows Media Player. Media Player is the new official and default media player for Windows 11 or later PCs that Microsoft highly recommends. Movies & TV app is always the best choice to watch films and TV shows from Microsoft Store. As for Windows Media Player, it is a legacy choice which needs manual installation.
3. Why can't I play videos on Windows 11?
If videos are playing on Windows 11 computer, you need to consider three aspects. First, make sure you have a capable Windows 11 video player installed. Second, change settings in Windows 11 to make sure the video format can be opened by your media player. Third, if the video format like HEVC or AV1 is not supported, download required codecs or just convert videos to Windows 11-supported ones.
4. How do I play videos on Windows 11?
It's easy. Once the qualified video player is installed on your Windows 11 PC, simply drag and drop the videos to it to play. If it is the default media player, it can play kinds of media files you throw at it. If you have more than one video player on Windows 11, Windows 11 also let you choose different media player for different file types respectively. For example, you can set VLC for .mkv files and Windows Media Player for .mp4 files.