19 Sites to Download Free Subtitles for Movies & TV Shows [2023]
Subtitles are originally made for the deaf and the hearing-impaired. But now things have changed. Statistically 63% of adults under 30 years old prefer watching TV shows and movies with subtitles turned on according to a new survey from the polling company YouGov. These figures prove the demand for subtitles. This is because movie subtitles can be beneficial for enhanced comprehension and better understanding accents when they settle in to watch the TV show or movie. Meanwhile subtitles help to diminish the language barrier when the movie buffs are watching foreign language titles like the hit South Korea drama Squid Game.
Even the visual entertainment lovers prefer to download free subtitles for English-language films and TV shows as a move to follow the dialogue clearly, especially when they may be intimidated by the terminologies in genres like Sci-Fi or Fantasy, frustrated by the shows with heavy accents, or troubled by the action sequences with loud noise that drown out what the characters say.
If you are one of them who'd like to watch movies with subtitles on, look no further. Here is a handpicked list of the best free subtitles sites to download free subtitles for movies and TV shows at your convenience.
Top Free Movie Subtitle Sites You Will Never Miss

Site for Subtitles Download

Best for

Number of languages

Best overall with intuitive and modern interface, large subtitles library.

73

Best for subtitles with a large database and support multiple languages.

50

Best for English subtitle download free.

English only

Best for free subtitles download for the latest movies or shows.

101

Best for aspiring subtitlers and translators looking to get in subtitling and gaining the skills.

18

Best for downloading subtitles for a variety of movies.

13

Best for online videos subtitle download.

TBD

Best for joining online community to download subtitle files for movies and TV series.

57

Best for downloading English Subtitles in SRT or Zip.

English only

Best for downloading subtitles freely for a better TV experience.

16
19 Best Sites for Free Movie Subtitles Download
#1. YIFY subtitles
Supported languages:70+ languages including English, German, French, Spanish, Italian, Korean, Dutch, Japanese, Swedish, etc.
Movies and TV shows: No. Movies only.
Ad support: YES
YIFY Subtitles is one of the best free subtitle download sites where you can download free subtitles for a variety of movies, such as English subtitles for Korean dramas. This website offers a modern, sleek, and dark-and-blue mode user interface that is categorized into 6 main parts, including a search bar, the latest movies and at the very top of the page, recently added movies to the left, popular movies to the right. You can also navigate the site by genre or language to the right. This makes it pretty easy to download movie subtitles for free as per your needs.
In detail, YIFY Subtitles provides movie poster thumbnails, which looks even more professional than other movie subtitle sites. Each title offers detailed information, from plot summary, to genre, movie length, IMDB rating, a link to the IMDB page. You can free download subtitles in over 70 languages.
This is something to be reminded. YIFY Subtitles is lousy with ads. It would be more preferable if there is a VIP subscription or something like that to remove the ads embedded onto the site. Besides, there is no option to download free subtitles for TV shows.
What we like:
Tons of subtitles.
70+ languages.
Easy search option.
Sleek design.
What we dislike:
Too many ads.
No subtitles for TV shows.
Website:https://yts-subs.com/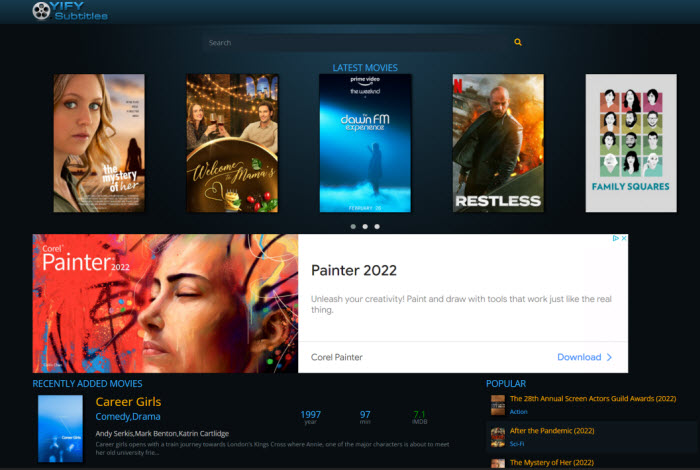 #2. Open Subtitles
Supported languages:50+ languages incl. Danish, Finnish, Bahasa Indonesia,Spanish, French, Chinese…
Movies and TV shows: YES.
Ad support: YES
Open Subtitles has so much to love as the most effective and useful movie subtitles downloading site with over 5 million subtitles so far. With this free subtitles download site, you can browse by click on Search, Upload, Request, Forum, Blog or Player. It is pretty simple to operate the Search bar. Just type in the movie or TV show, select the language you like from a dropdown list, click Search.
Besides, you can also scroll down and find more subtitles, ranging from new subtitles, featured subtitles, monthly top uploaders, weekly most downloaded subtitles, latest forum topics, latest blog articles, requested subtitles to latest comments. Forum and blog are available on Open Subtitles, talking about things like translations, requests, best subtitles, AI in subtitling, the Oscars, and more.
One Achille's heel about Open Subtitles is its outmoded design with a white and lime green theme. Smallness might be what you can feel at first glance of the website. This makes it hard to navigate and read. Open Subtitles also provides advertisement, but you can donate $15 to become a VIP member or install Chrome extension to remove it and download subtitles for movies without ads.
There is a caveat. OpenSubtitles was hacked and requires you to reset your password. Or you can visit its new subtitle site - https://www.opensubtitles.com/en to enjoy its cool responsive design and extra functions. In addition, Chrome and Firefox extensions are available to make subtitles searching and downloading more streamlined.
What we like:
Offer a large database of subtitles.
Firefox and Chrome extensions are available.
Support uploading subtitles.
Great community.
What we dislike:
Interface is a little bit outdated.
Contain ads.
Website:https://www.opensubtitles.org/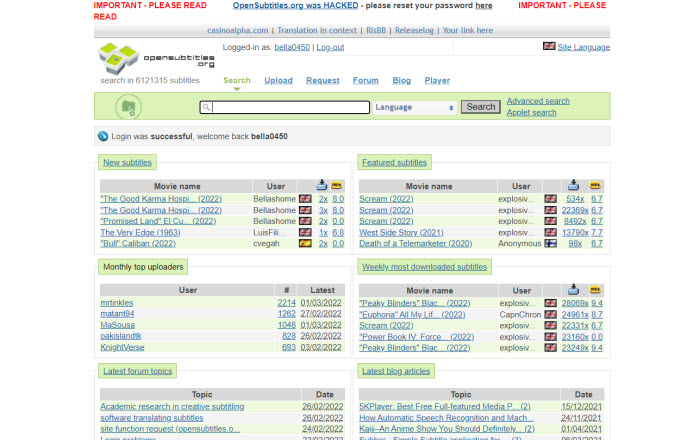 #3. Downsub
Supported languages:English, German, French, Italian, Spanish, Korean….
Movies and TV shows: No. Support downloading subs from streaming online.
Ad support: YES.
One key reason why Downsub is so popular is it offers the largest subtitle database with support for online videos. This is relatively difference from some other subtitles download sites in our list that are born for pretty much any movie or TV show. With the free web application, you can download subtitles directly from 31 online video streaming platforms, including YouTube, Facebook, Viki, Vlive, VIU, Bilibili, Dailymotion, Google Drive, etc.
Formats in .srt, .txt, and .vtt are well supported. In addition, no extension or third-party software is provided, you can rest assure to try the online method safely. Just paste the URL of the online video you want to extract subtitles, click Download button, then select the subtitles format and language you want to download, then click to download subtitles.
What we like:
Extract subtitles from content already streaming online.
Support a variety of formats like SRT, TXT, and VTT.
What we dislike:
There is no movie or TV show subtitles for download.
Website:https://downsub.com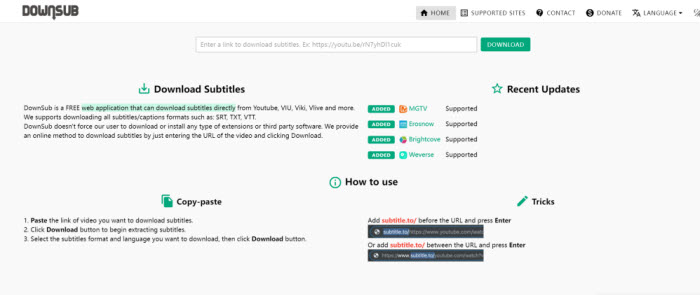 #4. Addic7ed
Supported languages:18 languages, incl. English, Arabic, Hungarian, Bulgarian, German, Spanish, Korean, etc.
Movies and TV shows: YES.
Ad support: No.
Addic7ed has what it takes to be crowned the best movie subtitles site of 2023 simply because of its organized, active and enthusiastic group of subtitlers. With it you can download free subtitles files for hundreds of thousands of movies and TV series. Then you can load the film or show and play it with preferred subtitles in your media player in a matter of seconds.
Typically, the subtitles on the side are pretty high in quality thanks to the quality assurance features built into the community. Explanatorily, subtitles on Addic7ed are peer-reviewed and checked for errors quite often. Meanwhile, the movie subtitle download site also has a powerful army of subtitle wizards and offers subtitle training to all people interested in the subtitle field.
Addic7ed isn't a favorable subtitles site when it comes to layout, look and feel. From the sky blue and white theme on the minimalist homepage, you can find a site menu bar for easy navigation, covering Sign up, Login, Shows, Join the Team, and Forum. But it would be more favored if the browse option is enhanced, e.g. by genre, country, language, actor, etc.
What we like:
No ads.
Active and passionate community.
Great subtitling resources.
What we dislike:
The design is lackluster.
Browsing feature needs to be improved.
Website:https://www.addic7ed.com/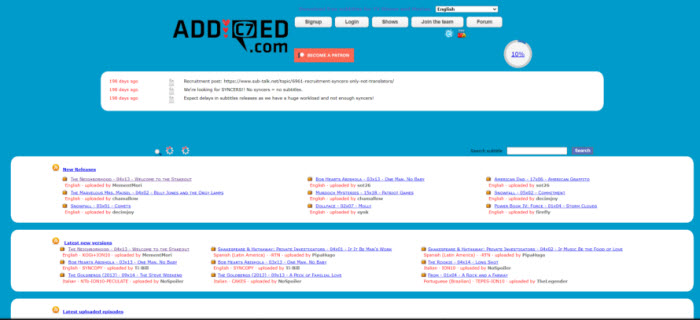 #5. Podnapisi
Supported languages:Over 100 languages incl. English, Catalan, Bulgarian, Latin,French, Italian, German, etc.
Movies and TV shows: YES. Miniseries are also supported.
Ad support: No.
Podnapisi.net is a famous subtitles service that uploads the latest subtitles for movies, TV series, and mini series. It is one of the best picks for subtitles because of its good quality, high accuracy and regularly updated subtitles. Ratings are offered for you to easily identify good subtitles.
The homepage offers a shortlist of the latest subtitles, subtitles from last 30 days, together with sections including the best rated, most downloaded and best commended. Advanced search is available for you to filter subtitles by keywords, year, movie type, seasons, FPS, episodes, and more. And best of all, you can set your preferred subtitle language here so that you can get subtitle files only in your preferred language.
Podnapisi boasts over 2.140 million subtitles for download, with over 62,000 movies and 7,800 series in 101 languages. There have been 2,2+ billion subtitle downloads so far. So you can rest assure to have a try if you are searching for subtitles for your own movies or TV series. Most subtitle files are in zip format. Just unzip them and you will get the subtitles in .srt format.
What we like:
Keep up-to-date with subtitles for the newly released films and TV series.
Advanced search option.
Preset the language filter.
What we dislike:
The interface is somewhat out of date.
Website:https://www.podnapisi.net/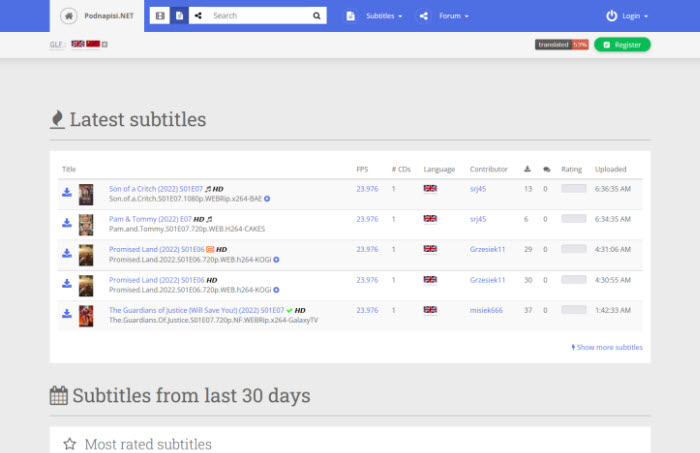 #6. English Subtitles
Supported languages:English.
Movies and TV shows: YES.
Ad support: YES.
English-subtitles.org looks like YIFY subtitles that offers a dark mode sleek UI with an overwhelming subtitle database for thousands of English movies and TV shows from around the world, such as all Game of Thrones seasons. Better than other free movie subtitles sites, the site harbors a great collection of English subs for you to download freely. All subtitles are saved in SRT format.
However, the free subtitle download site just offers English subtitles for download. If you are looking for free subtitle files in other languages, you will be disappointed and it's better to report to other websites for free movie subtitles download.
What we like:
Modern and intuitive UI.
Large library of subtitles for films and series.
What we dislike:
Just available for English Subtitles.
No advanced search option.
Website:https://english-subtitles.org/ #7. Moviesubtitles.org
Supported languages:13 languages including English, Portuguese, Greek, French, Turkish, Spanish, Arabic, Polish, etc.
Movies and TV shows: No. Movies only.
Ad support: NO.
Moviesubtitles.org boasts to over 128,000 subtitles for both new and old movies, in the alphabetic order. It is estimated that there have been over 20000 movies and 33,281,702 free subtitles downloads so far. This means you are guaranteed with a lot of subtitles download options in addition to download English subtitles for free. Besides, all the free movie subtitles are packed with WinZip. You can unpack it and extract the SRT subtitles here.
The movie subtitles are organized according to the latest, most downloaded and top movies on its intuitive interface. There is one unsatisfactory thing is that Moviessubtitles.org doesn't offer subtitles for TV shows. If you are prone to download subtitles files for television episodes, it will direct you to another site - http://www.tvsubtitles.net/.
What we like:
Sleek interface.
Titles are sorted alphabetically.
What we dislike:
It only offers movies subtitles.
Website:http://www.moviesubtitles.org/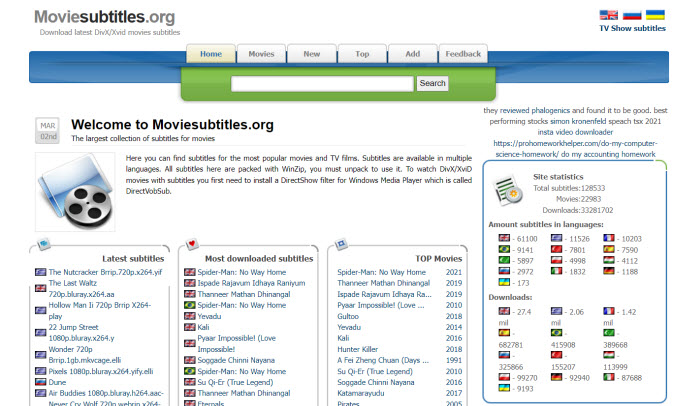 #8. Subscene
Supported languages:57 languages incl. English, Tamil, Telugu, Hindi, Arabic, Bengali, Danish, Dutch, Korean, Swedish, Thai, etc.
Movies and TV shows: YES. Music videos are also supported.
Ad support: YES
Another international friendly subtitle download hub in our list is Subscene, carrying an impressive breadth of movie genres and TV shows in different languages. It has a fairly intuitive interface with a simple menu bar containing Login or register, Forum, or Dark Theme. It's up to you to choose a dark theme or normal theme.
The number of subtitles are pretty impressive. This means downloading subtitles with Subscene couldn't be easier. Just type a specific movie or TV show if you've already in mind in the search bar, click Subtitle Search button, it stands a good chance to find a subtitle file for your title, then locate the language you prefer. You can also sort the subtitles list by date, find one and click download. Unzip the compressed subtitle file and enjoy it.
On top of that, Subscene is a free website to download subtitles for movies and TV shows, it is also helpful when you are looking for subtitles for music videos. You can also filter subtitle search – maximally 3 languages as per your needs.
Like Open Subtitles, Subscene also provides online community, where you can discuss the favorite movies, subtitle qualities, and so on. Ads are contained in the subtitles website, though they are not quite as intrusive as some other subtitles websites. But if cleanness matters to you most, just think it twice before going to the site.
What we like:
An impressive list of subtitles.
Subtitles downloading speed is relatively fast.
You can find subtitles for movies, TV shows, and music videos.
What we dislike:
Ads.
Interface is less mobile friendly.
Website:https://subscene.com/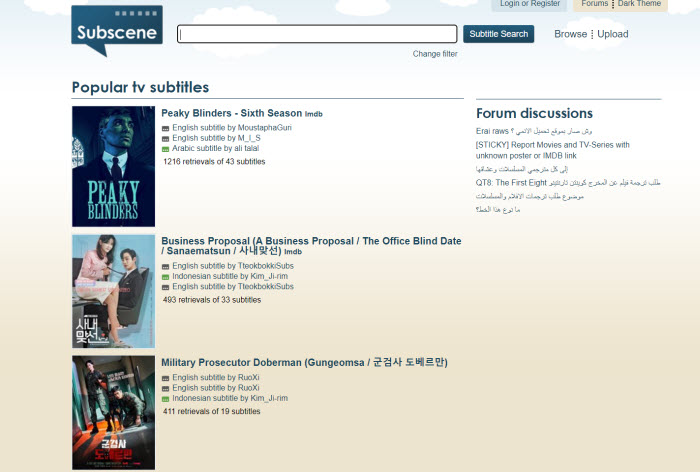 #9. Subtitle Seeker
Supported languages:English.
Movies and TV shows: YES.
Ad support: YES.
Subtitles Seeker is a great portal for free English subtitles download. The free subtitles website is classified into Home, TV/Web Series Subtitles, Movies Subtitles, and Bitcoin news, where you can get your SRT or zip files for all 480p, 720p, 1080p, Blu-ray, Webrip, HDRip, DVdscr, or DVDrips. Underneath the homepage, you can find the latest movie subtitles and use its search bar to type in the name of the movie or TV show you like. Most subtitles files are in English, with a fraction of subtitles in other languages.
Downloading subtitles files is a challenging experience, however. You are likely to be taken to a new website where the subtitles are supposed to be hosted, which however, is a suspicious site that is likely to be a Trojan. So you'd better install a third-party security program to stop the malicious site from hurting your computer. Or just right-click on the link, copy and paste the link in a new tab instead of clicking on it directly. All in all, if you are looking for free subtitles download site for English movies, it is good for you to choose.
What we like:
A simple search bar is available for you to search for subtitles easily.
What we dislike:
It is challenging to download subtitles. You may be redirected to some suspicious sites.
Website:https://subtitleseeker.in/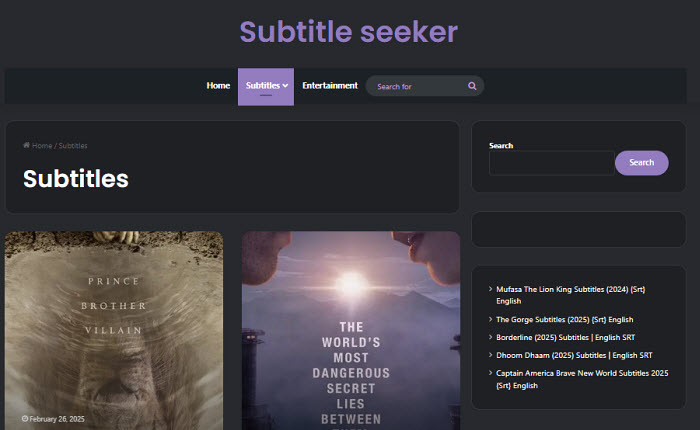 #10. TVSubs.net
Supported languages:16 languages incl. English, Greek, Hungarian, French, Portuguese, Hebrew, etc.
Movies and TV shows: No. TV Shows only.
Ad support: NO.
If you are aspiring for sites that provides subtitles for all known TV shows and episodes, TVSubs.net is the go-to site. It is a one-stop shop providing an ever-expanding list of subtitles for TV episodes in over sixteen languages including Ukrainian, Italian, and more. The TV show subtitle library is quite remarkable, reaching up to 286495 so far, with over 51251735 downloads altogether.
You can find the latest subtitles, hot subtitles, top TV shows, and most download subs here. The search option is also available for you to find the specific TV series and the title information like rating, downloads, and date are listed. The website doestn't just include free movie subtitles, however.
What we like:
There are over 3000 TV shows and 122339 episodes.
What we dislike:
It just offer TV subtitles only.
Interface seems to be outdated.
Website:http://www.tvsubs.net/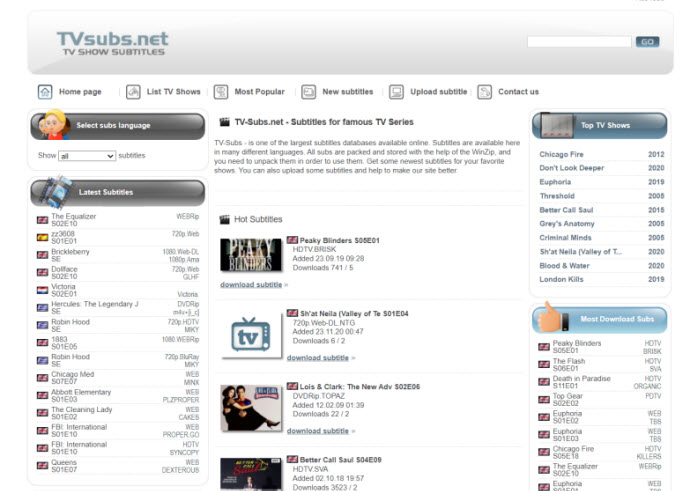 #11. Subdl
Supported languages:64 languages incl. Greek, German, Hindi, Bengali, Dutch, Swedish, French, etc.
Movies and TV shows: YES.
Ad support: YES.
Subdl is a great yet free subtitle download site that not only offers English movies with subtitles download, but also provides a plethora of international titles pertaining to France, South Korea, India, Chian, etc. It greets you with a minimalist interface and easy navigation for popular and new subtitle files in multiple languages. Perhaps the best part about the subtitles site is that it allows you to filter out the subtitles SRT downloads with up to 64 languages.
Find subtitles for download is pretty simple with the subtitles site. Just type in the movie or TV shows you want to download subtitles, click the subtitles file once it appears, then a zip file will be downloaded. You can unzip it and add subtitle to the movie with a media player for viewing later.
What we like:
Easy to search for subtitles.
Languages can be filtered.
What we dislike:
Website:https://subdl.com/subtitle.php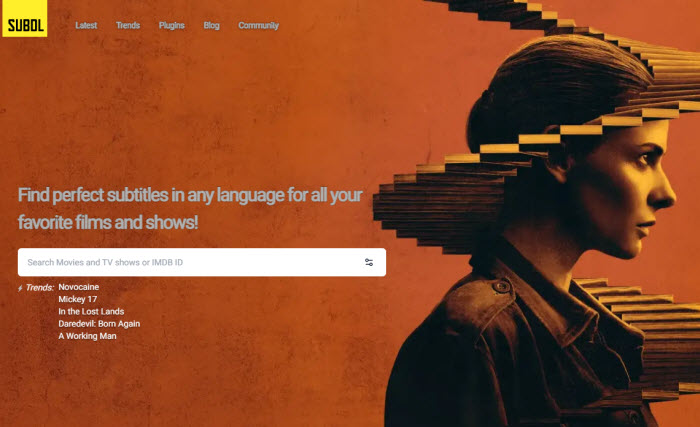 #12. .SRT Files
Supported languages:Almost all languages incl. English, Korean, Japanese, Chinese, etc.
Movies and TV shows: YES.
Ad support: YES.
Srtfiles.com is a valuable platform for subtitle enthusiasts. With its user-friendly interface, the subtitle site offers efficient convenient subtitle search and subtitle request features. Whether you're seeking the top subtitles for 2023 movies like Spider-Man: Across the Spider-Verse or Operation Fortune: Ruse de guerre, looking for the subtitles of 2022 films, or the classic ones of any year, the website has you covered. It's a go-to resource for accessing a wide range of subtitles, making it a must-visit for anyone in need of accurate and up-to-date srt files.
When you embark on your preferred movie subtitle search, .SRT Files will actually show you the subtitles needed from subtitle partners such as Opensubtitles, where you can then download subtitles for the movie or TV show.
What we like:
Easy to search for subtitles.
Languages can be filtered from Request Subtitles feature.
What we dislike:
Website:https://www.srtfiles.com/ Hornerable Mentions: 7 Other Movie Subtitles Download Sites
| | | |
| --- | --- | --- |
| Subtitle Site | Review | Review |
| Subs4free | A site offers top free subtitles with detailed resolution. You can search for movies or series and view the currently uploaded subtitles. | ★★★★★ |
| Isubtitles | iSubtitles is good for English-speaker to find free subtitles for foreign movies, which are listed with an IMDB rating and arranged by genre and country of origin. | ★★★★✰ |
| SubtitlesHub | SubtitlesHub offers a large library of subtitles reaching up to 3822137. It is the idea hub for downloading free subtitles for anime. You can view country-specific downloaded subtitles easily. | ★★★★✰ |
| TVsubtitles.net | TVsubtitles feels like a replica of TVsubs.net. As it's name suggests, TVsubtitles is mainly offering subtitles for TV shows, at least the list of subtitles explain why. There are a large selection of TV shows listed here, spanning decades and genres. | ★★★✰✰ |
| Bollynook | A site available for you to download Bollywood movie subtitles for free. You can also read Bollywood news here. | ★★✰✰✰ |
| SaveSubs | A free subtitle site where you can just find any movie subtitles to download. Just type the movie name, it will show up to 14 subtitle files like SRT, VTT, TXT, JSON, etc. Then you can download subtitles for free. | ★★★✰✰ |
| Subtitlestock | SubtitleStock is another great free subtitles site owning a large database of subtitles for movies and TV shows. One of the most favored parts of this free subtitles download site is you can perform advanced search by language, format, movie year,and movie genre. You can also download subtitles for free from trusted source, for hearing impaired, high-definition movie, or just machine translated. | ★★★✰✰ |
How We Choose the Best Free Subtitles Download Sites for You?
To ensure providing you with trustworthy information, here at WinXDVD we are committed to selecting the websites that are both in demand and in popularity.
Upon the selection, all the subtitles sites have been tested one by one by WinXDVD Team in terms of their format options, languages, and performance. We also test its biggest features and user-friendliness.
While at the same time, WinXDVD team also collect a massive amount of editor reviews from famous product review platforms, user comments from famous forums such as Reddit, Quora, etc, together with feedbacks from our users, in order to make reviewing subtitles websites more objective and trustworthy.
Finally, we highlight the best features of a subtitle site, so that you can have summarized and insightful information on what subtitles download sites will best suit for you.
FAQ about Subtitles Download
1. What to consider when finding the best free subtitle movie download site?
There are an overwhelming number of sites to download subtitles for movies and TV shows. But what to look for in a subtitle movie downloading sites?
Firstly, make sure the subtitle download site is safe and an expert in the field of movie subtitle download with years of experience, which won't put you in danger of virus infection or malware installation. It won't provide any ads that direct to some other unsafe pages.
Secondly, the best subtitles website will harbor as many as subtitles, new or old, in multiple languages and formats. It will keep up with the latest subtitles or the new movies and TV shows timely, so that you can find whatever subtitles you need to download.
Third, good subtitles download site will offer an intuitive and modern interface that will guide you to find the right subtitle files and make you download them as easy as possible.
2. What is the best site to free download subtitles for a movie or TV show?
Where can I download subtitles? Which are the best websites for free subtitles download? Following are some of the best ones to save subtitles for movies and TV series.
YIFY Subtitles
OpenSubtitles
Podnapisi
Addic7ed
Subscene
Moviesubtitles.org
You can definitely have a try and download a preferred subtitle file here.
3. How to add and load downloaded subtitles for movies and TV shows?
Most media players like VLC or 5KPlayer support getting subtitles to load automatically once the movie or TV show is open. They always share the same workflow if you want to load subtitles you've already downloaded from the above subtitles sites.
For the one hand, make sure the name of the subtitle file either in .srt, .scc, .vtt, or .sub is the same as that of the TV or movie video file like MKV, AVI, MP4, etc. If not, remake the subtitle file to match the video's exact name. For the other hand, both of the subtitle file and the movie file are stored in the same folder. Then you can automatically play the movie or TV show with subtitles when you launch it in your media player. Here we take the guide on how to add subtitles in VLC as an example.
Launch the movie or TV series in VLC media player.
Click Add Subtitle File from the Subtitles menu.
Find the subtitle file you downloaded, select it and click Open.
Related: How to Add Subtitles and Captions to YouTube Video
4. How to switch subtitle tracks manually?
Sometimes, the movie or TV show won't play with the subtitles you want especially when the video file has one or more built-in subtitle tracks. If you want to override the subtitle, it's necessary to manually switch the subtitle track in your media player. Here we take changing subtitles in VLC for example. Just open the video file in VLC. Find the Subtitles Menu. Navigate to Subtitle Track. Choose the track you want to load. If you've MKV movie that generally features multiple subtitle tracks, you can also load multiple tracks and switch between them.
5. Why are my subtitles out of sync, how to solve it?
Watching TV shows or movies with subtitles can lead to the risk that the subtitles go out of sync with the video file. For example, they may show dialogue that has already been spoken on-screen or that has yet to be spoken. Fortunately, many media players can re-sync downloaded subtitles with your video file. Here we take VLC for example to adjust the timing of the subtitles to match the dialogue in the video file if you are going to fix the subtitle out of sync error.
Launch the video file in VLC.
Press G (if subtitle is ahead of sound) or H (if subtitle is behind sound) to adjust the subtitle delay (50ms) during playback. You can also set a specific delay by going to Tools > Track Synchronization, set the delay you want.
6. Can I download subtitles directly through media player?
Yes, you can. There are a handful of media players with built-in support for searching and downloading subtitles right within the app. For example, Media Player Classic, PotPlayer, BS.Player, and VLC can auto-download subtitles if you wish. Here we take downloading subtitles in VLC for example. It can download subtitles with an extension named VLSub.
Open VLC and load the video.
Go to View menu, and check VLsub option.
Select the subtitle language and add the title of the movie in the VLSub window.
Click the Search by name button to fetch all the related subtitles from OpenSubtitles.org.
You can also use Search by hash to calculate the hash for the video and find the subtitles that matches this hash.
Click Download selection. Click the blue Download link to open the Save as box.
Choose the location where you want to download the subtitle file. Then you can load the subtitle file in VLC.
7. Is it safe to download subtitles?
It seems unlikely to get a virus from a subtitle file since it is just a file full of text. To be frank, many movie subtitles you downloaded may open doors to hackers to completely take over your computer. This is because there are 25 types of subtitle file, popular media players or services like VLC, Kodi, Popcorn Time try to stretch themselves to fit the case, thus increasing vulnerabilities. What's worse, most anti-virus software may fail to read the thread because of the nature of subtitle files.
Luckily, All the media players and services have updated to address the issue. So it's highly advised to update the player and service to the latest version and avoid suspicious subtitles download.
8. Can I download subtitles from YouTube?
Yes, YouTube is available for you to download a transcription of subtitles form any captioned video. Just navigate to the desired YouTube video with subtitles from the left-hand menu, click on the three dots below the video playback on the right and select Show transcript from the drop-down menu, click Toggle Timestamps, after which a window containing all the words spoken in the video and timestamps for each line of dialogue will appear, just copy the transcript and paste it into your documents and save it as a .txt file.
In the meantime, you can also download YouTube subtitles from Downsub mentioned above.
9. Where to download Korean subtitles
Subscene and Optionsubtitles.org are two world-famous websites where you can download subtitles for your Korean movies, TV series, dramas, etc.
10. What is the best format of subtitles?
There are various subtitles formats for import or export, covering SRT, SSA, TTML, SBV, VTT, TXT, DFXP. But different platforms prefer different subtitles. For example, the best subtitle format for YouTube and Vimeo is WebVTT. If you want to download free subtitles for sharing on YouTube or Vimeo, you can try WebVTT format. While if you are working with Facebook, unformatted SRT is preferred. Most video players like VLC, Windows Media Player or others support the common format SRT. So if you just want to play movies with subtitles on, you are suggested to download .srt subtitles for free.