Posted by Kaley Torres - | Contact Author

Popcorn Time: No Subtitle at All? Subtitle Delayed? [Fixed]
Generally speaking, when one successor is released like iPhone 13, usually it gets more enhancements than its predecessor (e.g., iPhone 12). If the emphasis is not on improvements, it should get some bugs fixed at least, right? However, there are always exceptions. Popcorn Time version 0.4 is a good illustration of this.
The development team of Popcorn Time has recently released a NEW version 0.4 - codenamed "Love in the Time of Corona". You got excited about it while the excitement subsides soon after you made the upgrade. The new version 0.4 doesn't surprise you. Instead, it drives you to the edge of going stir-crazy with numerous problems. Chief among them, subtitles missing is the most annoying one.
Nonsense aside, let's get in back to the point. Check the below workarounds to fix subtitles disappearing issue on your Popcorn Time. Helpful tips concerning subtitle out of sync/delay errors are also attached.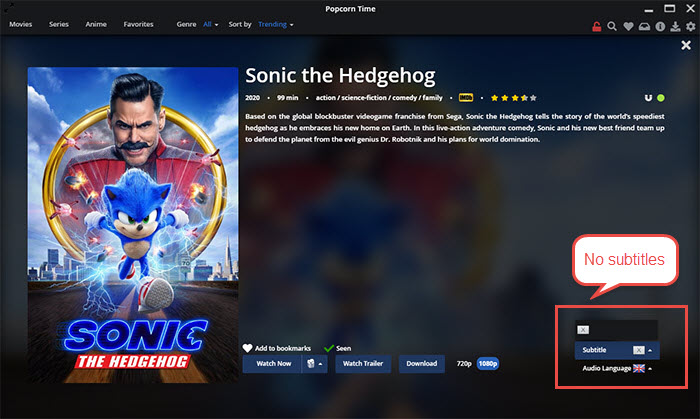 Problem 1: Popcorn Time No Subtitles? Make Subtitles Work on PT NOW!
Solution 1. Log into Your OpenSubtitles Account
Popcorn Time uses Open Subtitles, which requirements registration compulsory for all the app users. Therefore, register an account on opensubtitles.org, and then log in the open subtitles account from app settings on Popcorn Time.
Solution 2. Manually Download Subtitles
If the first way doesn't work you, try this quick fix:
2.1 Access to opensubtitles.org.
2.2 Search the movie and choose the subtitle track you need.
2.3 Download the subtitle zip and unzip it.
2.4 Turn to Popcorn Time, click on custom in the subtitle menu and opt for the subtitle file you've unzipped.
2.5 Time to open your desired movie on Popcorn Time now and check if the downloaded subtitle is workable on PT.
Click for more reliable and free subtitles download sites to download srt subs.
Solution 3. Head to Popcorn Time Destination Folder
If your case is "no subtitle option", then forget the above methods and get to the PT destination folder first. There are two ways to reach your PT destination folder.
3.1 Right-click popcorn time > tap on properties > hit on open file location if your Popcorn Time is running on your Windows or macOS.
3.2 Type in your search bar on Popcorn Time interface and choose open file location.
After the destination folder is found, navigate to src > find app > lib > hit providers > unfold the opensubtitles.js with notepad or other text editor. Afterwards, change Popcorn Time NodeJS to Butter V1, and re-launch your Popcorn Time after the document is successfully saved. Check if there is subtitle option for your movie or TV show on PT.
Warm Prompt: to activate subtitle option, you're not required to log into your open subtitle account.
Solution 4. Streaming Using VLC Media Player
One solution is unable to get all the problems solved. The afore-mentioned methods disappoint you. The following approach is worth a try:
4.1 Download Popcorn Time movies .
4.2 The moment that the movie download is done and it starts playing, right click and choose "stream using VLC media player".
4.3 VLC media player embarks on movie streaming. Pause it.
4.4 Go to Subscene website and download your desired subtitles for the movie.
4.5 Turn back to VLC player after subtitles downloading, click "Add subtitle file" under Subtitles at the top menu bar and select the subtitle file you just downloaded. Now playback movie on VLC and it will come along with the subtitles.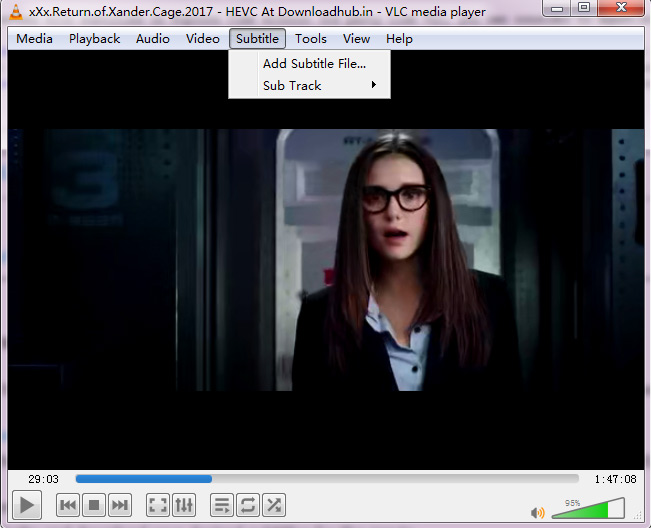 Solution 5. Downgrade Popcorn Time to Old Version
In case you intend to play movies with subtitles on Popcorn Time without 3rd party like VLC, you can consider to "downgrade Popcorn Time from 0.4 Corona version to old version".
Google "download Popcorn Time for windows" (for instance) and you can get the older version resource like version 0.3.10 on uptodown website. Uninstall your Corona 0.4 version and install Popcorn Time older version like 0.3.10. Of course, a quicker path is available, getting older version from your friends. Please don't download the version 6.2. It's the unofficial version, full of VPN ads.
Problem 2: Popcorn Time Subtitle Delay on Mac/Windows?
Solution 1. Activate Shortcuts to Sync Subtitle on PT
Head over to Settings and press the picture of a keyboard on the top of the page. Afterwards, all the shortcuts are available in Popcorn Time, even the guide on how to sync subtitles shows up, as well. One thing to be noted is that this only works with the internal Popcorn Time player, instead of any external video players.
The most widely used two keys on keyboards are H and G. Go to this PT subtitle sync guide to know the nitty-gritty details.
Some, if not all, point out that the shortcuts don't work for their Popcorn Time subtitle video out of sync issue. The different PT version might stand a high likelihood. In such case, the next solution is your silver bullet.
Solution 2. Sync Subtitles using External Players
Top free video players like VLC, 5KPlayer, KMplayer, all deliver a qualified performance in subtitles synchronization. Take VLC for instance:
After Popcorn Time gets your movie downloaded, stream it to VLC and adjust timings in VLC to fix subtitle video out of sync error.
1). Fire up your VLC player on your Windows or macOS.
2). Find Tools on the top menu of VLC interface > click "Track Synchronization" > tap "Synchronization" on the pop-up Adjustments and Effects window.
3). Adjust time at "Subtitle track synchronization" by 0.1 second or 1 second. Alternatively, tweak subtitle speed or subtitle duration factor.
The same also applies to other free video players for subtitle synchronization. If you still have any question about Popcorn Time no subtitle or subtitle delay, don't hesitate to Email Us >>.