How to Solve Popcorn Time Stops Working/Error Loading Problem
"where can i download the old version 0.3x, this new version not so good for me - Edi from twitter"
Popcorn Time app stops working/error loading data problem on Windows (10), iOS, Android, etc.
"Popcorn Time stopped working. I used the app with great pleasure and 0 problems, but it stopped working on my Android like a week ago. I tried to download a new version, but the whole EU site doesn't load anymore. Also some news items say that popcorn time stopped working because a domain got closed or something like that. Help me out please!"
Don't expect to upgrade your Popcorn Time to the latest version to solve Popcorn Time not working issue right now, since the official Popcorn Time app website is inaccessible right now. A couple of movie studios jointly sued Popcorn Time concerning copyright infringement issue. Thus, you'd better resort to Popcorn Time alternative or stop using Popcorn Time now to avoid unnecessary infringement issue.
If you temporarily plan to treat Popcorn Time as a media player to play local files, instead of online controversial movie contents, this guide can show you how to solve "Popcorn Time stops working/error loading data" problem. Also we notice that some users were asking whether Popcorn Time has the ability of watching 4K movies and TV shows on Windows/10 or other platforms. The answer is no (as of now).
Popcorn Time Involved with Lawsuit, Failed to Load Movie?
Try the Best Alternative - Free Movie Downloader
With over 6,000,000 downloads on Softonic, top free movie downloader - WinX Video Converter allows you to free download 1080p, 4K movies from Dailymotion, Crackle, Popcornflix, Metacafe, etc. 1000+ sites. Though it's seemingly more troublesome than Netflix pirate app Popcorn Time, it enables you 100% smooth movie watching, default/added subtitles and legality.
Strapped for time? Click one of the links below to jump straight to your most interested part.
If you are undergoing "Popcorn Time stops working" problem, you are using a Time4Popcorn version (another is popcorntime.io). Popcorn Time app not working or loading, in most case, was due to the domain suspension of time4popcorn.eu, which is one of the two forks of original Popcorn Time app, currently providing Popcorn Time Windows (10), Popcorn Time iOS, Popcorn Time Android, Mac and Linux.
The latest news is, on the one hand, popcorntime.io is said to have been shut down forever, and the website is not accessible any more. On the other hand, a new Popcorn Time CE app is coming to the public with a totally different domain popcorntime.ml, which however is not available now. Surprisingly, Popcorn Time came back from the dead in March 2016 and this movie app gets updated. Two domains alive are popcorn-time.to and popcorntime.sh.
>>> Click to Fix Popcorn Time No Subtitles Issue
Part 1. Possible Causes for "Popcorn Time Stops Working"
There has been millions of downloads of Popcorn Time, a free movie torrent streaming app. For some reason, Popcorn Time stops working, which makes most of its users in trouble. How could this be?
First your Popcorn Time movies not loading possibly because its domain Time4Popcorn.eu was suspended and the client programs stopped functioning for a while. Since the website has been quickly moved to the new domain popcorn-time.se and claimed that "This PopcornTime service will never be taken down", your "Popcorn Time not working" issue should have been settled. If not, read on for more solutions.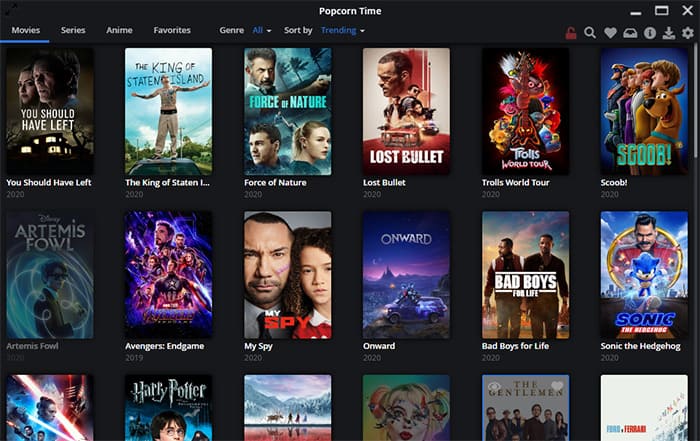 Part 2. How to Solve Popcorn Time Not Working/Data Loading Error
To solve your Popcorn Time not working or error loading data problem, you can uninstall Popcorn Time > Go to App Data > Remove Popcorn-Time and Temp/Popcorn-Time > Reboot your PC > Reinstall.
Try right-clicking the Popcorn Time icon and clicking "Run as administrator".
Go to popcorntime.ml and download Popcorn Time alternative. It works on Windows, macOS and Linux. But it is not sure how long it will be operational due to those never-ending threats of lawsuits and punishment.
Or use the best and stable Popcorn Time alternative - WinX Downloader to free download online videos from Facebook, etc (1000+ sites) for freely watching without Popcorn Time error loading data movies.
If Popcorn Time stops working with "not connecting" error and you happen to be eager for movies more than 1080p, give 5KPlayer a try. It helps free download 4K movies online or can freely play downloaded torrent movies.
There is a likelihood that it's blocked by your ISP. Change your DNS to google or use a VPN if needed. Give up VPN.ht, which has been sued by movie companies and has its Paypal funds frozen.
Don't expect to upgrade your Popcorn Time to the latest version. Cuz currently there is no latest version, even no popcorn time app available on Google. Popcorn Time has become a defendant in the lawsuit launched by several movie studios considering copyright infringement issue. Though Popcorn Time leaks a message about comeback plan, if and when this happens still remains in suspense.
Part 3. Best Popcorn Time Alternative for 4K Movie Watching
5KPlayer is one of the best Popcorn Time movie app alternatives for you to entertain yourself at movie night, simply because it will be your optimal way out of Popcorn Time not working/4K video error loading problem. Copy an online 4K movie URL, press the download button, and UHD videos are all accessible at your fingertips!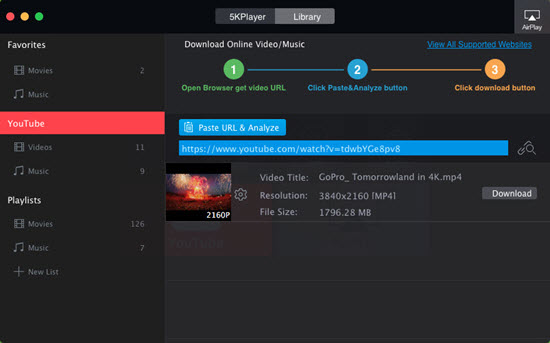 Tutorial: How to Free Download 4K Sample Video online
First download the Popcorn Time app alternative and get it installed on your PC or Mac.
First download the Popcorn Time app alternative and get it installed on your PC or Mac.
Step 1. Go to youtube.com and do a search of a 4K sample video you want to watch.
Step 2. Open 5KPlayer, click "YouTube" button on the main interface for turning into the download page.
Step 3. Copy and paste the URL, and it will detect video data automatically, incl. title, resolution, file size, etc.
Step 4. Press button "Download" and start downloading 4K video.
Other Helpful Software: Download WinX HD Video Converter Deluxe to Save Movies without Popcorn Time!
All in one video/audio/DVD converter, video editor, video compressor, and online video downloader. It helps cut, crop, merge, adjust, and process (4K) videos with full hardware acceleration.