Download Popcorn Time for Windows Including Windows 10/8.1/8/7/XP
[Tutorial] How to Download and Install Popcorn Time for Windows Incl. Windows 10/8.1/8/7/XP
Popcorn Time is a piece of software that enables users to stream movies and TV shows from torrents instantly. Absolutely, it's a good option to enjoy movies. If you want to use Popcorn Time for movie watching on Windows, this article focuses on how to download Popcorn Time for Windows can help you a lot. It also shows you how to download Popcorn Time on Windows XP, Windows 7, Windows 8 and 8.1, and Windows 10.
For those guys who are undergoing Popcorn Time working errors may want to try a free YouTube downloader as an alternative to Popcorn Time for free movie downloading from YouTube.
Download and Install Popcorn Time for Windows
Popcorn Time is available for Windows. But if you don't download the right Popcorn Time beta version, it may not work for your Windows OS. For example, if you download Popcorn Time Beta 3.7, you cannot use Popcorn Time on Windows XP. This is because Beta 3.7 is suit for Windows 7 and above. However, Beta 6 is for Windows XP and later. That is to say, you can download Popcorn Time 6 for Windows XP, Windows 7, Windows 8, Windows 8.1, and Windows 10.
How to download and use Popcorn Time on Windows?
Step 1. Go to https://popcorn-time.to/ and click "Download Beta 6.0" to download Popcorn Time for your Windows PC.
Step 2. Double click on the Popcorn Time icon to install it on your Windows PC.
Step 3. Open Popcorn Time, select a movie, choose video quality & subtitle, and then click play to enjoy free movies or TV shows on Windows.
It's easy to download Popcorn Time on Windows, but it's difficult to fix some Popcorn Time working errors.
Also read: Popcorn Time Free Movies Download for PC, Mac, iPhone, Android for Offline Playback
Popcorn Time Errors that Matter
You can find various errors while using Popcorn Time for Windows. Here, we just take a look at several typical Popcorn Time issues.
"When watching a movie with Popcorn Time, it lags for some time before it starts to play again…..and you can be watching the movie, but the pic would stall and the voice is still going…..I think that it's going to be a big issue for viewers like myself"
"I've had Popcorn time work one time for me and thats it, now all it gives me is (Status: checking database) what do I do?"
"I have read through the forum for similar posts about the 'Error loading data, try again later'. I have tried to remove the Appdata/Local/Popcorn-time folder. I have reinstalled / restarted with and without Admin.
The ''TV-shows'' and the "Anime" are working for some reason, but the ''movies'' tab only gives me this annoying error!"
If you run into the similar issues or other Popcorn Time working errors, you are suggested to learn how to solve Popcorn Time stops working/error loading problem or try some great Popcorn Time alternatives, like WinX YouTube Downloader which is specially designed to free download movies, TV shows, videos and songs from YouTube for smooth media enjoyment on Windows PC or other gadgets including smartphones and tablets.
Best Popcorn Time Alternative for Movies/TV Shows Free Downloading on Windows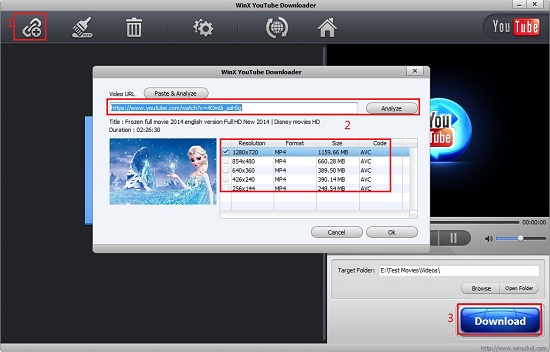 WinX YouTube Downloader is a Windows-based free, open-source tool capable of free downloading movies and TV shows from YouTube easily and quickly. It enables you to free download SD, HD, 1080P HD, 4K UHD and 3D movies to MP4, FLV and WebM on Windows OS, including Windows 10, in a few mouse clicks. Just download the alternative to Popcorn Time for Windows and go ahead to download full-length movies and TV series from YouTube.
Step 1. Click the link-shaped button to add a YouTube URL referring to certain movie/TV show video source.
Step 2. Paste and analyze the URL. Once complete video fetching, please choose a video resolution as you like.
Step 3. Hit Download button to get video downloading started.
Popcorn Time for Windows is great, but it may be unavailable due to different kinds of reasons. Meanwhile, it doesn't allow you to free download movies and TV shows locally for flexible playback on popular mobiles anytime anywhere. So, you have good reasons to keep WinX YouTube Downloader in hand.
If you need to free download movies/TV shows/songs from YouTube, Dailymotion, Metacafe, Facebook and other online video sites, as well as convert them to mainstream formats (MP4, AVI, WMV, MOV, MKV, MP3, iPhone Ringtone, etc.) or devices (Apple, Android, Sony, Microsoft, etc.), please turn to WinX HD Video Converter Deluxe.