Troubleshoot: How to Make Popcorn Time Full Screen and Hide Bar
Before you go, please download Popcorn Time Windows or macOS version on Popcorn Time official website Popcorn Time sh or popcorntime.app. Be aware of Popcorn Time fraud - version 6.2 on getpopcorntime.is. The wrong version is unsupported here. Please update your Popcorn Time to the latest version 0.4.4 if Corona version 0.4 is a bugbear on your desktop and then read the below workarounds to solve "Popcorn Time won't let you full screen" or "Popcorn Time bar not hiding on full screen" troubles.
Note: currently, Popcorn Time has been shut down several weeks due to legal issue. You can't find popcorntime.app or popcorn time sh any more on Google. Though the official Github repo is still online and gets updated, it's reported that the Github repo would also be offline if the movie studios win their case. Rumors say that Popcorn Time plans to make a comeback. If and when this will happen still remains unclear. If you worry about legal issue caused by Popcorn Time app, you'd better stop using it right now and resort to legal app for movie watching.
Quick Fix to Solve Popcorn Time Full Screen Not Working Error
The most effective way to solve Popcorn Time not going full screen problem is to watch movie using external video player.
● Firstly, get external video player like 5KPlayer or VLC downloaded on your Windows or macOS.
● Secondly, open Popcorn Time > pick out the movie > click the option next to "Watch Now" button.
● Lastly, opt for a video player from the list. Then, you can watch movies or TV shows in full screen using 3rd party player freeware.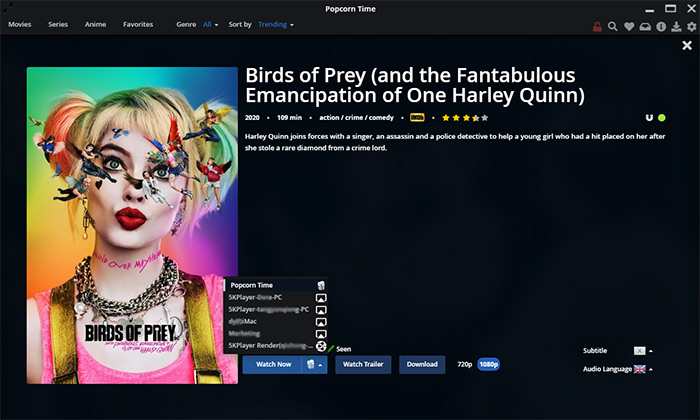 Effective Solutions to Tackle Popcorn Time Bar Won't Go Away Issue
Your Popcorn Time full screen problem gets fixed with no pain, but that's just the beginning. You have to confront the other common issue - Popcorn Time progress/control bar keeps popping up on full screen. Take it easy. This trouble can be also easily troubleshooted.
Solution 1: Move Mouse Cursor to the Edge of the Screen Corner
Move your mouse cursor to the top edge of your full screen on Popcorn Time, then it just stays there. Please keep in mind that don't hover the title or the text on the top corner of this streaming service.
Solution 2: Exit Other Running Apps
Some applications even running at background like PokerStars client might also result in the error of "Popcorn Time info bar keeps popping up". Consequently, try shutting down those running apps and re-start Popcorn Time to try again.
Solution 3: Check the Console Log
Press shortcut "F12" on your keyboard to activate console log of Popcorn Time, which points out the errors if there are, includes and makes a bug report with screenshots on their GitHub page as a new issue. This will help you get your problem solved as quickly as possible.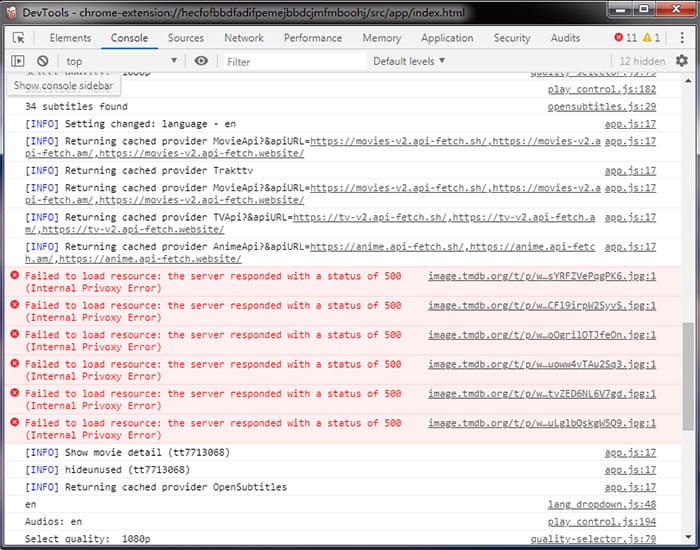 Solution 4: Use Popcorn Time on the 2nd Screen
A reddit user called airmcnair06 shared his solution - run and watch Popcorn Time content on the 2nd screen (TV connected via HDMI). In this way did fix his Popcorn Time full screen issue.
Solution 5: Downgrade Windows 10 to Windows 8
This is not the best option to fix Popcorn Time progress bar and mouse pointer constantly appearing issue on Windows 10, for it costs you a couple of minutes to wait for operating system degradation, let alone times for apps re-installation on new Windows 8 OS. Certainly, you can still take this method into consideration if you don't concern yourself with time and energy.
Warm prompt: please abide by your local area or country's law about copyright protection. Do NOT download movies for any unfair use or illegal purpose.