Download Popcorn Time App for Android/Windows/Mac/Linux
Download Popcorn Time App for Android Running 7.0 N, 6.0 Marshmallow etc., and also for Windows/Mac/Linux
I would not exclude the possibility that someone had never heard of Popcorn Time, which though seems to have caught everyone's attention lately, especially with its release of a new Popcorn Time for Android. So what we do here is just try to collect valuable news, filter out unwanted information, show you user feedback, and make sure you know what Popcorn Time is and where to download Popcorn Time for Android or to get an alternative Popcorn Time app for Android/Windows/Mac/Linux.
About Popcorn Time
Popcorn Time is a free open-source media player, providing video streaming service, created by a programmer and designer in Buenos Aires, Argentina but abruptly shut down by its original developer on March 14, 2014 for issues of legality. Subsequently, Popcorn Time was taken over by others and now it is being co-developed by 20 collaborators and rose to fame again for its new Popcorn Time for Android.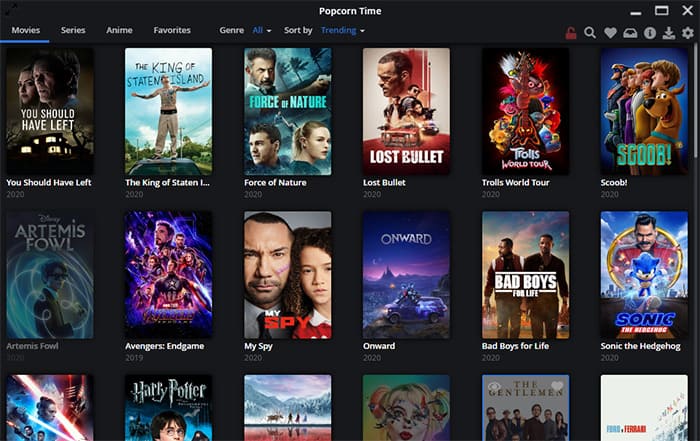 Attention: forget about Popcorn Time and ditch it away right now! Cuz Popcorn Time has been shut down due to copyright infringement issue once again. Popcorntime.app or popcorn time sh is no longer available on Google. Resort to other legal apps on Android for movie watching.
Best Free Popcorn Time Alternative
Free download YouTube movies for playing on iPhone, iPad, Android, etc with the help of the best free Popcorn Time alternative - WinX YouTube Downloader

Free download the Popcorn Time alternative on Windows to watch movies and TV shows
Several Facts You Need to Know about Popcorn Time
1. Popcorn Time for Android was made available on May 13, 2014 and TechCrunch said, "Hollywood's worst nightmare just went mobile."
2. There is still no Popcorn Time iPhone or iPad app, which means that iPhone/iPad users might need to find a Popcorn Time alternative app.
3. Popcorn Time was removed by Google from Google Play store for intellectual property violation, whereas "This Popcorn Time service will never be taken down" announcement appeared on their website.
Feedback from Users about Popcorn Time for Android
A: Shit app, takes years to watch one movie and constantly bugs out and stops working.
B: Popcorn Time for Android is a great app, the layout is far better than anything Netflix has ever dreamed up and easier to navigate. Movies can sometimes be hit or miss, but are still worth it. The only complaint I have is hard subs, but that's not Popcorn's fault (nor is it something Popcorn can currently control).
Hot Searches: Popcorn Time for Windows 10, Popcorn Time for iOS, Popcorn Time for Mac
What Can Popcorn Time Do for You?
What does Popcorn Time or Popcorn Time for Android really do? I guess this is what you guys really care about.
1. Popcorn Time taps into torrents for movies and let you stream films to computers, giving you free access to copyrighted content, just like watching movies or TV shows via Netflix or iTunes.
2. Compatible with Windows, Mac and Linux computers. And now Popcorn Time is available for Android, and Android users are thrilled about "Popcorn Time and Android Together at Last".
3. Popcorn Time (Android) app exceeds Netflix in ease of use and users comments proved that.
4. Popcorn Time for Android is working based on torrent, so if nobody is seeding the movie, there might be no new movie resources for a long time.
Why Popcorn Time is so HOT?
1. People, who do illegally download of pirated content from the internet, are blocked by technical skills requirements. And websites trading in illegal downloads is often laced with malware.
2. There is and will be more of a desire to watch or stream movies TV show for free, and Popcorn Time (Android) can make it, which turns out to be good timing for Popcorn Time and Popcorn Time for Android to come out.
Actually, to free enjoy movies or TV shows on Android mobiles, especially with no legality issues, which brought Popcorn Time to a media storm, there are some other Popcorn Time alternatives, like WinX YouTube Downloader. It is absolutely free and contains no malware, adware or virus at all. Better of all, it is a professional on online movies and music videos download. YouTube full movie download help files are provided as well.
Popcorn Time for Android, iPhone, iPad
It is true that there is no Popcorn Time for iPhone or iPad. But you still can watch HD online movies on both Android and iPhone iPad. The Popcorn Time for Android alternative we mentioned above works well on Windows. But for Mac users, WinX HD Video Converter for Mac would be better. And for streaming movies videos to iPhone iPad Android anywhere, what I know is Air Playit.
Hope you have a comprehensive understanding of Popcorn Time now. To get Popcorn Time for Android, you can go to their website and download it. For free alternative of Popcorn Time for Android iPhone iPad, download here to have a try.
If you need to convert video to the best video size for uploading or set audio/video parameters, please turn to WinX HD Video Converter Deluxe.
Still have trouble about Popcorn Time for Android? Please feel free to Email Us >>