[2022] Free Live Captioning Software for Live/Closed/Open Captions
Free live captioning software is really great invention and so considerate to video content creators who want to reach a broader audience and remove the language barriers. So, if you want to embed text in your video files to translate the speech to text for the deaf or who are hard of hearing, to show subtitles to native residents who are unfamiliar with the language, or to get free captioning happening on your live streams, you should add captions to your videos.
Learn Different Captions
Open Captioning: The captions cannot be turned off since the captions are burned into the video.
Closed Captioning: The subtitles can be turned on or off depending on the viewers' needs.
Live Captioning: The captions are in real-time and typed automatically when someone is live broadcasting gameplays, meetings, or social media streams.
Which type of caption is the best based on the content and audience. Whichever you choose, you will need a captioning tool to help you add the subtitles to the video. Here we select the best free captioning software for 2022 below.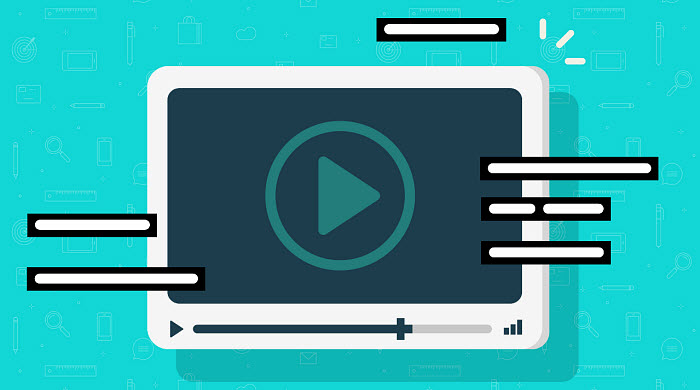 Table of Contents:
Part 1. Best Free Open Captioning Software Download
Open captions or hard subtitles are burned to the video or stream and in view automatically along with the spoken audio. Open captions cannot be turned off. This is the biggest drawback of open captions compared to closed captions, but they do have their value:
Easy to use. Open captions will display automatically and don't require any technical ability to display the captions.
Fit any display and players. Open captions are playable on the largest range of computers, and operating systems without requiring special functionality.
Suitable for web uploading. Open captions are a good option any time you don't have control of a closed caption feature. For example, when uploading to a platform that won't provide a closed caption option, it makes sense to hard-code captions to the video file.
Free captioning software HD Video Converter Deluxe makes it easy to add captions to videos. It lets you add subtitles (.srt, .ssa, .ass) to video in MKV, MP4, AVI, MOV, any formats. and also convert the videos to the acceptable formats for any devices and web services. You can add the captions to the video without hassle and export it without watermarks. It also supports cropping, trimming, merging video clips, parameters adjusting, compressing, etc.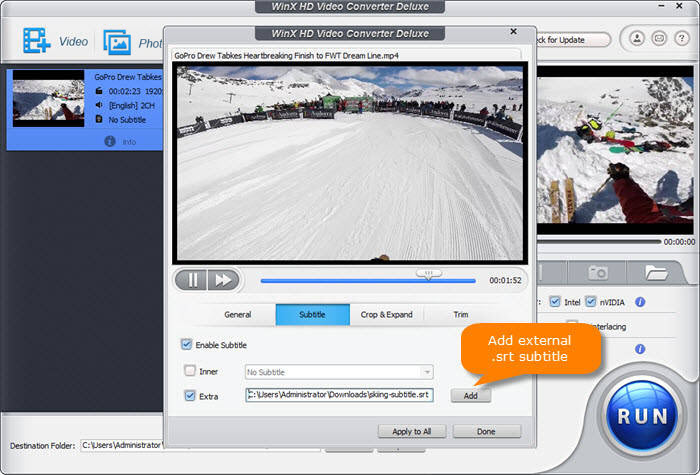 How to add open captions to videos in clicks?
Step 1. Free download the captioning software on your computer. Run it and click on the "+ Video" button on the top left corner and select the video from your local hard drive.
Step 2. Once the video is loaded, the "Output Profile" window will pop up. Simply choose an output file format and click "OK".
Step 3. To add subtitles to video, click "Edit" > choose "Subtitle" > check the box of "Enable Subtitle" > check "Extra" and hit the "Add" button to load your subtitle file > hit "Done" to go on.
Step 4. Hit "RUN" to start adding subtitles to your video. Then, you will get a video with open captions.
Part 2. Free Live Captioning Software Download for Closed Captions
AHD Subtitles Maker
Aegisub
Subtitle Edit
Divxland
VisualSubSync
5KPlayer
Subtitle Edit
Pros:
Supports up to 280+ subtitle formats.
A wide range of features.
Synchronization function available.
Provide short but clear explanations for the beginners to learn and add captions to videos.
Cons:
No macOS version is provided.
Export: .srt, .csv, .txt, .ass, .ssa, .stl, .sub, .xml, .dfxp…and more
Subtitle Edit, also known as SE, is a very popular free captioning software for Windows and Linux. It's free, easy to use, with many advanced features. It allows users can create, adjust, edit, and translate closed captions quickly and effortlessly. SE supports over 280 subtitle and caption formats, including SubRip, Timed Text, DFXP, ITT, SubStation Alpha, and more. You can easily play the video along with the captions, check if the subtitles are out of sync, and fix it by adjusting all times fractionally with just a couple of clicks. That will save you a lot of time.
On the long feature list, there are options to open embedded captions, add open captions, adjust the position, configure waveform, merge/split subtitles, check spell, etc., some of which are usually only available in the premium subtitle editing software. However, Mac users are out of luck.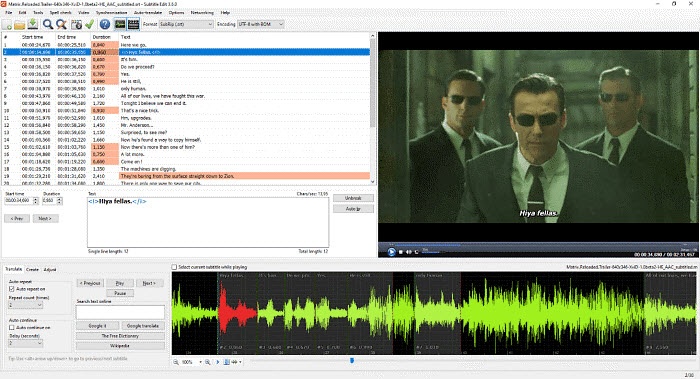 AHD Subtitles Maker
Pros:
Completely free
Flexibility to set up font family, size, color, and outline.
Move/trim/adjust your captions visually with timestamp bars on the video timeline.
Cons:
Not compatible with other systems.
Users need to enter captions manually.
Export: .srt, .csv, .txt, .ass, .ssa, .stl, .sub, .xml, .dfxp…and more
AHD Subtitles Maker is a free captioning software for Windows 11, 10, 8, and earlier. It makes it easy to create new closed captions for different languages, translate existing subtitles, change, or copy the text of a selected subtitle, etc. It works with most subtitle file formats including Adobe Encore, DVD subtitles, Final Cut Pro, Quicktime, Subrip, YouTube subtitles, and more. Its time format feature is able to ensure the most accuracy of the captions. It offers great flexibility to add a variety of colors, sizes, fonts, and outlines to the text in the editor.
This free captioning software may be the best choice when time is not an issue as you need to enter the captions manually, which is quite time-consuming. Also, it is not compatible with every operating system especially the Mac system and it's hard to synchronize with other software or devices.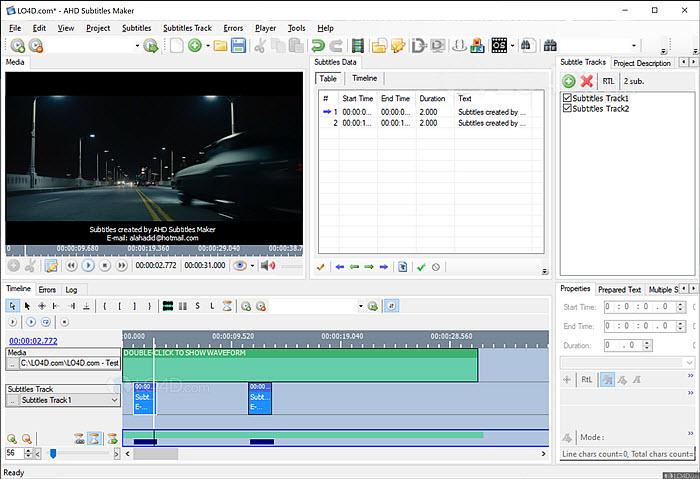 AegiSub
Pros:
Free and open-source.
Lots of flexibility to set and adjust the captions on a video.
Special visual audio waveforms help target specific parts of the audio while captioning.
Cons:
You cannot edit captions on a playing video.
No built-in speech recognition.
Export: .ass, .stl, .encore, .sub, .srt, .ssa, .ttxt, .txt
AegiSub is a free captioning software for Windows, macOS, and other UNIX-like systems. It supports all common caption formats including ssa, srt, sub, txt, ass, mkv, mks and mka. There is an "audio wave" feature to let users visualize, zoom in and zoom out the audio wave for a certain part of captions. You can also transcribe the captions in a different language with the translation assistant. Many other flexible options are available to time, typeset, edit, rotate, set the fonts, size, outline, etc.
It would be better if Aegisub offers a built-in speech recognition so that users don't have to transcribe the text of the video in advance. It's also not very convenient to check the closed caption synchronization as editing is not allowed while the video is playing.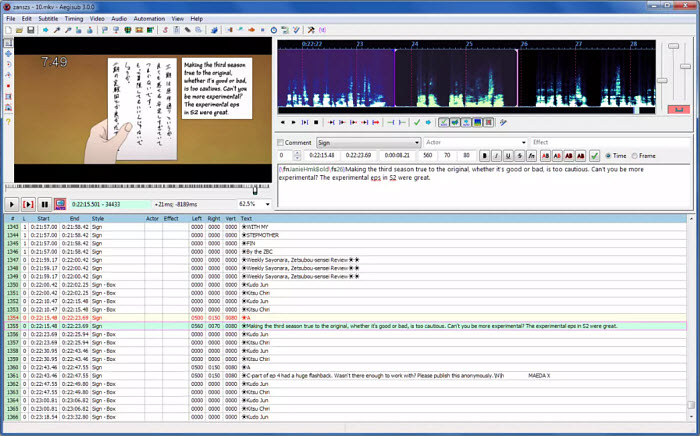 Divxland
Pros:
Free and easy to use.
Support for importing/exporting more than 30 subtitle formats.
Cons:
For Windows only.
Requires Window Media Player.
Spellcheck needs Word to be installed.
Export: .srt, .csv, .txt, .ass, .ssa, .stl, .sub, .xml, .dfxp…and more
DivXLand Media Subtitler is among the best free captioning software to create and edit external subtitle files for AVI, MPG, WMV and all types of videos fast and easily. Users can easily add captions to a video with a plain text file that contains the subtitles in sequential order and insert it to the timeline while the video is playing. Its automatic caption time setting and correction feature makes it simpler to make sure the captions are synced to the time code.
The free subtitle software is quite simple and straightforward to use - even for beginners who are just starting to play around with subtitles. It also doesn't require too much CPU resources so the preview didn't lag even though your PC is under a very heavy load by another program. But the program contains bugs which may cause drastic loss of data.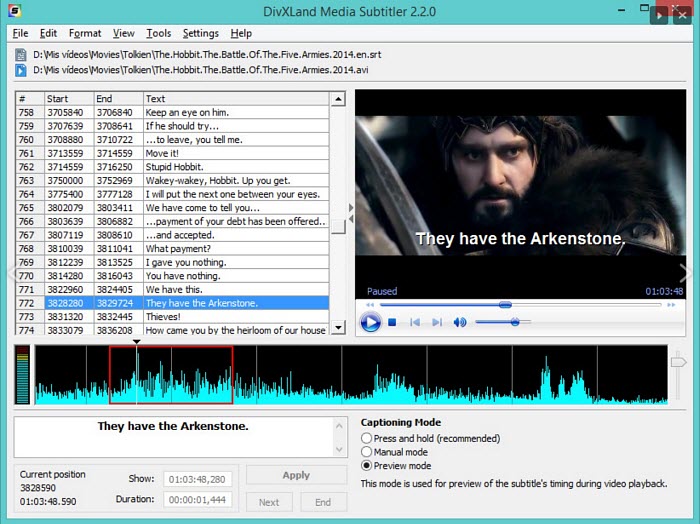 VisualSubSync
Pros:
Completely free.
Visual audio waveforms to help select the target part of the audio.
Cons:
For Windows only.
The development and support have ended.
Export: .srt, .cue, .csv, .txt, .ass, .ssa
VisualSubSync is a free captioning software that is designed to create subtitles for a video, and sync the subtitles for a video. It's based on audio waveform representation with real-time visual playback to help users perform accurate video caption editing. Users can zoom in and zoom out a particular part of the waveform to create real-time transcriptions. Like other captioning programs, you will find tools like error checking, speed indicators, network suggestions, preview of real-time changes, etc. to improve the subtitles.
However, the software is no longer developed or maintained. Therefore, there may be compatibility issues with other software and device. Also, it is not compatible with systems other than Windows.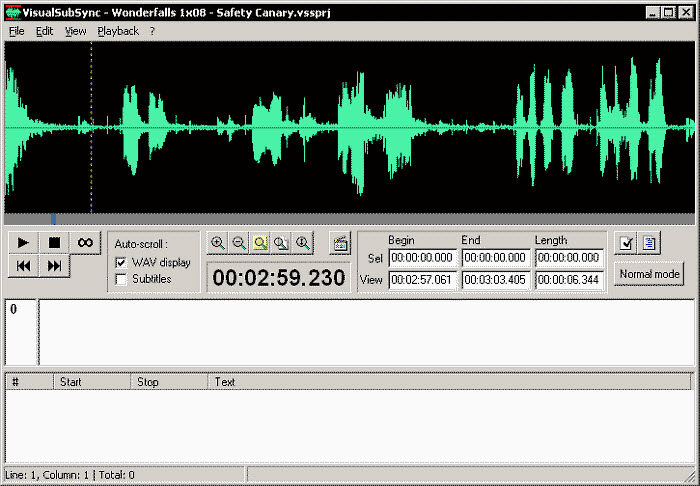 5KPlayer
When you see YouTube videos online, you are able to turn on or off the captions freely based on your needs. How about watching movies offline with timed live captioning? Of course, you can have the same experience on a Windows or Mac computer with the aid of closed captioning software 5KPlayer. 5KPlayer is a multimedia player which helps you enjoy high-quality 4K, HD, and DVD videos with great freedom to choose subtitles or not. You can play movies with hard subtitles, as well as activate or disable the captions whenever you want to.
To freely turn on or off the captions while playing a movie with this free live captioning software, you are highly suggested to prepare your own subtitle files in SRT, ASS, SSA or SUB. You can simply download the subtitles corresponding to your movie from subtitle sites, create your own subtitles with some tools or simply extract subtitles from a DVD disc. Then, you can choose to watch movies or videos with/without subtitles.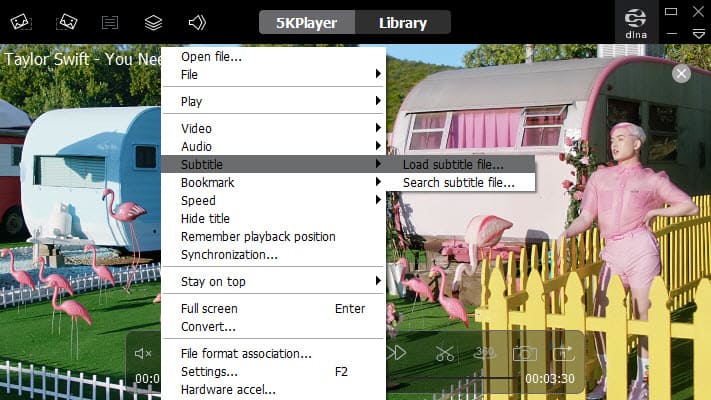 Part 3. Free Live Captioning Software Online
Rev. (starts from $1.25)
Amara (free version available)
3Play Media (starts from $2.95)
YouTube Captions (free)
CaptioningStar (starts from $2.75)
Subtitle Horse (free version available)
Subly (7-day free trial available)
Web Captioner (free)
As a matter of fact, desktop free live captioning software is rare and most of them are hard to use. So, here come online tools to caption videos. The auto caption software streams real-time captions when the speaker is speaking. This live speech-to-text tool is especially great for dubbing artists and those who just want to save time to type when living streaming gameplay to Twitch or broadcasting a Zoom meeting. No installation is required, such kinds of software works in your browser.
Web Captioner is a free web-based speech recognition tool that can accurately translate your speeches into texts in a real-time manner so as to save time. When you speak with your microphone, Web Captioner will exactly catch every word you are saying and automatically generate the corresponding texts on screen. There are many settings for you to choose from, like the appearance of the text, text size, background color, etc., and save the captions forever so as to edit it further. As of now, you can use it on your Macs PCs, and Chromebooks.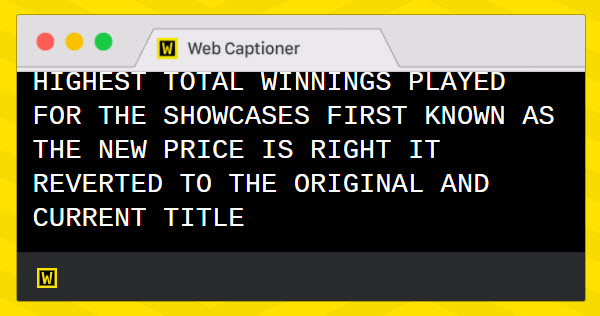 How to use free live captioning software Web Captioner?
Step 1. Search for Web Captioner with Google, and visit its websites.
Step 2. Click on the "START CAPTIONING" button.
Step 3. Allow it to access your microphone and then click on the "Start Captioning" button at the bottom right corner of the window.
Step 4. Now, start your speech and it will automatically add captions to your words.
FAQ
1. What is Captioning?
Captions or subtitles are the texts displayed on a screen to reflect what the people on-screen are saying. There are mainly two types of captions, including Hardsubs or Open Subtitles, and Closed Captions among which Hardsubs means captions that are burned into the video, while Closed Captions can be turned on/off freely.
Captioning is adding captions to a video with captioning software so as to help people better learn the meaning of words on the screen when watching a movie or video.
2. Closed Captions vs Subtitles: What's the Difference?
Captions and subtitles are distinct but overlap in many ways. Captions are a text version of the spoken part of a video, mainly used for viewers who cannot hear the audio in the video. Subtitles are translations of the spoken part of a video, mainly used for viewers who can hear the audio but don't understand the language being spoken in the video, for example, an English movie with French subtitles.