3 Free Live Captioning Software for Live/Closed/Open Captions
Free live captioning software is really great invention and so considerate to video content creators who want to reach a broader audience and remove the language barriers. So, if you want to embed text in your video files to translate the speech to text for the deaf or who is hard of hearing, to show subtitles to native residents who are unfamiliar to the language, or to get free captioning happening on your live streams, you should add captions to your videos.
Before getting one, you should make clear what kind of captions or subtitles you want to add to your videos.
Open Captioning: The captions cannot be turned off since the captions are burned into the video.
Closed Captioning: The subtitles can be turned on or off depending on the viewers' needs.
Live Captioning: The captions are in real-time and typed automatically when someone is live broadcasting gameplays, meetings or social media streams.
Now that you have made your decision, which one is the best of the best you should choose among various captioning software? After ransacking the internet, we have selected 3 best representatives for you.
Table of Contents:
Part 1. Best Free Open Captioning Software Download
Open captions or hard subtitles always are in view automatically along with the spoken audio and cannot be turned off. So, it is quite a good choice for content creators to add open subtitles to their videos for hearing-impaired people, for those who need native subtitles to understand, for those want to know the alien languages in some Sci-fi movies, etc.
Free captioning software WinX HD Video Converter Deluxe is what you are looking for to add captions to videos so the subtitles show in a live way when a video is played. It lets you add subtitles (.srt, .ssa, .ass) to video in MKV, MP4, AVI, MOV, etc. and also convert the videos to other formats for any devices and uploading to different platforms. With the help of it, you are allowed to enable, disable and choose subtitle tracks at disposal.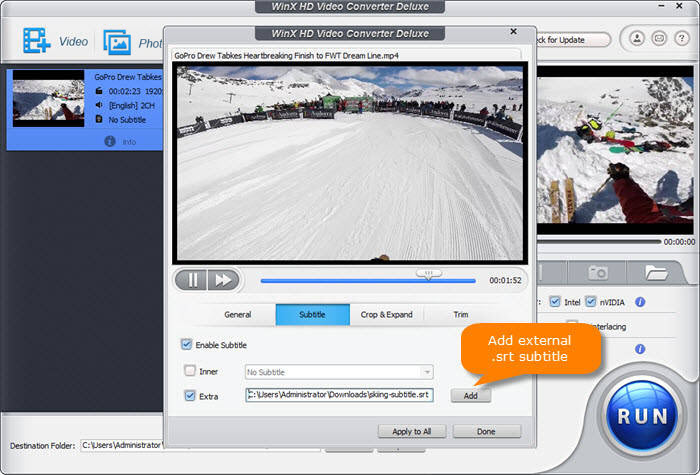 How to add subtitles to video with WinX HD Video Converter Deluxe?
Step 1. Download, install and launch WinX HD Video Converter Deluxe on your computer.
Step 2. Click on "+ Video" button on the top left corner to load your video or movie.
Step 3. When the "Output Profile" window pops up, simply choose an output file format and click "OK". You can keep the original format or just specify a different one.
Step 4. Click "Edit" > choose "Subtitle" > check the box of "Enable Subtitle" > check "Extra" and hit "Add" button to load your subtitle file > hit "Done" to go on.
Step 5. Hit "RUN" to start adding subtitles to your video. Then, you will get a video with DIY captions.
Part 2. Free Live Captioning Software Download for Closed Captions
When you see YouTube videos online, you are able to turn on or off the captions freely based on your needs. How about watching movies offline with timed live captioning? Of course, you can have the same experience on Windows or Mac computer with the aid of closed captioning software 5KPlayer. 5KPlayer is a multimedia player which helps you enjoy high quality 4K, HD and DVD videos with great freedom to choose subtitles or not. You can play movies with hard subtitles, as well as activate or disable the captions whenever you want to.
To freely turn on or off the captions while playing a movie with this free live captioning software, you are highly suggested to prepare your own subtitle files in SRT, ASS, SSA or SUB. You can simply download the subtitles corresponding to your movie from subtitle sites, create your own subtitles with some tools or simply extract subtitles from DVD disc. Then, you can choose to watch movies or videos with/without subtitles.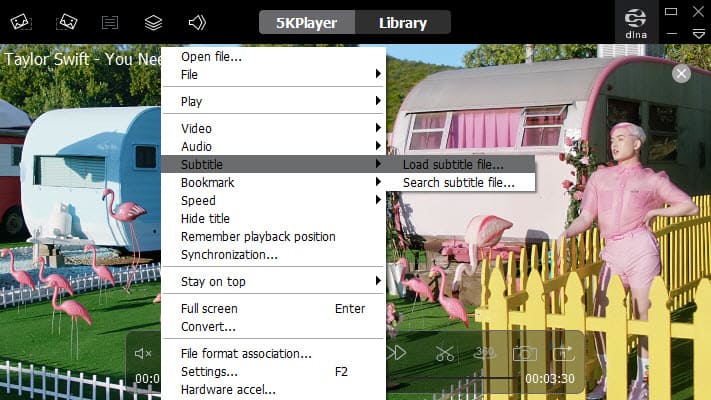 How to turn on/off captions with 5KPlayer?
Step 1. Free download 5KPlayer from its official site, install and launch on your Mac or PC.
Step 2. Drag and drop your video or movie to 5KPlayer to play.
Step 3. Right-click on the playing window, choose "Subtitle" and then click on "Load subtitle file" to choose your own subtitle file.
Step 4. Now, your media file should be played with subtitles. To turn off the captions, simply right-click on the playing video and uncheck the subtitle file you chose before.
Part 3. Free Live Captioning Software Download
As a matter of fact, desktop free live captioning software is rare and most of them are hard to use. So, here come online tools to caption videos. The auto caption software streams real-time captions when the speaker is speaking. This live speech-to-text tool is especially great for dubbing artists and who just want to save time to type when living streaming gameplays to Twitch or broadcasting a Zoom meeting. No installation required, such kinds of software works in your browser.
Web Captioner is a free web-based speech recognition tool that can accurately translate your speeches into texts in a real-time manner so as to save time. When you speak with your microphone, Web Captioner will exactly catch every word you are saying and automatically generate the corresponding texts on screen. There are many settings for you to choose from, like the appearance of the text, text size, background color, etc. and save the captions forever so as to edit it further. As of now, you can use it on your Macs PCs and Chromebooks.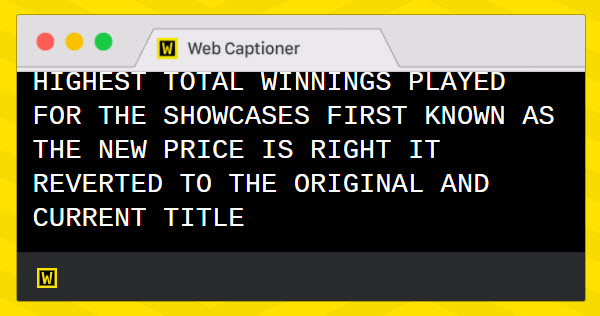 How to use free live captioning software Web Captioner?
Step 1. Search for Web Captioner with Google, and visit its websites.
Step 2. Click on the "START CAPTIONING" button.
Step 3. Allow it to access to your microphone and then click on "Start Captioning" button at the bottom right corner of the window.
Step 4. Now, start your speech and it will automatically add captions to your words.
Futher Reading: What is Captioning?
Captions or subtitles are the texts displayed on a screen to reflect what the people on-screen are saying. There are mainly two types of captions, including Hardsubs or Open Subtitles, and Closed Captions of which Hardsubs means captions that burned into the video, while Closed Captions can be turned on/off freely.
Captioning is to add captions to video with captioning software so as to help people better learn the meaning of words on the screen when watching a movie or video.