Troubleshoot Netflix Subtitles Not Working/Missing Issue
Netflix subtitles not working issue can appear on Apple TV, smart TV, Xbox One, Firestick, Roku, PS4, and all other devices capable of streaming Netflix. The issue is commonly like this:
Netflix subtitles or closed captions disappear/won't show up, or missing.
Subtitles won't turn on when streaming Netflix TV shows or movies.
Subtitles won't turn off when watching Netflix titles on users' devices.
Netflix subtitles delay. There's a lip-sync issue during streaming.
Selected subtitles only display intermittently.
Netflix's subtitles sometimes hang in full screen mode.
If you are experiencing one of the above Netflix subtitles not working issues, use the troubleshooting steps below to get rid of the error.
You May Want to Add Subtitles to Your Movie
To do this, you can use HD Video Converter Deluxe which can help you add subtitles to any video such as MP4, MKV, and MOV. Besides, it can convert video, reduce video file size, extract audio, trim, crop, and merge video. Give it a try! It is a lightweight and clean tool.
How to Fix Netflix Subtitle Not Working Issue
Solution 1. Check It's the Streaming Service Issue or Device Problem
1. Try to play another Netflix title on your device. If another title plays without subtitle missing/not working properly issue, go to the Viewing Activity page and select the Report a Problem link to report the Netflix title subtitle issue to Netflix. You won't see such a link if the problem has been reported.
2. Try to play the Netflix TV show or movie on another device to see if there's a subtitle showing correctly on the device.
Solution 2. Troubleshoot Your Network Connection
Check if your Netflix allows streaming. Make sure Netflix is not blocked from streaming on your device. If you're using a public Wi-Fi network, check with the network admin to make sure Netflix isn't blocked. If possible, connect your device to different internet access, for example, try using a cellular data network to stream Netflix. If you use a cellular network, mobile hotspot, or satellite network, make sure your network meets Netflix's recommended internet connection speed.
Change your default connection settings. If you use custom settings on your device, restore your internet provider's default settings and see if your Netflix subtitle issue disappear or not. And, we suggest you to disable VPN or other proxy service and connect your device with your home internet. You also need to check your DNS. If you use a custom DNS setting on your device, reset it to acquire DNS automatically. If you don't know how to change connection settings on your device, contact the device manufacturer.
If above measures don't work, try improving your network strength. Move your router to a new place, shut down other programs using the same network. Elevate your router off the floor. And do other things you can to improve your Wi-Fi signal to ensure Netflix subtitle to work properly.
To restart your smart TV's home network, you should do as the following steps:
Turn off your TV.
Unplug your modem (and your wireless router, if it's a separate device) from power for 30 seconds.
Plug in your modem (and router) and wait until no new indicator lights are blinking on.
Turn on your TV and try watching Netflix again.
Solution 3. Change Netflix Subtitles Appearance
Sometimes Netflix subtitles not showing or a part of the subtitles missing from our screen is because improper subtitle settings. In this case, we can go to "Subtitle appearance", and change the fonts and size of our subtitles to make subtitles better suit our screen size and aspect ratio.
To do this, go to Accounts, select Subtitle Appearance, change the fonts and size of your subtitles as you prefer to better match your device's screen size and aspect ratio. This way may work for Netflix subtitle missing issue.
FYI: How to change the language on Netflix >> Solution 4. Toggle the Subtitles Off and then On
Turning off the subtitles and then turn them back on may fix Netflix subtitles not in sync issue. this is because it can recalibrate the subtitles stream. So if Netflix subtitles don't match the dub, try the following steps.
For mobile device, tablet, and PC users, click the dialog or subtitle icon at the Netflix video player. Xbox users can click B. Roku TV users can click the backspace button to access to the information page. Then select Audio & Subtitles. Then, under subtitles, select Off, and then select back your desired language.
In addition, switching between different subtitle languages may also work when Netflix subtitles don't match the audio. It is also a way to calibrate the subtitle stream.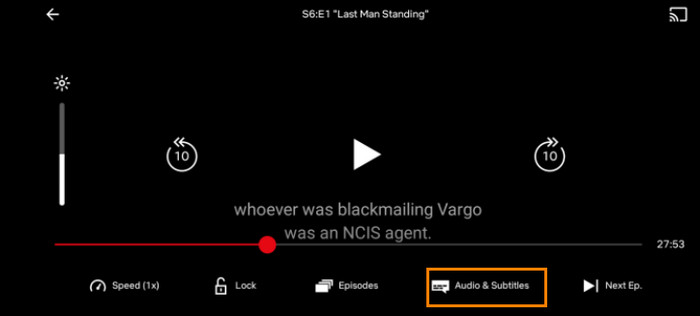 Solution 5. Troubleshoot Your Web Browser
If you stream a Netflix title via a web browser and Netflix subtitle is not showing up:
Try using another browser on your device to play Netflix.
Shut down other browser extensions that you are not using currently.
Clear web browser caches and data.
Try disabling hardware acceleration in your browser. This may help Netflix subtitles staying on screen for too long.
Change Netflix subtitle appearance on your browser. To do so, go to Netflix account > Profile & Parents Controls > Change for Subtitle appearance, and set your subtitle appearance settings to make it suit your device's screen size. Try Netflix again to see if the subtitle not working issue is resolved.
Solution 6. Do A Simple Restart - Restart Everything
Sometimes, the Netflix subtitle not working properly issue is caused by a bug. A simple restart just fixes the bug and make all things go right.
Restart your Netflix streaming device that has the subtitle not working problem.
Restart your router and try streaming Netflix again on your device.
Restart your the device you use to watch Netflix.
Sign out of your Netflix account and log in again to fix the Netflix title missing/not turning on/off the problem.
Other sources:
What to Do When Netflix Subtitles Won't Turn Off. The official support guide works for Netflix subtitles not working issue on Apple TV, Nintendo 3DS, Xbox 360, Xbox One, and all other devices.
Netflix Subtitles Won't Turn On. Try these solutions when Netflix subtitles won't turn on/ show up on Android phone or tablet, Nintendo 3DS, Smart TV, and all other devices.