[Tutorial] Plex Subtitles Download & Add Subtitles to Plex
Plex has a highly concentrated powerhouse - support.plex.tv for you to dig out the help documents for troubleshooting. Roughly any help article concerning Plex can be found on this support site, subtitle covered, of course.
Although Plex supports several subtitle options, Plex subtitles guides are shown in the sketchy style, no details and cautions. Some are even disabled out of the box, let alone troubleshooting steps to subtitles errors in Plex. This makes some users (esp. newbies) suffer a lot when they try to download subtitles within Plex, add subtitles to Plex, turn on/off subs, to name a few.
If you are one of them, calm down. This post is a different story, which illustrates the whole process of Plex subtitles automatic downloads and adding external subtitles to Plex app with open-and-shut pictures. And more importantly, it declares the potential traps during the process to protect you from being cheated.
Part 1. How to Automatically Download and Get Subtitles on Plex Media Server
Couple of years ago, Plex development team announced that they enhanced Plex with all varies of smarts to help users sort out the most matchable subtitles in all sorts of languages. That means Plex supports automatic subtitle downloads for your movie and TV show. If the movies or TV shows are not in your native tongue, have hard-to-understand accents, or if you want to learn a foreign language, and unfortunately they are not accompanied with subtitles, now you can follow the steps below to automatically download subtitles to Plex so that you can play them with languages.
Step 1: Launch Plex web app > tap Settings from the upper right corner of the main interface.
Step 2: Opt for your Plex media server and choose "Agents".
Step 3: Click "Movies" > Plex Movie > check "OpenSubtitles.org" and drag it to the topmost in the list.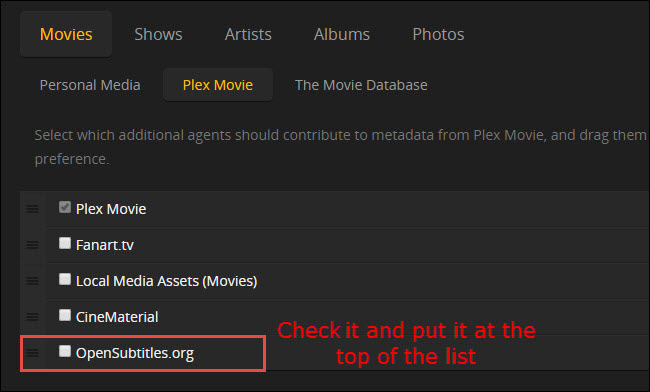 Step 4: Click the gear icon on the right of the opensubtitles.org entry. Then the settings dialog will open, where you can choose up to 2 languages if you like.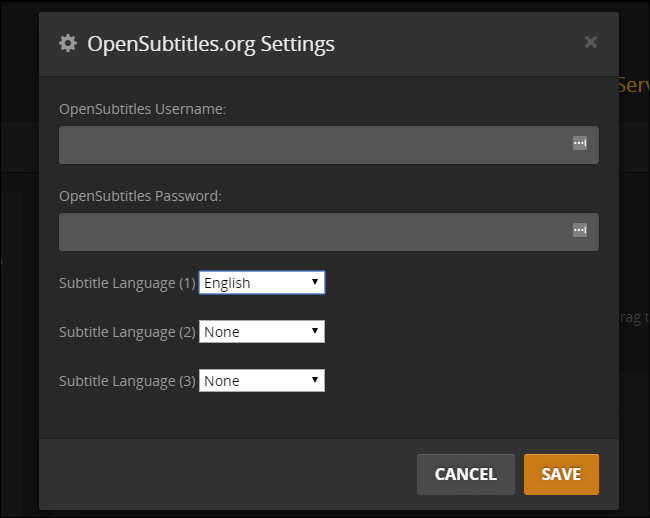 Step 5: As for TV shows under "Shows" category, repeat the above process again and choose "TheTVDB" entry. Tick OpenSubtitles entry again and put it at the top of the list, as well.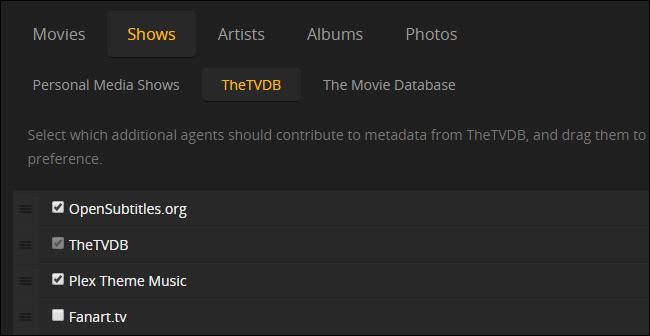 At this point, it enables automatic subtitle downloads for Plex movies and television shows through OpenSubtitles.org. Then, refresh your libraries. If subtitle search is not working or you wanna search hearing impaired subtitle or forced subtitles, check here to get detailed guide.
Note: Subtitle searches are not shared on different Plex client apps, they're saved for each user separately. Plus, the on-demand subtitle server is available on Plex Media Server version 1.13.8.5395 or newer.

Important:
The auto downloaded subtitles for Plex movies and TV shows originate from OpenSubtitles.org source only. But you can opt for third-party software Sub-Zero, a plex channel plugin for advanced subtitle management, to download subtitles automatically for Plex from more sites like Podnapisi.NET, Addic7ed, SubScene, TVsubtitles.net, etc.
Click to see more trustworthy subtitle download websites to download external .srt, .smi, .ssa, .ass or .vtt subtitle and then follow the below tutorial to add subtitles to Plex media server.
Part 2. How to Add Embedded and External Subtitles to Plex Media File
The whole process of adding subtitles to Plex is plain. Firstly of all, enable "Local Media Assets" and then refresh the entire library. Check the official guide if you need more details when it comes to add embedded subtitles and external subtitles to Plex.
1. For Embedded Subtitles
Media that have subtitle tracks stitched into the file are said to have embedded subtitle tracks. Embedded subtitles also refer to hardcoded subtitles, which are included within the movie or TV show so they are perfectly matched to the media file. However, it requires additional software like WinX HD Video Converter Deluxe before adding embedded subtitles to Plex. It lets you add external subtitles to movie and TV shows without transcoding at 1 simple click. Meanwhile, it can automatically sync your subtitles with video to fix subtitle out of sync issue. Here are the steps.
Free download the subtitle tools, install and launch it.
Add the media source by click +Video button. It accepts almost all video format, including 4K, MOV, MKV, WMV, MP4, HEVC, DivX, etc.
Select an output format as per your needs. You can also leave the format unchanged
Enable the Edit feature on the main interface, head to Subtitle section, enable subtitle, click add external subtitles.
Specify the destination folder and press RUN to begin hardcoding subtitles to the video. It will take a few minutes to finish embedding subtitles into the video.
Include the embedded subtitles to Plex. Here go and set your account, ensure the Local Media Assets source is configured, do a Refresh All Metadata for the library, if necessary to recognize the embedded subtitles.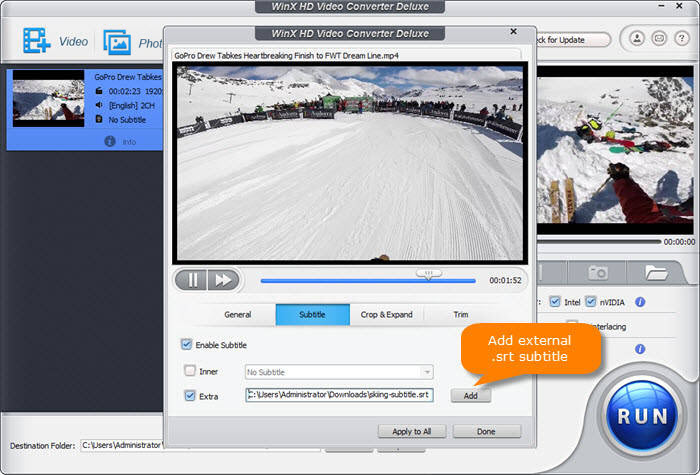 Note: If you have an extensive library, it will take a long time to refresh all metadata. You can navigate to the video, click the three horizontal dots in the bar at the top of the screen, and click Refresh Metadata, if you are in a hurry to get subtitles on one media file in Plex.
2. For External Subtitle Files
As is mentioned above, Plex enables automatic subtitles downloads from OpenSubtitles.org only. If you cannot find any subtitle files for your favorite movies or shows here, you might have downloaded some other SRT, SMI, SSA, ASS, VTT subtitle files and saved in your computer locally (see more free subtitles websites). Plex also offers the option to add external subtitle files, which is easy to do, but a small trick is to be noticed – the way to name your subtitle file.
To be exact, you need to name your subtitle files in a precise way. Here are the examples.
Movies:
• Movie_Name (Release Date).[Language_Code].ext (e.g. Avatar (2009).en.srt)
• Movie_Name (Release Date).[Language_Code].forced.ext (e.g. Avatar (2009).en.forced.srt)
TV Shows:
• TV Shows/Show_Name/Season XX/Show_Name SxxEyy.[Language_Code].ext
Note: The language code needs to follow the international standard ISO codes. If you've got some SDH/CC subtitles, please make sure to use the newer Plex Movie metadata agent and upgrade to plex v1.20.3.3401.
Feel confused about the above subtitle name method? Still encounter external subtitle not showing issue or subtitle out of sync error after trying several times? Then it's high time to consider another way to insert subtitles to Plex.
Part 3. How to Turn on Plex Subtitles?
Once you've got subtitles on Plex, you can check whether the subtitles work or not. Navigate to Plex page, check if all of the languages listed from the drop-down menu. Click on a language to override the system-wide settings and set the preferred language as the default for the video. Then how do you watch movie or tv shows on Plex with subtitles? Scroll down and learn how to turn on subtitles on Plex.
1. To Turn on Plex subtitles by default:
If you are planning to have subtitles on Plex by default all the time instead of toggling them on each time you watch a video, it's necessary to adjust Plex settings and use the subtitles by default. You can go to Settings > Languages > check the box next to Automatically select audio and subtitle tracks so as to edit the settings > confirm that the Prefer audio track in box > choose Always enabled under Subtitle mode > select your preferred subtitle language and then click Save Changes. In this way Plex will use subtitles automatically. 2. To turn on Plex subtitles during playback:
If you are unwilling to use subtitles on Plex permanently, you can toggle subtitles on and off using the on-screen manu while watching your Plex media. Click on Settings > check the list of all the subtitles files available for the video > click on a language to activate the file.
Related: If you find Plex subtitles not working, click here to fix the error >>
Part 4. FAQ about Plex Subtitles
1. Which Subtitle Formats Are Supported in Plex?
Plex supports 5 subtitle formats, including SRT, SMI, SSA, ASS, and VTT, either embedded tracks or external subtitle files, which are all compatible with Plex apps. Formats like VOBSUB and PGS will only work on some Plex players and should be avoided if possible. They require the video to be transcoded to burn in the subtitles for streaming.
2. How Do I Turn off the Subtitles on Plex?
The guide for turning off subtitles on Plex is almost identical to that of turning on subs. All you need to do is go to the Settings > click the three-dot icon > select Playback Settings > change the Subtitle language to none. Then your subtitles will not show or display on the screen any more.