[Tutorial] Plex Subtitles Download & Add Subtitles to Plex
Plex has a highly concentrated powerhouse - support.plex.tv for you to dig out the help documents for troubleshooting. Roughly any help article concerning Plex can be found on this support site, subtitle covered, of course. The only gripe is that those guides are shown in the sketchy style, no details and cautions. This makes some users (esp. newbies) suffer a lot when they try to download subtitles within Plex or add external .srt subtitle to Plex. Those articles didn't step by step guide them to the destination.
This post is a different story, which illustrates the whole process of Plex subtitles automatic downloads and adding external subtitles to Plex app with open-and-shut pictures. And more importantly, it declares the potential traps during the process to protect you from being cheated.
How to Automatically Download Movie/TV Show Subtitles with Plex Media Server
Couple of years ago, Plex development team announced that they enhanced Plex with all varies of smarts to help users sort out the most matchable subtitles in all sorts of languages. That means Plex supports automatic subtitle downloads for your movie and TV shows. What's noteworthy is that this feature is a subscription service, $5 per month, $40 per year, or $120 for a lifetime subscription.
If the price is acceptable to you and you pay for that service, you can now get your feet wet into the Plex subtitles auto downloads.
Note: currently, the auto downloaded subtitles for movie and TV shows originate from OpenSubtitles.org source only.
Step 1: Launch Plex web app > tap Settings from the upper right corner of the main interface.
Step 2: Opt for your Plex media server and choose "Agents".
Step 3: Click "Movies" > Plex Movie > check "OpenSubtitles.org" and drag it to the topmost in the list.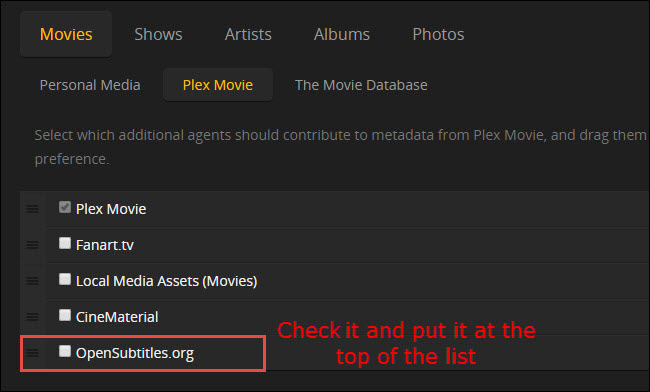 Step 4: Click the gear icon on the right of the opensubtitles.org entry. Then the settings dialog will open, where you can choose up to 2 languages if you like.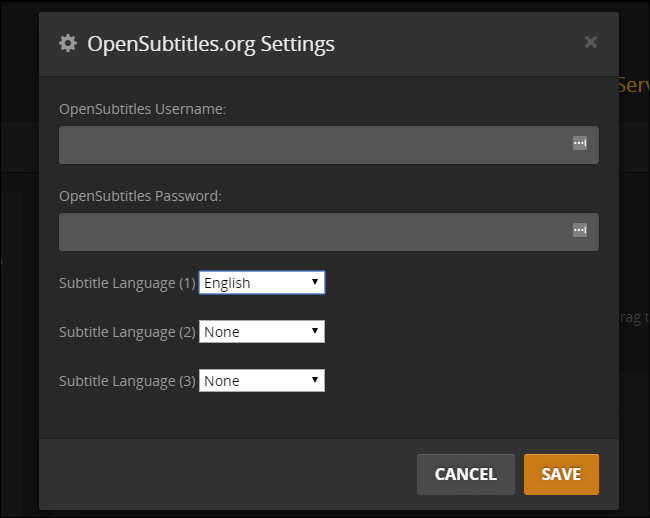 Step 5: As for TV shows under "Shows" category, repeat the above process again and choose "TheTVDB" entry. Tick OpenSubtitles entry again and put it at the top of the list, as well.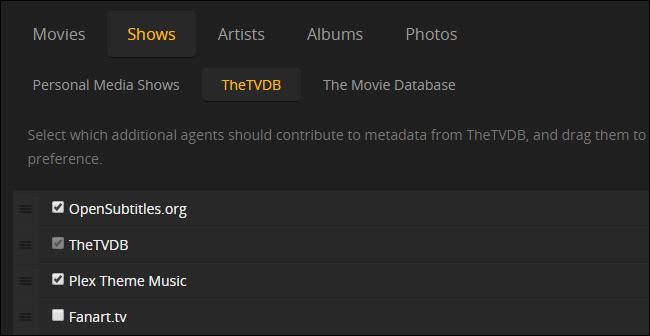 At this point, Plex app has been informed that you want it to automatically download subtitles for both movies and television shows through OpenSubtitles.org. Then, refresh your libraries. If subtitle search is not working or you wanna search hearing impaired subtitle or forced subtitles, check here to get detailed guide.
Note: subtitle searches are not shared on different Plex client apps. They're saved for each user separately.
If you're unwilling to spend $120 for subtitle auto search and downloads service, you can free download external .srt, .smi, .ssa, .ass or .vtt subtitles from free online subtitle sites and then follow the below tutorial to add subtitles to Plex media.
How to Add External Subtitles to Plex Media File
The whole process of adding external subtitles to Plex is plain. Firstly of all, enable "Local Media Assets" and then refresh the entire library. Check the official guide if you need more details. Though the process is a no-brainer, a small trick is to be noticed - the way to name your subtitle file:
Movies: Movie_Name (Release Date).[Language_Code].ext | Movie_Name (Release Date).[Language_Code].forced.ext
Movies/Movie_Name (Release Date).[Language_Code].ext | Movies/Movie_Name (Release Date).[Language_Code].forced.ext
TV Shows: TV Shows/Show_Name/Season XX/Show_Name SxxEyy.[Language_Code].ext
Feel confused about the above subtitle name method? Still encounter external subtitle not showing issue or subtitle out of sync error after trying several times? Then it's high time to consider another way to insert subtitles to Plex.
WinX HD Video Converter Deluxe can be your silver bullet, letting you add external subtitles to movie and TV shows without transcoding at 1 simple click. Meanwhile, it can automatically sync your subtitles with video to fix subtitle out of sync issue. More features like convert HEVC to H264, compress 4K to 1080p, decode MKV/Xvid/VOB/M2TS/MP4, download movie TV shows, etc. are free to use, as well, no subscription.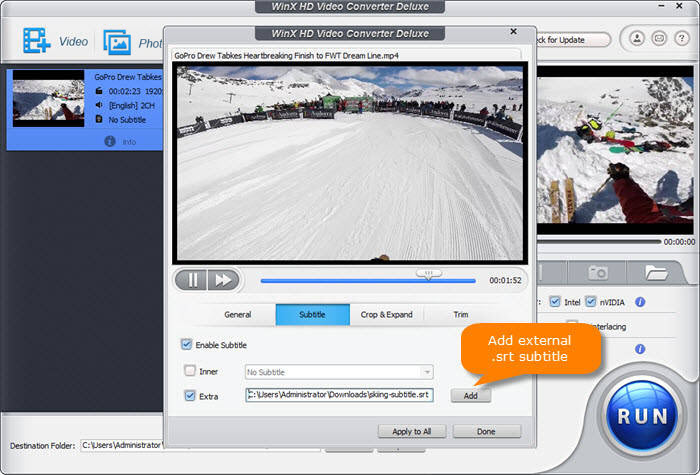 Warm prompt: with self-explanatory interface, anyone with whatever kind of skill level can figure out how to put external subtitles to Plex file without transcoding and adjust subtitles to be sync with video without consulting any tutorial. As for others who would like to get the hang of WinX converter, please check its complete help article.