Presentation Grapic Stream Subtitle Format
The Blu-ray MKV or m2ts format allows for two types of on-screen overlays that can be used for subtitles. One is based on text but as for now I've seen no Blu-ray using this one for subs. The other one is the PGS (Presentation Grapic Stream) and consists in bitmaps (and the timeframes on which they have to be displayed). That second stream is by far the most commonly used by Blu-ray discs. That's no surprising you see a lot of MakeMKV Blu-ray rips with PGS subtitles. As we'll see below, tools exist to extract that stream to .sup files. It's not the same format as .sup files that some tools extract from DVDs.
Note that HD DVD have also a .sup format which is slightly different from the Blu-ray one. As far as the PCH is not (yet) able to display PGS, the only way to get subs for MKV, ts or m2ts material is to use a side text file (.srt) containing the subs. In the following section, you will learn what is PGS subtitle, how it differs from SRT and what to do when PGS subtitles not showing.
Part 1. What Is PGS Subtitle? What's the Difference between SRT vs PGS?
From time to time, you may notice that most movies have the PGS. So what's the difference between PGS subtitles and SRT subtitles? Frankly, SRT is a text in .txt with timing and the lines of text inside, which you can modify even with WordPad. Compared with SRT, PGS usually have a lot of colors, styles, etc, especially for karaokes in Disney movies or so, which cannot be modified easily. And the size of PGS is therefore much bigger than that of SRT.
Part 2. Can I Extract PGS Subtitles from MKV for Editing?
Frankly, PGS subtitles are graphics-based, which are extremely difficult to remove or edit from the video stream once they are embedded in the video. Extracting or changing them requires OCR program.
Have you ever met with problems with Plex when you try to stream 4K MakeMKV rips with PGS subtitles. Typically, the original source video is transcoded down to 1080p instead of direct play. But if the PGS subtitles are turned off, it will revert back to original 4K quality.
This is because the plex transcoding issue happens whenever you are using an image based subtitle format like PGS. So if you want to play original 4k on Plex without resolution downscaled, you'd better to make sure the 4K HDR files have SRT subtitles rather than PSG subtitles which Plex cannot play them directly. To fix the error, you can use Subtitle Edit to convert .pgs to srt. It uses OCR to basically convert PGS subtitles to SRT, so Plex wont transcode. Actually, the PGS subtitles not showing error also occurs when you are playing the video on Samsung or other TVs. You need to convert PGS subtitles to SRT with tools like Subtitle Edit. You can follow the steps below:
Go to https://www.nikse.dk/subtitleedit and download the app, install and launch it.
Click File and import subtitle from MKV file. Or you can drag and drop the file into the program.
Select the video file with PGS subtitles and open it by tapping Open, after which the OCR window pops up.
Press Start OCR and let Subtitle Edit transcribe it. Modify the incorrect transcriptions if necessary, located at the left side of OCR button.
Click OK. Then click on Format, select SubRip (.srt), set Encoding as Unicode (UTF-8). Click File > Save as, customize the filename and click Save. It will begin converting PGS to SRT subtitles.
Note: OCR through SubtitleEdit is the diy method, which is time consuming and unreliable someway. Here is an alternative. You can download SRT subtitles from somewhere like subscrene.com. If you don't know where to go, here are some free sites to download subtitles for movies and TV shows. Then use MKVtoolNix to remove PGS subtitles, add SRT files to the MKV file. It will not re-encode the files and run fast.
Part 3. HDMV PGS subtitles Not Showing? Hardcode Subtitles to MKV, MP4 or Other Files
Mostly, subtitles won't show or appear when playing video with PGS subtitles on PC, TV, mobile, or media player. This is also true when the names of the video file and subtitles are not the same. The way to fix the problem is to hardcode subtitles to video. WinX HD Video Converter Deluxe is a free converter and editor that can help you hardcode subtitles to any video, be it 4K, MP4, or MKV, and therefore make it playable on your device.
How to Hardcode Subtitles to Video with WinX HD Video Converter Deluxe?
Load video into the program. Click +Video button to import the MKV rip with subtitles
Choose the video format if needed. For the best compatibility, you can choose MP4 H.264 as per your needs.
. Hardcode subtitles to the video. Click the Edit button on the main interface to activate the basic editing feature. Go to Subtitles > Enable Subtitles > add external subtitles to video. If you haven't any subtitle file, you can check the free subtitle websites to download your preferred subtitles beforehand.
Click Browse button to save the subtitled video, and press RUN button to beging hardcoding subtitles to MKV or MP4.
Related: learn how to add subtitles to video in detail >>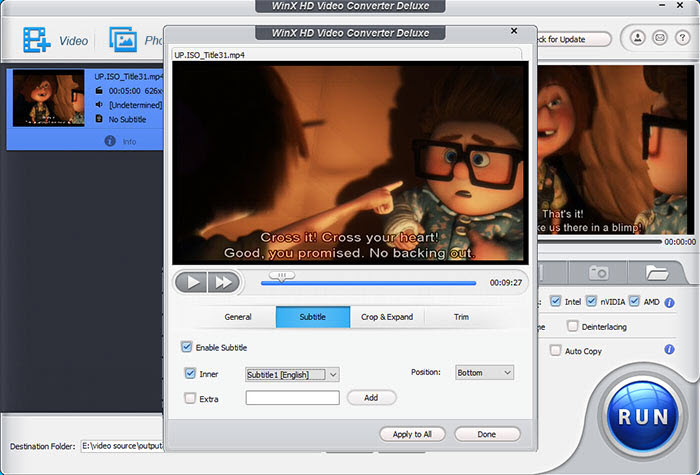 Part 4. FAQ about PGS Subtitles
1. How to Display PGS Subtitles in Plex?
If your media contains embedded PGS subtitles, you have local subtitles. You can configure the Local Media Assets by following the steps below: Launch the Plex Web App, choose Settings from the top right of the home screen, select Plex Media Server from the horizontal list, choose Agents, select the library type and agent to change, check Local Media Assents and make it topmost in the list. Plex supports some PGS subtitles, but it will transcode the video into burned-in subtitles for streaming.
2. Why does Handbrake Burn in Subtitles from Blu-ray Source?
Some people noticed that Handbrake always burned in subtitles when creating an MP4 from a blu-ray source. The case is true. Handbrake offers two methods of subtitle output: hard burn and soft subtitles. When it comes to the soft subtitles, Handbrake burns only 1 PGS subtitle track into MP4 video as it doesn't support PGS pass-through, while it passes through multiple PGS subtitle tracks with MKV. So if you are exporting video to MP4, the PGS subtitles are burned in the video automatically.