Plex: Subtitles Out of Sync on Apple TV/Roku/Android [Fixed]
What to do if subtitles are out of sync in Plex app? Didn't find effective solutions to Plex subtitles out of sync error on forum.plex.tv or Reddit? Spend large amount of time and energy hunting high and low for the workarounds, or instead, stay here for 2 minutes to check the solutions to tackle the off-putting Plex subtitle issue.
This post covers couple of methods. You can directly jump to the way you didn't try before if your time is tight.
Workable Solutions to Fix Plex Subtitles Out of Sync Error
Majority of users have Plex Media Server installed on Mac computer, get .srt subtitles muxed in the original file, have no subtitle out of sync issue in using Plex client app on Android TV like Samsung TV, but they fall flat on their face when it comes to using Plex app on Apple TV. Plex subtitles are not in sync on Apple TV. Considering most Plex subtitles not sync cases happen on Apple TV, here we mainly come up with the solutions to Apple TV. Yet, some of methods are also suitable to solve Plex subtitles out of sync issue on Roku, Android and PS4/5. You can take them for reference.
Solution 1. A temporary workaround you can try: change the "Burn Subtitles" setting to ALWAYS instead of AUTOMATIC under advanced section in the PMP App on AppleTV. Then you can check if the subtitles are in sync with your video.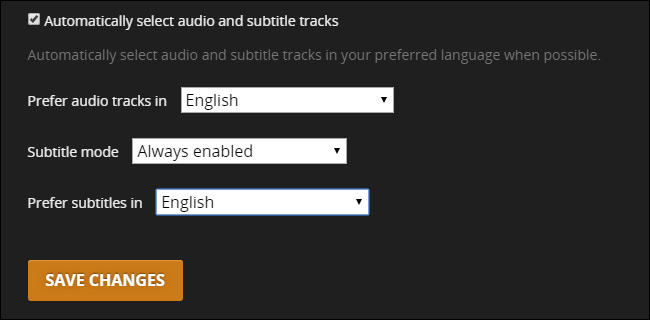 Note: after the movie playback, you're supposed to change the setting back to AUTOMATIC. Cuz if each of movie is set to burn subtitles to video, they'll be transcoded by Plex each time. This will lead to a huge waste of CPU resources and be unfavourable for users running Plex media server on underpowered servers.
Solution 2. Apple TV app may have bugs. Download and use tvOS's Plex app to have a try.
Solution 3. Update Plex Media Server and Plex app to the latest version.
Solution 4. If the latest version of Plex app still lets you down, revert to older version and stop hardware acceleration when transcoding.
Solution 5. Many a user points out that Plex subtitle not in sync problem mainly occurs in H265 x265 file. When a 1080p MP4 H264 movie is enabled on Apple TV, the movie and subtitle are in sync. Thus, you're suggested to convert H265 to H264 to lower down the Plex subtitle error odds. A free HEVC video converter can do you this favor with 98% quality kept.
Solution 6. Check the version of subtitle you download.
There are varied versions of subtitle to a TV show or movie, for the film release in different countries and areas might show different length or opening/closing titles. You'd better look for another version of subtitle to your target film based on the movie length, opening/closing titles and special processing. You can check the following best free subtitles download sites to download a proper version.
Solution 7. It might be caused by the movie resource itself.
Some episodes are "speeded up" when being uploaded to the network so as to give the network owner more extra air time for commercial ads. If your downloaded subtitle is matched with the original episode, the subtitle can be synced at the very first place but fall out of sync several minutes later. Head to the official network or channel to get the original episode file.
Solution 8. Adjust the timing offset for an external text-based (.srt) subtitle.
Plex officially proposes a solution to Plex subtitle out of sync issue. You can follow the guide as long as your Plex app is running Apple TV, Android TV, Amazon Fire TV, iOS, Android (Mobile), Smart TVs and Xbox One.
Solution 9. Add .srt subtitles to video before loading to Plex media server.
Plex allows you to add subtitle to video. Yet, there are varied types of troubles during the process. It's wiser to choose a more reliable way to insert .srt subtitles to video to avoid latter subtitle out of sync issue. HD Video Converter Deluxe allows you to convert H265 to H264, as well as add srt to any video with whatever format (MP4, MOV, M4V, MKV, FLV, AVI, WMV, WebM...). If the durations of video and subtitle are not same, this video tool enables you to trim/cut clips or ads from video to adjust video length, or adjust subtitle track to be synced with video. When everything is ready, load your video file to Plex to watch without subtitle out of sync problem.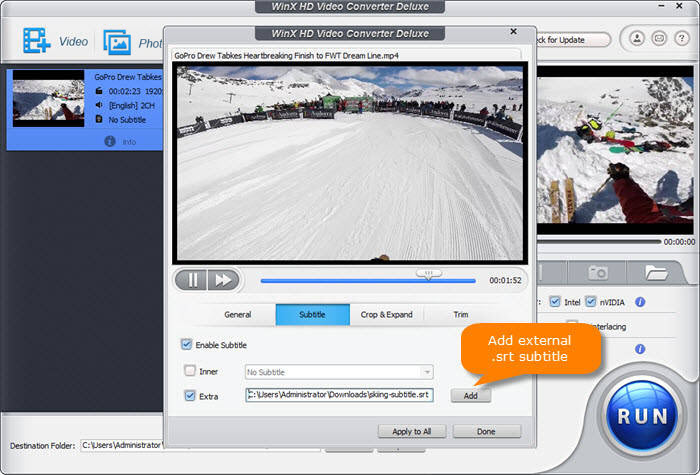 Warm prompt: with self-explanatory interface, anyone with whatever kind of skill level can figure out how to convert x265 to Plex recommended x264 and adjust subtitles to be sync with video without consulting any tutorial. As for others who would like to get the hang of WinX converter, please check its complete help article.