Troubleshooting Guide: How to Fix MKV Files Not Showing Up in Plex
An increasing number of users are using Plex Media Server to take control over your digital media library and stream their favorite movies, TV shows, and music across multiple devices. However, encountering an issue where MKV files are not showing up in Plex can be frustrating. In this troubleshooting guide, we'll explore why MKV files are missing in Plex library and provide step-by-step solutions to fix Plex not seeing MKV files issue.

[Solved] Plex MKV not Showing Up? Convert MKV to More-compatible Format for Plex
Still frustated that Plex doesn't see MKV files? Smart people are already working to fix it. Free download WinX HD Video Converter Deluxe to fix Plex MKV not showing issue owing to codec and format incomptibility. It's able to convert the unrecognized MKV to a more supported format that Plex accepts like H.264, hevc (H.265), mpeg4, msmpeg4v2, msmpeg4v3, vc1, vp9, or wmv3 (audio: aac, ac3, alac, e-ac3,flac, mp2, mp3).
Part 1. Why Are MKV Files Not Showing Up in Plex?
MKV (Matroska Video) files are widely used for their ability to store high-quality video, audio and subtitle content within a single container. Plex's compatibility with MKV files is crucial for a comprehensive media library. When MKV files fail to appear in Plex, it can be due to various factors, such as inadequate file organization, compatibility issues, network problems, or incorrect metadata. To be specific, there's a number of potential scenarios how Plex won't recognize MKV files:
1. Compatibility issue: MKV is just a video container. What's inside in MKV that counts for MKV files showing in Plex library or not. Plex generally has an access for MKV files encoded in H.264, HEVC, MPEG-4, or VP9 video encoding and AAC, MP3, DTS audio encoding. MKV videos with other codecs might be not compatible with Plex Media Sever. Learn more about what media formats are supported by Plex >>
Besides MKV files, some file types representing disc images (e.g. ISO image files) are not supported by Plex and will be ignored. This can be fixed after you convert ISO to MP4.
2. Inadequate file organization: Plex relies on a well-structured library to identify and display media files. Improper file and folder organization can lead to MKV files not to be seen. For example, Plex TV show naming will be ignored in movie libraries. Poor named MKV movies might have been matched as a different movie. MKV files following the naming convention for multi-file movies end up as a single record in your library. And depending on your library settings, movies might be automatically associated with a collection and only display inside that collection.
3. Incorrect or missing metadata: Metadata plays a vital role in Plex's ability to categorize and display media files accurately. Incorrect or missing metadata for MKV files can lead to their exclusion from the library.
4. Network or connectivity problems: If Plex encounters difficulties accessing the MKV files due to network or connectivity issues, they will not show up in the library. So make sure you have a good condition network.
Part 2. How to Troubleshoot MKV Missing in Plex Library?
Method 1. Convert the unrecognized MKV files to Plex compatible format & codec
MKV is a nice container for video libraries… but some devices or players do not support them via direct play in Plex, making MKV files not playing errors on Plex like skipping/dropping frames, stuttering, video lags, grainy image quality and even MKV not showing in Plex library. In those cases having a decently powered transcoding converter is a semi-requirement to convert MKV to MP4 for more widely support on Plex across desktops, laptops, TVs, and mobiles.
WinX HD Video Converter Deluxe is an easy yet effective video transcoding software which is able to transcode MKV video to H.264, MPEG-4, HEVC codec and convert any videos to Plex compatibile formats, such as MKV to MP4, MOV, AVI, and 420+ profiles. And this won't take you too much time. With the hardware acceleration technology, this Plex video transcoding tool takes full advantages of GPU and eases the burden of CPU, boosting a 47x real-time faster speed to transcode MKV to HEVC/H.264 MP4.
Step-by-step Guide to Convert MKV to Plex Supported MP4
Step 1. Open up this MKV converter, and load the Plex unrecognized MKV files through drag and drop, or "+ Video" button.
Step 2. Choose output format from the automatically popping up Output Profiles window. Go "General Profiles" > "MP4 Video (h.264+aac) " > "OK" to convert MKV to MP4. Of course, you're able to transcode MKV to HEVC/H.264 without changing the MKV container, or directly convert MKV to iPad iPhone, Xbox, PS4, Android phones, Apple TV etc.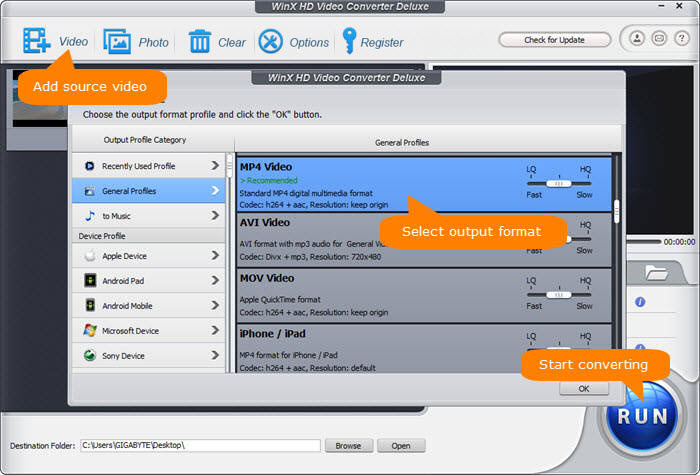 Step 3. Click Browse button to set a destination folder if it's needed. Then hit RUN button to start conversion immediately. If your computer is congfigured with graphic cards with hardware acceleration tech, WinX will invoke GPU to encode and decode MKV to MP4, achieving 47X faster speed for conversion.
Method 2. Verify File Organization and Naming
If Plex not seeing MKV files even with correct formatting, it might be an issue of file organization and naming. In this case, you need to ensure that your MKV files are properly organized within the Plex library structure. Additionally, check that the files are named correctly for Plex to identify them accurately. Here are some steps you can try:
1. Make sure your MKV files are in the right folder.
The Plex scanners and metadata agents will work best when your major types of content are separated from each other. Thus, separate movie and television content into separate main directories according to your MKV files type. For example:
/Media 
 /Movies
     movie content
 /TV Shows
     television content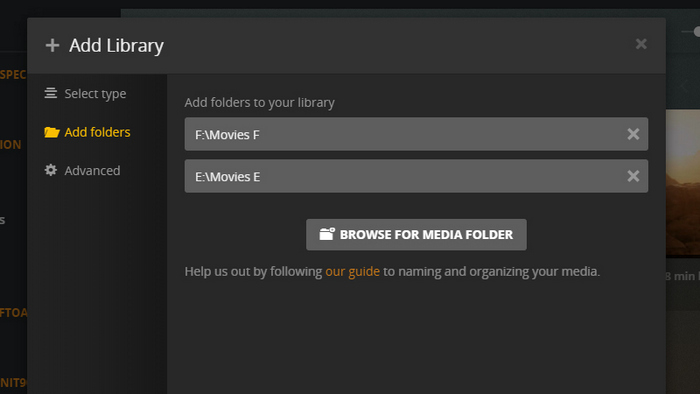 2. Name your MKV file properly.
When Plex scans your library, it uses specific naming conventions to look up data about your movies. Usually, you'll want to format movie files with their name first and release year in parentheses, namely /Movies/MovieName (release year)/MovieName (release year).ext. If the MKV file has subtitle and other additional file, put them together in the movie content folder. This will help ensure that when Plex scans your library, every movie gets its proprt metadata.
/Movies
   /Avatar (2009)
      Avatar (2009).mkv
   /Batman Begins (2005)
      Batman Begins (2005).mkv
      Batman Begins (2005).en.srt
      poster.jpg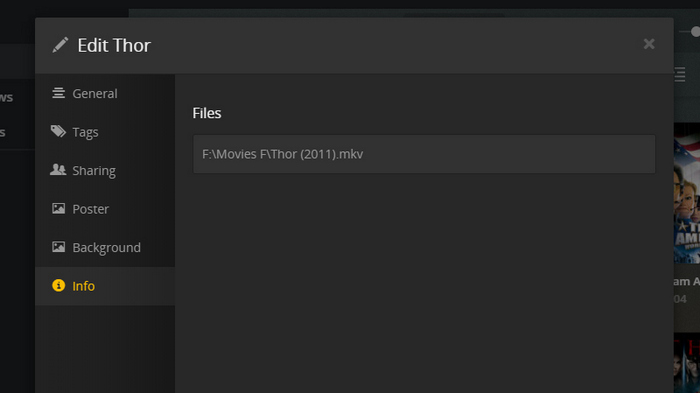 Things become a little trickier for TV shows. It's frequently preferable to make nested folders for each season, show, and possibly episode, if the episode is divided up into many files. The individual files should then be given names that include both the show's name and the prefix SXXEYY, where "XX" stands for the season and "YY" for the episode number. For instance:
/TV Shows/Rick and Morty/Season 04/Rick and Morty s04e01.mkv
3. Edit Metadata Manually
If you have done all the steps right, your MKV files still not showing in Plex media library. Maybe your MKV file is missing a posterm or the MKV TV show get split up. To fix it, you can manually edit MKV metadata in Plex. Simply launch Plex web app, locate the media file that needs to be fixed. A pencil icon may be seen in the bottom-left corner of the thumbnail when you hover over it. When you click this, a tiny window containing editable boxes will appear. Here, you can edit title, sort title, summary, poster and background etc.
Method 3. Rescan Plex Libraries
Initiate a rescan of the Plex libraries to update the media database. This will refresh the library and potentially bring any missing MKV files into view. Here are the step-by-step instructions to perform a rescan on Plex libraries.
Step 1. Open the Plex Web App.
Step 2. Click on the three-dots (...) button at the navagation side bar, and select "Scan Library Files" option. This will perform a whole library scanning on Plex.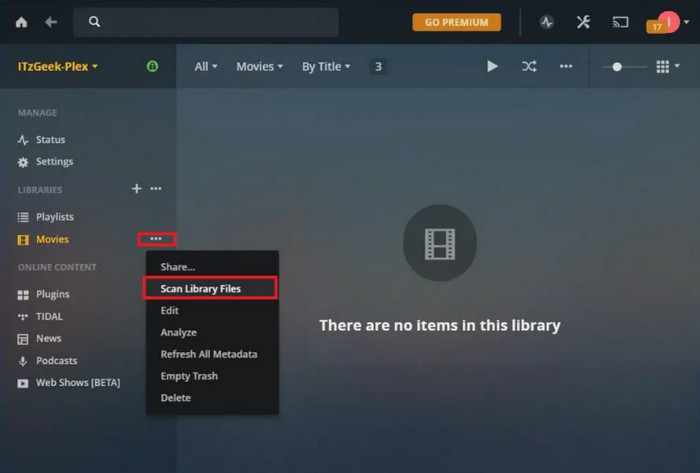 By the way, if you'd like to refresh the entire library, you can choose the "Manage Library" option and then "Refresh All Metadata" .
Conclusion
Encountering the issue of MKV files not showing up in Plex can be frustrating, but with the right troubleshooting steps, it can be resolved. By verifying file organization, checking codec compatibility, and rescanning Plex library, refreshing metadata, you can overcome this issue and enjoy a seamless media streaming experience with Plex.