Posted by Kaley Torres - Contact Author

[Solved] MKV Files Not Showing Up While Playing Videos via Plex

If you are searching for an easy solution, click here: The solution most recommended by us [85%]
Plex Won't Recognize MKV Files While Scanning Library Files? Here's Quick Fix
An increasing number of users are using Plex Media Server to take control over your digital media library. Generally, it does organize all of your files and let you view them from virtually laptops/desktops to phones to HDTVs. While problems rise when you're trying to play MKV files, for example, Plex won't recognize MKV files, or your MKV video absolutely not showing in the library while Plex is scanning files, not to mention playing 4K HEVC MKV on Plex.

Plex Won't Recognize MKV Files - Possible Reasons
Why your MKV files not showing in Plex library? It can be caused by various reasons. Maybe it's an issue of your file names, MKV video format compatibility, or the MKV file type etc. To be specific, there's a number of potential scenarios how Plex not working with MKV:
1. MKV is just a video container. What's inside in MKV that counts for MKV files showing in Plex library or not. Plex generally has an access for MKV files encoded in H.264, HEVC, MPEG-4, or VP9 video encoding and AAC, MP3, DTS audio encoding. MKV videos with other codecs might be not compatible with Plex Media Sever. Learn more about what media formats are supported by Plex >>
2. Plex TV show naming will be ignored in movie libraries. That's to say, if you have some TV shows MKV files, they won't show in Plex library.
3. Poor named MKV movies might have been matched as a different movie. If random named MKV video not showing in Plex, you may find it in "rencently_added" column.
4. MKV files following the naming convention for multi-file movies end up as a single record in your library (e.g. Movie Name-part 1.ext and Movie Name-part 2.ext will result in an entry called Movie Name which will play both entries in sequence).
5. Besides MKV files, some file types representing disc images (e.g. ISO image files) are not supported by Plex and will be ignored. This can be fixed after you convert ISO to MP4.
6. Depending on your library settings, movies might be automatically associated with a collection and only display inside that collection.
How to Fix MKV Files Not Showing in Plex Library Error? The Key: Convert Plex unrecognized MKV files to MP4 for better compatibility.

Try with A MKV Converter
MKV is a nice container for video libraries… but some devices or players do not support them via direct play in Plex, making MKV files not playing errors on Plex like skipping/dropping frames, stuttering, video lags, grainy image quality and even MKV not showing in Plex library. In those cases having a decently powered transcoding converter is a semi-requirement to convert MKV to MP4 for more widely support on Plex across desktops, laptops, TVs, and mobiles.
WinX HD Video Converter Deluxe is an easy yet effective video transcoding software which is able to transcode MKV video to HEVC, H.264 codec and convert any videos to Plex compatibile formats, such as MKV to MP4, MOV, AVI, and 420+ profiles. And this won't take you too much time. With the hardware acceleration technology, this video converter takes full advantages of GPU and eases the burden of CPU, boosting a 47x real-time faster speed to transcode MKV to HEVC/H.264 MP4.
Step 1. Open up this MKV converter, and load the Plex unrecognized MKV files through drag and drop, or "+ Video" button.
Step 2. Choose output format from the automatically popping up Output Profiles window. Go "General Profiles" > "MP4 Video (h.264+aac) " > "OK" to convert MKV to MP4. Of course, you're able to transcode MKV to HEVC/H.264 without changing the MKV container, or directly convert MKV to iPad iPhone, Xbox, PS4, Android phones, Apple TV etc.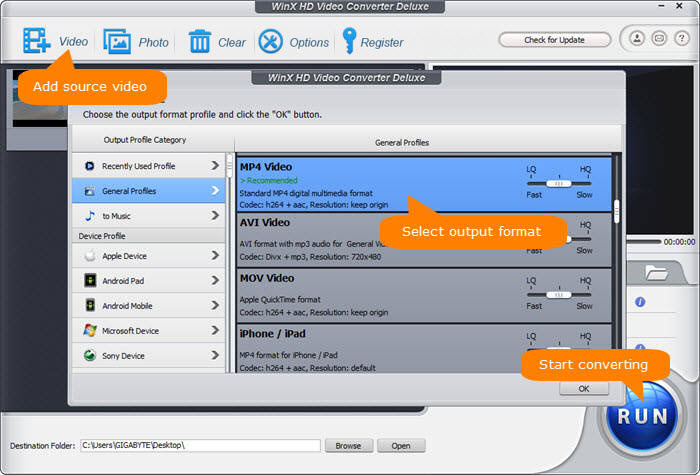 Step 3. Click Browse button to set a destination folder if it's needed. Then hit RUN button to start conversion immediately. If your computer is congfigured with graphic cards with hardware acceleration tech, WinX will invoke GPU to encode and decode MKV to MP4, achieving 47X faster speed for conversion.