Plex User Guide - How to Add/Get Movies to Plex Library
Plex is an awesome media server app for streaming content on your phone, computer, Smart TV, and any device. There are also hundreds of TV and movie plugins/addons, official and unofficial channels available for Plex, offering a great high-quality streaming experience for movies and series on Plex. In this post, we'll explain how to add movies to the Plex library and how to get new movies on the Plex server.
1. How to add movies to Plex Library
If you don't get a movie folder, you need to create a library, use steps below to do so.
Step 1: Run the Plex Media Server on your computer, or compatible NAS device, or others.
Step 2: Click the Settings icon to get more settings options.
Step 3: Select Libraries under the Manage section.
Step 4: Click Add Library, select the library type and name the library.
Step 5: Put your movie files in a folder and back to Plex.
Step 6: Select the Add folder. Click the "BROWSE FOR MEDIA FOLDER" button and select the movie folder with movie files you want to add. Click the ADD button and finish the steps Plex shows.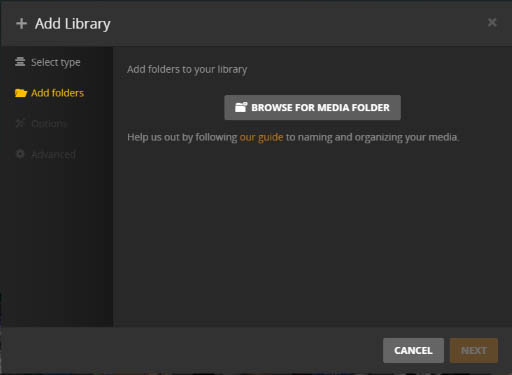 If you have local movies stored on your devices, it's easy to upload movies to the Plex Media Server library. Continue to read the guide below when you wish to get more new movie resources to Plex.
How to get new movies to Plex server
You have several ways to enrich your Plex movie library. You can make full use of your DVD movies/TV series or install third-party movie plugin/addons to get more new films for the Plex server.
A. Rip DVD movies to Plex
If you have movies on DVDs, you can decrypt these DVDs and copy them to your Plex library for streaming. All you need is a reliable program called DVD decrypter, such as WinX DVD Ripper Platinum, to decrypt your DVD collections and copy them to MP4, AVI, MOV, etc. video formats. Free download WinX DVD Ripper Platinum and follow the guide to
ripping DVDs for Plex
to enlarge your Plex movie library.
B. Download movies to Plex
Torrenting is a popular way to free download movies to your Plex server. There are also many free movie downloading sites. However, it's illegal and unsafe, putting you at risk of being attacked by viruses and malware. We don't recommend an illegal movie download. Plex offers Plex Pass priced at $4.99/month, a subscription service that gives users a better Plex streaming experience. The service allows users to watch and record live TV over the air-broadcast at your location.
C. Use third-party Plex plugin/addons
You have many official and unofficial Plex channels and movie plugins to choose from, such as CBS, Old Movies Time, FMovies Plus, Filmson, BBC iPlayer, etc. With these channels and plugins installed on your Plex server, you have more choices in streaming high-quality TV series, movies, and sports videos. Check more plugins/addons for the Plex server to get more out of Plex.