Top 6 Plex Alternatives of 2021 - Best (Free) Media Servers to Try in COVID-19 Lockdown
Plex is a suite of media player and media server software that allows users to organize audio books, music, podcasts, pictures and video files on their devices for later streaming to mobile devices, smart TVs, etc. Even DVDs can also be ripped for organizing and streaming via Plex (check how to rip DVD for Plex). What's more, it also empowers users to watch videos from YouTube, Vimeo and other platforms. Plex is really powerful media management software, but some people are looking for an alternative to Plex, especially during the COVID-19 lockdown owing to the huge throughput of video streaming services via Plex. It may be because files cannot be streamed to target device due to slow server connection. Or they just want a good Plex alternative that manages custom media better. Anyway, we have singled out the top 6 Plex alternatives of 2021. Hope you can find a favorite one.
What are the Best Plex Alternatives?
Our choices:
1. Emby
2. Kodi
3. Serviio
4. Media Portal
5. Universal Media Server
6. TVersity
Read on to learn more about these Plex Media Server alternatives for Windows, Mac, and other operating systems or hardware platforms.
1. Emby
Compatible operating systems / devices: Android, Windows, Linux, MacOS, Docker, FreeBSD, Amazon Fire, Android TV, Roku, Samsung Smart TVs, Xbox One, PS4
Price: free and premium ($4.99/month, $54.00/year, $119.00/lifetime)
Browsing the web we notice that many people recommend Emby as the best alternative to Plex. Emby is an easy-to-use open media solution and has loads in common with Plex. Like Plex, it allows you to organize audios, photos, and videos and stream to other devices. Thanks to auto-organization functionality, you don't need to keep files in the right order manually. Real-time auto-conversion helps you stream files on any device. For more information about Emby, please visit website: https://emby.media/, Plex vs Emby - Which Is A Better Option.
User review: A superb alternative to plex, much faster streaming start of the video over internet.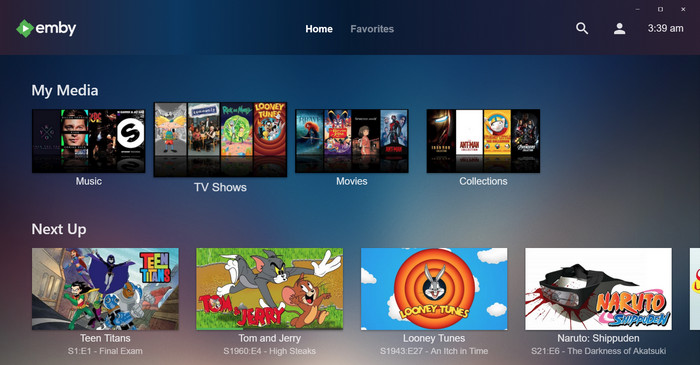 2. Kodi
Compatible operating systems / devices: Windows, macOS, Android, iOS, Linux, Raspberry Pi, Amazon Fire TV, Nvidia Shield, Xbox, and more
Price: free
If you need a free Plex alternative, you can choose Kodi. This is an open source application formerly known as XBMC (Xbox Media Center) because it was originally designed primarily as a media player solution for Xbox only. Years later, it extends the availability on Windows, Mac, Android, and more. Kodi supports all kinds of audio, video, and image formats, and allows users to organize and play those media files via the user interface. Meanwhile, it can also pick up metadata from the web for your archived content. To learn more amazing features of Kodi, go ahead to visit: https://kodi.tv/
3. Serviio
Compatible operating systems / devices: Windows, macOS, Linux, NAS Devices, games consoles, and TV sets.
Price: free with limited options; Serviio Pro at $25
The third alternative that can replace Plex to stream multimedia files is Serviio. This application can add and stream content from local drive and online sources (Note: only the pro version is available to stream files online). Another feature that is only available in paid version is that it supports smart virtual assistant Alexa skill. With Alexa skill, you can control your Serviio media server with voice commands. Check more of Serviio media streaming server at: https://serviio.org/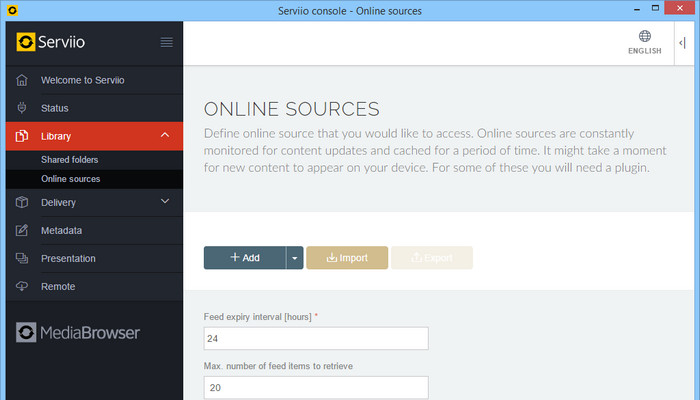 4. Media Portal
Compatible operating systems / devices: Windows, Android, Web
Price: free
This Plex alternative is a GPL-licensed open source program. It can manage media and monitor the entire library well, and work smoothly without buffering or sluggishness issues. Offering so many media organizing tools, users can handle different kinds of files conveniently just like what they do on Plex. Media Portal also allows users to install plugins to extend functionality, and also allows using TV cards for watching TV through your media center. Dig more features at: https://www.team-mediaportal.com/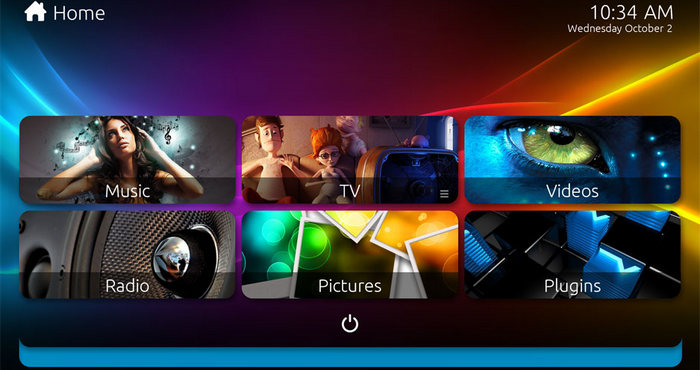 5. Universal Media Server
Compatible operating systems / devices: Windows, macOS, Linux, NAS Devices
Price: free
Universal Media Server is a mature program debuted in 2012. Although its user interface looks outdated, it is still a good alternative to Plex for media streaming. Thanks to a powerful transcoder built in, it can support a wide range of media formats. And thanks to the support for DLNA compatible devices, your media content can be streamed easily to PS4, Xbox One/360, iPhone, Android devices, smart TVs, Blu-ray players, etc. Here's the website address: https://www.universalmediaserver.com/
User review: No faffing about and less intrusive and no personal data shared like plex does.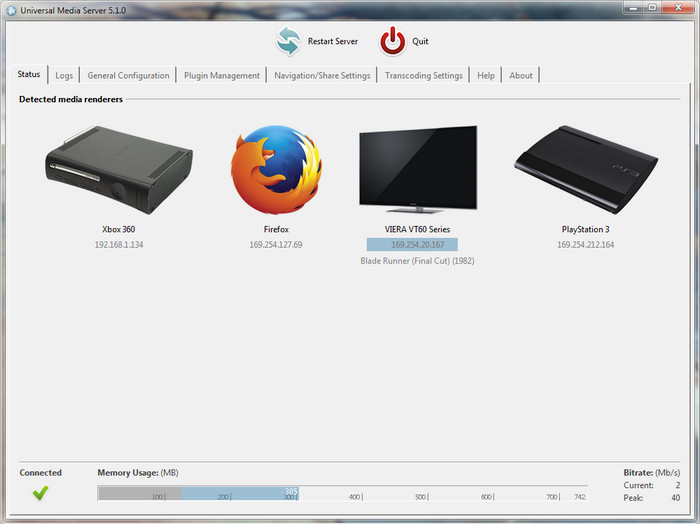 6. TVersity
Compatible operating systems / devices: Windows, iOS, Android, Xbox 360 and Xbox One, Roku, Chromecast and more.
Price: free, full version comes for $14.99 and Pro variant is available for $24.99
Another Plex alternative that also uses DNLA technology is TVersity. Just like Universal Media Server, it can also stream movies, music, and photos from PC to a wide range of DLNA devices. To avoid format incompatibility issue, TVersity offers real-time transcoding, but available on paid version only. TVersity keeps track of your library and refresh it automatically to index new files, thus ensuring your collection up-to-date. You can check the automatic synchronizing status under Server Messages. Check what else can TVersity do at: http://tversity.com/